Duckhorn Portfolio Wine Blog
Posts written by Neil Bernardi, Vice President of Winemaking and many special guest bloggers. This collection of insights on winemaking, farming, entertaining and more is a great way to learn about the excitement of winery life and tips for enjoying the wines we produce.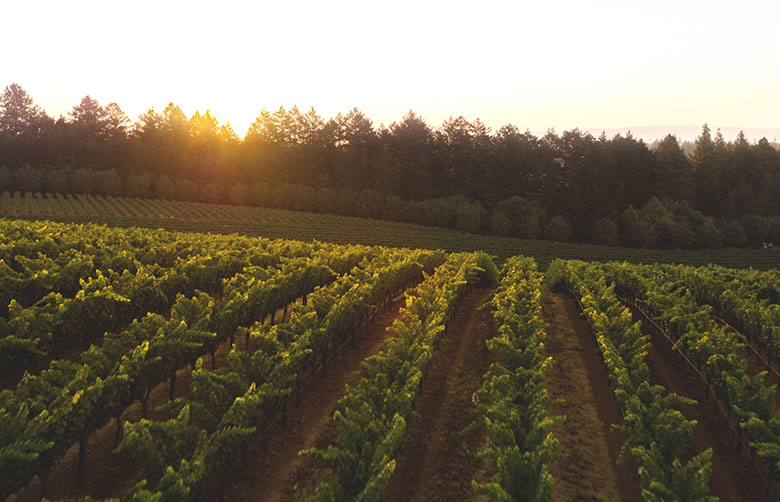 Wow your coworkers and virtual happy hour friends as you WFH (#WineFromHome) in style with wine country backgrounds! We're bringing the beauty of wine country to your at-home work station with views of some of our most picturesque winery estate vineyards, wine caves, and outdoor wine tasting spaces. So while you may not be able to join us in the tasting room or stroll our vineyards right now, you can download one of our wine country images below and WFH with a view!
How to add your wine country background on Zoom:
Uncork your favorite bottle of wine. Running low? We can help you restock - shop here!
Grab a glass, and and give yourself a pour.
Scroll through the images below, select one and save to your desktop.
Now head over to Zoom and log in (click here for a Zoom how-to video if you need a little help)
Click the gear icon in the right-upper corner.
Then click "virtual background" from the side bar on the left
Next, click the plus-sign to upload the image. You are now in wine country!
Finally, take a sip from your glass, you earned it
To help our team stay connected while working from home, we've added a 'fun fact' to share at the beginning of our virtual meetings. It can be anything – it acts as a little ice breaker to get everyone comfortable, especially for those early morning calls. We've equipped each image below with a little story to go with it, for any other groups doing the same!
From our flock to yours, please stay safe and stay home when possible. Cheers to at-home sips!
Duckhorn Vineyards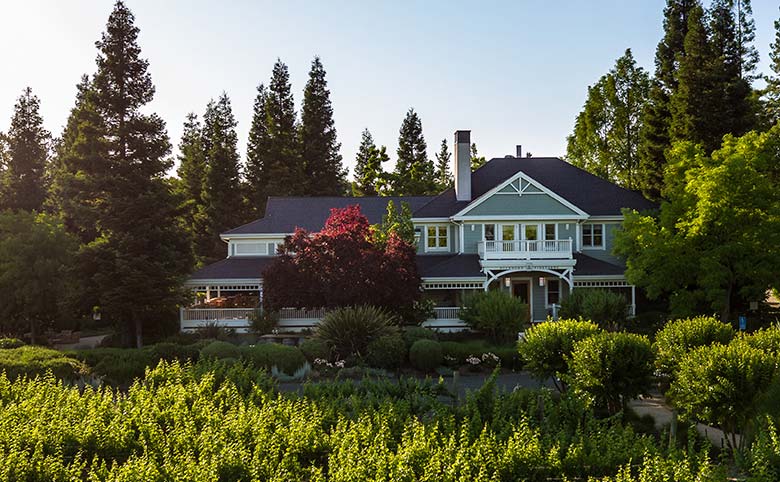 Duckhorn Vineyards in St. Helena was founded in 1976 by Dan & Margaret Duckhorn. They started with 800 cases of Napa Valley Merlot and 800 cases of Napa Valley Cabernet Sauvignon!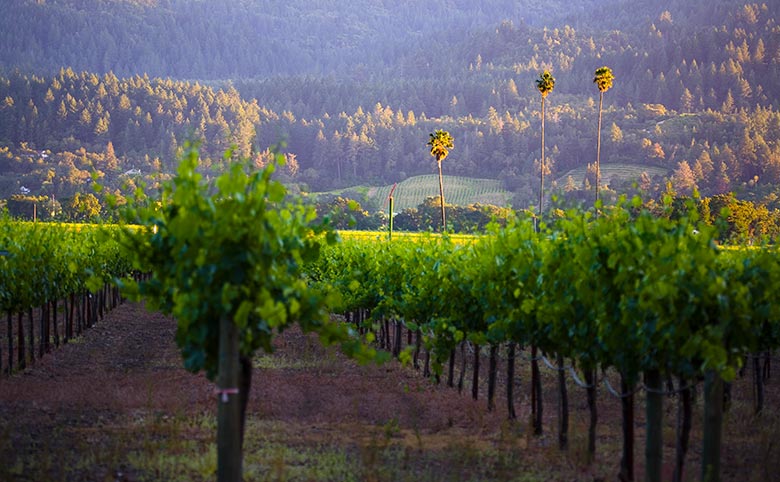 Three Palms Vineyard is an iconic site for new world Merlot! In fact, the 2014 Duckhorn Vineyards Napa Valley Merlot Three Palms Vineyard earned Wine Spectator's #1 Wine of the Year.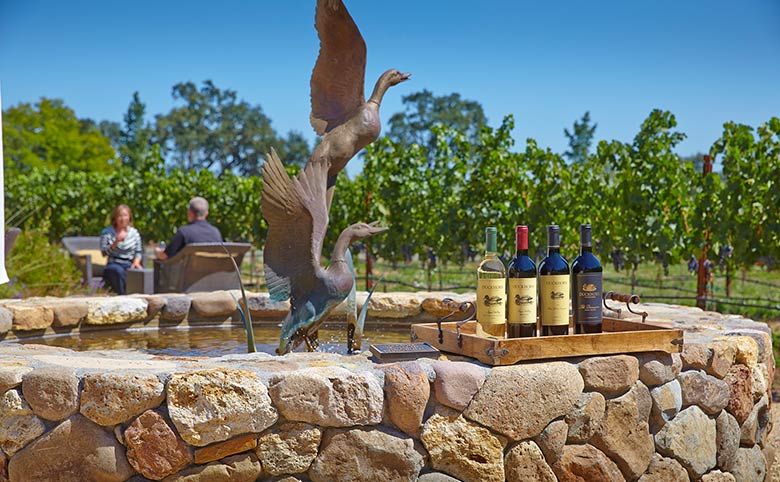 This Mallard Duck fountain was constructed with stones from every Duckhorn Estate Vinyeard. It commemorates our 35th harvest celebration!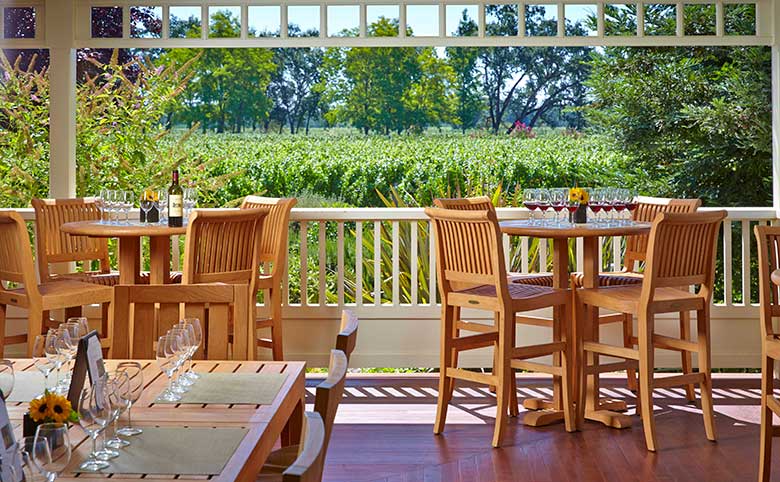 Our Duckhorn Vineyards veranda overlooks Marlee's Garden, which is named after Margaret Duckhorn and is the perfect setting for wine tasting with a wine country view.

Paraduxx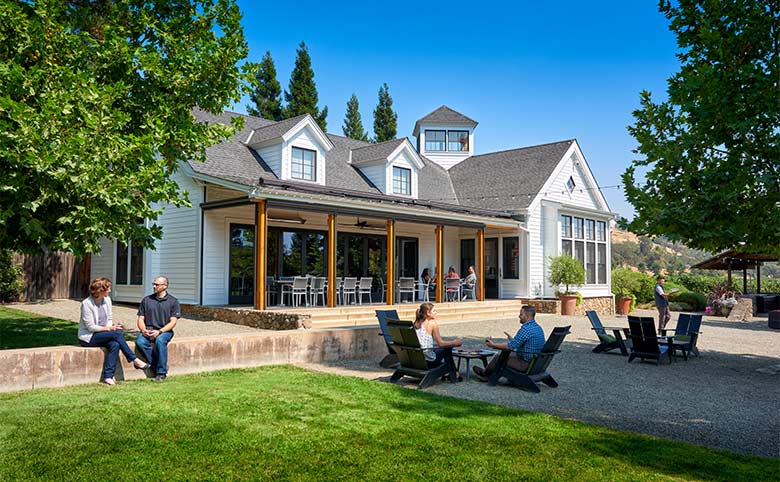 Paraduxx is our Napa Valley winery just south of Duckhorn Vineyards. and is dedicated to making Napa Valley blends inspired by the iconic blends of the world!

Goldeneye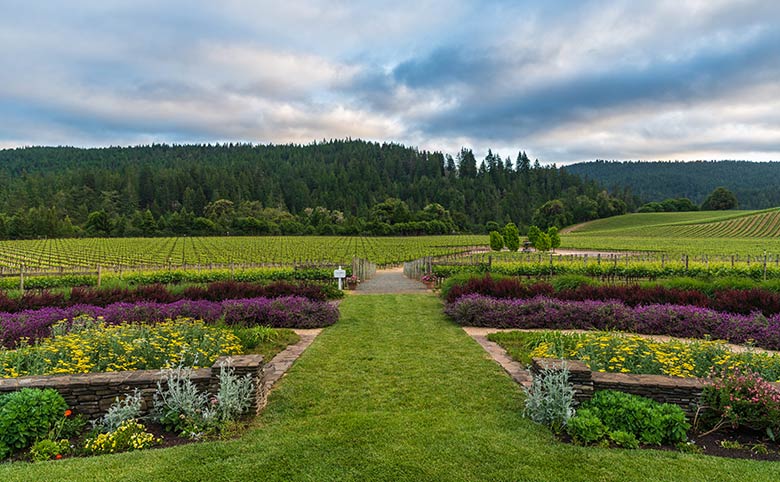 Nestled in the Mendocino Coast, Goldeneye crafts terroir-driven Pinot Noir.

Canvasback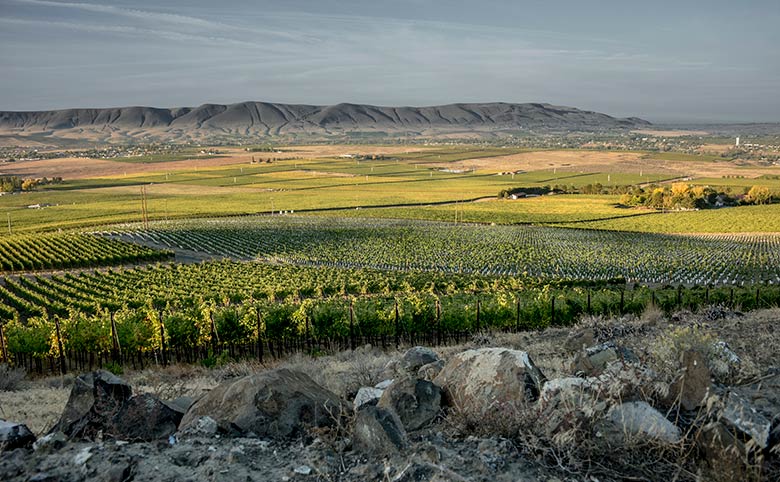 Canvasback's Longwinds Vineyard is planted to Merlot and Cabernet Sauvignon on Red Mountain, which is the smallest AVA in Washington State with 2,225 planted acres.

Calera
Calera considered a pioneer in new world Pinot Noir! Our gravity-flow winery features and underground wine cave home to barrels of aging Pinot.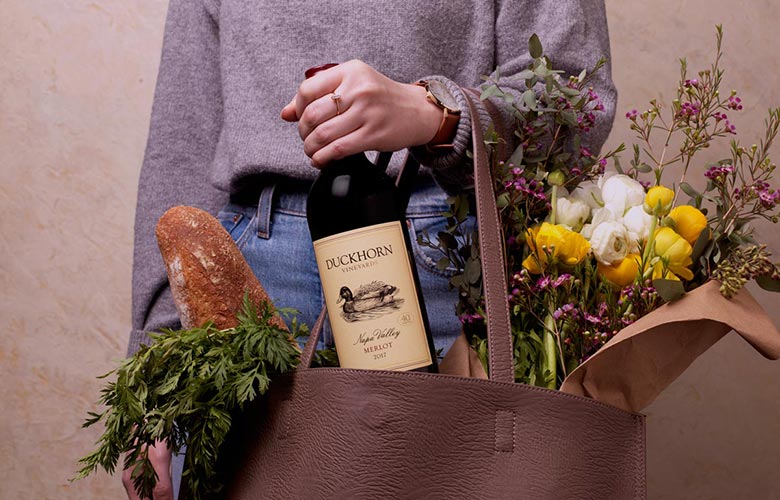 Let's face it, the wine aisle can be an intimidating space. Here are a few tips to help you navigate it with confidence!
Tip 1: Get the lay of the land
Whether you are at your local wine shop, or a larger chain grocery store, there is some sort of method to their madness when it comes to organization. Understanding how things are shelved makes paring down your options a bit easier. Often you will see the wine section separated by origin; US vs Imported (French wines, Italian wines, California wines, etc.), followed by varietal (Chardonnay, Cabernet Sauvignon, Blends, etc.).
Tip 2: Determine The Occasion
Whether you're enjoying an anniversary dinner, laying low on girls' night or just celebrating Tuesday, figuring out what the evening entails always helps me decide what to take home.
Tip 3: With or Without Food
The next question I like to ask myself is, "am I going to be enjoying my wine with, or without food?" A good rule of thumb is that when enjoying wine alongside food, the intensity of the wine should match the intensity of the food. Then I like to discern if I am in the mood for a slightly chilled white wine, or a red. Check out our recipe pairings for more ideas.
Tip 4: Look For Something Familiar - Then Maybe Branch Out
A great way to confidently branch out is to reach for other wines that are in the portfolio of a winery which you know and love. Strong collections such as The Duckhorn Portfolio benefit from world class winemakers who collaborate. Although each of our wineries has its own dedicated winemaker, they benefit from working with one another. Wineries with an established pedigree also have access to high quality fruit, which should instill confidence that you'll end up selecting something you love. For example, if you really like our Migration Pinot Noir, our Goldeneye Anderson Valley Pinot Noirs might be something you would like as well as Katey Larwood, our Goldeneye winemaker, and Dana Epperson, our Migration winemaker, frequently talk shop!
Tip 5: Don't Be Afraid To Ask For Help
Have a question? Ask the wine purveyor at your local wine shop, or consult your phone for trusted wine blogs, publications or apps with scores to get a handle for what others have liked or not liked as much.
At the end of the day, the most important thing is not whether you made a sommelier level pairing, but if you enjoy the wine with the ones you are sharing it with! Interested in bringing home a few bottles of our wines? Use the wine finder tool to locate our wines in your neighborhood.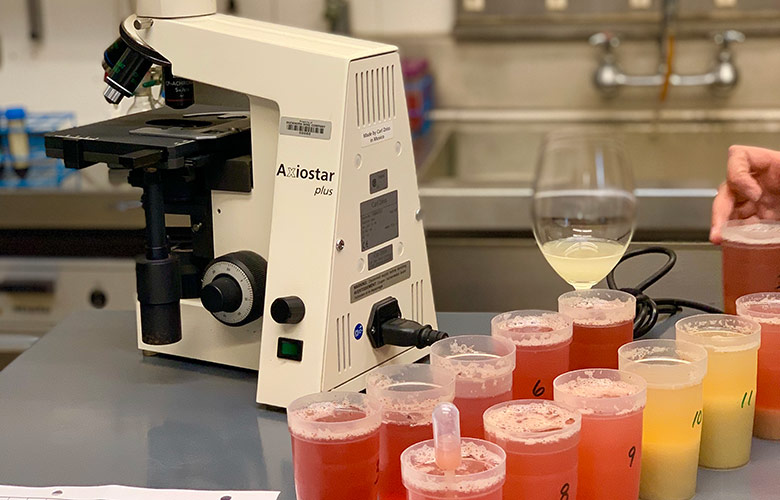 A very critical aspect in preparation for harvest is vineyard maturity assessment. Sure, we need to sanitize every piece of crush equipment, prep and start up presses...the list goes on. But what about the grapes? How do we know when a vineyard is ready to harvest? Throughout the harvest season, our Estate and Grower Relations teams leave the winery at 6 a.m. and head to the vineyards. Our vineyard teams sample every vineyard block and pick roughly 20-30 clusters from each block- this gives us an accurate representation of the entire vineyard as a whole. Each block is sampled at least once per week, and more frequently as berries ripen. Once all samples are collected and all vineyards have been scouted, the samples are then brought to the lab at the winery. From here, the vineyard samples are weighed, crushed and analyzed by our lab team. The lab processes anywhere from 25-50 grape samples everyday- talk about an arm workout!
For each sample that is brought into the lab, we measure:
Brix is a measure of sugar content in a given juice sample and is measured via a refractometer. A refractometer works by measuring the refraction of light as it passes through a sugary solution. pH and titratable acidity, commonly referred to as TA, are both measurements for acidity. In short, TA measures the amount of acid in the sample, whereas pH measures the strength of the acid. Both are measured via an auto-titrator. We aim for low pH/high acid numbers in our juice/wine. High pH values can lead to wines that are biologically unstable; low TA numbers present flabby wines with no flavor. The low pH and high acid levels will contribute to the flavors, aromas and mouthfeel of the juice and eventually, wine. Our final step of this lengthy assessment is sensory analysis. Once the chemical analyses have been run, our lab technicians analyze the data for any trends or outliers. Flavor is the biggest factor when it comes to picking decisions. The numbers can be spot on, but if a juice sample tastes under-ripe, our winemaker will choose to continue sampling the block instead of harvesting it.
The Napa Valley is a particularly famous wine region for its rare climate patterns and rich volcanic-infused soils. However, the Old World remains one of the most well-known and greatest producers of wine – known for their history of finding soils just right for certain grape varietals. At Paraduxx, we strive to do just that, which is why many parallels can be drawn between our own vineyards and other major wine appellations across the world.
Argentinian Malbec
Malbec is one of the five noble grapes originating from Bordeaux, France. In recent years, the grape has found incredible success in the New World. The Mendoza region of Argentina has brought this grape to the main stage highlighting the fruit-forward, plummy, velvety notes of Malbec. In fact, 75% of the region is planted to Malbec. Inspired by this style, Paraduxx crafts a Malbec/Cabernet Sauvignon blend that pays homage to the Argentinian Malbec. Our Cork Tree vineyard, when compared to the Mendoza region, is a similarly cooler area that has a sloped terrain allowing for maximum sunlight on the grapes in the afternoons, and cooler nights.
Rhône Blend
The Rhone valley is particularly famous for producing a variety of incredible wines. In the north, the Côte Rôtie region is home to a Syrah that is bold and spicy, resembling the kind of grapes used to produce our Co-Ferment wine at Paraduxx. The grapes planted on our Candlestick vineyard help to produce a bit of a different wine, with a New World twist. Grenache is blended with the Syrah grapes from Candlestick as this red wine pulls inspiration from Southern Rhône, namely Châteauneuf-du-Pape.
Italian Super-Tuscans
The Tuscany region and Sangiovese are synonymous. In the early 1970's renegade winemakers in Tuscany began blending their native grape, Sangiovese with non-native grapes like Cabernet Sauvignon and Merlot. This progressive winemaking style became know as Super-Tuscan. At Paraduxx, we craft a Napa version of the Italian Super-Tuscan, blending our native Cabernet Sauvignon with Sangiovese from Atlas Peak. The high elevation and cool temperatures on Atlas Peak allow for slow, even ripening and results in a dynamic wine that exudes lavender, strawberry and forest floor.
Australian Cabernet-Shiraz Blend
While the names themselves might be different, Syrah and Shiraz actually refer to the same grape. Australians wanted to pay homage to the land that the Syrah grape came from, a city in Persia called Shiraz, now situated in present day Iran. The Southern Australian Shiraz grape is stylistically different than its French counterpart, no doubt due to the climate and history of the vines. Classic Shiraz has a deep, smoky and meaty flavor as well as hints of blackberry. The Southern Australian Shiraz is known for being quite earthy, while the Californian equivalent Syrah has similar blackberry aromas, also adding firm mountain tannins. Both the Paraduxx Howell Mountain blend, as well as Australian blends use Cabernet Sauvignon. Despite the difference in latitudes between Southern Australia and Northern California, the climate is quite akin in the respective seasons, helping the wines create parallel experiences.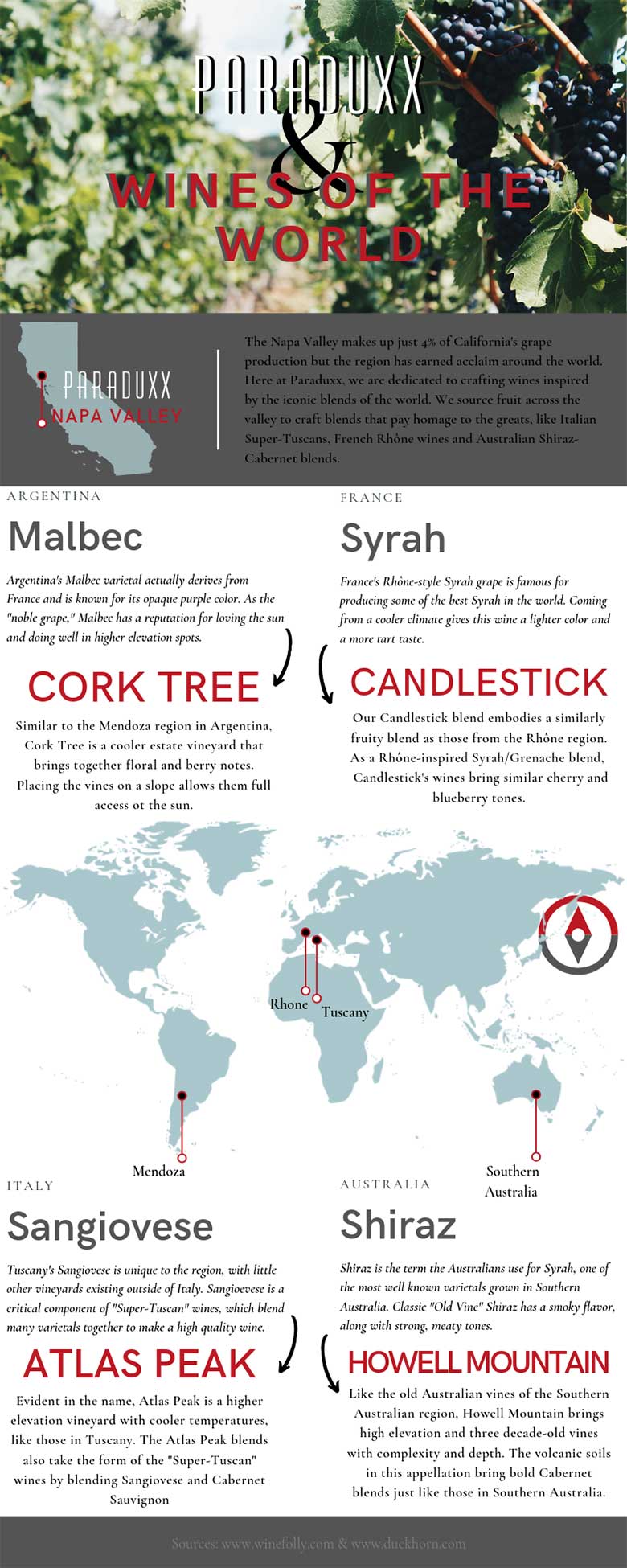 How is wine made? This post takes a closer look at the twelve steps involved to take each harvest from vine to bottle. Every bottle of wine on a shelf at the store went through a serious process to get there. As consumers, we might not always know about these processes, but it is important that we recognize the passion and hard-work that went into crafting our wines. Winemaking is often described as the clash between science and art – winemakers must know the chemistry behind the wine as well as have the creativity and artistic nature to create a wine that reflects the palate of the company. Here are 12 steps that summarize the yearlong process of winemaking that happens before you get to enjoy the wine! From the growth season and crucial maintance of the grapevines to post-harvest processes like fermentation, fining, yeast, barrel regime and testing - the process is quite a journey. Once made, the final steps of bottling, packaging and shipping become the equally important finishing touches to make sure wines end up in wine glasses nationwide. So next time you are taking a sip of any of Duckhorn Porfolio's delicious wines, keep in mind the many hands it took to get into your hands.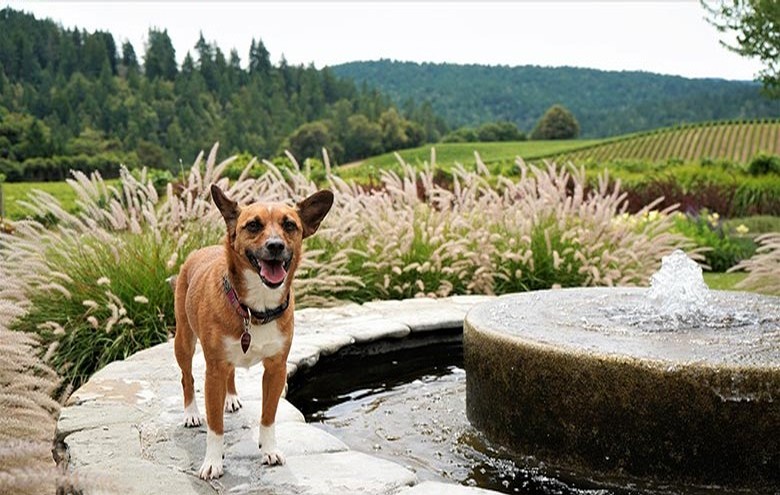 It's easy to love both dogs and wine, though many times to enjoy both you'll be sipping at home. Today more and more wineries are allowing some outdoor seating to accommodate well-behaved pups. This post is dedicated to each of our dog-friendly winery locations that welcome our four-legged friends!
Goldeneye, Anderson Valley
At Goldeneye, we have an incredible outdoor patio area that allows us to cater to dogs and their owners in the beauty of the Anderson Valley. While guests enjoy the view of our Confluence vineyard backdrop and a flight of Pinot Noir, their furry companions are welcome to endless bowls of water and all of the same sights and smells of the Mendocino coast. Goldeneye welcomes all well-behaved dogs on leash on our outdoor patio – there are leashes available for purchase in the tasting room for anyone who wants a keepsake too! Here are a few pics of our own winery dogs, Sam and Sheamus: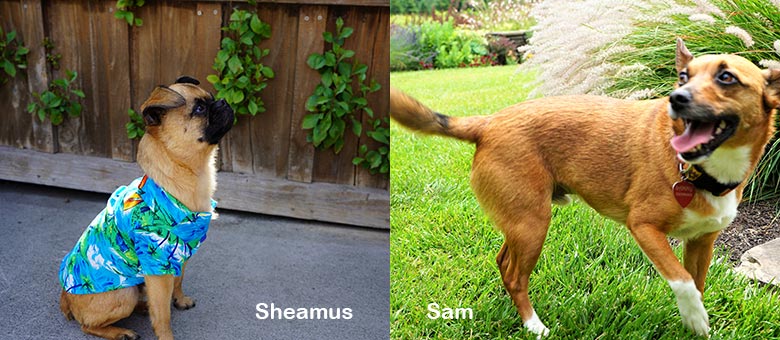 Paraduxx, Napa Valley
At Paraduxx, our outdoor courtyard is nestled next to Rector Creek vineyard that allows guests a relaxing outdoor experience with a quintessential wine country view. This space is where we're able to host wine lovers and their dogs in our lovely Napa Valley location. While guests enjoy the serenity of the vineyards and a lineup of Napa Valley Blends, their dogs are welcome to lots of water and lounging in the comfort of the peaceful shade of the courtyard. Paraduxx welcomes all well-behaved dogs on leash in our outdoor space – there are also logo'd leashes available for purchase in the tasting room! Check out our ambassador winery dog, Lando at Paraduxx: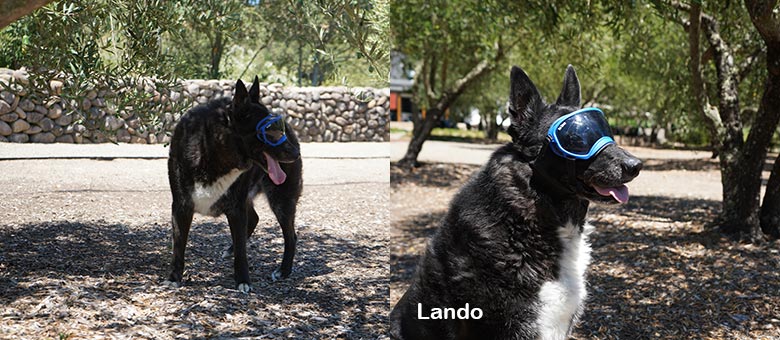 Calera, Hollister
At Calera, we are nestled on Mt. Harlan with sweeping views of the Cienega Valley. The wonderful outdoor space with amazing views, allow us to cater to dogs and their owners at our winery estate. While guests enjoy the view and a flight of Pinot Noir, dogs are welcome to enjoy water and the relaxing outdoors of the Hollister Hills. Calera welcomes all well-behaved dogs on leash in our outdoor space. Say hi to our ambassador winery dog, Nina at Calera: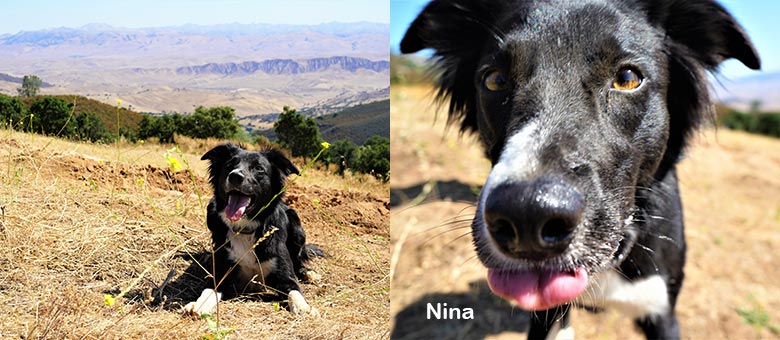 All of these locations are perfect to consider when choosing a dog-friendly winery for your next wine tasting!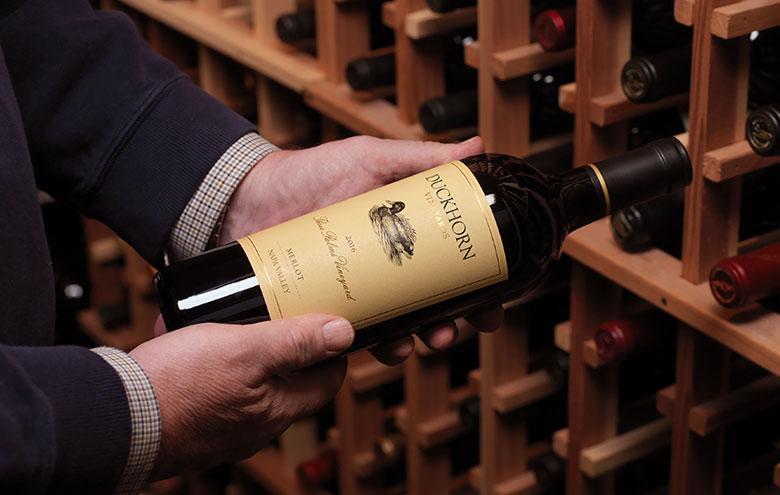 There are many beautiful wines made in the Napa Valley with so many wine club programs to choose from. What makes the Duckhorn Portfolio membership so special? Here are my top five reasons to become a member with us.
5. The People
Get to know our winemakers, members of our production teams, and tasting room Wine Educators at over a dozen events we host throughout the year (members receive special pricing). They range from large scale release parties, like our very popular Discussion Release & Derby Party every May or one of our intimate Winemaker Dinner's we host throughout the year. Learn more about our winemaking philosophies, from grape to glass and the stories behind each wine. Travel with us to other countries to explore historic wine regions and meet new friends along the way with one of our Cruise's. We set sail this May to Spain & Portugal on our 4th Cruise to date!
4. The Places
Relax, taste and enjoy our new release wines at five of our Tasting Rooms. First is our Duckhorn Vineyards tasting room in the heart of St. Helena, where you can enjoy classic new world Merlot & Cabernet Sauvignon. Just 20 minutes south of Duckhorn off the Silverado Trail is Paraduxx, our house of blends. Head up north to Mendocino and experience powerful Pinot Noir at Goldeneye.
Live near the Central Coast of California? Stop by Calera in Hollister (east of Monterey) and enjoy the beautiful and serene views of Mt. Harlan while enjoying premium Pinot Noir. Happen to be in Walla Walla? Come by our newest tasting room addition – Canvasback and savor luxury Cabernet from Red Mountain. As a member you receive tasting benefits at all five unique locations.
3. The Experiences
Once you get to your favorite Duckhorn Portfolio location, experience some of our intimate Elevated Tastings to enhance your senses and awaken your pallet. At Paraduxx we offer our Blend Seminar, which dives deeper in the art of our blends. At Duckhorn, join us for our Wine of The Year Tasting, and taste 2017's Wine Spectator #1 Wine of The Year – 2014 Duckhorn Vineyards Merlot Three Palms Vineyard, along with other wines from this iconic location.
2. The Service
As a member, you receive exclusive access to our Membership Concierge to curate your ultimate day of tastings and assist with your trip planning. Our Wine Advisors are here for you to create your ideal wine cellar. Gain access to rare library and large format wines and find that perfect gift for any special occasion.
1. 7 Wine Clubs in One!
Members receive access and benefits across our entire portfolio of wines. No matter your club preference, you have a one-stop shopping experience at Duckhorn, Paraduxx, Goldeneye, Migration, Decoy, Canvasback & Calera…all at Duckhorn.com. You just need one account to access all wines. You can also customize your club shipments to include any wines from our portfolio. We have a plethora of wines for every occasions, season and palate.
If you enjoy our wines, we invite you to become a member with us and take advantage of the many great benefits of our portfolio. We hope to host you this summer at one of our five tasting rooms and share our love for great wines with you.
Cheers to you and yours!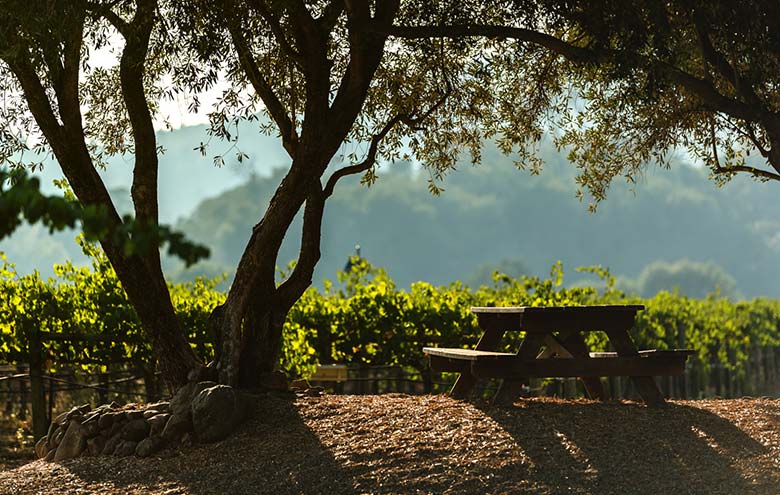 Napa Valley offers a luxury vacation with the sweet charm you want for a weekend getaway or week-long adventure! With many world class restaurants, spas and wineries why not treat yourself to the best luxuries in life?
Accomodations
Start your time at a resort! Enjoy the pool, spa amenities, or restaurant to relax after traveling. Most hotels in the Napa area are equipped with a place to grab a glass of quality wine to unwind. Check out your accommodation's Spa Menu to make sure you take some time for relaxation during your trip. For the adventurous, try booking a mud bath spa treatment - they are very popular in Calistoga!
Restaurants
For lunch or dinner, Napa Valley is a foodie heaven. There are world class restaurants in each town: Napa, Yountville, Rutherford, St. Helena and Calistoga. These well-known restaurants have educated Sommeliers who can recommend the perfect wine pairing or help you pop open a bottle you purchased while out wine tasting. Make sure to research in advance and book reservations to ensure you can dine at your preferred locations!
Winery Tours & Tastings
During the day, you have the opportunity to experience the culture and history of winemaking in Napa Valley by visiting one of the many wineries or tasting rooms peppered throughout the area. Our Napa properties, Duckhorn Vineyards and Paraduxx (located about 15 minutes apart) have different wine tasting experiences to either get you acquainted with our wines or take an in-depth look at what makes wines in this region so special.
Need help planning your time in Napa? Our wine club members have access to the planning and personalized service of the membership concierge team to create their ideal trip! Give us a call at 866-367-9945 to learn more about membership. We also recommend NapaValley.com for anyone searching for ideas to get started. We hope to see you in Napa Valley soon!
Jessica Mullins, Membership Concierge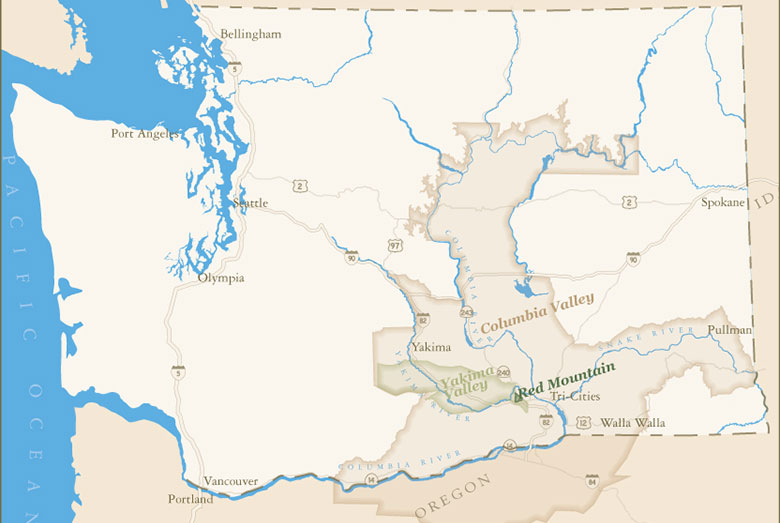 Washington State is the new frontier for luxury Cabernet Sauvignon. As a young and emerging wine region, there have already been eight wines to earn the coveted 100-point score from top wine publications. Let's dive into what makes Washington perfect for wine growing.
Agriculture has long been a cornerstone for Washington State, with the farming of apples, wheat, potatoes and many other crops. The earliest signs of grape farming originated with traders at Fort Vancouver in 1825, and by the 1860's, Italian and German immigrants were making wine. Fast forward to the mid 1970's, when a few pioneers began planting vineyards and commercially crafting wine in Eastern Washington. These folks paved the way for Washington winemaking as we know it. Today, Washington ranks second in wine production in the United States, behind California. There are a number of factors that make Eastern Washington perfect for winegrowing: namely the geography, the geology and the climate.
The Geography:
Many people think of Washington State as the rainy state, which is quite true in Seattle and Western Washington, as storms roll in from the Pacific Ocean. Eastern Washington is a different story. This region sits in the rain shadow of the Cascade Mountains. So, moisture laden storms are blocked by the mountain range, resulting in an arid, desert climate East of the Cascades. At the same time, there are two major rivers that travel through Eastern Washington; the Columbia River and the Snake River which allows for wine growers to easily irrigate their vineyards.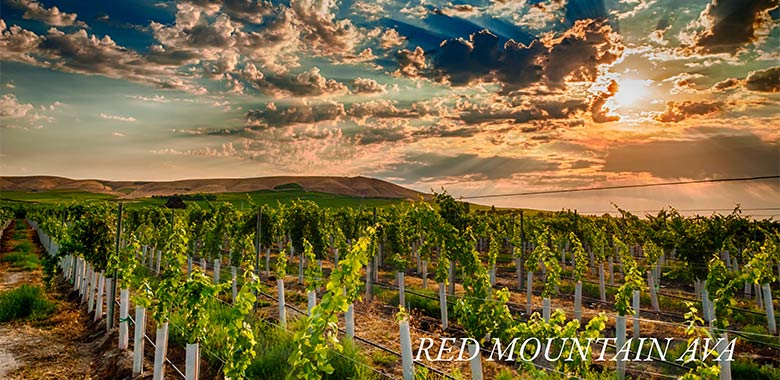 The Climate:
Geography and location are influential factors in climate. Eastern Washington grape growing sits at a latitude of 46˚ N which is the same latitude of Bordeaux, France. At this latitude, the growing season sees an average of 17 hours of sunlight, which is 2 hours more than Napa. In addition, Eastern Washington's desert climate also experiences extreme diurnal temperatures shifts, with daytime to nighttime temperature swings of 40 degrees. These long and hot daylight hours slowly and evenly ripen the grapes while cool evenings preserve the grapes natural acidity.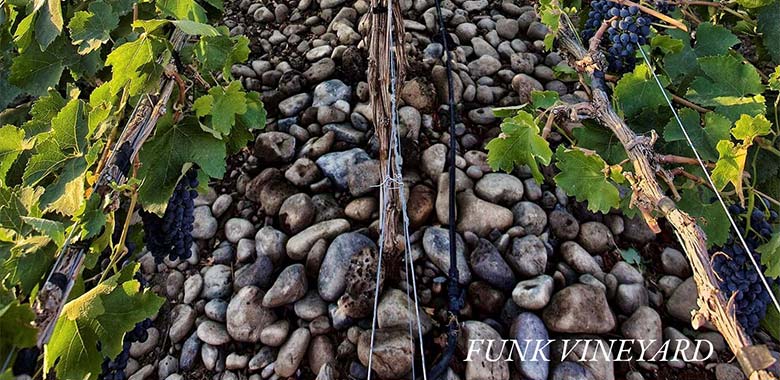 The Geology:
Soil and geology have a significant impact on wine quality. Eastern Washington features some of the most unique soil compositions. During the last ice age, around 15,000 years ago, a large glacial lake in present day Montana, flooded the Pacific Northwest with an 800-foot wave that travelled at speeds upwards of 60 mph. This event, known as the Missoula Floods, and is one of the most significant documented flood events on earth. In its wake, the flood completely changed the native landscape of volcanic rocks and basalt by depositing non-native granitic silt, sands and gravels. This unique soil diversity and excellent soil drainage make the vines work harder thus creating a lower yield and higher quality crop.
The world of Washington wine is young and up-and-coming, earning its place on the main stage of the international wine scene. Since wine is so intimately connected to place, we are taking a side-by-side look at two of our major Eastern Washington appellations.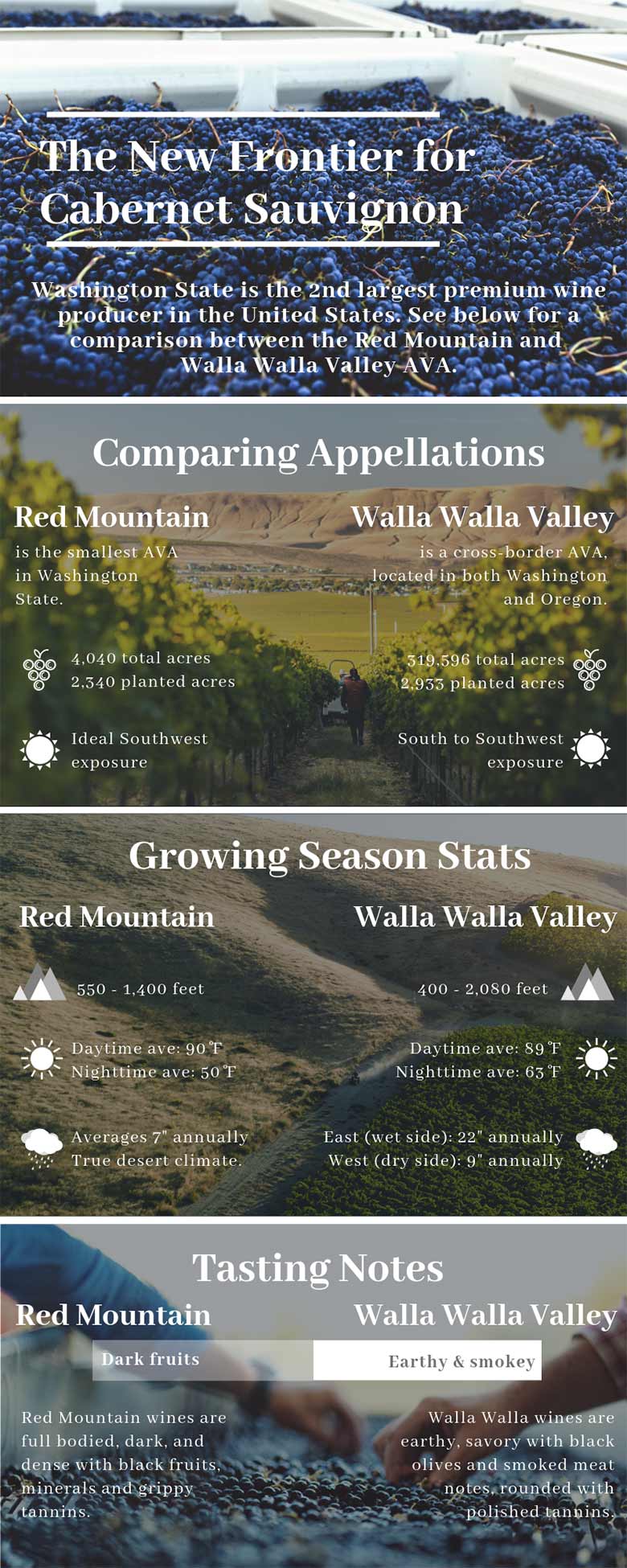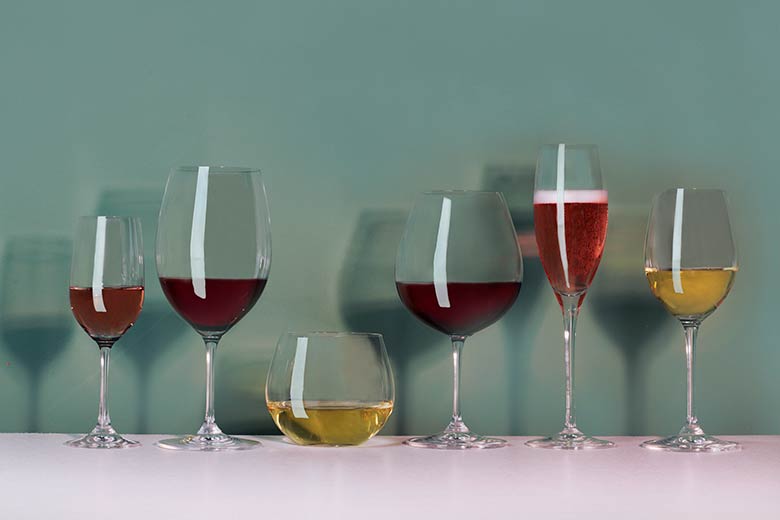 Carefully selected wines deserve to be served in glassware designed for wine! Appropriate glassware increases your enjoyment of the wine significantly. It's easy to get in the weeds on this subject, in search of the proverbial best wine glasses. Let me offer some simple tips and ideas on the various types of wine glasses available.
First, realize drinking wine is, fundamentally, a sensory experience. As you taste and contemplate a glass of wine your senses become engaged. Your ability to perceive a wine's color, aroma, flavor and texture will be impacted by the glass you are tasting the wine from. The options in wine glasses are immense and can be overwhelming. Let's zero in on the core features you want in good wine glasses.
Regardless of wine glass shape, size or design, they ideally, are clear. If the glass is opaque, we literally can't see the myriad of colors wine presents. A clear glass allows you to see the true color as well as the clarity of the wine. Color indicates several factors such as the type of grape used and the age of the wine.
A thin, delicate rim allows wine to pass from the bowl to your mouth more gracefully. A well-made wine glass feels balanced and light in your hand.
Still wines (Red, White and Rosé) all benefit from being served in wine glasses that feature a bowl large enough to swirl the wine. This swirling brings air into the wine, releasing the wine's aromas. The larger the bowl, the more the wine is exposed to the air, allowing the aromas to accumulate in the bowl. The bowl should also taper in slightly at the top. This wine glass shape helps to intensify and direct the aromas as they are released from the swirling up to the nose.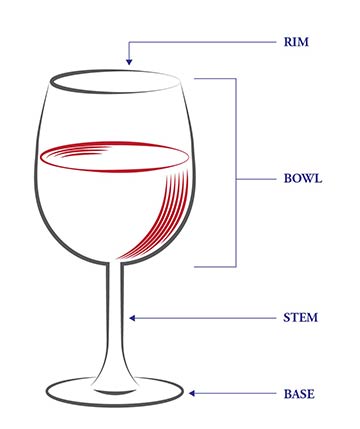 For simplicity, I recommend the classic Riedel egg-shaped wine glass. Claus Riedel lit up the wine world when he debuted a wine glass with a simple, egg-shaped bowl, in 1958. The lightweight, slender design was the essence of form following function: It enclosed the wine's bouquet, focusing the aromas toward the nose and allowing oenophiles to savor the full flavor, depth and balance of the wine in a way that hadn't been possible before. We have relied on the Riedel egg at Duckhorn Vineyards Estate House since we began receiving tasting guests in 2001. With a dozen "eggs" in your wine glass storage cabinet, you are set for enjoying still wines.
I also recommend every home have a least a half dozen "flutes" for the service of Sparkling Wine and Champagne. A flute is intentionally narrow and is designed to concentrate and extend bubbly's natural effervescence.
For outdoor settings like our Courtyard Tastings at Paraduxx, stemless wine glasses can be quite handy. A stemless glass offers the wide bowl and thin lip desired but, without a stem, it is less likely to blow or tip over. Stemless glassware requires less storage space and they are generally easy to wash in your dishwasher too.
Cheers to great wines served in good wine glasses!
Kay Malaske