November 1, 2019 | Andrea Perez - Lab Technician II
Inside the Lab: Vineyard Maturity Assessment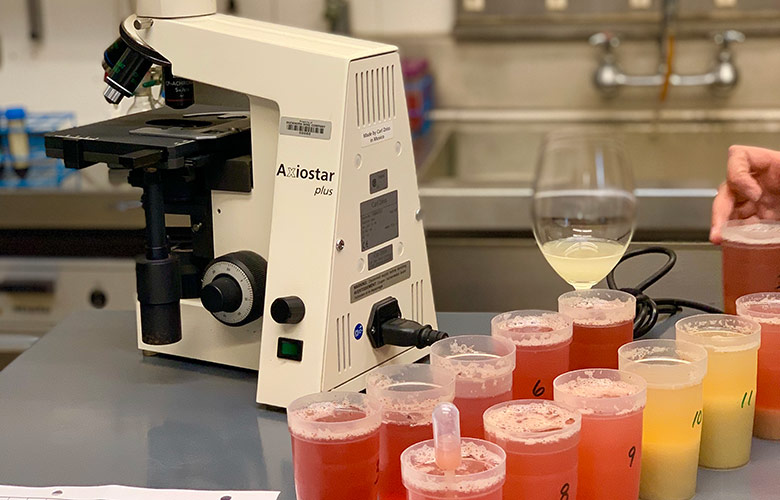 A very critical aspect in preparation for harvest is vineyard maturity assessment. Sure, we need to sanitize every piece of crush equipment, prep and start up presses...the list goes on. But what about the grapes? How do we know when a vineyard is ready to harvest? Throughout the harvest season, our Estate and Grower Relations teams leave the winery at 6 a.m. and head to the vineyards. Our vineyard teams sample every vineyard block and pick roughly 20-30 clusters from each block- this gives us an accurate representation of the entire vineyard as a whole. Each block is sampled at least once per week, and more frequently as berries ripen. Once all samples are collected and all vineyards have been scouted, the samples are then brought to the lab at the winery. From here, the vineyard samples are weighed, crushed and analyzed by our lab team. The lab processes anywhere from 25-50 grape samples everyday- talk about an arm workout!
For each sample that is brought into the lab, we measure:
Brix is a measure of sugar content in a given juice sample and is measured via a refractometer. A refractometer works by measuring the refraction of light as it passes through a sugary solution. pH and titratable acidity, commonly referred to as TA, are both measurements for acidity. In short, TA measures the amount of acid in the sample, whereas pH measures the strength of the acid. Both are measured via an auto-titrator. We aim for low pH/high acid numbers in our juice/wine. High pH values can lead to wines that are biologically unstable; low TA numbers present flabby wines with no flavor. The low pH and high acid levels will contribute to the flavors, aromas and mouthfeel of the juice and eventually, wine. Our final step of this lengthy assessment is sensory analysis. Once the chemical analyses have been run, our lab technicians analyze the data for any trends or outliers. Flavor is the biggest factor when it comes to picking decisions. The numbers can be spot on, but if a juice sample tastes under-ripe, our winemaker will choose to continue sampling the block instead of harvesting it.
Comments
Commenting has been turned off.