October 27, 2023 | The Marketing Team
5 Tips for Hosting an Elevated Friendsgiving with Decoy Wines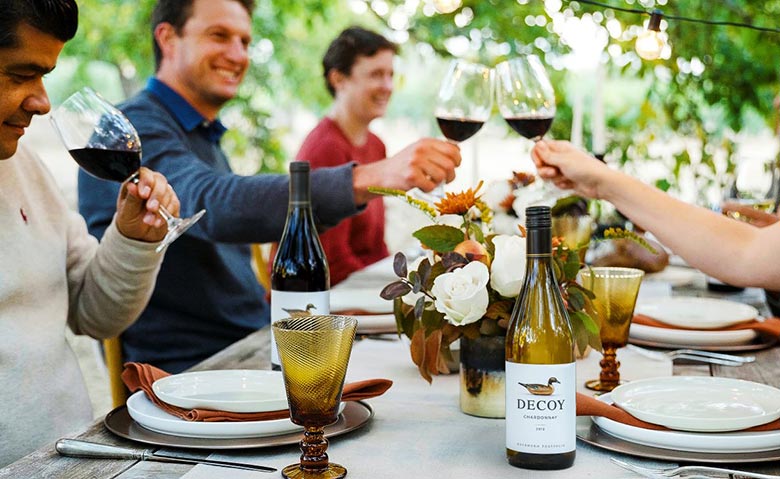 This year, our gratitude goes out to exceptional wine and even better company. Before it's time to carve the turkey (or spiral ham… or tofurky… or salmon wellington) you'll want to set the stage for a soirée that is upscale, elegant and deliciously delightful.
Think Ahead
Consider this: How many friends are attending? Is there adequate seating? Are all dishes accounted for? And most importantly – do you have enough wine? A standard bottle of wine should pour about five glasses, so make sure to do a proper headcount in advance.
Pro Tip: Be prepared with a backup plan. You can replenish your Decoy wine stock in the moment (even if the party has already begun) with Drizly or Instacart.
Plan Your Playlist
Planning a playlist can be a daunting task but go ahead and check this one off the list. We've got it covered with our official Decoy Wines Friendsgiving Playlist on Spotify – perfectly curated to complement your gathering.
Begin with Bubbles
Make guests feel truly welcomed with an opulent moment. This introduction is also the perfect time to make a statement – and a magnum of Decoy Brut Cuvée is sure to fit the bill.
But What About Pairings?
Whether you're hosting a traditional Thanksgiving meal or something more casual, there's a Decoy wine for every dish.
Decoy Sauvignon Blanc: Try this bright and lively crowd favorite with light appetizers, such as Dungeness crab puffs or baked brie.
Decoy Chardonnay and Decoy Pinot Noir: Both varietals are a perfect match for the traditional Thanksgiving oven-roasted turkey, as well as stuffed mushrooms.
Decoy Cabernet Sauvignon: Don't forget dessert – serve this bold yet balanced wine with a classic pecan pie or a rich blackberry cobbler to end the night.
For those who want to leave a lasting impression, showcase something a step above with our Decoy Limited wine selection, and check out our favorite Holiday Recipes for more pairing inspiration.
Give Thanks
As your Friendsgiving draws to a close, invite everyone to gather around for a game of gratitude! Prepare prompts and questions ahead of time for your guests to draw at random from a festive hat or decorative bowl. Here are some questions to get you started:
Which person in the room has inspired you most this year?
Offer a heartfelt compliment to the person sitting directly across from you.
What do you admire about the friendship you have with the host?
Express your gratitude to the person sitting directly on your left.
Comments
Commenting has been turned off.