January 13, 2023 | Gwendolyn Elliott
Gourmet Vegan Cuisine Ushers in New Era of Food and Wine Pairings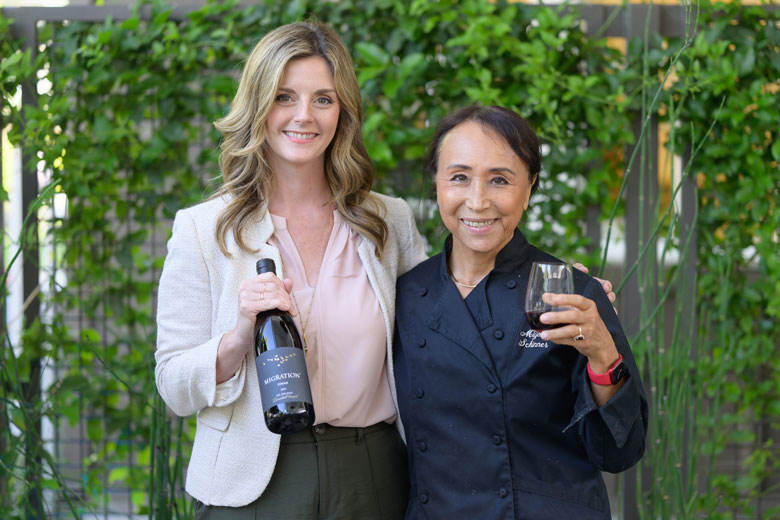 Chef Miyoko Schinner would like you to forget everything you think you know about food and wine pairings—those classic combinations such as steak and Cabernet, or fish and Chardonnay.
If anyone can do that, it's Schinner. The vegan multi hyphenate—cookbook author, restaurateur, TV show host, and founder of award-winning vegan cheese emporium, Miyoko's Creamery—built her remarkable career, earning accolades as a Food & Wine Gamechanger and on the elite Forbes 50 Over 50 List, in the cradle of California wine country, where she naturally developed an instinct for matching food with wine.
Yet when Schinner plans a tasting menu, the cuisine she pairs with wine is 100% plant based and free of animal products—hors d'oeuvres such as a pea and mint crostini with creme fraiche and caramelized pear, and dishes like honeynut squash and spinach ricotta souffle with herb cheese, potato chips, and malibar spinach, a persimmon, fennel, radicchio, frisee, apple and onion salad, and even a rustic, hearty "Boeuf Bourguignon."
Dishes such as these, and others, took center stage at two, four-course "Farm to Fork" wine dinners Schinner personally catered at Migration's new Carneros tasting room in 2022. Paired alongside winemaker Dana Epperson's elegant and cool climate Chardonnay and Pinot Noir, the events were the picture of what Schinner calls "accessible elegance"—aspirational and exciting dining experiences for those looking for elevated vegan cuisine beyond readily available plant-based fast food (like burgers and pizza).
"One of the reasons I'm such a big believer in wine country is because, like with most new innovation, you have to reach the early adopters, the people who are interested in, have the resources, and are curious about a diet that can be better for themselves, the planet, and everything else," said Schinner, who still lives in wine country, near Sonoma, in a phone call last November.
But wrestling a charcuterie board from the hands of a hangry tasting room visitor is no easy task. Just as wine has long been associated with affluence and refinement, "meat has always symbolized wealth and power," Schinner said. When it comes to pairing food and wine, "we're caught in that historical cultural trap."
"But it doesn't mean that we can't break out of it," she said. "One of the ways to break out of it is for us to start realizing how wonderful plants can be."
With sustainability increasingly a focus not just for wine consumers but the wine industry at large, and a growing awareness of the environmental impact of a meat-based diet, improving the availability of plant-based food options at wineries offers an experience that is more holistic and aligned with a winery's sustainability goals.
"That's why I was so thrilled to do this kind of partnership," said Schinner of joining forces with Migration. She went on to speak of plant based fine dining gaining traction with Michelin-starred restaurants and celebrity chefs.
Schinner's inspired and mouth-watering approach to gourmet vegan cuisine (full disclosure: I was a lucky and well-sated attendee at the November Farm to Fork dinner) is proof positive that all it takes is initiative and buy-in from willing, early-adopters such as Migration—where the proprietary Miyoko's Creamery cheese plate is already on offer—to make delicious and satisfying vegan cuisine, and a truly sustainable culture of food and wine, more accessible to everyone.
"I believe that food is a form of activism, but the form of activism doesn't have to be in your face," Schinner said. "It can just be, 'oh my God, look at this amazing food that's possible,' and that right there is all you really have to do."

Comments
Commenting has been turned off.