Featured Press & Awards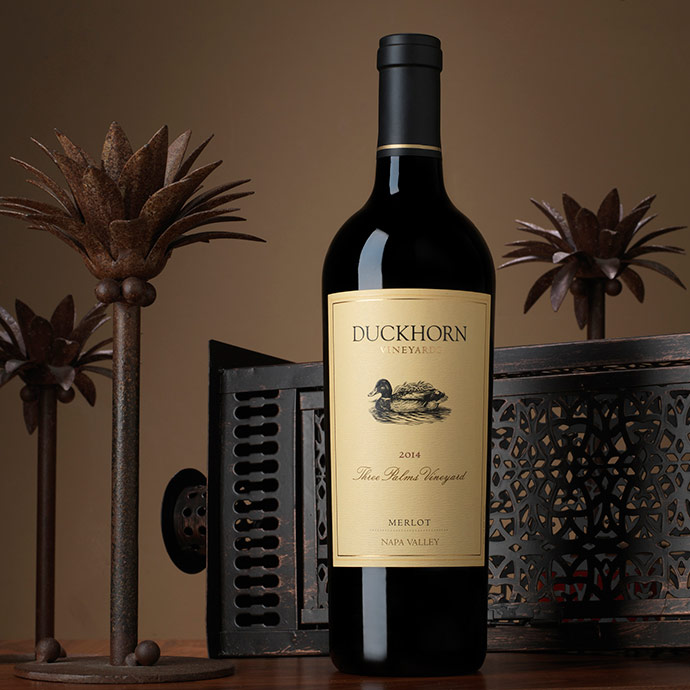 Wine Spectator - #1 Wine of the Year
2014 Napa Valley Merlot Three Palms Vineyard
The classic-scoring Duckhorn Merlot Napa Valley Three Palms Vineyard 2014 is... Read More »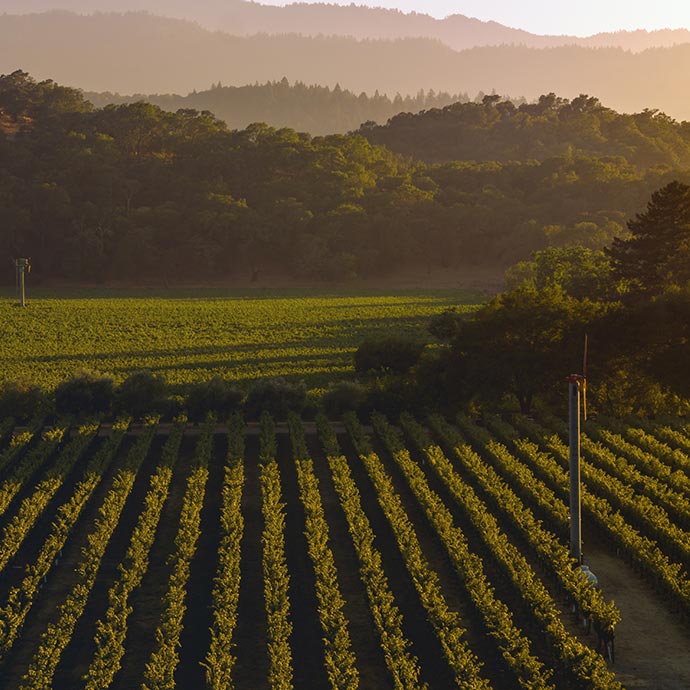 Wine Spectator - The Merlot Factor
From Duckhorn, which helped pioneer Merlot in California, comes one of the two classic-rated wines in this report, the powerful Rector Creek Vineyard 2016... Read More »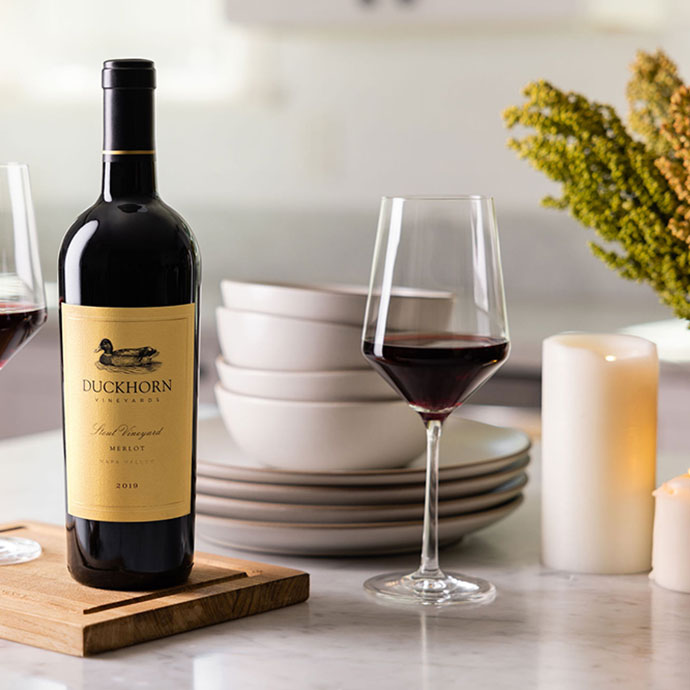 Yes, You ARE Drinking Merlot—and Here Are 9 Magnificent Bottles to Get You Started
Duckhorn has been making wine in California since 1978 and Three Palms Vineyard is one of Napa's best-made single vineyard Merlots...Read More »
---
Wine Enthusiast Website - #1 Wine of the Year
Published November 2023
The 2019 Duckhorn Vineyards Napa Valley Cabernet Sauvignon Monitor Ledge Vineyard was named #1 Wine of the Year, Editors' Choice by Wine Enthusiast in the recent issue "The Enthusiast 100: The Best Wines of 2023." With a crème de cassis flavor and a velvety texture that soothes the palate, this rich and indulgent wine is easy to love.
---
Robert Report
Published October 5, 2023
Yes, You ARE Drinking Merlot—and Here Are 9 Magnificent Bottles to Get You Started
Duckhorn has been making wine in California since 1978 and Three Palms Vineyard is one of Napa's best-made single vineyard Merlots. It has received much critical acclaim and in 2017 Wine Spectator chose the 2014 Three Palms Vineyard Merlot as "Wine of the Year." Read More
---
Travel + Leisure Website
Published September 2023
20 Best Things to Do in Napa Valley
With more than 400 vineyards and almost 100 separate tasting rooms, Napa is like an adult Disneyland when it comes to wine tasting—it's that magical. Duckhorn Vineyards was recommended as one of a few treasured wineries to kick off your research.
---
WineSpeed Website
Published June 2023 | Karen MacNeil
Wines to Know
Here's your summer in a glass. We tasted this wine blind in a line-up of Sauvignons that cost up to $90, and it was the home run of the tasting. Lively, botanical, and as fresh and minerally as a mountain stream, it was packed with white peach, pear, and starfruit flavors. It was, in fact, so full of energy…
---
Veranda website, Yahoo! Life
Published July 2020


These Are the 22 Most Beautiful Wineries in Napa Valley, According to Sommeliers

Visitors to Duckhorn Vineyards are in for a treat: the chance to taste world class wines in an intimate, home-like setting. The tasting room, which is tucked inside a Victorian-styled home with a wrap around veranda overlooking lush gardens and vienyards...
---
Martha Stewart website
Published June 2020


Our Guide to White Wine for Every Palate - Sauvignon Blanc

To taste the range of sauvignon blanc, try a New Zealand wine like Loveblock Sauvignon Blanc 2019, 2018 Duckhorn Vineyards Napa Valley Sauvignon Blanc. Pair sauvignon blanc with shellfish such asScallops with Mint Pesto and Mussels in White Wine and Garlic, or try it with Leek-and-Goat-Cheese Tart with Rye Crust.
---
Washington Wine Blog
Published June 2020


Duckhorn Vineyards

It is hard to believe that more than forty years ago Dan and Margaret Duckhorn founded Duckhorn Vineyards. What began with a mere 800 cases of Cabernet Sauvignon and 800 cases of Merlot in 1978, Duckhorn Vineyards now has many arms of their dynasty including a winery in Washington (Canvasback Winery) as well...
---
Martha Stewart website
Published May 2020


A Beginner's Guide to California Wines

Pair a Napa Valley chardonnay with Roast Chicken with Meyer Lemons and Potatoes. Less predominant than chardonnay but still a part of the Napa scene is sauvignon blanc; we love 2018 Duckhorn Vineyards Napa Valley Sauvignon Blanc..
---
NapaLife
Published May 2020


Wine Country in Your Kitchen food and wine pairing series

Join Duckhorn and Chef Natalie Niksa of La Saison, Napa Valley every Friday at 5 p.m. from May 15 to June 26 as they bring wine country to your kitchen with a seven-week food and wine pairing series.
---
Fodor's Travel Napa & Sonoma
Published 2020


Napa Valley St. Helena Sights

Merlot's moment in the spotlight might have passed, but you wouldn't know it at Duckhorn Vineyards, whose Three Palms Merlot was crowned wine of the year by Wine Spectator magazine in 2017.
---
Wine Spectator
November 2019


The Merlot Factor

From Duckhorn, which helped pioneer Merlot in California, comes one of the two classic-rated wines in this report, the powerful Rector Creek Vineyard 2016 (95 points, $100), which features dense, concentrated dark fruit flavors that are well-structured and capped by a long, mineral-filled finish...
---
The Press
March 2019


Why California Merlot is the Ultimate Wine Hack

One of the most recognizable brands in California, Duckhorn is also among Merlot 's biggest advocates. They make several from different sub-appellations across Napa Valley, but their flagship is from the Three Palms Vineyard, yielding a sumptuous, hedonistic expression of the grape.
---
Wine Enthusiast
January 2019


Wine Executive of the Year

Wine Enthusiast named President & CEO Alex Ryan as its 2018 "Wine Executive of the Year." Watch this video highlighting Alex's journey and what he believes are the core characteristics and values of the Duckhorn Portfolio.
---
Wine & Spirits
October 2018


2016 Duckhorn Vineyards Napa Valley Chardonnay - 93 Points - Year's Best U.S. Chardonnay

Exciting, distinctive; a wine that transcends simple typicity to its region or variety; a vivid, singular expression of place.
---
Forbes
July 11, 2018


Duckhorn Vineyards And The Unusual Triumph Of Merlot In Napa Valley

These days, Cabernet Sauvignon is king in Napa Valley. It's been that way for some time now, so consider what Dan Duckhorn and his wife Margaret were thinking back in the late 1970s when they opted to focus, not on this variety, but instead on Merlot. It could have been a folly, even a disaster, but time has shown the wisdom of their decision. Today Duckhorn Vineyards is the most recognized and successful producer of Merlot in Napa Valley, and one of the most famous Merlot producers in the world.
---
Napa Valley Register
January 4, 2018


Tim Carl's Local Tastes: The story behind Duckhorn's big win

In 1976, Margaret and Dan Duckhorn founded a small winery. Their goal was to make a merlot wine from Napa Valley grapes that might stand up to any wine in the world. Their first vintage was the 1978. Forty years later, their commitment to that original vision has been recognized as the Wine Spectator's Wine of the Year for their 2014 Duckhorn Merlot from the Three Palms Vineyard in Napa Valley.
---
Wine Spectator
November 17, 2017


2014 Napa Valley Merlot Three Palms Vineyard - #1 Wine of the Year

The classic-scoring Duckhorn Merlot Napa Valley Three Palms Vineyard 2014 is Wine Spectator's 2017 Wine of the Year. The 2014 Three Palms is an elegant expression of Merlot, loaded with red fruit and spice flavors that are supported by medium-grained tannins.
---
Wine & Spirits
Winter 2017
Top 100 Wineries of 2017
To make the cut, a winery had to hit it out of the park with at least three high-scoring wines; many of these wineries earned a lot more.
---
Wine & Spirits
October 2017


2013 The Discussion Napa Valley Red Wine - 92 Points

2013 was a great year to be a cabernet grape in California,' said Josh Thomas when he tasted this wine, a blend of 61 percent cabernet sauvignon, 25 percent merlot, the balance cabernet franc and petit verdot. It brings a Right Bank style to Napa Valley, with merlot making the tannins approachable, providing impressive oak integration and richness (after 18 months in barrel, 95 percent new, it spent another six months in neutral oak). The flavors are dark and juicy, completely savory in their supply, fruity-dark-chocolate richness.
---
Conde Nast Traveler
September 6, 2017


Beautiful Wineries in California

We love Napa and Sonoma more than ever, to be sure. But did you know that California has more than 100 different wine-growing regions? With this in mind—and in honor of California Wine Month this September—we scoured the state and picked the ten most beautiful wineries in California.

Duckhorn Vineyards - Unlike the commercialized tasting rooms and visitor's centers you'll find in Napa, the Colonial-style estate house at Duckhorn Vineyards is cozy and intimate—the next best thing to having your own home in wine country. 'Our estate house was modeled to look and feel like a home,' says winemaker Renee Ary. 'We want you to come in and feel like you're tasting wine in your own living room.' Plush, worn couches and a wraparound porch furnished with comfy wicker chairs add to the relaxed, down-home vibe—though you might be tempted to skip the estate house altogether to imbibe alfresco in one of its gorgeous surroundings.
---
St. Helena Star
August 29, 2017


Duckhorn Vineyards kicks off its 40th grape harvest

A crew of 10 Duckhorn employees started the 2017 harvest season at 2 a.m., Friday by picking 18.28 tons of sauvignon blanc. The grapes were picked from Duckhorn's original estate property, Marlee's Vineyard in St. Helena.

After the Friday picking of grapes, the workers were about 20 percent finished in the 16.43-acre vineyard.

Named after Duckhorn Vineyards co-founder Margaret Duckhorn, Marlee's Vineyard was acquired in 1976, the same year that she and Dan Duckhorn founded Duckhorn Vineyards. Two years later, the inaugural Duckhorn Vineyards harvest yielded 800 cases of cabernet sauvignon and 800 cases of Three Palms Vineyard merlot.
---
The Daily Meal
August 2, 2017


101 Best Wineries in America 2017

Our panel ranks the top producers from California and 13 other states, Washington to Virginia, Maryland to Texas. Narrowing our national enological wealth down to a mere 101 wineries, then, is a daunting task each year. To help us meet the challenge, we reach out annually to experts in the field, from all over the country — sommeliers, wine writers and bloggers (including our own contributors, of course), chefs and restaurateurs, and of course the wine-savvy editors at The Daily Meal — asking them to nominate their favorite wineries (as many as ten per person) and to tell us what they like about them.

In a region dominated by cabernet sauvignon, Duckhorn Vineyards bucked the trend and made a special commitment to merlot, inspired by co-founder Dan Duckhorn's love of the grape. With his then-wife, Margaret Duckhorn, he established the winery in 1976, and now produces single-vineyard, single-varietal wines from Bordeaux varietals, especially merlot, but also cabernet sauvignon and sauvignon blanc.
---
San Francisco Chronicle
August 2017


Remember Merlot? It's better than ever.

When it comes to iconic Merlot vineyards in California, none surpasses Three Palms Vineyard in Napa Valley. Duckhorn winemaker Renee Ary concedes that Calistoga is on the warm side for growing Merlot, but the river rocks that spilled out of Dutch Henry Canyon and were deposited in this 73-acre vineyard give the plush Merlot enough stony structure to balance that ripeness. Ary calls it a 'wet stone' flavor.
---
Food & Wine
April 2017


Best Napa Valley Wineries to Visit

The best Napa Valley wineries to visit feature a tasting room in a cave, artisanal cheese pairings, on-site sommeliers and more —Megan Krigbaum (with research by Stephanie Zhang)

Duckhorn, one of the pioneers of Napa's modern era, first struck gold with Merlot, notably its famous luxury bottling from Three Palms Vineyard, which remains its flagship. The winery also has a following for palate-flattering Cabs and Sauvignon Blancs.
---
Wine Enthusiast
November 2016


2014 Napa Valley Chardonnay - 91 Points

This wine is well sourced, its grapes coming from Brown Ranch, Toyon and Trefethen, among other sites. Aging takes place partially in barrels that have been soaked in water before toasting to lessen the impact, and in stainless steel. Light, crisp honeyed apple, pear and vanilla star alongside caramel and a floral flourish.
---
Decanter
November 2016


Napa Valley matriarchs

Three women remain inspirational family figureheads at the Chappellet, Novak and Duckhorn wineries, which played central roles in the early development of the St Helena winelands. Linda Murphy tells their story...

Margaret and Dan Duckhorn followed, in 1976, seeking a similar escape from big-city pressures – in their case, the San Francisco Bay area. They brought a group of investors to their party. 'The industry was so small then that our competitors became our friends and we shared ideas and equipment just to make it,' says Margaret. 'Dan went to work in San Francisco at Heublein and I focused on the permits that we needed to establish the winery. I was a school nurse at the time. We hired Tom Rinaldi as winemaker. The next three years, we were involved at the winery on a day-to-day basis. Dan was involved helping to develop the strategy and focus we wanted, through his work at Heublein.'
---
Forbes
December 13, 2015


The Best California Merlot Ever

California Merlot has had a pretty rough ride since the 2004 movie Sideways savaged the varietal for being boring and insipid, and Miles had a point – there was an awful lot of awful Merlot around at the time, but it wasn't the grape's fault.

In Napa Valley's warm Mediterranean climate it's easy to make big, ripe boring Merlot, wine devoid of personality. But in the right location, and with the right approach, it can deliver very fine wine, and in one special vineyard, truly wonderful wine, the best California Merlot there is: Duckhorn Vineyards's Three Palms vineyard in Calistoga.