Wine Tasting Experiences
Tastings at the Winery
Please note: Duckhorn Vineyards will be closed for a private event on Sunday, June 4th 2023. We will re-open on Monday, June 5th for regular business.

NEW TASTING: Marlee's Signature Tasting
For those who love great Merlot, Cabernet Sauvignon, Sauvignon Blanc and Chardonnay, a trip to Duckhorn Vineyards has long been recognized as one of the preeminent Napa Valley tasting experiences. With vibrant gardens and sophisticated tableside wine service, our classically beautiful Estate House sets the standard for attentiveness and refinement.
The Duckhorn Portfolio Tasting ($60) highlights five current-release wines. Ask about an optional pairing to accompany your tasting. For those who want to go a little deeper into our renowned portfolio, several Elevated Tasting Experiences will be available at varying prices this coming fall.
Reserve Portfolio Tasting Reserve Elevated Tastings
Portfolio Tasting - $60/person + tax - by Appointment Only
The Portfolio Tasting highlights five current-release wines from across our portfolio. Anchored by phenomenal Napa Valley wines & our stellar wine specialists, tasting at Duckhorn Vineyards has long been recognized as a "don't miss" winery visit. With our airy interiors, outdoor settings and vineyards, we provide social distancing quite naturally!
Indoor and Outdoor Experiences. We are offering both indoor and outdoor wine tasting experiences
Tastings. We are adhering to a 45 minute to an hour tasting duration
Cards Only. Credit or Debit payments only
21+ Only. All guests must be over the age of 21
Pick-Up. Place an online order in advance for contactless curbside pick-up
Wine Club Membership: All club members receive complimentary wine tasting experiences for up to four adults, with member present.
Questions: If you have questions about tasting availability, please call (888) 354-8885 or email reservations@duckhorn.com.
All Tastings by Appointment Only, Attendees Must be 21 and Older
Elevated Tasting Experiences
Diving deeper into our renowned Duckhorn portfolio, we offer several elevated tasting experiences at varying prices. These experiences range from private to semi-private while offering access to the limited wines of the Duckhorn Vineyards collection and a more personalized, unique tasting experience. Each of these experiences is curated to create a unique and intimate setting, advance reservations are required.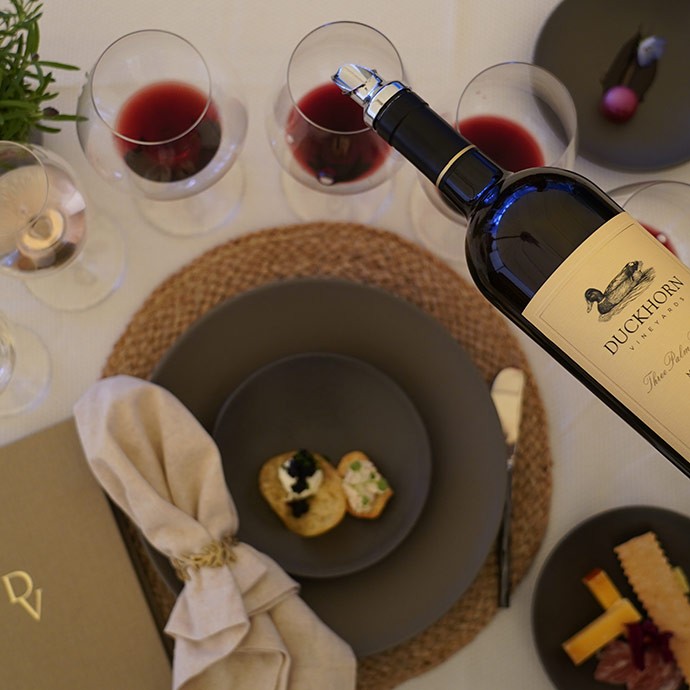 Marlee's Signature Tasting - $200/person + tax
To those who best knew our late co-founder, Margaret Duckhorn, she was known fondly as Marlee. Marlee was an icon. In addition to championing the great wines of Napa Valley, Marlee's passion for hosting guests and bringing together the best in Napa Valley food and wine helped to shape the identity of wine country. Celebrating Margaret's legacy, our 90-minute Marlee's Signature Tasting is hosted in our idyllic Marlee's garden, with views of her namesake vineyard. This tasting offers a selection of coveted single-vineyard wines and our iconic Sauvignon Blanc, paired with delectable small bites. Member pricing is available.
Details:
Specialty, seasonal food pairings included
Semi-private/Limited (attendees must be 21 or older)
Offered Thursday-Sunday at 10am
Average Duration: 90 Minutes
Reservations Required
Please contact us at (707) 963-7108 or email reservations@duckhorn.com to reserve.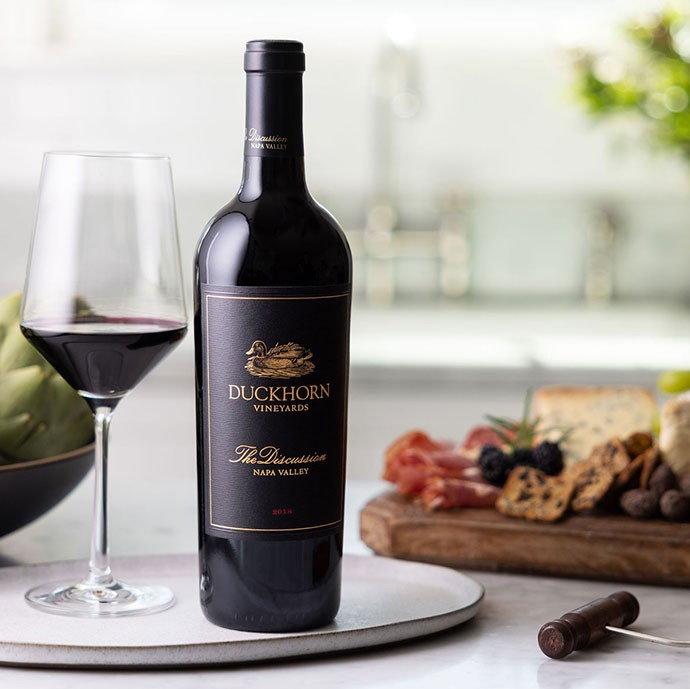 Members Only: Enhanced Club Tasting
Our enhanced tasting is designed to delight our wine club members. With a flight of five wines paired with a delicious food pairing plate, it's the perfect time to taste through some of the wines from your current wine club shipment. This special tasting will also include a bonus pour of the current release of The Discussion!
All individuals must be over 21+
Complimentary for up to four guests – member must be present
Reservations Required
Please contact us at (707) 963-7108 or email reservations@duckhorn.com to make your tasting arrangements for this experience.
---

Group Reservations
5 Guests or More
In order to provide special attention to all of our guests, we require group reservations for parties of five to six. Advanced group reservations help us provide the best tableside service for your party. Reservations are limited to groups of 6 people maximum at this time.
To request a group reservation, call (888) 354-8885 or email reservations@duckhorn.com.
---
Make Your Next Reservation
Visit Our Other Wineries