Wine Tasting Experiences
Tastings at the Winery - Outdoor Seating

For those who love great Merlot, Cabernet Sauvignon, Sauvignon Blanc and Chardonnay, a trip to Duckhorn Vineyards has long been recognized as one of the preeminent Napa Valley tasting experiences. With vibrant gardens and sophisticated tableside wine service, our classically beautiful Estate House sets the standard for attentiveness and refinement.
The Duckhorn Portfolio Tasting ($40) highlights five current-release wines. Ask about an optional pairing to accompany your tasting. For those who want to go a little deeper into our renowned Duckhorn portfolio, several Elevated Tasting Experiences ($55 - $85) are also available at varying prices.
Reserve Portfolio Tasting Reserve Elevated Tastings
Portfolio Tasting - $40/person + tax - by Appointment Only
The Portfolio Tasting highlights five current-release wines from across our portfolio. Anchored by phenomenal Napa Valley wines & our stellar wine specialists, tasting at Duckhorn Vineyards has long been recognized as a "don't miss" winery visit. With our airy interiors, outdoor settings and vineyards, we provide social distancing quite naturally!
For the well-being of our guests and staff, we will be implementing the California Wine Institute guidelines, including:
Plan Ahead. Reservations are required for all wine tastings
Signature. A liability waiver for your party must be completed upon arrival
Outdoor Only. At this time ALL wine tastings will be conducted in outdoor settings
Cover-Up. Face coverings are required for all guests except when seated
Small Parties. Reservations will be limited to a maximum of six people
Cards Only. Credit or Debit payments only
Rest Assured. We have implemented additional protocols for everyone's well-being
Pick-Up. Place an online order in advance for contactless curbside pick up
We can't wait to welcome you for a respite of fresh air, connection and world-class wines in your glass!
Wine Club Membership: All club members receive complimentary wine tasting experiences for up to four adults, with member present.
Questions: If you have questions about tasting availability, please call (888) 354-8885 or email reservations@duckhorn.com.
All Tastings by Appointment Only, Attendees Must be 21 and Older
---
Enjoy from the Comfort of Home: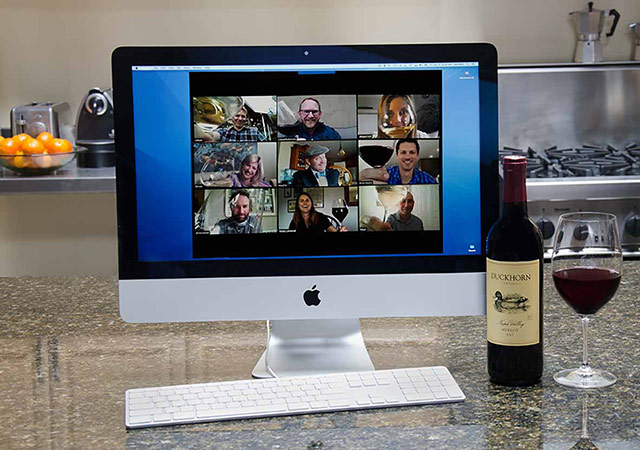 Virtual Tastings
Let us bring Wine Country to You - LIVE! Plan a personalized virtual tasting with family, friends or colleagues and enjoy a custom selection of Duckhorn Vineyards wines hosted by one of our own! Learn more >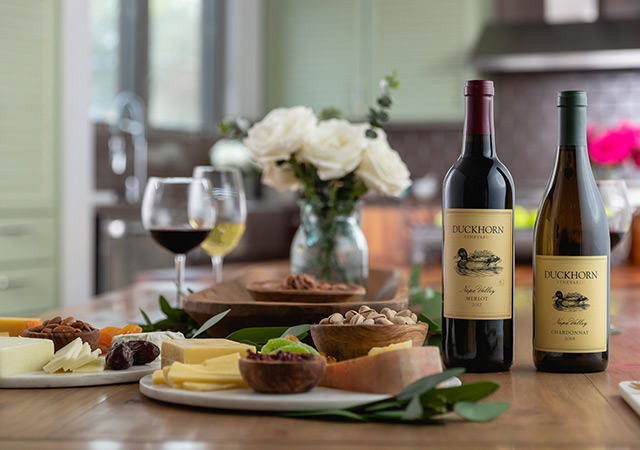 Order Online
If you would like to enjoy our wines from home, place an order online and let us send Wine Country to you! Ship directly to your door or enter as a pick-up order for a curbside pick-up option! Order from our Shop >
Elevated Tasting Experiences - Currently Unavailable
Due to current restrictions, we are unable to offer our Elevated Tastings. We hope to be able to offer all of our Elevated Tasting Experiences once again in Spring of 2021.
Diving deeper into our renowned Duckhorn portfolio, we offer several elevated tasting experiences at varying prices. These experiences range from private to semi-private while offering access to the limited wines of the Duckhorn Vineyards collection and a more personalized, unique tasting experience. Each of these experiences is curated to create a unique and intimate setting, advance reservations are required.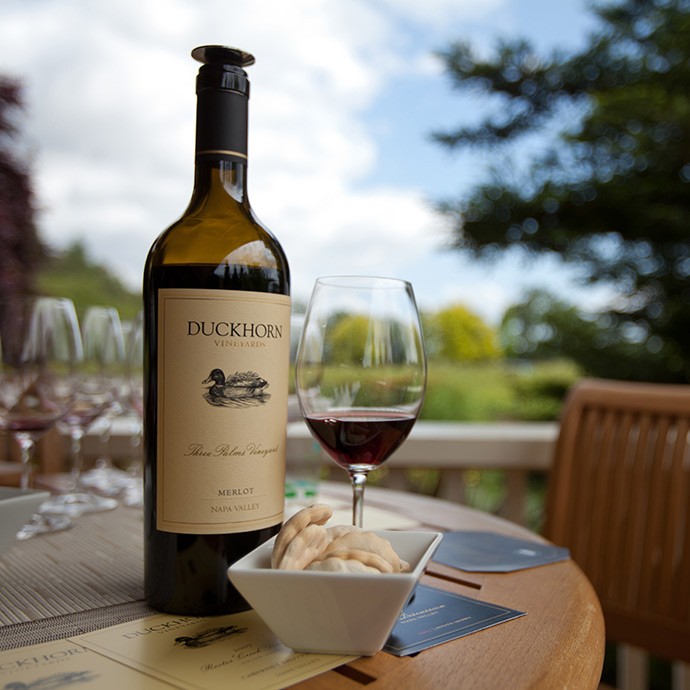 Private Tasting - $85/person + tax

This experience is currently unavailable.
Our Private Tasting pampers you and your guests with one-on-one attention and is our most customizable tasting experience. Your personal host will guide you through a private tasting featuring a selection of small-production Estate and vineyard-designate wines selected from the Duckhorn portfolio. To further tailor the experience to your tastes, guests may select specific varietals when making reservations which will be paired with delicious artisan cheeses.
Cheese pairing included
Tasting location options: Private Room or Marlee's Garden
Private/Limited to 6 adults (attendees must be 21 or older)
Offered Monday-Thursday at 11am
Average duration: 1 hour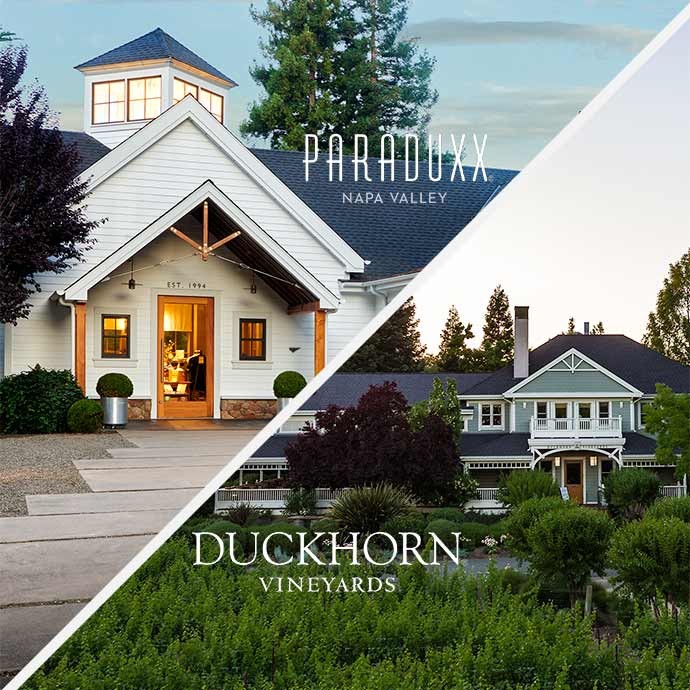 A Day of Duckhorn - $325/person + tax

This experience is currently unavailable.
This full day experience is designed to engage all of your senses, while indulging in the Duckhorn Portfolio! The Day of Duckhorn starts at Paraduxx winery just outside the town of Yountville along the Silverado Trail. You will be treated to a tour of the winery and a walk through our Rector Creek Vineyard, after which your wine educator will take you through a guided tasting of Paraduxx wines. Following your Private Blend Experience, enjoy an al fresco food and wine pairing. The final stop is Duckhorn Vineyards about 15 minutes north along the Silverado Trail. Here you will embark on a serene Private Tasting Experience, with access to favorites from Duckhorn Wine Company's full portfolio of wines.
Begin your day at Paraduxx Winery for a winery tour and Private Blend Experience.
Following your tasting, relax and enjoy an al fresco food and wine pairing.
Arrive at Duckhorn Vineyards. Embark on a Private Tasting Experience, designed to showcase wines of your choosing. A wine educator will guide you through the 41 years history of Duckhorn Vineyards and highlight the wines you enjoy most.
All tastings are private and can accommodate groups ranging from 4 to 6 people (attendees must be 21 or older).
Tastings available Sunday - Friday. Member pricing available.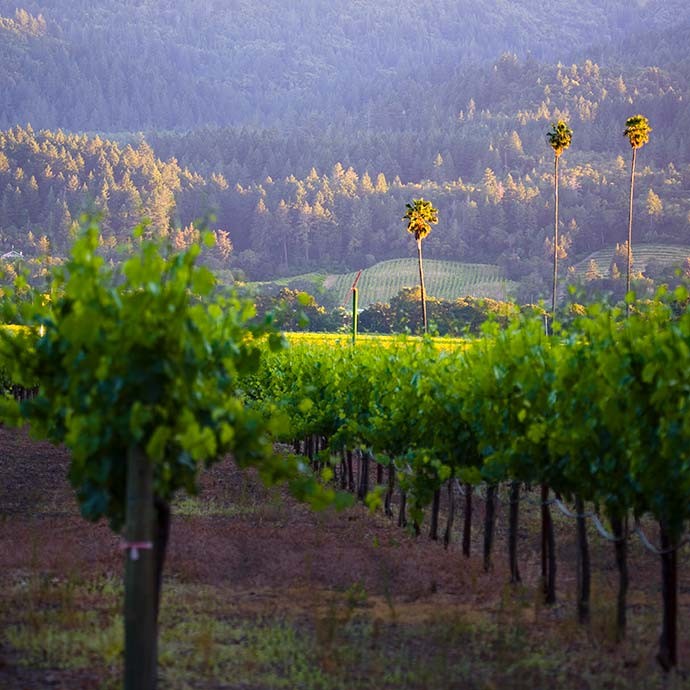 Wine of the Year Tasting - $175/person + tax

This experience is currently unavailable.
The tasting will begin with a walk through our vineyards to the Founder's Fountain where a wine educator will go over the history of Duckhorn Wine Company. Following the brief walk, guests will be seated in our Three Palms Estate Room for a private tasting of the Wine of the Year Three Palms Merlot, including current releases and library wines and of course our coveted 2014 vintage which was awarded the prestigious Wine Spectator Wine of the Year in 2017! The Wine of the Year will be poured out of Coravin and only poured for those attending this special tasting.
Cheese & Salmui pairing included
Tasting location: Three Palms Estate Room
Private/Limited to 6 adults (attendees must be 21 or older)
Offered Sunday-Friday at 11am or 2:30pm. Member pricing available.
Average Duration: 1-1.5 hour(s)
---

Group Reservations
5 Guests or More
In order to provide special attention to all of our guests, we require group reservations for parties of five to six. Advanced group reservations help us provide the best tableside service for your party. Reservations are limited to groups of 6 people maximum at this time.
To request a group reservation, call (888) 354-8885 or email reservations@duckhorn.com.
---
Make Your Next Reservation
Visit Our Other Wineries