March 3, 2020 | Alex Gerberick - Sr. Marketing Coordinator
Navigating the Wine Aisle with Confidence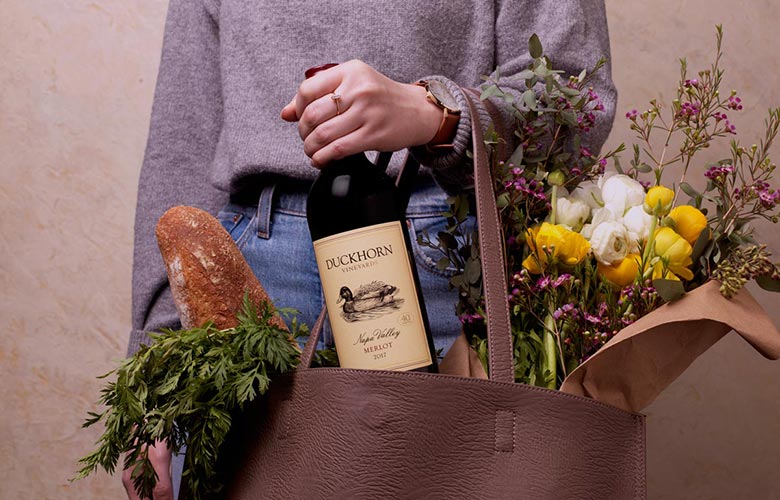 Let's face it, the wine aisle can be an intimidating space. Here are a few tips to help you navigate it with confidence!
Tip 1: Get the lay of the land
Whether you are at your local wine shop, or a larger chain grocery store, there is some sort of method to their madness when it comes to organization. Understanding how things are shelved makes paring down your options a bit easier. Often you will see the wine section separated by origin; US vs Imported (French wines, Italian wines, California wines, etc.), followed by varietal (Chardonnay, Cabernet Sauvignon, Blends, etc.).
Tip 2: Determine The Occasion
Whether you're enjoying an anniversary dinner, laying low on girls' night or just celebrating Tuesday, figuring out what the evening entails always helps me decide what to take home.
Tip 3: With or Without Food
The next question I like to ask myself is, "am I going to be enjoying my wine with, or without food?" A good rule of thumb is that when enjoying wine alongside food, the intensity of the wine should match the intensity of the food. Then I like to discern if I am in the mood for a slightly chilled white wine, or a red. Check out our recipe pairings for more ideas.
Tip 4: Look For Something Familiar - Then Maybe Branch Out
A great way to confidently branch out is to reach for other wines that are in the portfolio of a winery which you know and love. Strong collections such as The Duckhorn Portfolio benefit from world class winemakers who collaborate. Although each of our wineries has its own dedicated winemaker, they benefit from working with one another. Wineries with an established pedigree also have access to high quality fruit, which should instill confidence that you'll end up selecting something you love. For example, if you really like our Migration Pinot Noir, our Goldeneye Anderson Valley Pinot Noirs might be something you would like as well as Katey Larwood, our Goldeneye winemaker, and Dana Epperson, our Migration winemaker, frequently talk shop!
Tip 5: Don't Be Afraid To Ask For Help
Have a question? Ask the wine purveyor at your local wine shop, or consult your phone for trusted wine blogs, publications or apps with scores to get a handle for what others have liked or not liked as much.
At the end of the day, the most important thing is not whether you made a sommelier level pairing, but if you enjoy the wine with the ones you are sharing it with! Interested in bringing home a few bottles of our wines? Use the wine finder tool to locate our wines in your neighborhood.
Comments
Commenting has been turned off.