October 17, 2019 | Sarah Ryan - Summer Associate
Wines of the World
The Napa Valley is a particularly famous wine region for its rare climate patterns and rich volcanic-infused soils. However, the Old World remains one of the most well-known and greatest producers of wine – known for their history of finding soils just right for certain grape varietals. At Paraduxx, we strive to do just that, which is why many parallels can be drawn between our own vineyards and other major wine appellations across the world.
Argentinian Malbec
Malbec is one of the five noble grapes originating from Bordeaux, France. In recent years, the grape has found incredible success in the New World. The Mendoza region of Argentina has brought this grape to the main stage highlighting the fruit-forward, plummy, velvety notes of Malbec. In fact, 75% of the region is planted to Malbec. Inspired by this style, Paraduxx crafts a Malbec/Cabernet Sauvignon blend that pays homage to the Argentinian Malbec. Our Cork Tree vineyard, when compared to the Mendoza region, is a similarly cooler area that has a sloped terrain allowing for maximum sunlight on the grapes in the afternoons, and cooler nights.
Rhône Blend
The Rhone valley is particularly famous for producing a variety of incredible wines. In the north, the Côte Rôtie region is home to a Syrah that is bold and spicy, resembling the kind of grapes used to produce our Co-Ferment wine at Paraduxx. The grapes planted on our Candlestick vineyard help to produce a bit of a different wine, with a New World twist. Grenache is blended with the Syrah grapes from Candlestick as this red wine pulls inspiration from Southern Rhône, namely Châteauneuf-du-Pape.
Italian Super-Tuscans
The Tuscany region and Sangiovese are synonymous. In the early 1970's renegade winemakers in Tuscany began blending their native grape, Sangiovese with non-native grapes like Cabernet Sauvignon and Merlot. This progressive winemaking style became know as Super-Tuscan. At Paraduxx, we craft a Napa version of the Italian Super-Tuscan, blending our native Cabernet Sauvignon with Sangiovese from Atlas Peak. The high elevation and cool temperatures on Atlas Peak allow for slow, even ripening and results in a dynamic wine that exudes lavender, strawberry and forest floor.
Australian Cabernet-Shiraz Blend
While the names themselves might be different, Syrah and Shiraz actually refer to the same grape. Australians wanted to pay homage to the land that the Syrah grape came from, a city in Persia called Shiraz, now situated in present day Iran. The Southern Australian Shiraz grape is stylistically different than its French counterpart, no doubt due to the climate and history of the vines. Classic Shiraz has a deep, smoky and meaty flavor as well as hints of blackberry. The Southern Australian Shiraz is known for being quite earthy, while the Californian equivalent Syrah has similar blackberry aromas, also adding firm mountain tannins. Both the Paraduxx Howell Mountain blend, as well as Australian blends use Cabernet Sauvignon. Despite the difference in latitudes between Southern Australia and Northern California, the climate is quite akin in the respective seasons, helping the wines create parallel experiences.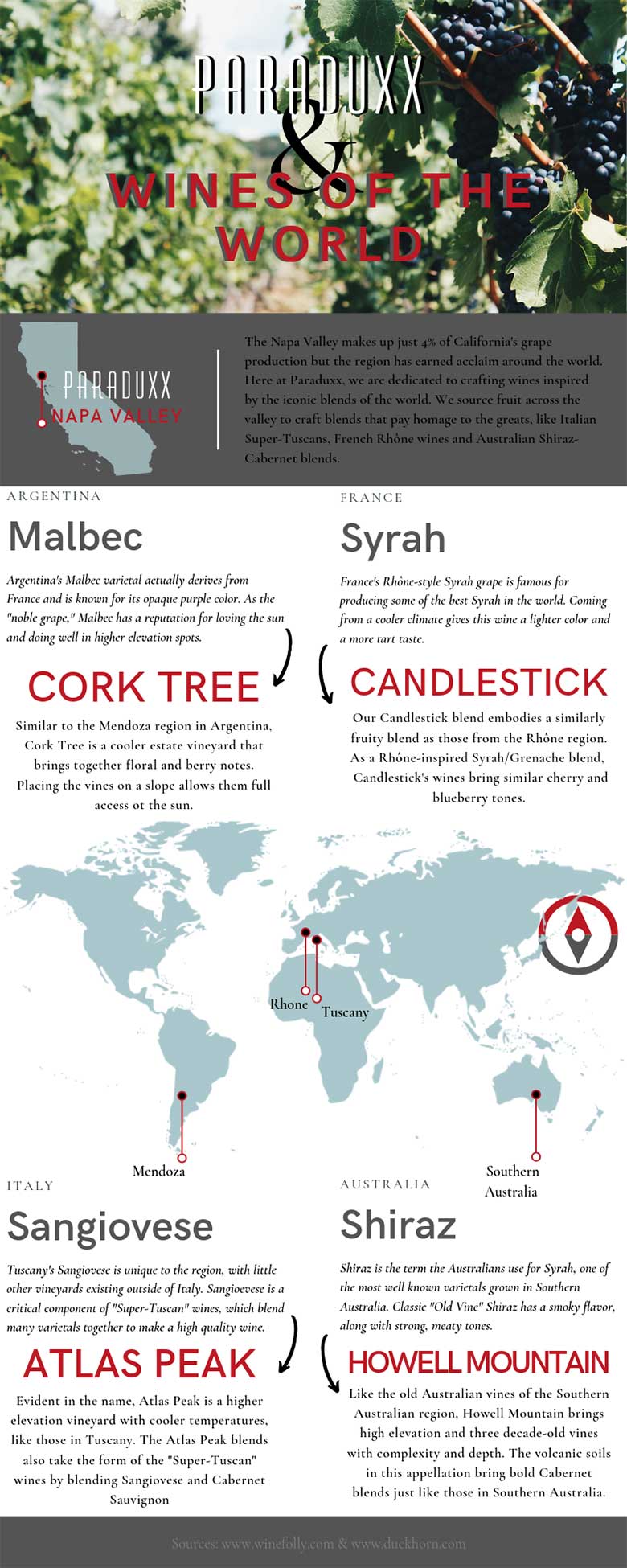 Comments
Commenting has been turned off.