April 21, 2020 | Neil Bernardi - Vice President, Winemaking
What is Wine?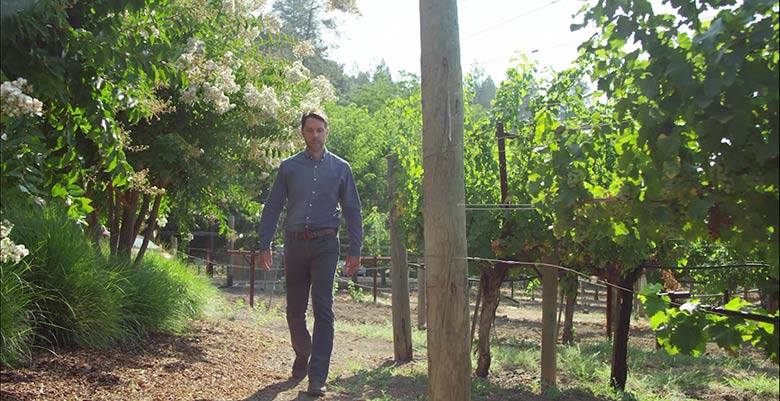 As Earth Day approaches (April 22nd) and the beauty of spring in the Northern Hemisphere reveals itself in sunny splendor, it is a perfect time to reflect on wine and it's relationship to nature, both that of the earth and our own humanity.
From time immemorial wine has been a beverage from nature, seen as an incalculably powerful gift from the gods to cure sickness and ease suffering. As part of western civilization for many thousands of years, wine was believed to be the ultimate health food, with cleansing and restorative properties, the ability to store calories through winter, and lighten heavy hearts. Technically, wine is a mixture of water, ethanol, anthocyanins, tannin, organic acids, volatile aroma compounds, mannoproteins, and polysaccharides.
More simply and more poetically, it is pure sunshine and water, the product of long sunny days in the vineyard. Wine is a pure expression of the land, reflecting the very nature of the soil and sun, the best examples being without adulteration or impurity. Interestingly, modern wine is perhaps a purer product than it was thousands of years ago, as advanced techniques, an understanding of microbiology, and refrigeration have allowed winemakers to preserve the delicate aromas and flavors of the grapes. Most wine prior to the middle ages was mixed with water, herbs, or even lead to mask the aromas of fermentations gone astray. As early buds emerge from dormant gnarled vines it is easy to see the natural beauty and wonder of these incredible plants that are so lovingly tended (in a safe and socially distant manner) by our dedicated vineyard teams.
For millennia, wine has also played an important part in defining our human culture, from the epic story of Gilgamesh, the Bacchanalian rituals of ancient Greece, to the absolutive traditions of Christianity, and in many cultures in between. In more everyday terms, wine plays a critical role in the quotidian ritual of breaking bread with family and friends. Given the current state of isolation of our world, many are missing that critical connection which humans crave. Wine as a connector, a lifter of hearts, and a symbol of togetherness and good times shared, is now more important than ever as we set our collective sights on better days ahead. If anything, the coronavirus pandemic has taught us to slow down and appreciate the wondrously mundane things in our lives: a brilliantly sunny day, our glorious natural world, and a glass of wine (shop here!) shared with friends and family, even if only via Zoom - Click here for wine country zoom backgrounds.
Comments
Commenting has been turned off.