July 20, 2020 | Kay Malaske - Trade Relations and Education Manager
Three Ways to Close a Bottle of Wine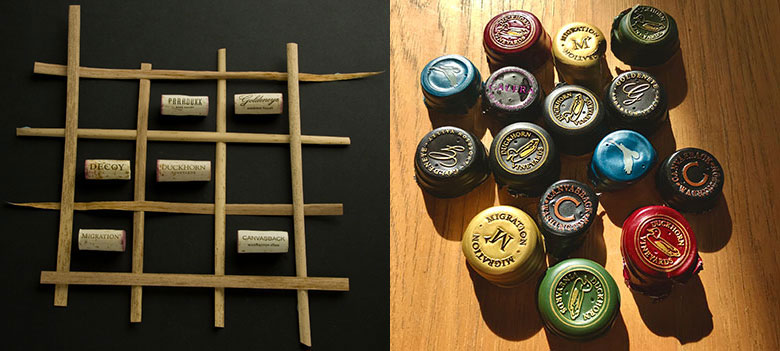 With more time at home we have had more opportunity to be more contemplative. In that vein, we turn our attention to something not often considered; how do wine closures differ?
As you eagerly open a bottle of wine, you rarely pause to consider the humble bottle closure. If you did examine this packaging detail you would see that at the Duckhorn Portfolio we utilize a variety of closures intentionally chosen to best suit the specific wine. Think about the wine closure choice like this: You don't need snow tires in the desert, meaning different wines enjoyed in different ways are benefited from different closures.
Across the Duckhorn Portfolio our bottles are closed with three options: full punch corks, Stelvin twist closures and Diam technological cork closures. Here are some details on why we use the closure we use.
Since the 1600s cork has been the closure material of choice. Cork stoppers are elastic, moisture-resistant, slow to deteriorate and they provide a waterproof seal. Natural cork is time-tested and proven to effectively protect wine from oxidation while allowing the optimum oxygen transfer needed for wine to mature gracefully in the bottle.
Like other cork products, natural wine corks are derived from the bark of cork oak trees (Quercus suber). The bark is carefully peeled away and cut into sheets before processing. Harvesting bark does not require the tree to be cut down. Portugal is the world's largest producer of corks followed by Spain, Italy, and Algeria. A Cork Oak is planted at Duckhorn Vineyards near the guest parking lot. Look closely at the tree next time you visit Duckhorn Vineyards. It's easy to imagine wine corks being punched from the spongy bark. We cork finish wines that our customers are most likely to cellar.
In the last 10 years we researched the effectiveness and benefits of Stelvin Twist Closures. We liked what we learned and began incrementally closing some of our wines under Stelvin. Duckhorn Vineyards Sauvignon Blanc was moved from a cork to a Stelvin in the 2015 vintage. These high quality, plastic lined twist caps make a near perfect seal with the bottle, essentially eliminating bottle variation. Additionally, Stelvin closures are easy to open and easily resealable. You will find a Stelvin twist closures on Canvasback Riesling, all 375ml bottles (AKA "Little Ducklings), Decoy white wines and on all our Rosé wines. A Stelvin is the best closure option for wines meant to be consumed within a year or two of bottling.
The third closure used on Duckhorn Portfolio wines is the Diam technological cork. Made using traditional cork, Diam seeks to eliminate the issue of wine being spoiled by tainted corks. Diam provides winemakers with a high level of consistency in aging from year to year, all while maintaining all the traditions of a natural cork.
Diam purchases raw cork straight from the producers, breaks it down into tiny particles, and runs it through their patented cleaning process eliminating the pesky TCA compound that can cling to cork and spoil a bottle of wine. After cleaning, the TCA-free cork particles are bound together using another patented technology. Diam corks carry their logo on them and can be found in Decoy Red Wines. We continue to investigate the use of Diam corks and other improvements to packaging in our mission to provide you with world class wine and excellent customer experiences.
Comments
Commenting has been turned off.