Blue Cheese, Fig and Parma Ham Flat Bread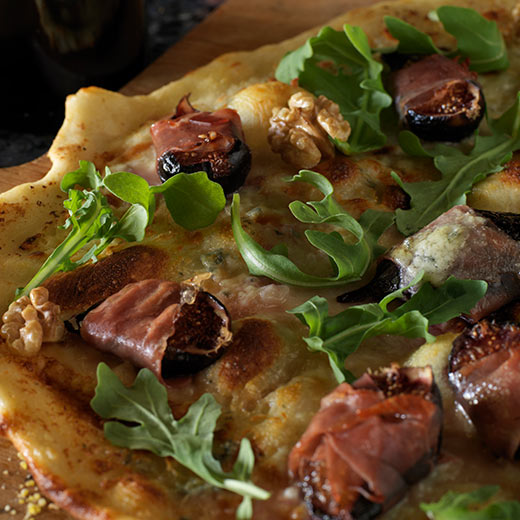 Yield: 6 servings
Prep: 20 minutes | Cook: 15 minutes
Total Time: 35 minutes
Ingredients
4-6 oz your favorite pizza dough
½ cup cream
½ cup blue cheese
4-6 fresh figs
6 thin slices Parma ham
3 tbsp walnuts, toasted
½ cup arugula
Preparation
Preheat oven to 450 degrees and place a pizza stone in the oven
Place pizza dough on floured surface for 10 minutes.
Meanwhile, scald cream, remove from heat and stir in blue cheese. Lumpy is okay.
Roll out pizza dough to desired thickness.
Spread a thin layer of blue cheese mixture on the pizza dough. Cut figs in half and wrap with Parma ham. Place on pizza dough.
Bake for 10-15 minutes or until pizza dough in golden and blue cheese is bubbling. Remove from oven, scatter walnuts and arugula on pizza.
Recipe Courtesy of: Chef Bryant Cunningham
Take a look at our recommended pairing below.
Pairing Recommendations - Mer
94 Points - Wine Spectator