Duckhorn Portfolio Wine Blog
Posts written by Neil Bernardi, Vice President of Winemaking and many special guest bloggers. This collection of insights on winemaking, farming, entertaining and more is a great way to learn about the excitement of winery life and tips for enjoying the wines we produce.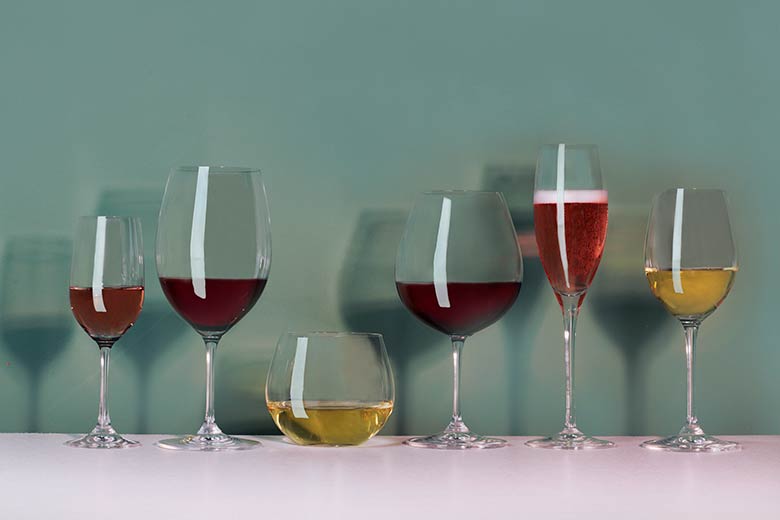 Carefully selected wines deserve to be served in glassware designed for wine! Appropriate glassware increases your enjoyment of the wine significantly. It's easy to get in the weeds on this subject, in search of the proverbial best wine glasses. Let me offer some simple tips and ideas on the various types of wine glasses available.
First, realize drinking wine is, fundamentally, a sensory experience. As you taste and contemplate a glass of wine your senses become engaged. Your ability to perceive a wine's color, aroma, flavor and texture will be impacted by the glass you are tasting the wine from. The options in wine glasses are immense and can be overwhelming. Let's zero in on the core features you want in good wine glasses.
Regardless of wine glass shape, size or design, they ideally, are clear. If the glass is opaque, we literally can't see the myriad of colors wine presents. A clear glass allows you to see the true color as well as the clarity of the wine. Color indicates several factors such as the type of grape used and the age of the wine.
A thin, delicate rim allows wine to pass from the bowl to your mouth more gracefully. A well-made wine glass feels balanced and light in your hand.
Still wines (Red, White and Rosé) all benefit from being served in wine glasses that feature a bowl large enough to swirl the wine. This swirling brings air into the wine, releasing the wine's aromas. The larger the bowl, the more the wine is exposed to the air, allowing the aromas to accumulate in the bowl. The bowl should also taper in slightly at the top. This wine glass shape helps to intensify and direct the aromas as they are released from the swirling up to the nose.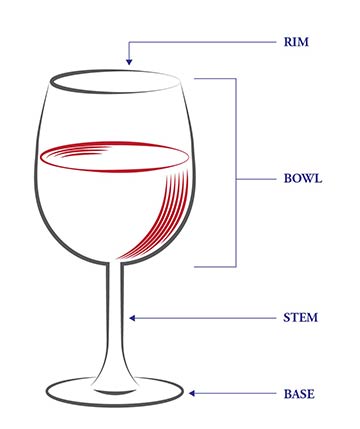 For simplicity, I recommend the classic Riedel egg-shaped wine glass. Claus Riedel lit up the wine world when he debuted a wine glass with a simple, egg-shaped bowl, in 1958. The lightweight, slender design was the essence of form following function: It enclosed the wine's bouquet, focusing the aromas toward the nose and allowing oenophiles to savor the full flavor, depth and balance of the wine in a way that hadn't been possible before. We have relied on the Riedel egg at Duckhorn Vineyards Estate House since we began receiving tasting guests in 2001. With a dozen "eggs" in your wine glass storage cabinet, you are set for enjoying still wines.
I also recommend every home have a least a half dozen "flutes" for the service of Sparkling Wine and Champagne. A flute is intentionally narrow and is designed to concentrate and extend bubbly's natural effervescence.
For outdoor settings like our Courtyard Tastings at Paraduxx, stemless wine glasses can be quite handy. A stemless glass offers the wide bowl and thin lip desired but, without a stem, it is less likely to blow or tip over. Stemless glassware requires less storage space and they are generally easy to wash in your dishwasher too.
Cheers to great wines served in good wine glasses!
Kay Malaske
Here at Duckhorn Vineyards, our 41st harvest has come to a successful completion. As we exhale, wipe our brows and take an introspective pause, reflecting upon our 4-decade love affair with Merlot is appropriate. Today, Merlot is the second most widely planted varietal in the world. Merlot is the third most plated grape here in the Golden State and it leads the acres planted in Washington State as well as on Long Island. Merlot is a regular and trusted choice for wine drinkers around the world. However, when our visionary founders Dan and Margaret Duckhorn made the critical decision to focus their winemaking efforts on this grape, the wine was very minimally known.
Dan and Margaret became enamored of Merlot due to some enlightening travels they enjoyed in Bordeaux. They were particularly smitten by the wines they experienced that were made on storied Right Bank, specifically from the communes of Pomerol and St. Emillion. In those two regions Merlot is the dominant varietal and they both fell hard for the inherent smoothness, approachability, plushness and concertation displayed in the local wines. The seed was set: Duckhorn Vineyards would position itself as the preeminent producer of premium Merlot in Napa Valley. Though many Napa Valley wineries were using Merlot as a blending grape in the late seventies, few were exploring the potential of this varietal as a stand-alone wine.
Ric Forman, a helpful local friend introduced Dan to the remarkable brother-brother team of John and Sloan Uptown, owners of the vineyard we consider our spiritual home: Three Palms Vineyard. Dan assessed this unique up-valley site to have the appropriate climate, soil, and drainage needed to grow the caliber of Merlot he wanted to put his name on. A deal was struck: the Uptons sold us the first bins of Merlot from which our founding Winemaker Tom Rinaldi created our debut wine: 1978 Duckhorn Vineyards Napa Valley Merlot Three Palms Vineyard. Eight hundred cases of this wine were released sporting what is now one of the most recognizable labels in American wine. The use of the yellow paper and the ink drawing of a Mallard duck are recognizable elements of our brand identity today.
Making the wine was one thing, explaining it and selling it was another challenge all together. As Dan recalls in an interview with journalist and author James McClure typical responses from early customers were "What is this stuff" and regarding the mysterious varietal on the label "How do you pronounce it?"
Ambivalence in the marketplace did not discourage Dan and Margaret and their dedicated employees. Building on our role as the first American winery to pioneer luxury Merlot, we made our debut vintage of Napa Valley Merlot in 1979. Today this iconic wine is a juggernaut, a popular and respected choice for American wine drinkers as well as fans in over a dozen countries we reach through our export efforts.
Our passion for creating world class Merlot benefited from the boom in Merlot sales that surged in the 80s and 90s. We stayed steady, invested in new vineyard sites, got better and better at our craft and emerged from a slump in Merlot sales in the 2000s as a true standard-bearer. That steadiness, dedication and single-minded adherence to quality was recognized by the Wine Spectator in December of 2017 when they chose our 2014 Three Palms Merlot as the Wine of the Year. We were all humbled a well as ecstatic about this powerful recognition.
Today, we continue to make our flagship Three Palms Merlot as well as the globe-trotting Napa Valley Merlot. In addition to those two "greatest hits" we've added four more offerings of terroir-driven Merlots that embody the unique characteristics of their growing site. Any one of these terrific wines demonstrate quite deliciously why Duckhorn Vineyards is often referred to as "A Master of New World Merlot."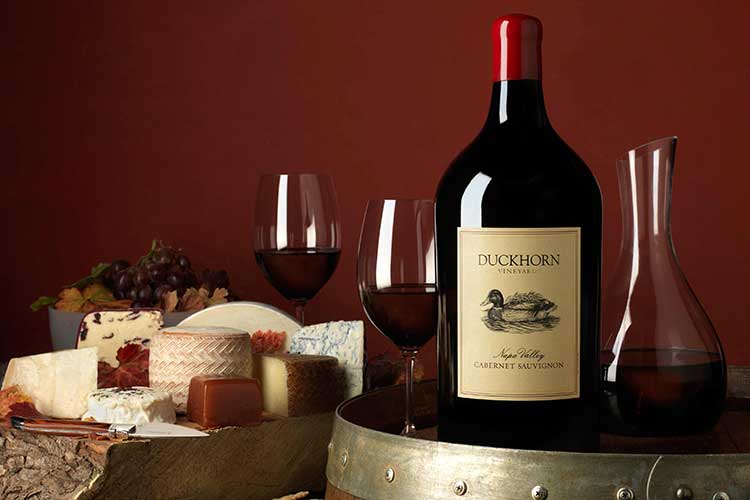 To decant or not to decant, that is the question! At its most basic to decant simply means to transfer the contents of a bottle of wine into a new vessel. For this process to be most beneficial the decanter will be larger and have more surface area than the original bottle.
Okay, but why do this? Fundamentally, decanting serves two purposes: to separate a wine from any sediment that may have formed and to aerate a wine enhancing its aromas and flavors creating more vibrancy before serving. Decanting is most associated with the service of older wines but, conversely, younger wines can also benefit from this step. At the core of the matter decanting allows the wine to come in more contact with oxygen. Oxygen, during its initial contact with a wine can be very helpful, enhancing a wine's flavors and softening it. Think about the wine being "caught" in the bottle, tightly stoppered under cork and capsule, a sleeping genie. Decanting wakes the wine up, helps it snap to attention and introduce itself with vigor.
Older red wines naturally produce sediment as they age (white wines rarely do). The color pigments and tannins bond together and fall out of solution. Stirring up the sediment when pouring will cloud a wine's appearance and can impart bitter flavors and a gritty texture. The sediment is harmless but it's not pleasant to get this material in your glass or worse in your mouth. It's safe to assume that a red wine will have accumulated sediment after five to ten years in the bottle and should be decanted.
Here's how to do it well:
Set the bottle upright for 24 hours or more before drinking, so the sediment can slide to the bottom of the bottle, making it easier to separate. This advice assumes that the bottle was stored properly, cork down or on its side.
Locate a decanter or other clean, clear vessel from which the wine can easily be poured into glasses. Decanters can be extremely elaborate or quite simple. The best models are dishwasher safe, easy to handle and to store. A simple glass pitcher will work just fine.
Remove the wine's capsule and cork; wipe the bottle neck clean.
Pour the wine into the decanter slowly and steadily, without stopping; when you get to the bottom half of the bottle, pour even more slowly.
Stop as soon as you see the sediment reach the neck of the bottle. Sediment isn't always chunky and obvious; stop if the wine's color becomes cloudy or if you see what looks like specks of dust in the neck.
The wine is now ready to serve from the decanter. Discard the remaining ounce or two of sediment-filled liquid in the bottle.
Duckhorn Vineyards makes several age-worthy wines. Most famously, our Three Palms Vineyard Merlot and Howell Mountain Cabernet Sauvignon have the character and substance to gracefully age over a decade. The fortunate wine lover about to open and enjoy one of these wines with a significant bottle age should approach the task with a decanter in hand. Decanting will ensure elegant service as well as invigorate the wine's flavors and aromas.
At the other end of the spectrum, new release wines can be "tightly wound" in their infancy. It is remarkable what happens to an introverted, shut down wine after as little as an hour spent out of the bottle and in a decanter. A wine that seemed somewhat dull and tight will suddenly awaken and have lots more to say!
Now you know much more about this useful component of my favorite participatory sport. Decanting isn't fussy or mysterious, simply practical and beneficial.