Duckhorn Portfolio Wine Blog
Posts written by Neil Bernardi, Vice President of Winemaking and many special guest bloggers. This collection of insights on winemaking, farming, entertaining and more is a great way to learn about the excitement of winery life and tips for enjoying the wines we produce.

Ever wonder what chardonnay grape juice looks like straight out of the press? This is the first squeeze of our Migration Dierberg Chardonnay, and it tastes amazing! We are separating the free run and the heavier press, as each will make a different wine.

We are rocking and rolling in the early phases of harvest, and are deep into our Sauvignon blanc. These grapes go straight to press, whole cluster. Manning the presses is an important task to ensure that the cycle is going smoothly, and that you are filling and emptying them efficiently. A cycle can last up to 3 hours, which makes for long days of processing. One key winemaking choice at this phase is how much air contact you want to allow. In the case of SB, we like to protect for oxygenation in the juice phase, and use dry ice in the press pan, hence the white smoke in this video.

A wise man once said that the sign of a good vineyard is the view. Our Stout Vineyard is a GOOOOD vineyard. This perfect plot of land sits high above the fog line on Howell Mountain. To taste the wines of Howell Mountain is a special experience and wines from Stout are no exception. For Paraduxx, we get a range of varieties. The Cabernet Sauvignon and Syrah go together to make our Howell Mountain blend, a wine modeled from the Cabernet/Shiraz Blends of South Australia. In addition, we harvest Grenache for our Rhone style Syrah/Grenache blend and a little Zinfandel for our Proprietary Red Wine. The wines produced from Stout have an amazing distinction that is easily identified as Howell Mountain. Dark color, deep and rich flavors of stewed blackberries and cherries. A touch of leather and tobacco on the nose. These wines are riddled with complexities and will keep you thinking and sipping!


I recently went fishing with my Dad and brought back a boatload of silver salmon. I put some of that to good use this weekend, and cooked it on a cedar plank at a friend's house. I served it with our 2014 Duckhorn Vineyards Napa Valley Chardonnay, and both were incredible! The smoky, herbal aromatics of the cooking fish and cedar brought out the fruit and mineral components of this delicious wine, which in my opinion is our best effort yet. Nice job Renee and team!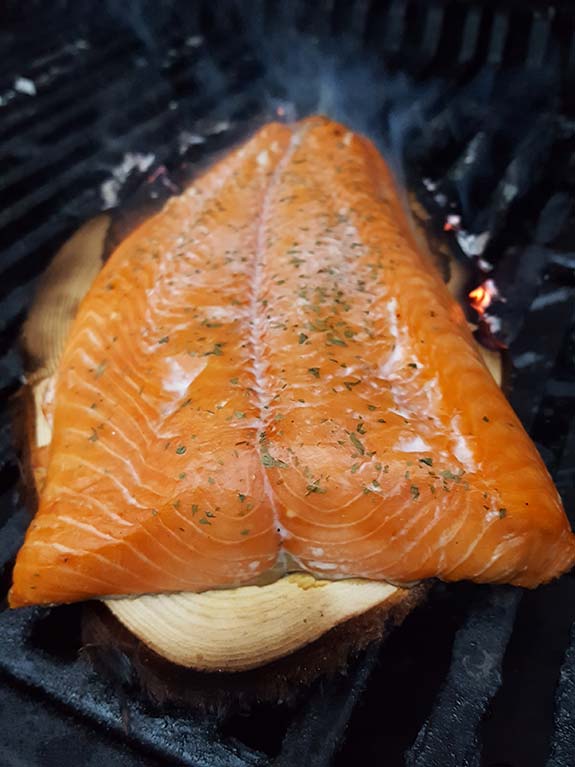 Monitor Ledge is an important part of our Paraduxx wines. We don't make a vineyard designated wine from this ranch but the Cabernet Sauvignon and Zinfandel we harvest here is important to Proprietary Red Wine blend. Monitor Ledge Vineyard lies just south of our Three Palms Vineyard in Calistoga. Sitting on the Silverado Trail, the vineyard has well drained rocky soil and is on the flat bench of the Vaca Mountains. Well exposed to the afternoon sun, the grapes grown here are always the picture of ripeness. Beautiful varietal characters on the nose and palate of these wines, they are truly wines grown in the perfect area for their given varieties. Quintessential Napa Valley!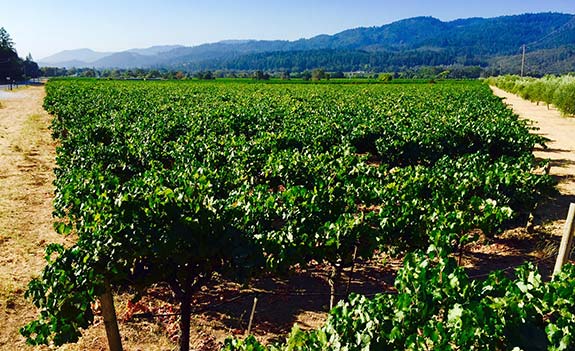 The old adage goes "you can't make good wine without good grapes". One of the most important decisions a winemaker makes during the process is harvest date. While much of the quality is determined by the growing season and farming practices, pick date and ripeness level strongly impact wine style. Pick earlier and you might get a more lean style which may take more time to open up and have a longer aging cycle. Pick later and get a broader midpalate, riper fruit flavors, and potentially some raisined character if you take it too far. Here Tyson Wolf, our Decoy Winemaker, spends some time explaining his philosophy to his team.

Our daily Vineyard Maturity Analysis is one of the most important parts of harvest. You only have one shot at picking grapes, it's important to get it perfect every time. Every morning, our sleep eyed vineyard team will head out very early to pull grape samples from the vineyards. We'll sample each vineyard block about once a week. They deliver the samples of around 20 clusters to the designated winery for that block. Once in the winery, the cellar team takes over. The grapes will be crushed and drained into juice samples. The juice is then brought into the lab for analysis. For each sample, we will run Brix, pH ,TA as well as tasting for sensory analysis. Brix is the measure of sugar in the juice, pH and TA are measures of acidity. pH measures the acid level that shows you how stable the juice will be against any kind of microbial infection or oxidation. The lower the pH, the more stable/safe the juice or wine will be. pH range for white varieties ranges from around 3.1 to 3.6, reds range from around 3.5 to 3.9. TA measures the acid you can taste. TA will range from the tooth enamel stripping 0.8 to the flabby/soapy 0.4 for reds and whites. The tasting of the juice is the most important part. You may have perfect numbers for Cabernet at 25 Brix, 3.6 pH and 0.58 TA but if the flavor is missing or tastes under ripe you will have a wait. Patience is a virtue in winemaking!
2016 is proving to be a fantastic year for flavor so far. We are getting ripe flavors before the sugar and acids are ready, that's a great sign! If you could read the clipboard in the picture, it would tell you that the Rector Creek Cabernet is at 20.6 Brix, 0.68 pH and 3.1 TA. The flavors are already amazing but the sugar and acids aren't quite there yet. A few weeks to go and looking forward to it!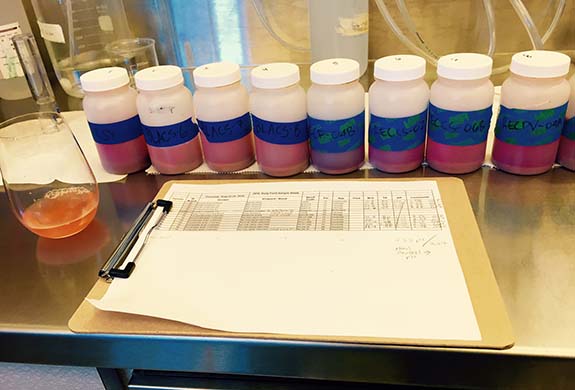 There are a few folks at Duckhorn Wine Company who's commitment, intelligence, and energy make a truly outsized impact. One such star is Jacob Mauney, Operations Manager at our Deocy facility. Jacob has worked with DWC in various capacities since the harvest of 2010, when he was our Sonoma County intern. Since then he has risen through ranks, always professional, always full of good ideas, and always bleeding the Duckhorn blood. His excellence in all things has made him an indispensable part of the team, and I am so grateful for all his hard work and care. Here he is with Malcom (The Chairman) Boblet, the fluffy mascot of the winery.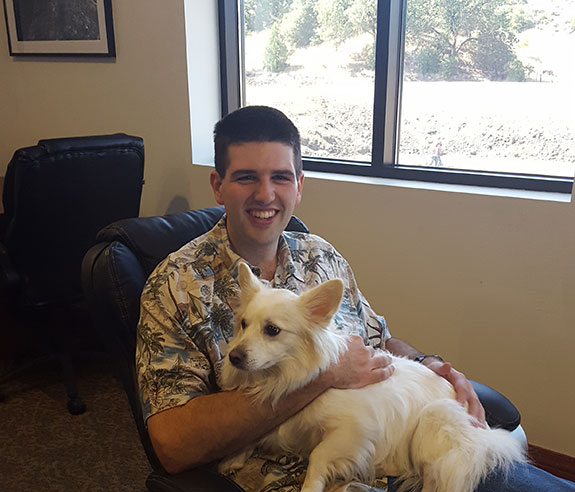 Taking full advantage of Northern California's perfect growing conditions, most of our properties are home to more than just grape vines. There is a behind the scenes horticulture movement happening at Duckhorn Wine Co. From the beautifully maintained veggie gardens at Paraduxx, Duckhorn and Goldeneye to the 150 yr old Olive trees at our Stout vineyard, Duckhorn is committed to the idea of diversity. We have amazing partnerships with local producers to help process some of these items from time to time. Orchard designate olive oils and Ridgeline Vineyard honey are just two of the products we produce for our employees when the growing season allows. Our landscape/facilities team of Alfredo, Vicente and Rafael are simply amazing! Gifts of cut lavender, rosemary and other flowers will simply show up in our cellar for the team to bring home. If you need tomatoes, peppers, squash or figs….look no further. We very lucky to have such bountiful luxuries available to us. If you are ever at one of our tasting rooms, don't hesitate to wander through the veggie patch to check out the riches, maybe a ripe strawberry will be there for the taking.

Harvest days are long, as you have gathered often from this blog and others. Up at the Decoy facility the team blows off steam via the age old pastime of foosball. While walking the cellar one often hears screams of joy and despair as titanic struggles unfold on the table. There are few foosball jedi's in the group who make the rest of us look pretty sad. If you ever have some extra self-esteem you are looking to get rid of, I recommend playing Efrain Cardona, our normally kindhearted cellar master.