Duckhorn Portfolio Wine Blog
Posts written by Neil Bernardi, Vice President of Winemaking and many special guest bloggers. This collection of insights on winemaking, farming, entertaining and more is a great way to learn about the excitement of winery life and tips for enjoying the wines we produce.
Add a special touch to your wine gift this year, consider wrapping the bottle! Whether you are gifting to the wine lovers on your list or a dinner host, taking the time to wrap the wine bottle is guaranteed to put a smile on their face.
Materials
Favorite Duckhorn Portfolio wine bottle
Wrapping paper or 12' by 12' craft paper for the occasion
Pair of scissors
Double sided tape
An assortment of ribbon/bows and festive accessories
Instructions
Lay your Duckhorn Portfolio wine bottle on the center of your wrapping paper with about 1 ½ inches below the bottom of the wine bottle.
Roll the wrapping paper around the bottle and secure with a piece of double sided tape. Fold the remaining paper under the bottom of the bottle and secure with tape.
Pro Tip: Make sure to tape on the glass so you don't ruin the label!
Tie the bottle at the neck with your favorite ribbon.
Add a special touch by placing an accessory over the ribbon, like a festive flower or ornament.
In a rush with no time to wrap? We've got you covered - check out our full selection of holiday wine gifts below.
This post was updated on 11/25/20 to reflect new gift offerings.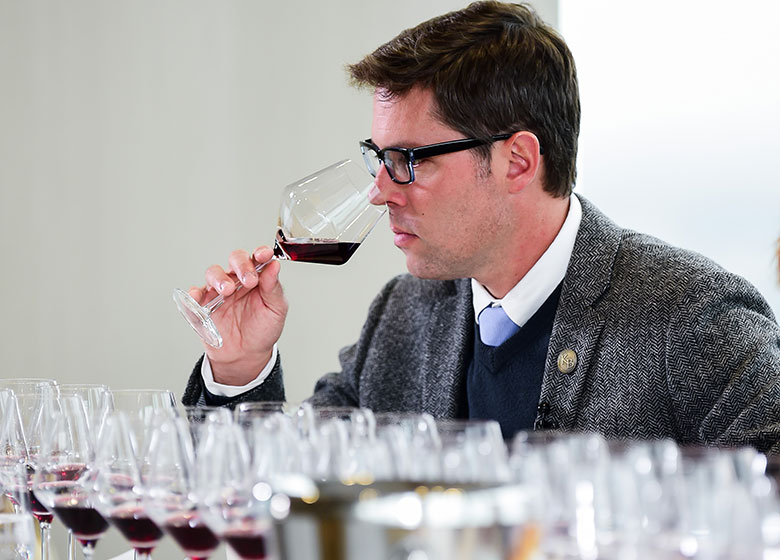 Neil Bernardi
GM of Kosta Browne & Canvasback
"There are so many wines in our portfolio that are pushing boundaries and exploring new concepts or regions, it is really hard to say which wine in our portfolio is most compelling intellectually. Kosta Browne Sparkling, Calera Chenin, and new Washington AVAs that Canvasback is exploring come to mind."
Neil grew up in San Rafael but moved to Mendocino, Napa, and Sonoma when he started working in the wine industry. He went to Davis to follow in his sister's footsteps, but quickly realized his interest in viticulture and enology. He did his first vintage at Gundlach-Bundschu at the age of 19 and his favorite part of his job is seeing success in whatever form it may come in, whether that's a new project or the evolution of a new wine. "The toughest part is watching all the interns have fun during harvest while I'm at a computer!"
If he had to choose, Neil's favorite wines in the portfolio are the Howell Mountain Red Wines and Cabernet Sauvignons from Duckhorn. "The texture, the intensity, the power – that wine is insane." One of the most interesting parts of the world of wine is "the fact that something is created and enjoyed; it's something so tangible to be able to point to and say, "we made that'."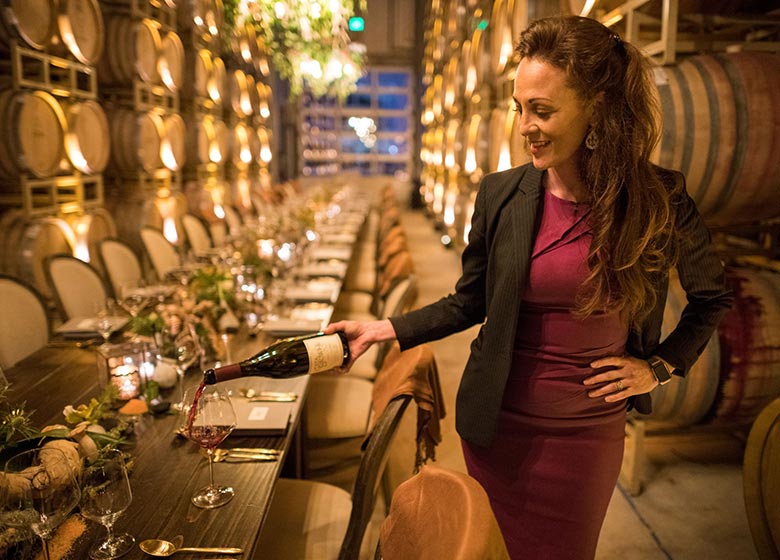 Regina Sanz
Senior Estate Director of Kosta Browne
"The moment when I really knew I wanted to be in the wine industry was toward the tail end of my career as a competitive snowboarder - I was traveling in South America in Argentina in a wine region called Mendoza. It was such a beautiful place and the genuine people and culture they shared around Food and Wine was super captivating."
Regina was born in Texas but moved to Northern California at a young age. "My Dad's family is from Spain so wine was always part of the culture in our household growing up." As a restaurant industry veteran, Sommelier and former competitive snowboarder, Regina has been able to live and travel in Australia, New Zealand, Argentina, Chile, and England! Towards the end of her snowboarding career, she quickly realized that her next profession would be in the world of wine. "The beauty of wine is that there is always something new to learn and a new story to tell. Our industry is full of incredibly creative and passionate people, with various backgrounds and usually really cool backstories. It can take an entire lifetime to get to know all of the various nuances of wines from around the world, and I find that journey inspiring."
She started in the wine business in 2008 in Lake Tahoe where she worked for a wholesaler, selling to high-end restaurants. From there, she went to Sonoma State to get the Wine Business MBA program and has been working for suppliers ever since. Although she loves all of Duckhorn Portfolio's wines, her favorite is the 2016 Kosta Browne Cerise Vineyard Chardonnay. "It's not what most people think of when they think of a typical California Chardonnay… It's a wine that makes you think outside of the box and pushes the envelope on the great things that we can accomplish. I guess in many ways I can relate to that sentiment."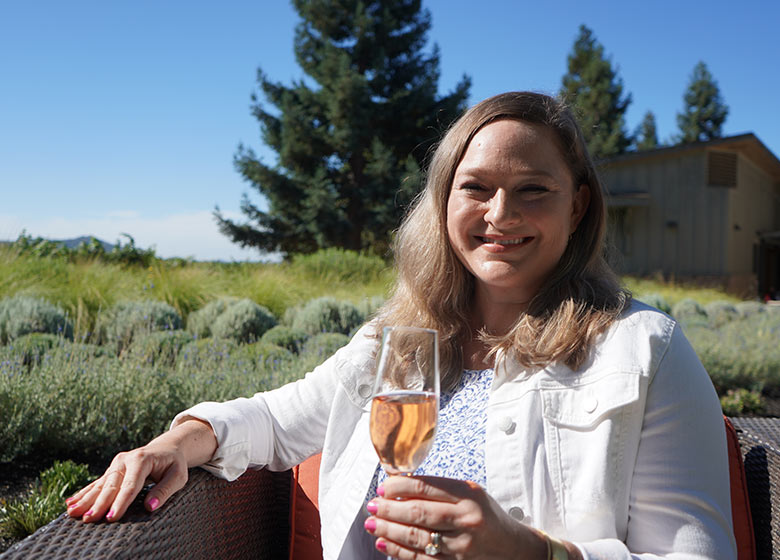 Stephanie DiStefano
Director of Events
"Working with Master Sommelier Greg Tresner at the Phoenician in Scottsdale, Arizona was inspiring and led me to take my first Somm course to learn more about wine." Fast forward to 2015, and "a six-month road trip through the Pacific Northwest and Canada (including Napa and Sonoma Counties) reinvigorated my love of wine. The Paraduxx Atlas Peak Blend is my absolute favorite! It blends Sangiovese and Cabernet Sauvignon - it is perfect wine to pair with food."
Stephanie was born in San Diego but has spent half of her life in Arizona. She became interested in wine first when she worked at a high-end restaurant in Arizona. She finally decided to enter the wine industry after she traveled the Pacific North West and Canada and made stops in Napa and Sonoma Counties. In the world of events we really want to focus on the enhancing and elevating the experience: luxury wine, exclusive access, and an unparalleled atmosphere. Stephanie truly loves the complexity of the wine industry, there is always more to learn, more to taste and that pursuit of wine knowledge is incredibly intriguing and gratifying.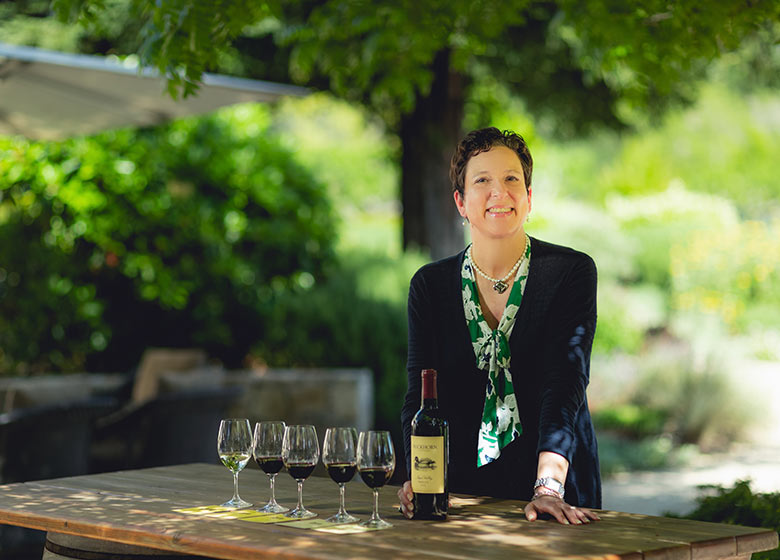 Kay Malaske
Trade Relations & Education Manager
"I am a liberal arts nerd! The wine industry is a comfortable home for dreamy somewhat impractical folks like me that love art, food, music, literature, history, geography, science. Wine touches on all these areas and it engages all my senses."
Kay is originally from a small town in northeastern Oklahoma, Pawhuska, which has a population of 3,500. Her love for the world of wine was ignited when she had the experiences of working in wine-centered restaurants in Arizona, Colorado, and Oklahoma. She was once a waiter at the Metro Wine Bar and Bistro in Oklahoma and one night, there was a dinner that hosted Nancy Andrus (future wife of Dan Duckhorn). About 20 years later, she returned to that same restaurant and was a vintner herself just like Nancy! Her favorite parts of the job are the guests she meets and living in wine country. If Kay could teach us all one thing, she would choose to share that knowledge is power. Be confident in what you know and be hungry for more information!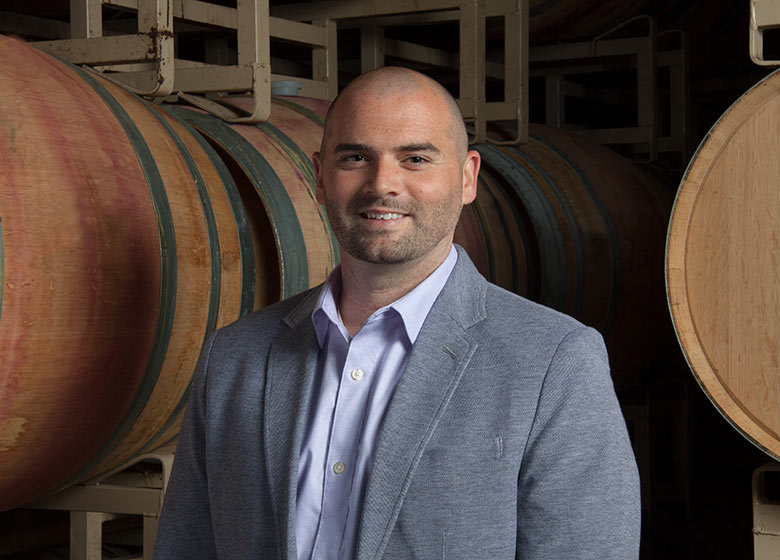 Cory Johnston
Membership Advisor Manager
"Practice blind tasting at home. It is amazing how taking the label out of the equation forces you to focus in on all of your senses. It helps you develop a more refined palate, sense of smell, and also highlights the artistry in winemaking."
Cory is originally from a small town in Southern California, located in the high dessert. He moved to San Luis Obispo for schooling which is where he was first introduced to the world of wine. After a decade on the coast Cory moved to the Napa Valley where he took a role as a catering Chef, " I learned about the components of wine and how to find balance in creating dishes that enhance both the wine and the foods flavors."
Cory joined the Duckhorn Portfolio team in 2017 as our Membership Wine Advisor and loves sharing a taste of wine country to wine lovers everywhere. "Personally, I love connecting with people and hearing about their experiences with wine; what they like and don't like as well as who they are sharing it with." Wine really has a unique way of brining people together. "I have met people from all over the world and made some lifelong friends because of wine." His favorite wine from the Duckhorn Portfolio is the Goldeneye Anderson Valley Pinot Noir from the Confluence Vineyard, calling it "exciting and versatile with a heartwarming soul."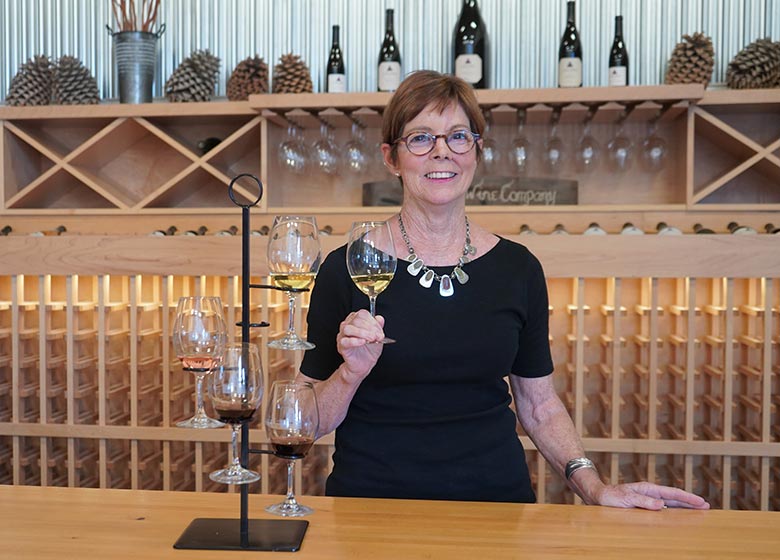 Kate Mayhorn
Wine Specialist at Calera
"For many years and trips, I would go up to the wine country in Napa and Mendocino, tasting many different varietals along the way. On one trip I remember, overlooking Napa Valley from a hot air balloon I knew someday it would be part of my life."
Kate is originally from New Jersey but has lived in California most of her life. Her love for the wine industry was ignited during one of her first dates with her husband of 40 years while tasting in wine country. For years, Kate owned and managed her own deli and catering business, and "I decided to merge my passion for food with wine and took a part time job at Calera. It was absolutely the best decision for me. I was able to integrate the two things I loved and was never happier."
"I always knew wine would be a part of my life." Kate is fascinated by different wines from all over the world and loves brainstorming unique wine and food pairings to try. As a Wine Specialist, one of "my favorite parts would be the reaction of guests, seeing their amazement and even surprise tasting the Calera Wines. I love talking about the nuance of wines, their expressions, and the connection wine has to enhance the enjoyment of food and almost any experience."
She cannot pick just one favorite wine, but she can narrow it down to two! Kate loves the Calera Mt. Harlan Reed Pinot Noir for its "elegance and terroir-driven style" and the Duckhorn Vineyards Napa Valley Sauvignon Blanc.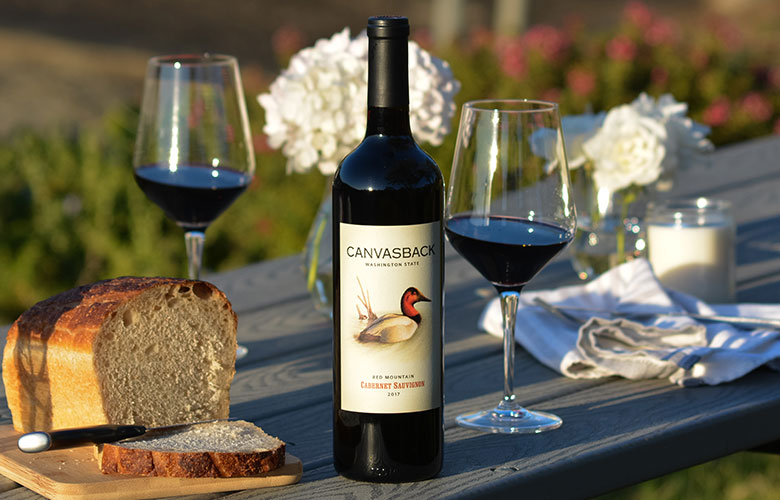 Looking to elevate your occasion at home? Us too. Check out these four tips for creating the perfect date night in at home.
All about the Ambiance
We know diamonds are a girl's best friend, and with that, I'd say flowers are a close second. Grab a small bouquet from your local market, cut some stems from your yard, or gather your own bouquet while on a walk. Don't have a favorite vase? I find myself using all kinds of different glassware to display fresh blooms throughout my house. For an added touch *chef's kiss*, print a custom menu for the evening.

"Without Music, Life Would be a Mistake" – Friedrich Nietzsche
Set the mood with a custom playlist! Spotify has a lot of great, already curated lists, such as Italian Cooking Music & one of my favorites, French Café Music. I also am a huge fan of making my own playlist, time permitting!
What's for Dinner?
One of the hardest parts about date night, is figuring out where to eat! Write down your 6 favorite local restaurants, numbering them 1 through 6, & roll a die to select which place! Or, if you'd rather stay in, try this delicious recipe for dumplings, which are a lot of fun to make with a partner! Someone can roll the dough and place the filling, while the other seals them up and mans the stove!

Cheers!
We'd be remiss in not mentioning the wine! Arguably the best part of any good dinner, other than the company of course, is the wine selection. Wine Folly is a great resource for basic pairing tips, & our customer service team is always available to help you make a selection from our portfolio of wines as well!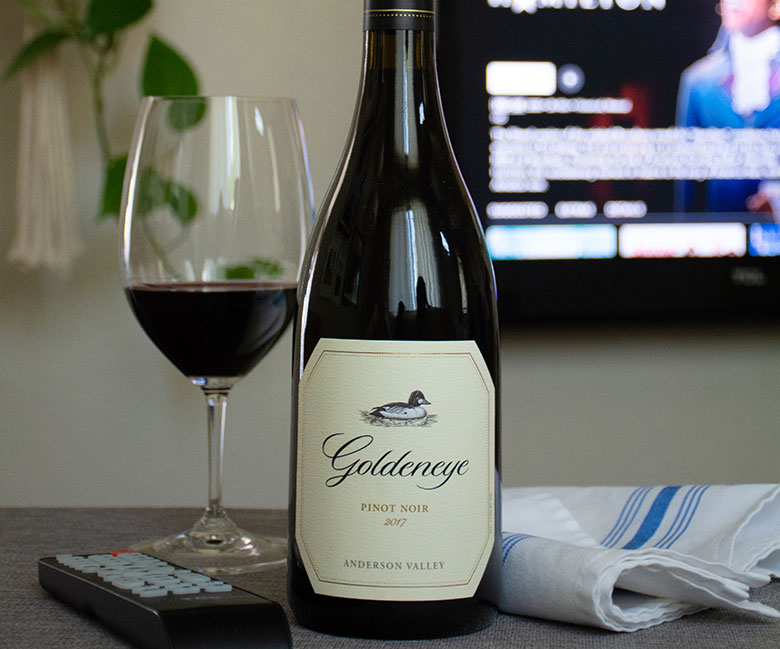 5 things that have made my time at home much better!
Coravin
As a wine lover who lives alone, my Coravin has been nearly ESSENTIAL while sheltering in place. This tool allows me to pour just a glass (or two) at a time, without the pressure of having to uncork a whole bottle. It is on the expensive side, but if you find you are like me, and don't always polish off a bottle in a few days, it is definitely worth the up front investment. Coravins are also great for the afficionado who wants to see how a particular wine is aging but doesn't want to uncork the whole thing. Browse through our selection of wines to find the perfect one for you to try your new Coravin with.
Anxiety Blanket
You're never fully dressed without your…weighted blanket? I accessorize my WFH outfit daily with my 10-pound, light blue fuzzy blanket, which helps keep me calm, cool and collected no matter what the day throws at me! I am by no means a health professional, so please do your research to determine if this would work well for you before purchasing, but mine has worked wonders!
Positivity Notes!
Staying positive has been the name of the game for me! I picked a cute font, typed up a little note to "Drink more Water", printed and hung within my line of sight from my work area. Pinterest is a great place to find motivating quotes, positive affirmations or other great little typography posters that are ready to download, print and inspire!
Digital Photo Frame
Not being able to see my family has been challenging! My grandma lives alone, and in order to help stay connected, we set her up with a digital photo frame. It connects to her Wi-Fi and the whole family can send photos through an app on your phone and have them directly uploaded to her frame – from over 2,000 miles away. It has been so nice to share photos from my socially distant walks, and has been especially great since she isn't texting savvy.
Restaurant Group on Facebook
I like cooking at home, but there's nothing like great takeout! As businesses begin to reopen, communities are creating Facebook groups and pages to highlight the many restaurant offerings. Many of your favorite sit-down spots have transitioned to curbside and delivery, and there's no better way to figure out what's for dinner than being inspired by photos from your neighbors!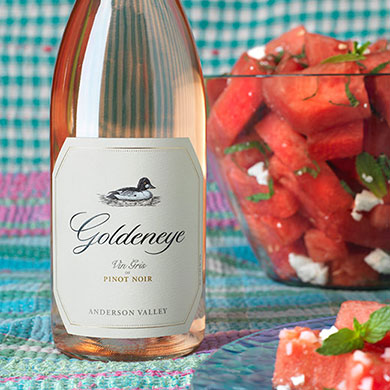 Rosé with Watermelon and Feta Salad
Watermelon is the quintessential summer food! It is crisp, refreshing, and delicious on a hot summer day. We are elevating this summer favorite with fresh mint and feta for a summer salad to pair with a chilled Rosé wine all day long. The watermelon brings out the sweet candy notes from the Rosé. Get the Recipe!

Try these pairings:
- Goldeneye Anderson Valley Vin Gris of Pinot Noir
- Paraduxx Napa Valley Rosé
- Decoy California Rosé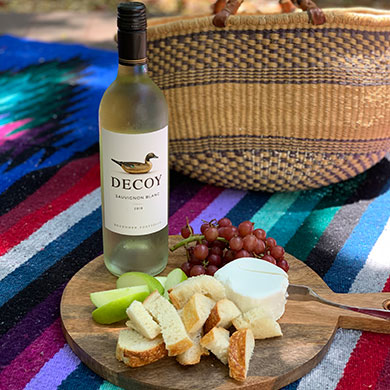 Sauvignon Blanc and Goat Cheese and Artichoke Dip
Sauvignon Blanc white wine pairs nicely with goat cheese and artichokes so why not splurge on both dishes. Goat cheese and Sauvignon Blanc are two peas in a pod. The acidity of this white wine cuts through the creaminess of the cheese. And there is nothing better than Artichoke Dip on a hot summer evening. The creamy, nutty, subtle sweetness from artichokes pairs beautifully with the crisp, refreshing citrus notes of Napa Valley Sauvignon Blanc. Check out the pairing video to see how we pair Sauvignon Blanc for Date night with Decoy!

Try these pairings:
- Decoy Sonoma County Sauvignon Blanc
- Duckhorn Vineyards Sauvignon Blanc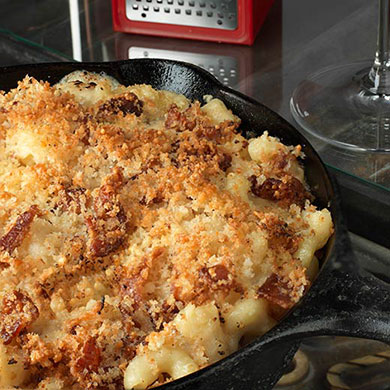 Chardonnay with Mac & Cheese
It is cheesy, creamy, ooey gooey goodness! In our opinion Mac & Cheese is perfect food for any time of year. Here at Duckhorn Portfolio our Chardonnay is sourced from cool-climate regions across California to retain nice acidity and a cool refreshing crispness which will pair perfectly with the creaminess and silkiness of Mac & Cheese. Get the Recipe!

Try these pairings:
- Calera Mt. Harlan Chardonnay
- Decoy Sonoma County Chardonnay
- Migration Bien Nacido Vineyard Chardonnay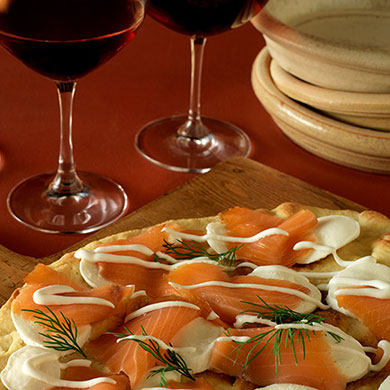 Pinot Noir with Salmon-Truffled Pizza
One can never go wrong with a Pizza & Pinot pairing! Pinot Noir is a fun wine in that it really captures the essence of where it is grown. Stylistically it can range from fruity to earthy or spicy and it is great to pair with salmon and truffled cheese as it's light-bodied and subtle so the food can take center stage! This is a great brunch recipe to share with family and friends or to enjoy on your own. Get the Recipe!

Try these pairings:
- Decoy California Pinot Noir
- Calera Central Coast Pinot Noir
- Goldeneye Anderson Valley Pinot Noir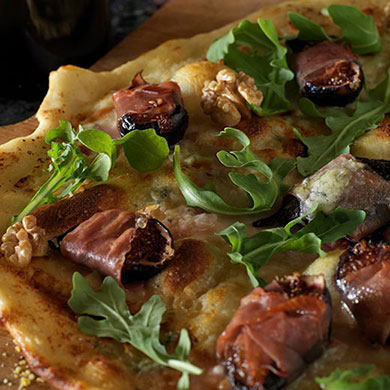 Merlot with Fig & Ham Flatbread
Nothing screams summer more than fruit! Summer is fig season in California. Merlot has gorgeous fruit-forward notes so not surprisingly, Merlot pairs fantastically with the savory ham and subtle fig sweetness on this flatbread. Elevate your pizza night with this delicious summer flatbread and Merlot wine pairing. Get the Recipe!

Try these pairings:
- Decoy Sonoma County Merlot
- Duckhorn Vineyards Napa Valley Merlot
- Duckhorn Vineyards Stout Vineyard Napa Valley Merlot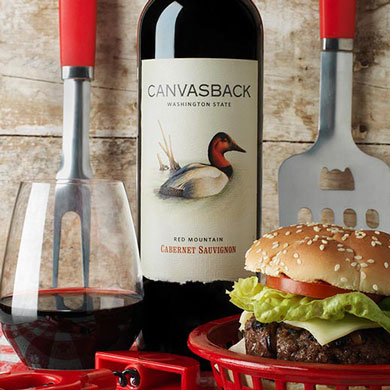 Cabernet Sauvignon with Beef Sliders
Grilling season is here and there is no pairing more classic than Cabernet with burgers. The beauty of sliders is that they can be served as an appetizer or even as a light meal during a hot summer day. Cabernet Sauvignon is big and bold with savory tannins which makes it the perfect wine pairing to stand up to red meat. Get the Recipe!

Try these pairings:
- Canvasback Red Mountain Washington State Cabernet Sauvignon
- Decoy California Cabernet Sauvignon
- Duckhorn Vineyards Napa Valley Cabernet Sauvignon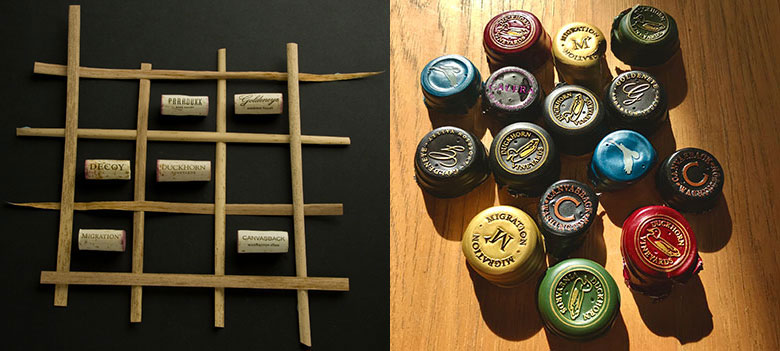 With more time at home we have had more opportunity to be more contemplative. In that vein, we turn our attention to something not often considered; how do wine closures differ?
As you eagerly open a bottle of wine, you rarely pause to consider the humble bottle closure. If you did examine this packaging detail you would see that at the Duckhorn Portfolio we utilize a variety of closures intentionally chosen to best suit the specific wine. Think about the wine closure choice like this: You don't need snow tires in the desert, meaning different wines enjoyed in different ways are benefited from different closures.
Across the Duckhorn Portfolio our bottles are closed with three options: full punch corks, Stelvin twist closures and Diam technological cork closures. Here are some details on why we use the closure we use.
Since the 1600s cork has been the closure material of choice. Cork stoppers are elastic, moisture-resistant, slow to deteriorate and they provide a waterproof seal. Natural cork is time-tested and proven to effectively protect wine from oxidation while allowing the optimum oxygen transfer needed for wine to mature gracefully in the bottle.
Like other cork products, natural wine corks are derived from the bark of cork oak trees (Quercus suber). The bark is carefully peeled away and cut into sheets before processing. Harvesting bark does not require the tree to be cut down. Portugal is the world's largest producer of corks followed by Spain, Italy, and Algeria. A Cork Oak is planted at Duckhorn Vineyards near the guest parking lot. Look closely at the tree next time you visit Duckhorn Vineyards. It's easy to imagine wine corks being punched from the spongy bark. We cork finish wines that our customers are most likely to cellar.
In the last 10 years we researched the effectiveness and benefits of Stelvin Twist Closures. We liked what we learned and began incrementally closing some of our wines under Stelvin. Duckhorn Vineyards Sauvignon Blanc was moved from a cork to a Stelvin in the 2015 vintage. These high quality, plastic lined twist caps make a near perfect seal with the bottle, essentially eliminating bottle variation. Additionally, Stelvin closures are easy to open and easily resealable. You will find a Stelvin twist closures on Canvasback Riesling, all 375ml bottles (AKA "Little Ducklings), Decoy white wines and on all our Rosé wines. A Stelvin is the best closure option for wines meant to be consumed within a year or two of bottling.
The third closure used on Duckhorn Portfolio wines is the Diam technological cork. Made using traditional cork, Diam seeks to eliminate the issue of wine being spoiled by tainted corks. Diam provides winemakers with a high level of consistency in aging from year to year, all while maintaining all the traditions of a natural cork.
Diam purchases raw cork straight from the producers, breaks it down into tiny particles, and runs it through their patented cleaning process eliminating the pesky TCA compound that can cling to cork and spoil a bottle of wine. After cleaning, the TCA-free cork particles are bound together using another patented technology. Diam corks carry their logo on them and can be found in Decoy Red Wines. We continue to investigate the use of Diam corks and other improvements to packaging in our mission to provide you with world class wine and excellent customer experiences.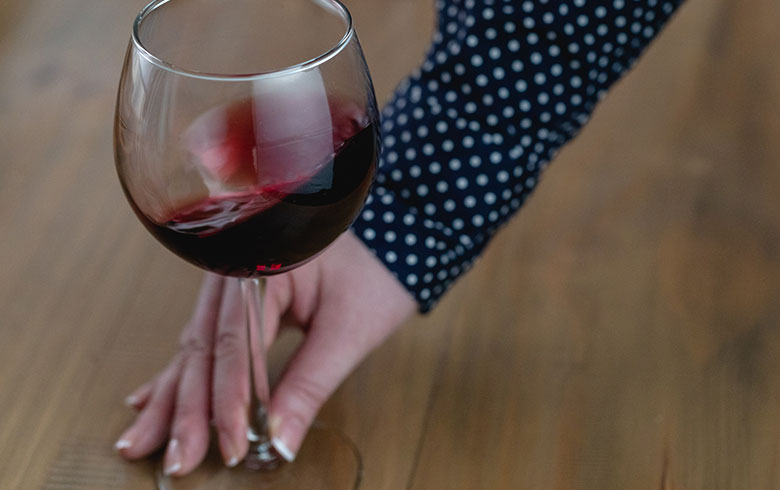 You know that hospitality you've come to know, love and expect when you visit wine country? It's still here.
Your health and safety of both guests and the Duckhorn Portfolio team is of the utmost importance. The Napa Valley Vintners and the California Wine Institute among others, continue to provide us with numerous training resources to ensure we are utilizing the best sanitation and self-distance practices.
We require that you wear a face covering at all times except while seated at your table. Our staff will have masks on as well, and we promise we're smiling under them!
We're practicing Social Distancing. Our indoor and outdoor tasting spaces have been modified so that we can safely maintain a 6ft radius.
Prior to your tasting, we'll greet you just outside the tasting room & ask you to please complete a liability waiver for your party. This seems to be the "new normal" for the time being. Thank you for being patient with us as we learn and evolve!
All of our California wine tastings will happen outdoors. We have beautiful landscapes and vineyard views to add to the ambience.
Many tasting rooms, including our Duckhorn Vineyards, Paraduxx, Goldeneye, Calera and Canvasback properties are accepting credit or debit payments only at this time, so no need to stop at the ATM on your way into town.
Some restaurants are reopening with socially distant protocol in place. Your favorite spot might have fewer tables than before, as restaurateurs keep their employees and customers' health top of mind. Now more than ever we recommend contacting restaurants in advance to place a reservation.
Planning a day trip? No time to taste? Duckhorn Vineyards, Paraduxx and Canvasback are offering touchless curbside pick-up! Place an order in advance online and we will meet you outside with your wine.
If you have questions prior to making your wine tasting reservations, our knowledgeable customer service team is happy to hear from you. Call (866) 367-9945 or email us any time M-F from 8am-5pm PT.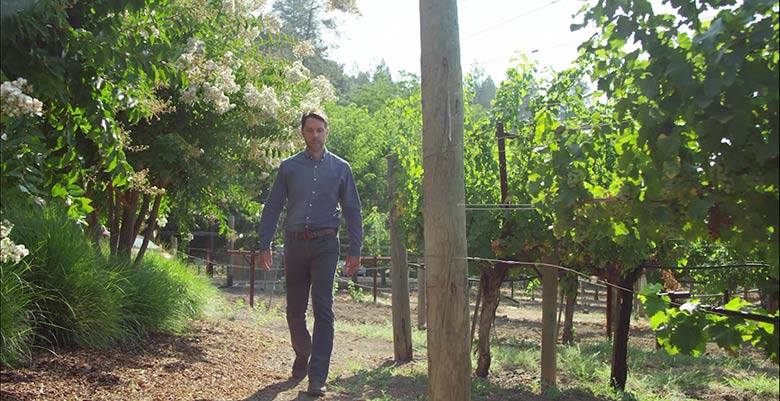 As Earth Day approaches (April 22nd) and the beauty of spring in the Northern Hemisphere reveals itself in sunny splendor, it is a perfect time to reflect on wine and it's relationship to nature, both that of the earth and our own humanity.
From time immemorial wine has been a beverage from nature, seen as an incalculably powerful gift from the gods to cure sickness and ease suffering. As part of western civilization for many thousands of years, wine was believed to be the ultimate health food, with cleansing and restorative properties, the ability to store calories through winter, and lighten heavy hearts. Technically, wine is a mixture of water, ethanol, anthocyanins, tannin, organic acids, volatile aroma compounds, mannoproteins, and polysaccharides.
More simply and more poetically, it is pure sunshine and water, the product of long sunny days in the vineyard. Wine is a pure expression of the land, reflecting the very nature of the soil and sun, the best examples being without adulteration or impurity. Interestingly, modern wine is perhaps a purer product than it was thousands of years ago, as advanced techniques, an understanding of microbiology, and refrigeration have allowed winemakers to preserve the delicate aromas and flavors of the grapes. Most wine prior to the middle ages was mixed with water, herbs, or even lead to mask the aromas of fermentations gone astray. As early buds emerge from dormant gnarled vines it is easy to see the natural beauty and wonder of these incredible plants that are so lovingly tended (in a safe and socially distant manner) by our dedicated vineyard teams.
For millennia, wine has also played an important part in defining our human culture, from the epic story of Gilgamesh, the Bacchanalian rituals of ancient Greece, to the absolutive traditions of Christianity, and in many cultures in between. In more everyday terms, wine plays a critical role in the quotidian ritual of breaking bread with family and friends. Given the current state of isolation of our world, many are missing that critical connection which humans crave. Wine as a connector, a lifter of hearts, and a symbol of togetherness and good times shared, is now more important than ever as we set our collective sights on better days ahead. If anything, the coronavirus pandemic has taught us to slow down and appreciate the wondrously mundane things in our lives: a brilliantly sunny day, our glorious natural world, and a glass of wine (shop here!) shared with friends and family, even if only via Zoom - Click here for wine country zoom backgrounds.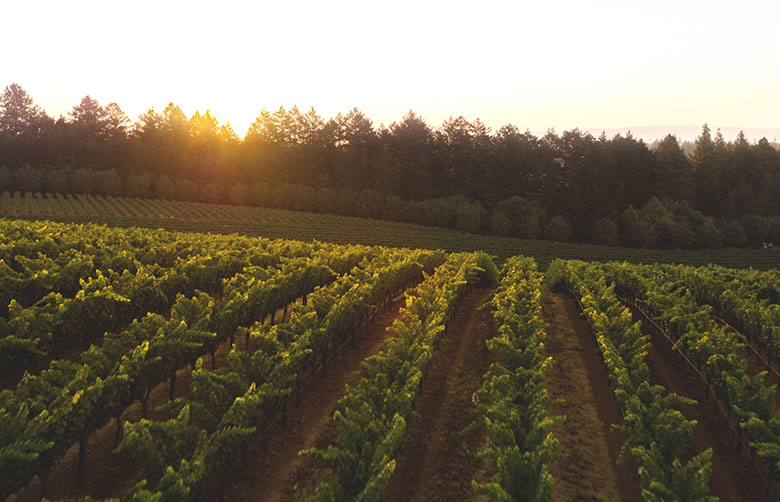 Wow your coworkers and virtual happy hour friends as you WFH (#WineFromHome) in style with wine country backgrounds! We're bringing the beauty of wine country to your at-home work station with views of some of our most picturesque winery estate vineyards, wine caves, and outdoor wine tasting spaces. So while you may not be able to join us in the tasting room or stroll our vineyards right now, you can download one of our wine country images below and WFH with a view!
How to add your wine country background on Zoom:
Uncork your favorite bottle of wine. Running low? We can help you restock - shop here!
Grab a glass, and and give yourself a pour.
Scroll through the images below, select one and save to your desktop.
Now head over to Zoom and log in (click here for a Zoom how-to video if you need a little help)
Click the gear icon in the right-upper corner.
Then click "virtual background" from the side bar on the left
Next, click the plus-sign to upload the image. You are now in wine country!
Finally, take a sip from your glass, you earned it
To help our team stay connected while working from home, we've added a 'fun fact' to share at the beginning of our virtual meetings. It can be anything – it acts as a little ice breaker to get everyone comfortable, especially for those early morning calls. We've equipped each image below with a little story to go with it, for any other groups doing the same!
From our flock to yours, please stay safe and stay home when possible. Cheers to at-home sips!
Duckhorn Vineyards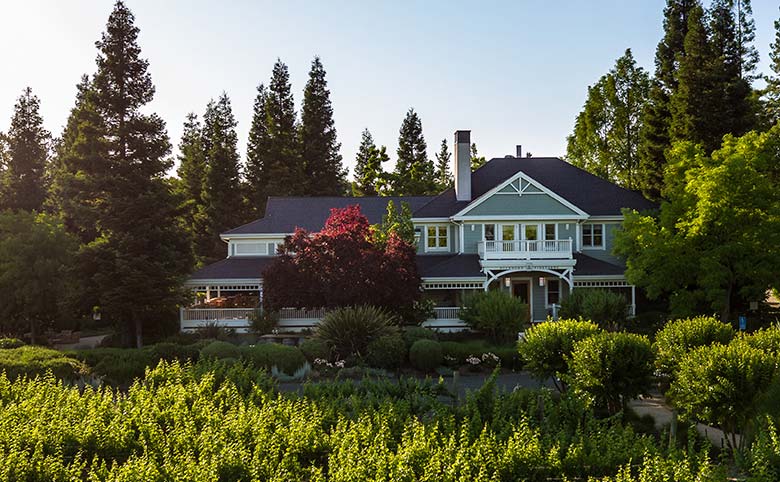 Duckhorn Vineyards in St. Helena was founded in 1976 by Dan & Margaret Duckhorn. They started with 800 cases of Napa Valley Merlot and 800 cases of Napa Valley Cabernet Sauvignon!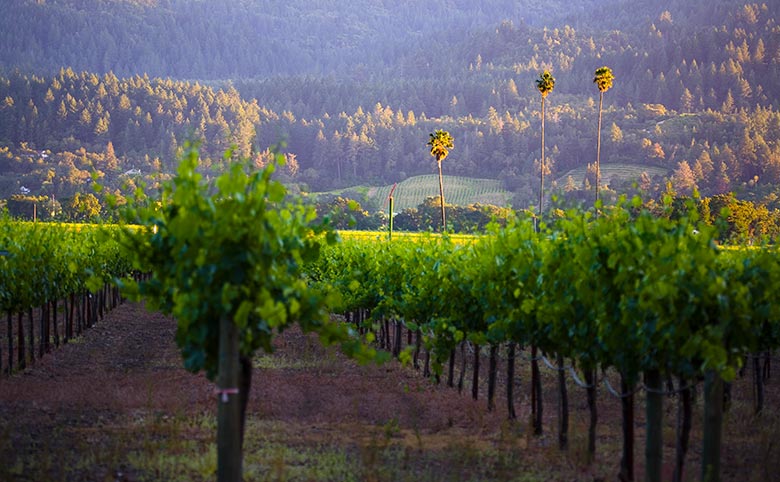 Three Palms Vineyard is an iconic site for new world Merlot! In fact, the 2014 Duckhorn Vineyards Napa Valley Merlot Three Palms Vineyard earned Wine Spectator's #1 Wine of the Year.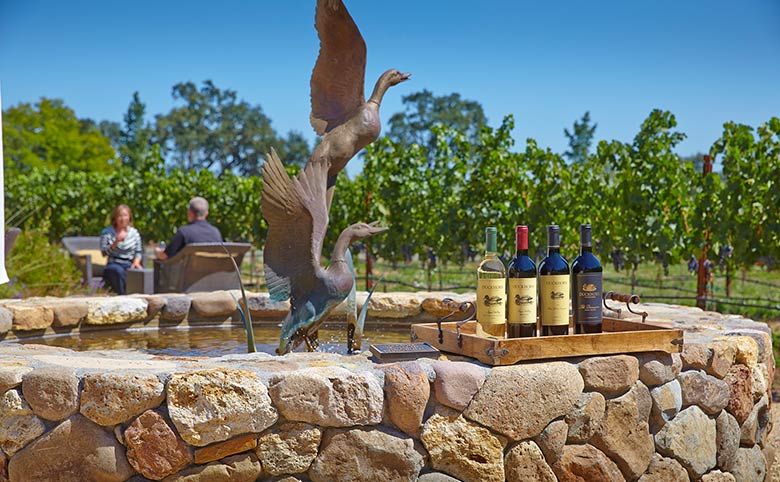 This Mallard Duck fountain was constructed with stones from every Duckhorn Estate Vinyeard. It commemorates our 35th harvest celebration!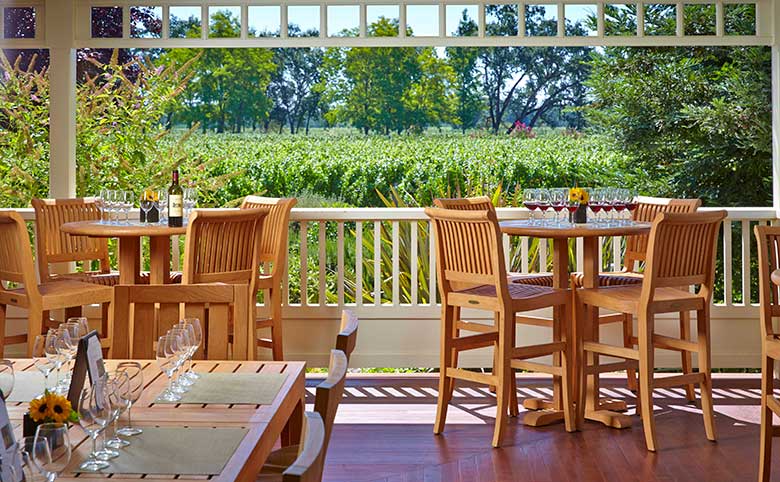 Our Duckhorn Vineyards veranda overlooks Marlee's Garden, which is named after Margaret Duckhorn and is the perfect setting for wine tasting with a wine country view.

Paraduxx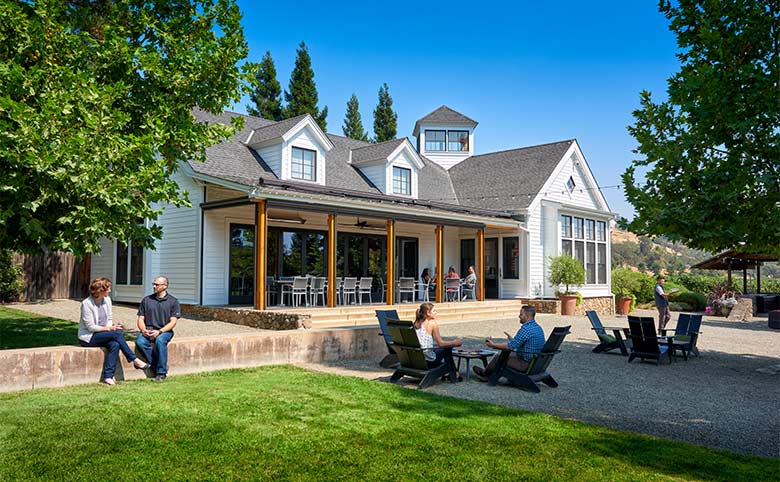 Paraduxx is our Napa Valley winery just south of Duckhorn Vineyards. and is dedicated to making Napa Valley blends inspired by the iconic blends of the world!

Goldeneye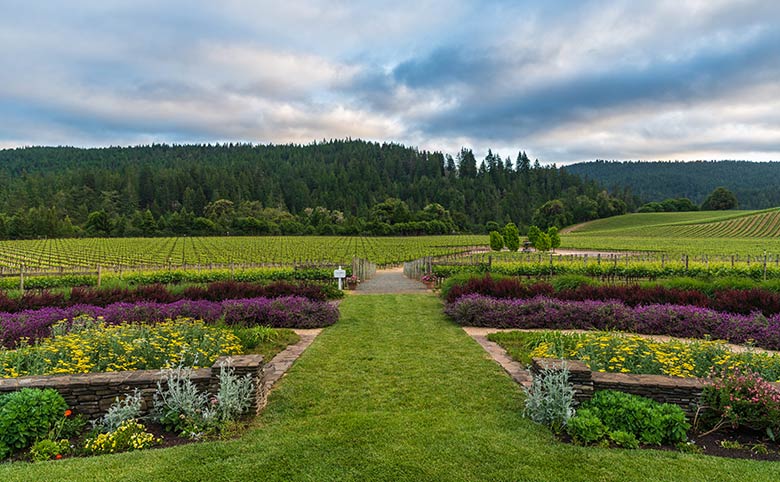 Nestled in the Mendocino Coast, Goldeneye crafts terroir-driven Pinot Noir.

Canvasback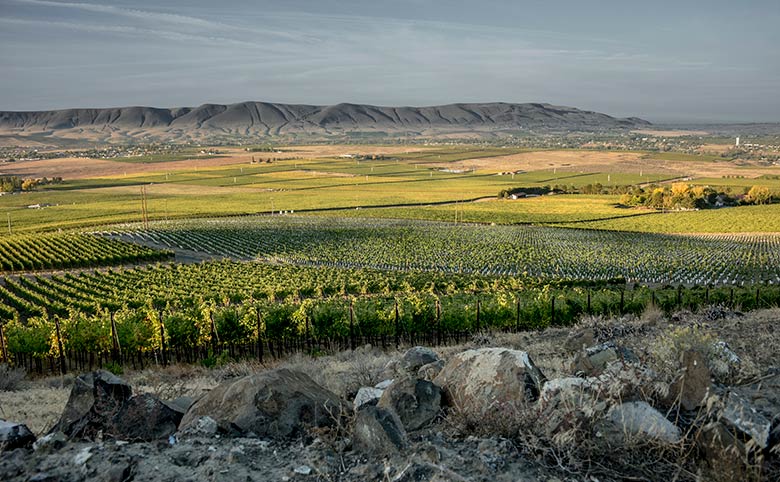 Canvasback's Longwinds Vineyard is planted to Merlot and Cabernet Sauvignon on Red Mountain, which is the smallest AVA in Washington State with 2,225 planted acres.

Calera
Calera considered a pioneer in new world Pinot Noir! Our gravity-flow winery features and underground wine cave home to barrels of aging Pinot.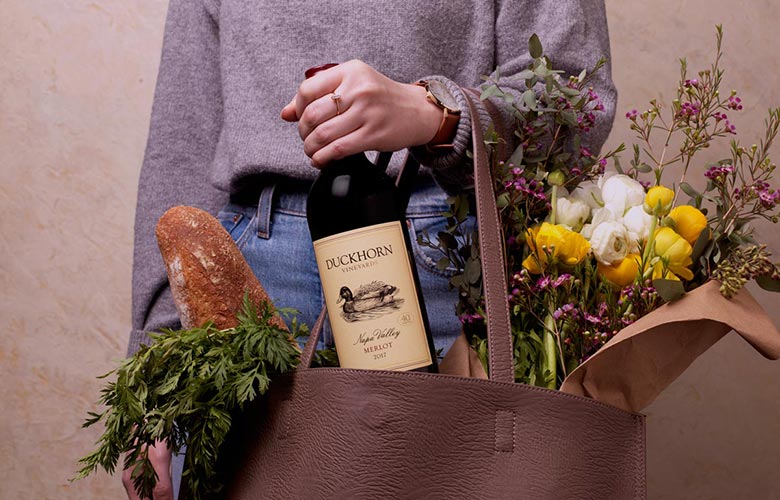 Let's face it, the wine aisle can be an intimidating space. Here are a few tips to help you navigate it with confidence!
Tip 1: Get the lay of the land
Whether you are at your local wine shop, or a larger chain grocery store, there is some sort of method to their madness when it comes to organization. Understanding how things are shelved makes paring down your options a bit easier. Often you will see the wine section separated by origin; US vs Imported (French wines, Italian wines, California wines, etc.), followed by varietal (Chardonnay, Cabernet Sauvignon, Blends, etc.).
Tip 2: Determine The Occasion
Whether you're enjoying an anniversary dinner, laying low on girls' night or just celebrating Tuesday, figuring out what the evening entails always helps me decide what to take home.
Tip 3: With or Without Food
The next question I like to ask myself is, "am I going to be enjoying my wine with, or without food?" A good rule of thumb is that when enjoying wine alongside food, the intensity of the wine should match the intensity of the food. Then I like to discern if I am in the mood for a slightly chilled white wine, or a red. Check out our recipe pairings for more ideas.
Tip 4: Look For Something Familiar - Then Maybe Branch Out
A great way to confidently branch out is to reach for other wines that are in the portfolio of a winery which you know and love. Strong collections such as The Duckhorn Portfolio benefit from world class winemakers who collaborate. Although each of our wineries has its own dedicated winemaker, they benefit from working with one another. Wineries with an established pedigree also have access to high quality fruit, which should instill confidence that you'll end up selecting something you love. For example, if you really like our Migration Pinot Noir, our Goldeneye Anderson Valley Pinot Noirs might be something you would like as well as Katey Larwood, our Goldeneye winemaker, and Dana Epperson, our Migration winemaker, frequently talk shop!
Tip 5: Don't Be Afraid To Ask For Help
Have a question? Ask the wine purveyor at your local wine shop, or consult your phone for trusted wine blogs, publications or apps with scores to get a handle for what others have liked or not liked as much.
At the end of the day, the most important thing is not whether you made a sommelier level pairing, but if you enjoy the wine with the ones you are sharing it with! Interested in bringing home a few bottles of our wines? Use the wine finder tool to locate our wines in your neighborhood.