Duckhorn Portfolio Wine Blog
Posts written by Neil Bernardi, Vice President of Winemaking and many special guest bloggers. This collection of insights on winemaking, farming, entertaining and more is a great way to learn about the excitement of winery life and tips for enjoying the wines we produce.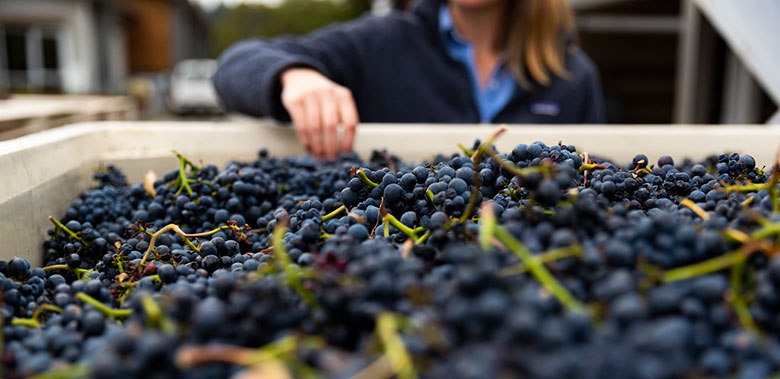 2018 in Anderson Valley was one of those years where everything just worked out. It was neither too hot or too cold, too wet or too dry, or the crop neither too big nor too small. It was, for all intents and purposes, "just right."
After a very rainy winter providing a bounty of water reserves, the season gave way to lush and healthy canopies with a well-balanced crop in our vineyards. From the wet spring, budbreak and bloom were delayed, and we sailed through frost season without any sleepless nights. The summer months were very temperate with no heat spikes, so the grapes matured at an even, steady pace. Once it came time to harvest our first Pinot Noir fruit, we were well into September, which harked to the good ol' days of the official unofficial start of harvest in Anderson Valley on the Monday after the County Fair, always mid-month. This tradition had fizzled away in recent years in part from compounded years of drought inching our start dates further into August. Once we got going, Goldeneye had a steady flow of Pinot fruit until October 31st, our latest vintage in many years.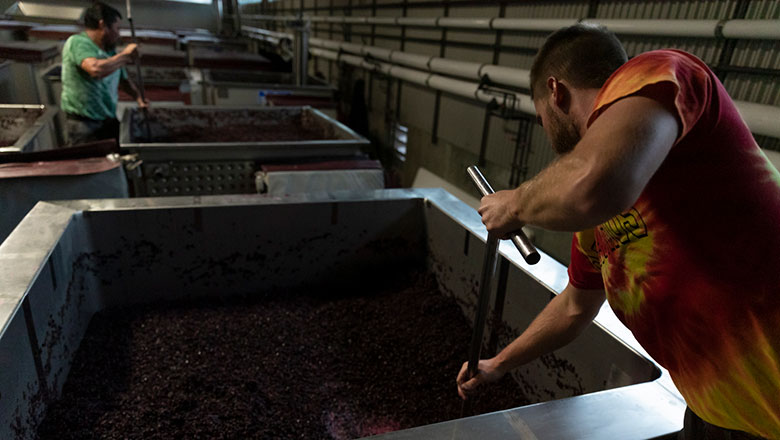 There's something about harvesting grapes when it's near freezing every morning with your sticky, cold fingers sorting through clusters as you chat and laugh with your team, dancing to Cumbia as you try to keep warm. These are the fleeting moments that turn the mysteries of winemaking into a real, livable feeling. It's the fermented grapes squeezing between your toes with sweat streaming down your face as you shovel out fruit destined to be pressed. It's the pre-dawn walkaround, tasting each bin as you mentally picture where to put everything and surprise – you've got 2 extra tons of your favorite block! It's walking into the winery where the smells hit you like a train - red currant, plum and cranberry, sweet confectionary spices and dried herbs. Meanwhile your sleepy interns are enthusiastically punching each tank down as you blast music through the speakers to wake everyone up. You see the beauty in the madness of hoses pumping wine, presses rotating and hissing, forklifts beeping, barrels being unstacked, filled, then restacked – it is organized chaos that keeps your heart pumping and your feet moving. And finally, it's the quiet, twilight-filled winery when everyone has gone home, and I am left with just a glass and a pair of headphones as I taste through every tank and trace the various stages of each fermentation. These are the moments I wait for all year, and in 2018 those moments were filled with intense happiness and pride in my team.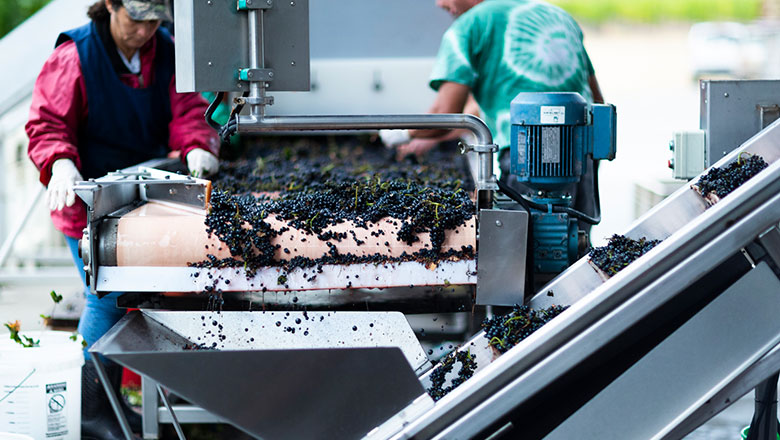 I cannot talk about the 2018 season without mentioning the incredible people that are the unsung heroes of every Goldeneye wine. Our vineyard management company, spearheaded by Paul Ardzrooni and Tony Sanchez, these guys in addition to the countless other pickers, tractor drivers, and foremen that deliver us in the wee hours of the morning the literal fruits of their labor. Our own vineyard team of Rob Sorenson and Orlando Espinoza, who's dedication is most seen in their sleepless, reddened eyes as they patiently wait for you to schedule the next day's fruit. And of course, the Goldeneye cellar crew, fearlessly led by Pancho Ibarra, Goldeneye's first and only cellar master of 25-years. His focus, dedication, adeptness, and humor are what keep the machine oiled and moving. Alongside Pancho is Jose Luis Mendoza, who's laugh is infectious and eager-beaver attitude gets everyone moving, and Remy Martin, who's energy has kept everyone lifted and hyped every day. Our three interns who's love for winemaking inspired all of us every day, Sam Buckingham, Tomas Vietti, and Miriam Olivera. We have since added a few new team members who worked tirelessly to help finish the 2018 wines - Kristen McMahan, our wonderful Assistant Winemaker, who has an eye and taste for making truly great wines, and Julian Vasquez, our newest cellar crew member.
These people were and are 2018 Goldeneye and from one of the best season's in recent memory - the Goldilocks Vintage - we can finally share these special wines with you all and truly hope you enjoy them as much as we enjoyed making them.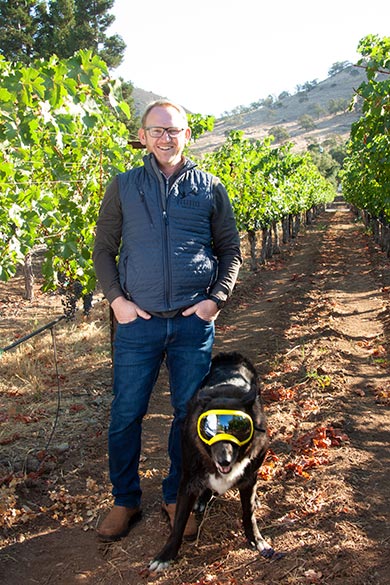 The dog days of summer are here, and we are excited to be accompanied by our four-legged friends for one of our favorite seasons. We sat down with our Paraduxx Winemaker, Cardiff Scott-Robinson, who embraces days in the vineyard with his pup, Lando, every day of the year.
Lando, Cardiff's 12-year-old Border Collie-Shepherd Mix, can be found roaming the vineyards at our Paraduxx Visitor Center, greeting and enjoying the company of our guests almost any day of the week.
We asked Cardiff what he felt makes Lando so unique, aside from the fact that he is named after a Star Wars character, Cardiff replied that it is Lando's spunky personality! He can run through the vineyards, or kick back with his family, arm over the couch and just hang out like a human would. The way he switches from work mode to family mode is unmatched.
Cardiff explained to us that the vineyards were not the only paths traveled for Lando. The adventure-packed duo has a history of visiting the backcountry, where they frequently rock climb and hike.
One of Cardiff's favorite memories with Lando is rock climbing through the Buttermilks in Bishop, California. "Seeing him run side to side and from group to group was great. He was in his happy place. He would even try to rock climb all by himself!"
The California backcountry is the duo's favorite place. With endless amounts of hiking trails, smells and adventures, the two have created countless memories there. Lando even carries around his own backpack with his favorite treats!
Because Lando is slowing down, their adventures are not so daring anymore. Getting out and into the vineyards early and letting Lando run free, and family cruises where he trots alongside of his favorite 6-year-old human sister are what they can be found doing these days.
If you happen to visit our Paraduxx property and see Lando roaming around, stop by and say hello!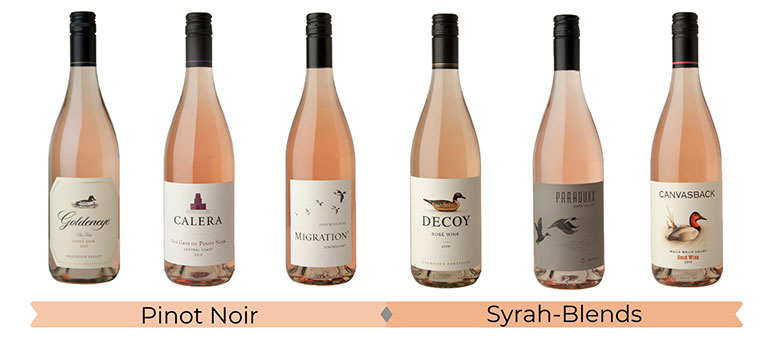 Introduction:
Many of us know of it as summer water! But Rosé isn't just for summer; it is perfect all year long! The drink pink movement is here to stay and here at Duckhorn Portfolio we craft an array of Rosé Wines using different varieties which results in a range of delicious wines. Let's dive into the concept of what is Rosé Wine and why we should all be drinking it!
Winemaking Methods:
Maceration method:
This is when the red wine fruit in sitting in contact with the skins, seeds and stems to extract color and flavor in the juice. This is highly popular in locations like Provence, France. Provence is a highly regarded wine region that produces a benchmark style and in fact 88% of Provence wine production is dedicated to Rosé.
Saignee or "bled" method :
This method is when only some of the juice is "bled off" and placed into a new vat during the first couple hours of making red wine. The purpose of this is to concentrate the red wines' intensity. This is common in the Napa Valley and Sonoma Valley because of the specialization of producing fine red wines there.
Blending method:
This method requires simply blending red and white wines together to create pink Rosé. This is incredibly uncommon in still Rosé wines production.
Flavor Profiles:
Rosé is fun in that it ranges in style and flavor profiles depending on the grapes used and the winemaking method. Our Rosé Wines are crafted in either the maceration method or the Saignee Method aiming for a bright, crisp and refreshing expression of Rosé.
Check out each of our Rosé wines tasting notes to get an idea of their flavor profiles:
Join us in uncorking a splash of summer water all year long! And let us know which your favorite Rosé Wine is.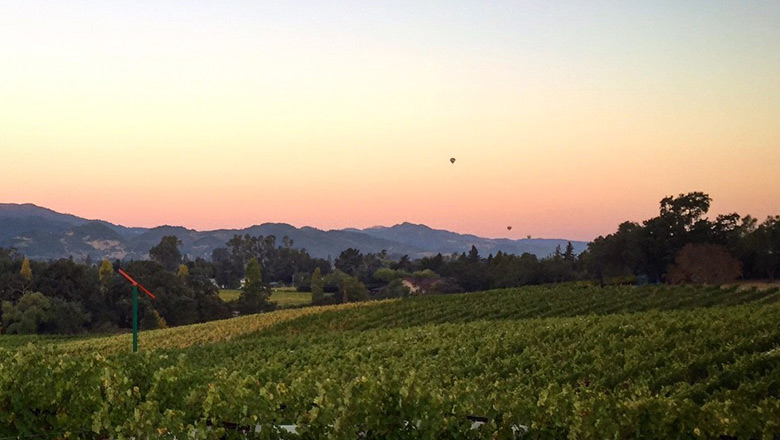 Sheltered between the Mayacamas Mountains and Vaca Range, the Napa Valley is an agricultural preserve with over 53,000 acres of ready to explore open space. While you may come for the wine, it's hard to not be captivated by the beauty that is wine country, and the fertile land which makes it all possible. These are three great ways to get outside and experience the beauty that is the Napa Valley.
By Foot
Whether you're a seasoned hiker or up for a stroll, there are miles upon miles of trails perfect for any level.
Close to our Migration Visitor Center is The Stanly Ranch Area Public Trailhead. This paved path meanders 1.5 miles out and back through Carneros, with breathtaking views of the surrounding vineyards. During the spring, bright yellow mustard flowers will pop up between the rows of vines, soon to be followed by bright green vineyard leaves, and of course, plentiful clusters of plump grapes come fall. This is a fantastic spot to visit any time of the growing season, as it gives you an up close look at the cycle in the vineyard.
Skyline Regional Park is a favorite of locals. Located in Coombsville, this park features some more strenuous hikes, giving you breathtaking views. On a clear day, you can see the San Francisco skyline from atop the Buckeye Trail. This park does require a $5 entrance fee. For trailhead specifics, visit SkylinePark.org
By Bike
There are a number of places to rent bicycles in Napa Valley; both in Yountville and Napa proper, as well as Calistoga, making traveling by bike not only a fun but easy way to explore wine country. It is not uncommon to see a group of weekend cyclists take a pit stop at our Paraduxx winery just outside of Yountville. Many rental locations offer both traditional bikes as well as e-bikes, giving you a bit more range for a little less work!
There is currently a 12.5 mile paved path, The Napa Valley Vine Trail, stretching from Napa's Kennedy Park north to Calistoga, which gives you great vineyard views, and a look at the famous Napa Valley welcome sign.
This trail will eventually span 47 miles, connecting the Vallejo Ferry up to Calistoga, and will be lined with hundreds of trees to provide shade! Learn more about this ambitious project, at VineTrail.org.
Hot Air Balloon
Traveling by hot air balloon is such a unique experience, and a real treat for the adventurous! These excursions typically start in the wee hours of the morning, but are well worth it, as you get a bird's eye view of daybreak across the valley. Flights launch from various points, including Yountville, and last 3-4 hours. Reservations are required, and flights are weather dependent, so this activity is best if you are flexible in your itinerary.
Pairs Well on the Go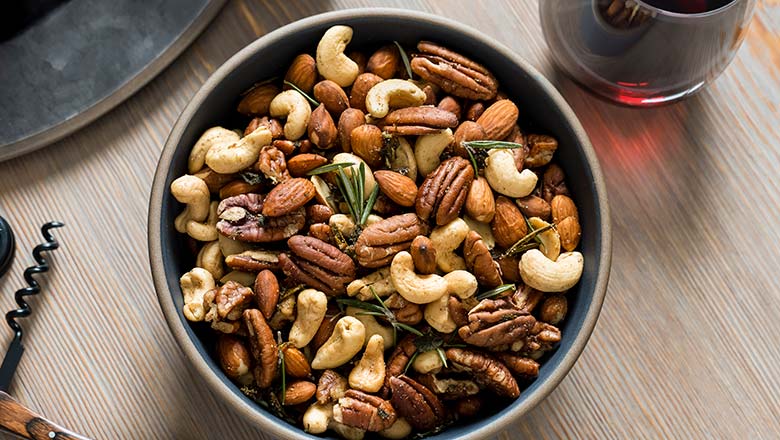 While you're out finding must do's in Napa it's normal to work up an appetite. This simple Seasoned Mixed Nuts recipe is the perfect option for when you're on the go. Not to mention, they go great with wine too!
No matter how you choose to visit Napa Valley, we know you will have a wonderful time taking in the sights and sounds of one of the most exquisite wine regions in the world.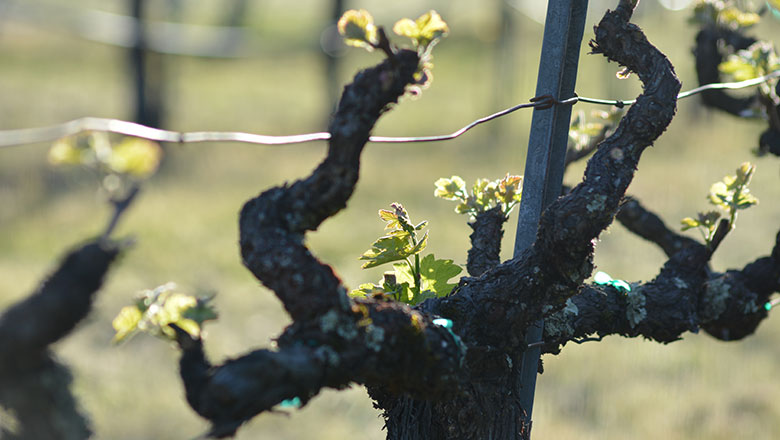 The 2018 vintage was absolutely idyllic and our Napa Valley wines echo a near-perfect growing season. It was one of those years where you sigh with relief because mother nature decided to shine in your favor. Overall, it was a slightly cooler vintage; the winter brought minimal rains, the lowest we had seen in a few years. And as we headed into Spring there were grumbles of another drought, but the rain arrived right on time in March and April. We had a few powerful storms that filled the soil profiles and allowed the vines to wake up from dormancy.
Looking back over my years in viticulture, I see that what is considered "normal" in farming is always changing. That is part of the challenge of viticulture, everything stays the same while absolutely nothing stays the same. You can depend on nothing happening the way you expect it to and in that way that is reliable.
The temperatures in 2018 were cooler than the 2016 and 2017 season and we had moderate to high humidity with comparatively cooler days which contributed to fewer spikes of climactic demand for water (AKA the plant's demand for water). Water is one of the greatest edges to have in the start of a vintage. It is the difference between coasting through to harvest and having to pay close attention to water demand up until harvest begins.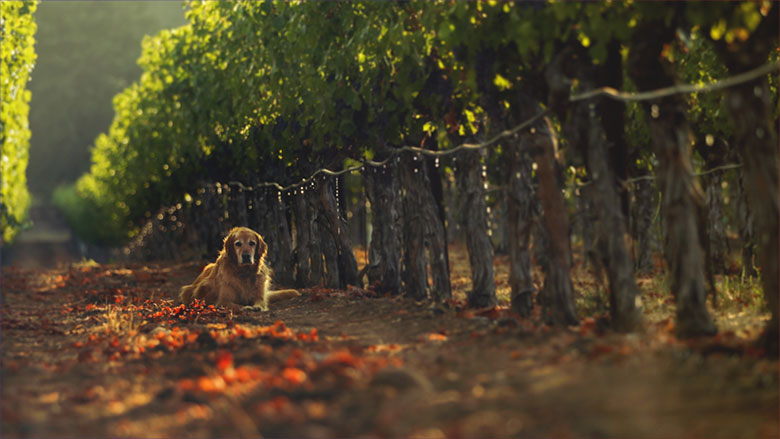 Budbreak averages in Napa Valley were between March 23rd and April 3rd, about a week later than in 2017. The vineyards took longer to reach full canopy (June 16th as opposed to mid-May of 2017) and they had very little regrowth after hedging and leafing. Bloom began during mid-May in Napa and finished by the beginning of June. Weather during bloom was ideal, it was sunny and warm with a little breeze. When the fruit set, we had very little shatter and had full clusters. Since 2018 was cooler the berries remained small to medium, with great flavor concentration on large rachises.
The summer was mild with temperatures remaining in the high 80's to the low 90's, allowing the vines to grow a complete canopy and shift the focus to the fruit without having heatwaves shutting down the plant to conserve water. We had an extended veraison period which was an homage to the cooler year. While slower veraison periods can make me want to pull my hair out, it can be really beneficial to the color and tannin compounds in the grapes. Hang time is always a plus in the right conditions!
The soil water status contributed greatly to delays in bud break, bloom and veraison in 2018. Harvest began about 1-2 weeks later than average and proceeded smoothly. It was a fun harvest year and the ripening of the grapes helped us to have a well-spaced out, less frantic harvest season. Some years we pick non-stop for a month without a break and some years, like 2018, we have the joy of meandering through at each of our estate vineyard sites, including the Paraduxx Rector Creek vineyard.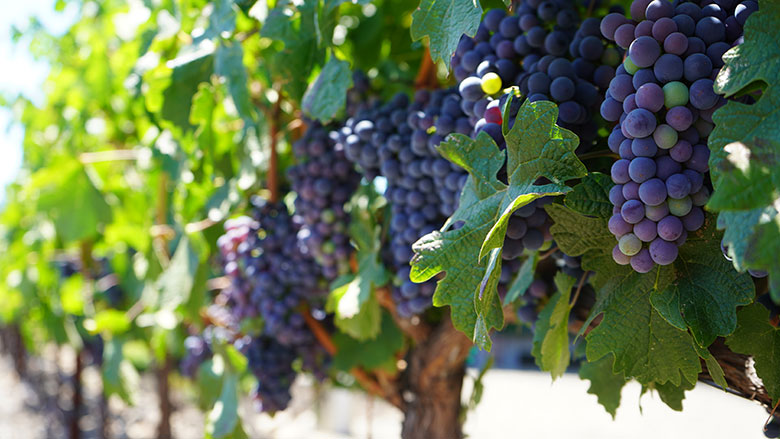 We had almost an inch of rain October 2nd and hot dry winds mid-October that led to a nice late season with dehydration of fruit which helped usher in the end of the 2018 vintage. The cooler vintage surely had a huge impact on the uniqueness of the wines from this year. 2018 was a rare gem of a vintage in Napa Valley and its ready to be shared with you!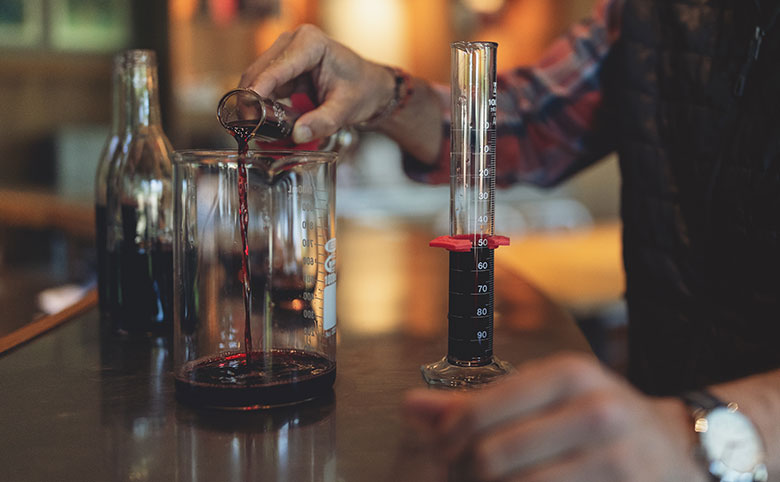 The concept of a Red Blend can be a little confusing for someone new to wine. Is it synonymous with all Red Wine? What makes a wine a Red Blend? Luckily our resident expert, Paraduxx Winemaker Cardiff Scott-Robinson, is able to provide some clarity. Read on for his responses to a few common questions about Red Blends and the craft of blending Napa Valley wines.
1. What is a Red Blend wine?
A Red Blend is a wine that consists of multiple varieties of grapes blended together in specific proportions to craft a wine with a desired style in mind.
2. Why do you select multiple varietals?
Different varietals provide different flavor profiles, tannin structures, acidity levels and color intensity.
3. Can you blend red and white wines together?
Yes, some white wine can be added to increase the floral aromatics on the final blend. You can also add white grapes to a red ferment, like our Paraduxx Winemaker Series Co-Ferment, to help stabilize the color and bring more of the white aromatics into the wine.
4. What makes Napa Valley Blends special?
The vast micro-climates of the Napa Valley allow for diverse grape varieties with diverse ripening times. This allows us many options to play with and make the ideal wine blend from a variety of fruit selections.
5. What is fun or unique about crafting Paraduxx Red Blends versus single varietal wines?
The opportunity to fill in the gaps that a single varietal may have in any given year. The freedom to craft an ideal balanced wine. No restrictions allow the art of the blend to shine in elegant and compelling wines.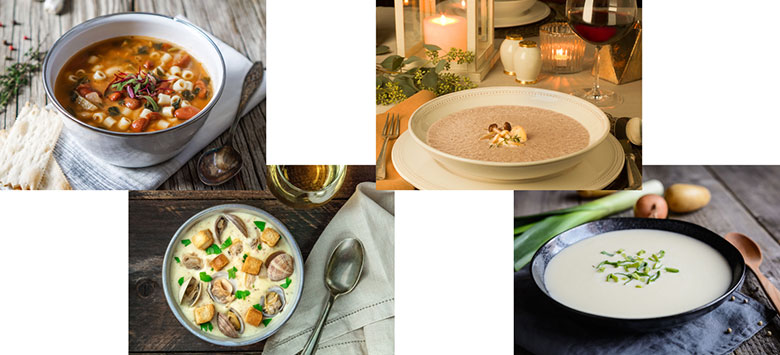 Soup and Wine is a perfect combo for cold winter days! The hearty ingredients in a soup, even down to the herbs and spices, can make for a delicious winter wine pairing. For us food and wine pairings are really an exploration of your personal palate and preferences. In this post below, we are highlighting our favorites soup and wine pairings featuring wines from across our portfolio.
When we think of winter soup, the ever-classic Minestrone Soup is the first to come to mind. And our go-to pairing is Duckhorn Napa Valley Cabernet Sauvignon. Both are instantly warming and comforting which is why they work so well together. Black pepper and licorice flavors from the wine bring a sense of spice to this bean and pasta-filled soup. Open a bottle of Cabernet Sauvignon and enjoy a classic winter pairing.
Clam Chowder is always one of our favorites for the winter season! This soup really captures a taste of the coast. The salinity of the clams and the richness from the butter and cream is balanced perfectly with a glass of the bright acidity of the Sauvignon Blanc. For Clam Chowder, we are reaching for our Decoy Sauvignon Blanc which features crisp acidity and notes of citrus, guava and stonefruit which cut right through the creaminess of Clam Chowder.
Earthy, funky and oh so delicious, Cream of Mushroom Soup is a comforting choice. In terms of pairing, Pinot Noir brings a great acidity and lovely fruit aroma to the table. Our personal choice for pairing Mushroom Soup and Pinot Noir is our Goldeneye Anderson Valley Ten Degrees Pinot Noir. Blended from our estate vineyards with the depth and diversity of Anderson Valley, Ten Degrees has layers of blueberry and blackberry, as well as notes of redwood forest, earth, and spice.
Potato Leek Soup is a smooth and velvety bowl of goodness. Our go-to pairing is our Migration Sonoma Coast Chardonnay, hints of apple, stonefruit and citrus mingle with subtle notes of sweet vanilla which bring a refreshing element to this savory-filled meal. A little sweet and savory can never go wrong!
We hope you are enjoying soup and wine season just as much as we are. Tag us on Instagram to share your favorite pairings with us!
Drying citrus for decorating or eating, is an easy and wonderful way to add beautiful color to your holiday decor. You can add citrus slices to greenery like wreaths and garlands, or serve with your cheese and charcuterie board. You can even have a fun family craft night in front of the fireplace while making a string of citrus for your holiday tree! A few simple steps and you are ready to go, however you choose to use them.
1 - Start the Heat
Set the oven at 170 -200 degrees or use a dehydrator. The dehydrator requires a bit more time, but less watching and moving. If you're in a pinch for time, the oven is a better choice - plus it makes the house smell so good!
2 - Gather your Citrus:
It's fun to do a mixture with different types of citrus - Navel oranges, blood oranges, Cara Cara (they have a beautiful pink color inside), tangelos, Meyer lemons - or any other citrus you'd like to use. The variety of sizes will look great.
3 - Chop Away:
Using a sharp knife - thinly slice the citrus - 1/8-1/4 inch thick. Try to keep them consistent in thickness so they dry evenly. Gently lay them between two towel layers and press to absorb some of the juice released when slicing. This will allow for more even drying when you pop them in the oven. It's a good idea to remove the seeds as well before heating.
4 - Bake or Dry:
Bake: If you're using the oven, line your sheet pans with parchment paper and layer the citrus down, trying not to overlap and leaving a bit of space between each slice. Place in oven. When citrus slices look about halfway through baking, move them onto a drying rack. Then place back on top of the cookie sheet & parchment before putting back in the oven, to catch any drippings. When they are dried to your liking, remove from oven and let cool completely.
Dry: In you're using the dehydrator - layer the citrus on the trays, leaving a bit of space between each slice. Close dehydrator and set to the desired temperature. 145 is recommended but you can turn to the highest temperature on your dehydrator (usually 165) if you'd like. They will be done in 3-5 hours depending on thickness and temperature. Let cool.
5 - Decorate:
Making these together with family is a fun and simple idea that is easy to make into an annual holiday tradition. Add them to a centerpiece for the table, create a unique ornament, or embellish your gift wrapping with a natural touch. The possibilities are endless and you can enjoy your handiwork with a glass of any of our Duckhorn, Paraduxx, Goldeneye, Migration, Decoy, Canvasback or Calera wines when you are done! Shop our online wine store to find your favorite.
Add a special touch to your wine gift this year, consider wrapping the bottle! Whether you are gifting to the wine lovers on your list or a dinner host, taking the time to wrap the wine bottle is guaranteed to put a smile on their face.
Materials
Favorite Duckhorn Portfolio wine bottle
Wrapping paper or 12' by 12' craft paper for the occasion
Pair of scissors
Double sided tape
An assortment of ribbon/bows and festive accessories
Instructions
Lay your Duckhorn Portfolio wine bottle on the center of your wrapping paper with about 1 ½ inches below the bottom of the wine bottle.
Roll the wrapping paper around the bottle and secure with a piece of double sided tape. Fold the remaining paper under the bottom of the bottle and secure with tape.
Pro Tip: Make sure to tape on the glass so you don't ruin the label!
Tie the bottle at the neck with your favorite ribbon.
Add a special touch by placing an accessory over the ribbon, like a festive flower or ornament.
In a rush with no time to wrap? We've got you covered - check out our full selection of holiday wine gifts below.
This post was updated on 11/25/20 to reflect new gift offerings.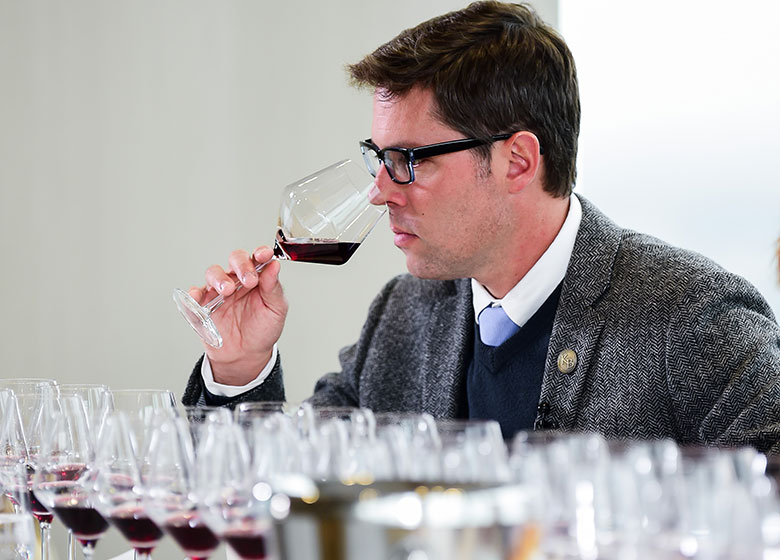 Neil Bernardi
GM of Kosta Browne & Canvasback
"There are so many wines in our portfolio that are pushing boundaries and exploring new concepts or regions, it is really hard to say which wine in our portfolio is most compelling intellectually. Kosta Browne Sparkling, Calera Chenin, and new Washington AVAs that Canvasback is exploring come to mind."
Neil grew up in San Rafael but moved to Mendocino, Napa, and Sonoma when he started working in the wine industry. He went to Davis to follow in his sister's footsteps, but quickly realized his interest in viticulture and enology. He did his first vintage at Gundlach-Bundschu at the age of 19 and his favorite part of his job is seeing success in whatever form it may come in, whether that's a new project or the evolution of a new wine. "The toughest part is watching all the interns have fun during harvest while I'm at a computer!"
If he had to choose, Neil's favorite wines in the portfolio are the Howell Mountain Red Wines and Cabernet Sauvignons from Duckhorn. "The texture, the intensity, the power – that wine is insane." One of the most interesting parts of the world of wine is "the fact that something is created and enjoyed; it's something so tangible to be able to point to and say, "we made that'."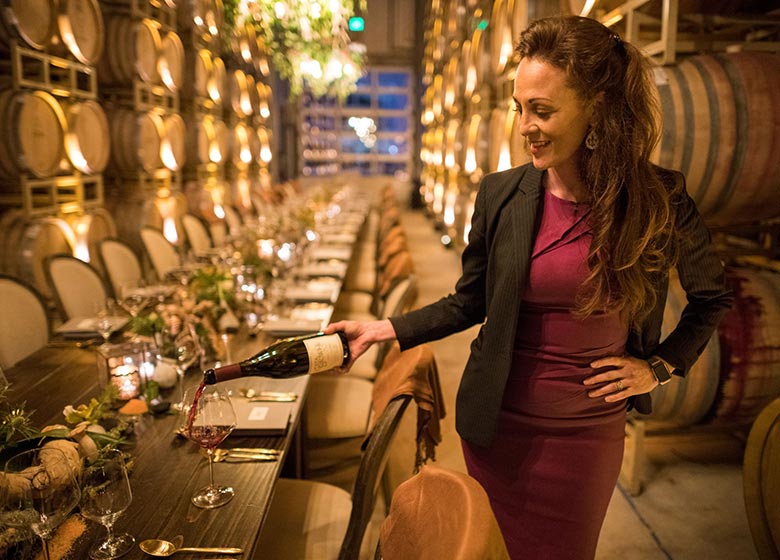 Regina Sanz
Senior Estate Director of Kosta Browne
"The moment when I really knew I wanted to be in the wine industry was toward the tail end of my career as a competitive snowboarder - I was traveling in South America in Argentina in a wine region called Mendoza. It was such a beautiful place and the genuine people and culture they shared around Food and Wine was super captivating."
Regina was born in Texas but moved to Northern California at a young age. "My Dad's family is from Spain so wine was always part of the culture in our household growing up." As a restaurant industry veteran, Sommelier and former competitive snowboarder, Regina has been able to live and travel in Australia, New Zealand, Argentina, Chile, and England! Towards the end of her snowboarding career, she quickly realized that her next profession would be in the world of wine. "The beauty of wine is that there is always something new to learn and a new story to tell. Our industry is full of incredibly creative and passionate people, with various backgrounds and usually really cool backstories. It can take an entire lifetime to get to know all of the various nuances of wines from around the world, and I find that journey inspiring."
She started in the wine business in 2008 in Lake Tahoe where she worked for a wholesaler, selling to high-end restaurants. From there, she went to Sonoma State to get the Wine Business MBA program and has been working for suppliers ever since. Although she loves all of Duckhorn Portfolio's wines, her favorite is the 2016 Kosta Browne Cerise Vineyard Chardonnay. "It's not what most people think of when they think of a typical California Chardonnay… It's a wine that makes you think outside of the box and pushes the envelope on the great things that we can accomplish. I guess in many ways I can relate to that sentiment."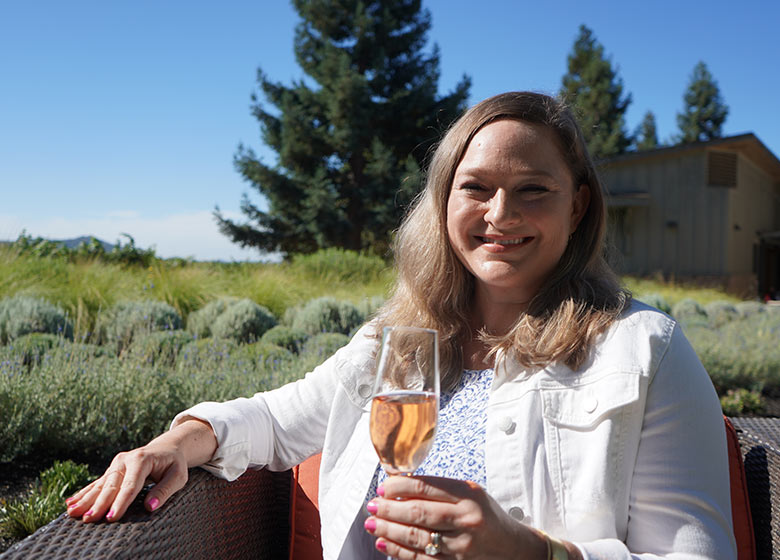 Stephanie DiStefano
Director of Events
"Working with Master Sommelier Greg Tresner at the Phoenician in Scottsdale, Arizona was inspiring and led me to take my first Somm course to learn more about wine." Fast forward to 2015, and "a six-month road trip through the Pacific Northwest and Canada (including Napa and Sonoma Counties) reinvigorated my love of wine. The Paraduxx Atlas Peak Blend is my absolute favorite! It blends Sangiovese and Cabernet Sauvignon - it is perfect wine to pair with food."
Stephanie was born in San Diego but has spent half of her life in Arizona. She became interested in wine first when she worked at a high-end restaurant in Arizona. She finally decided to enter the wine industry after she traveled the Pacific North West and Canada and made stops in Napa and Sonoma Counties. In the world of events we really want to focus on the enhancing and elevating the experience: luxury wine, exclusive access, and an unparalleled atmosphere. Stephanie truly loves the complexity of the wine industry, there is always more to learn, more to taste and that pursuit of wine knowledge is incredibly intriguing and gratifying.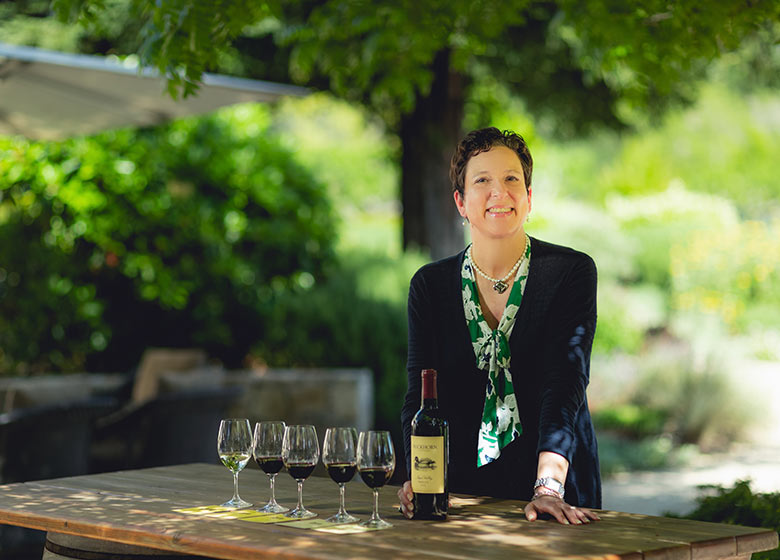 Kay Malaske
Trade Relations & Education Manager
"I am a liberal arts nerd! The wine industry is a comfortable home for dreamy somewhat impractical folks like me that love art, food, music, literature, history, geography, science. Wine touches on all these areas and it engages all my senses."
Kay is originally from a small town in northeastern Oklahoma, Pawhuska, which has a population of 3,500. Her love for the world of wine was ignited when she had the experiences of working in wine-centered restaurants in Arizona, Colorado, and Oklahoma. She was once a waiter at the Metro Wine Bar and Bistro in Oklahoma and one night, there was a dinner that hosted Nancy Andrus (future wife of Dan Duckhorn). About 20 years later, she returned to that same restaurant and was a vintner herself just like Nancy! Her favorite parts of the job are the guests she meets and living in wine country. If Kay could teach us all one thing, she would choose to share that knowledge is power. Be confident in what you know and be hungry for more information!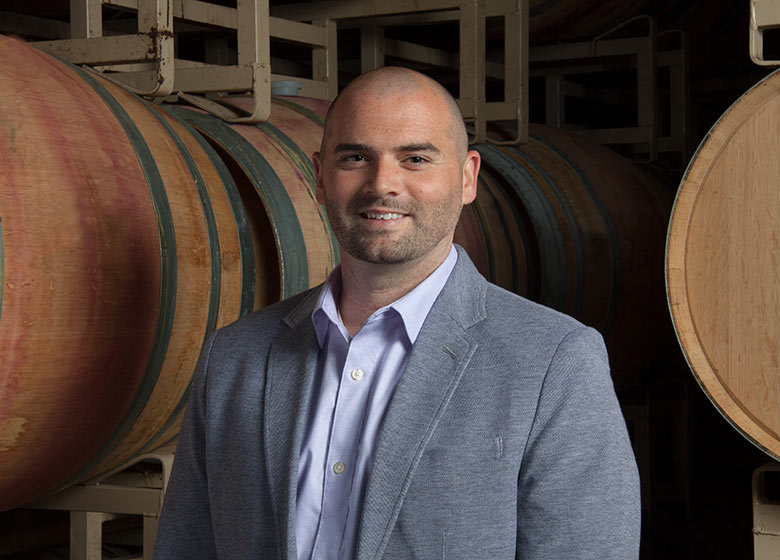 Cory Johnston
Membership Advisor Manager
"Practice blind tasting at home. It is amazing how taking the label out of the equation forces you to focus in on all of your senses. It helps you develop a more refined palate, sense of smell, and also highlights the artistry in winemaking."
Cory is originally from a small town in Southern California, located in the high dessert. He moved to San Luis Obispo for schooling which is where he was first introduced to the world of wine. After a decade on the coast Cory moved to the Napa Valley where he took a role as a catering Chef, " I learned about the components of wine and how to find balance in creating dishes that enhance both the wine and the foods flavors."
Cory joined the Duckhorn Portfolio team in 2017 as our Membership Wine Advisor and loves sharing a taste of wine country to wine lovers everywhere. "Personally, I love connecting with people and hearing about their experiences with wine; what they like and don't like as well as who they are sharing it with." Wine really has a unique way of brining people together. "I have met people from all over the world and made some lifelong friends because of wine." His favorite wine from the Duckhorn Portfolio is the Goldeneye Anderson Valley Pinot Noir from the Confluence Vineyard, calling it "exciting and versatile with a heartwarming soul."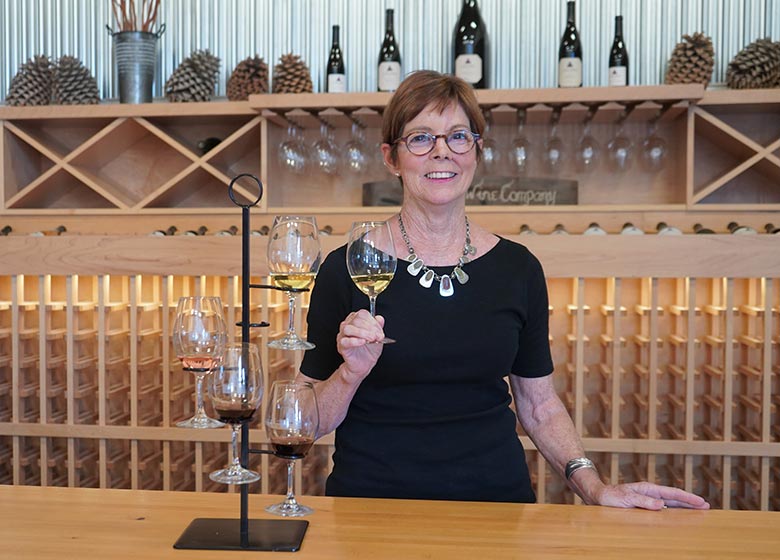 Kate Mayhorn
Wine Specialist at Calera
"For many years and trips, I would go up to the wine country in Napa and Mendocino, tasting many different varietals along the way. On one trip I remember, overlooking Napa Valley from a hot air balloon I knew someday it would be part of my life."
Kate is originally from New Jersey but has lived in California most of her life. Her love for the wine industry was ignited during one of her first dates with her husband of 40 years while tasting in wine country. For years, Kate owned and managed her own deli and catering business, and "I decided to merge my passion for food with wine and took a part time job at Calera. It was absolutely the best decision for me. I was able to integrate the two things I loved and was never happier."
"I always knew wine would be a part of my life." Kate is fascinated by different wines from all over the world and loves brainstorming unique wine and food pairings to try. As a Wine Specialist, one of "my favorite parts would be the reaction of guests, seeing their amazement and even surprise tasting the Calera Wines. I love talking about the nuance of wines, their expressions, and the connection wine has to enhance the enjoyment of food and almost any experience."
She cannot pick just one favorite wine, but she can narrow it down to two! Kate loves the Calera Mt. Harlan Reed Pinot Noir for its "elegance and terroir-driven style" and the Duckhorn Vineyards Napa Valley Sauvignon Blanc.