February 17, 2021 | Anna Gsell - Marketing Intern
What is Rosé?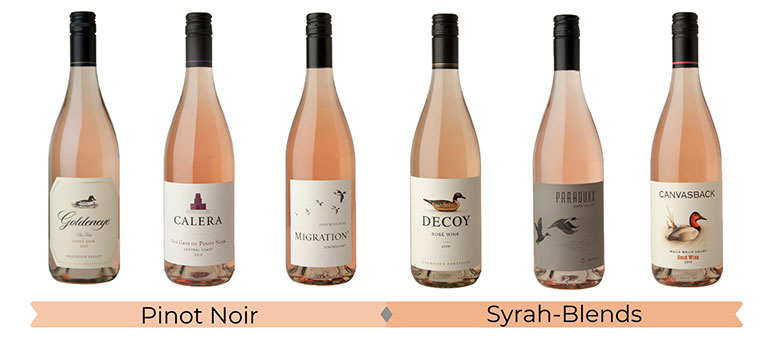 Introduction:
Many of us know of it as summer water! But Rosé isn't just for summer; it is perfect all year long! The drink pink movement is here to stay and here at Duckhorn Portfolio we craft an array of Rosé Wines using different varieties which results in a range of delicious wines. Let's dive into the concept of what is Rosé Wine and why we should all be drinking it!
Winemaking Methods:
Maceration method:
This is when the red wine fruit in sitting in contact with the skins, seeds and stems to extract color and flavor in the juice. This is highly popular in locations like Provence, France. Provence is a highly regarded wine region that produces a benchmark style and in fact 88% of Provence wine production is dedicated to Rosé.
Saignee or "bled" method :
This method is when only some of the juice is "bled off" and placed into a new vat during the first couple hours of making red wine. The purpose of this is to concentrate the red wines' intensity. This is common in the Napa Valley and Sonoma Valley because of the specialization of producing fine red wines there.
Blending method:
This method requires simply blending red and white wines together to create pink Rosé. This is incredibly uncommon in still Rosé wines production.
Flavor Profiles:
Rosé is fun in that it ranges in style and flavor profiles depending on the grapes used and the winemaking method. Our Rosé Wines are crafted in either the maceration method or the Saignee Method aiming for a bright, crisp and refreshing expression of Rosé.
Check out each of our Rosé wines tasting notes to get an idea of their flavor profiles:
Goldeneye Anderson Valley Vin Gris of Pinot Noir:
This Vin Gris is crafted with 100% Pinot Noir. It is fun and ebullient with its candied strawberry, pink grapefruit zest, guava, and bubble gum flavors. A light salmon hue also joins this array of fruit.
Calera Central Coast Vin Gris of Pinot Noir:
Cranberry and wild strawberry mingle with grapefruit and kumquat as the juice sits on 100% Pinot Noir to extract these gorgeous flavors. A juicy finish of smooth mango and marmalade round out the palate.
Migration Sonoma Coast Rosé of Pinot Noir:
This wine captures the Sonoma Coast in a glass! Hints of jasmine, candied orange peel, white peach, and strawberry create the perfect sipper for a hot summer afternoon. This wine is also 100% Pinot Noir.
Decoy California Rosé:
This wine presents bright fruity flavors like pink grapefruit and strawberries. Tropical fruits like honeydew melon and guava liven up this Rosé. And subtle notes of minerals and spice bring this to a crisp finish. Our Decoy Rosé is a blend of Syrah, Vermentino, Carignan and Grenache.
Paraduxx Napa Valley Rosé:
Our Paraduxx Napa Valley Rosé is inspired by Provance, France and is a blend of Syrah and Grenache. This wine opens with enticing citrus notes of orange and lemon zest along with strawberry and apples flavors. Dynamic and dry, there is a lovely acidity making this a refreshingly crisp and elegant wine.
Canvasback Walla Walla Valley Rosé:
This Rosé is 100% Syrah from the high-elevation site of Resurgent Vineyard, along south fork of the Walla Walla River. On the nose, hints of peach, honeydew melon, cantaloupe and elderflower burst from the glass. And on the palate, a silky acidity reveals red fruit flavors as well as grapefruit, apricot and wet stones. This wine will awaken your palate and it perfect for a peaceful weekend in the backyard!
Join us in uncorking a splash of summer water all year long! And let us know which your favorite Rosé Wine is.
Comments
Commenting has been turned off.