July 29, 2021 | Julissa Munoz - Marketing Coordinator
The Dog Days of Summer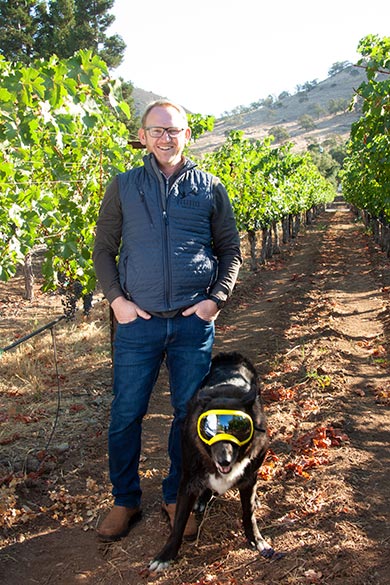 The dog days of summer are here, and we are excited to be accompanied by our four-legged friends for one of our favorite seasons. We sat down with our Paraduxx Winemaker, Cardiff Scott-Robinson, who embraces days in the vineyard with his pup, Lando, every day of the year.
Lando, Cardiff's 12-year-old Border Collie-Shepherd Mix, can be found roaming the vineyards at our Paraduxx Visitor Center, greeting and enjoying the company of our guests almost any day of the week.
We asked Cardiff what he felt makes Lando so unique, aside from the fact that he is named after a Star Wars character, Cardiff replied that it is Lando's spunky personality! He can run through the vineyards, or kick back with his family, arm over the couch and just hang out like a human would. The way he switches from work mode to family mode is unmatched.
Cardiff explained to us that the vineyards were not the only paths traveled for Lando. The adventure-packed duo has a history of visiting the backcountry, where they frequently rock climb and hike.
One of Cardiff's favorite memories with Lando is rock climbing through the Buttermilks in Bishop, California. "Seeing him run side to side and from group to group was great. He was in his happy place. He would even try to rock climb all by himself!"
The California backcountry is the duo's favorite place. With endless amounts of hiking trails, smells and adventures, the two have created countless memories there. Lando even carries around his own backpack with his favorite treats!
Because Lando is slowing down, their adventures are not so daring anymore. Getting out and into the vineyards early and letting Lando run free, and family cruises where he trots alongside of his favorite 6-year-old human sister are what they can be found doing these days.
If you happen to visit our Paraduxx property and see Lando roaming around, stop by and say hello!
Comments
Commenting has been turned off.