January 28, 2021 | Anna Gsell - Marketing Intern
Our Favorite Soup and Wine Pairings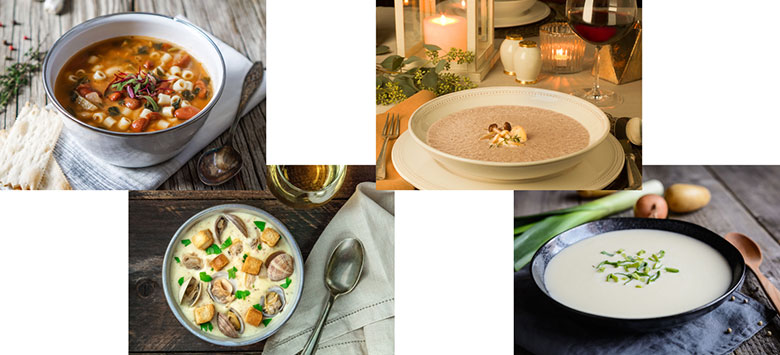 Soup and Wine is a perfect combo for cold winter days! The hearty ingredients in a soup, even down to the herbs and spices, can make for a delicious winter wine pairing. For us food and wine pairings are really an exploration of your personal palate and preferences. In this post below, we are highlighting our favorites soup and wine pairings featuring wines from across our portfolio.
When we think of winter soup, the ever-classic Minestrone Soup is the first to come to mind. And our go-to pairing is Duckhorn Napa Valley Cabernet Sauvignon. Both are instantly warming and comforting which is why they work so well together. Black pepper and licorice flavors from the wine bring a sense of spice to this bean and pasta-filled soup. Open a bottle of Cabernet Sauvignon and enjoy a classic winter pairing.
Clam Chowder is always one of our favorites for the winter season! This soup really captures a taste of the coast. The salinity of the clams and the richness from the butter and cream is balanced perfectly with a glass of the bright acidity of the Sauvignon Blanc. For Clam Chowder, we are reaching for our Decoy Sauvignon Blanc which features crisp acidity and notes of citrus, guava and stonefruit which cut right through the creaminess of Clam Chowder.
Earthy, funky and oh so delicious, Cream of Mushroom Soup is a comforting choice. In terms of pairing, Pinot Noir brings a great acidity and lovely fruit aroma to the table. Our personal choice for pairing Mushroom Soup and Pinot Noir is our Goldeneye Anderson Valley Ten Degrees Pinot Noir. Blended from our estate vineyards with the depth and diversity of Anderson Valley, Ten Degrees has layers of blueberry and blackberry, as well as notes of redwood forest, earth, and spice.
Potato Leek Soup is a smooth and velvety bowl of goodness. Our go-to pairing is our Migration Sonoma Coast Chardonnay, hints of apple, stonefruit and citrus mingle with subtle notes of sweet vanilla which bring a refreshing element to this savory-filled meal. A little sweet and savory can never go wrong!
We hope you are enjoying soup and wine season just as much as we are. Tag us on Instagram to share your favorite pairings with us!
Comments
Commenting has been turned off.