Duckhorn Portfolio Wine Blog
Posts written by Neil Bernardi, Vice President of Winemaking and many special guest bloggers. This collection of insights on winemaking, farming, entertaining and more is a great way to learn about the excitement of winery life and tips for enjoying the wines we produce.

Bonjour from France!
We have officially set sail for a week long Rhone River Cruise with 90 Duckhorn fans on the elegant SS Catherine of Uniworld. While we plan to enjoy many local wines from Burgundy, Hermitage & Chateauneuf-du-Pape, we have brought along a few bottles from home to enjoy along the way!
Last night, after we settled into our cabins, we enjoyed a beautiful 5-course dinner celebrating our first night amongst new friends. It was Goldeneye's night to shine, and guests got to taste through our vineyard designate portfolio of Pinot from Confluence to Gowan Creek and The Narrows Vineyard. We, of course, couldn't forget about Ten Degrees! After dinner, the group watched the sunset on the ship's open top deck, as David Crum (our Wine Club & Customer Service Director) welcomed us on board with a toast of our Goldeneye Sparkling Brut Rosé.
Today was our first stop in Macon (just north of Lyon) off the Saone River and is the gateway to one of Burgundy's most famous wine regions, Beaune. This small town is best known for the "Hospices de Beaune" (aka Hotel- Dieu). The hospice was founded as a charitable institution back in 1443. Throughout the centuries, the hospice monks were given wine and vineyards, and they began selling the wine at auction in order to support their charitable work. The wine auction continues to this day, and the hospice remains a working hospital for the poor.
Now we are off to a special Captain's Welcome Reception. We hope to share more of our trip with those back home, so stay tuned for more posts. For more pictures check us out on Twitter & Instagram: #Rhonequackpack
Au Revoir!
Sasha & Jim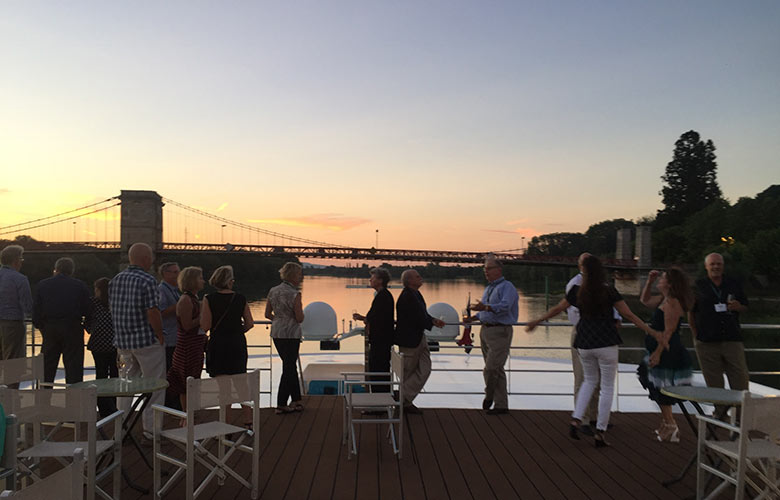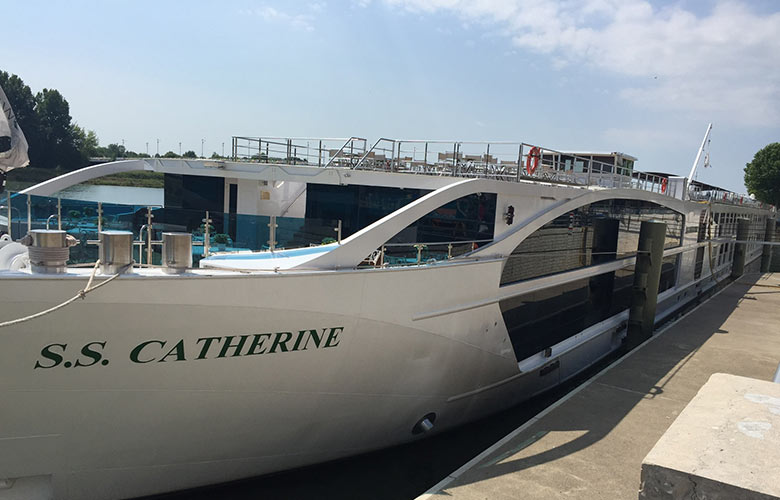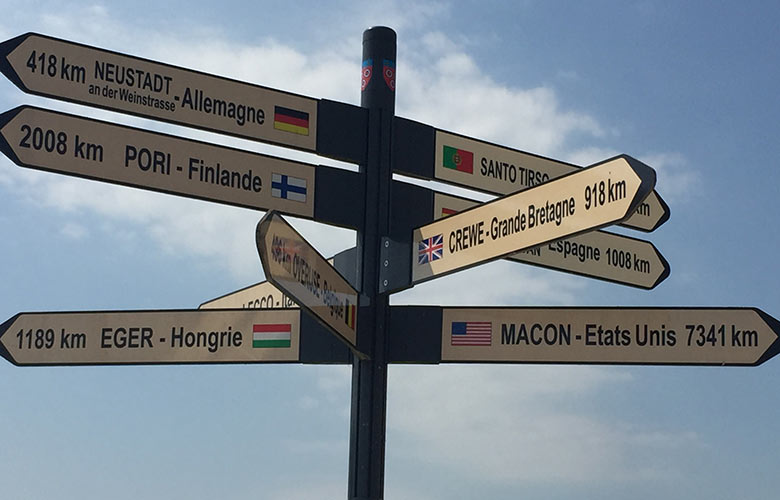 The Vineyard Team here at DWC places a lot of value in being good stewards of the land. In order to try to be as sustainable and eco friendly as we can we follow a program called Integrated Pest Management. This program is a year round system that we implement in order to have a proactive farming plan. The purpose of IPM programs are to eliminate pesticide treatments that are unnecessary, minimize risks to water and air, and to protect beneficial insects as well as pollinators.
Always being educated and aware of the ecosystem around us helps us make conscience decisions for vineyard practices.
Most of our vineyards have also been certified by Fish Friendly Farming. The certification itself is a rigorous process and helps us to maintain and create ideal environmental quality and habitats on private land. Long term environmental improvements and farming sustainably will help us create a better future for farming.
We love our vineyards and taking good care of soil, air, plant and water mean that we can continue to grow amazing grapes year after year while also being the best environmentalists that we can be!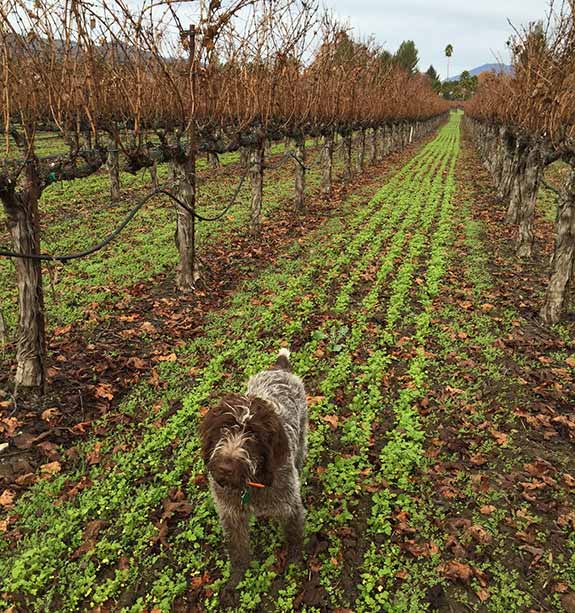 Every year, the Winemakers of Duckhorn have a friendly competition to see who can make the best wine in a given category. As stated in an earlier post, this year's wine category is "Orange Wine". To see a great explanation of what Orange wine is, see Neil's August 17th post. The Paraduxx wine this year is made of Viognier that was fermented on skins for 5 days, similar to the way a typical red wine is made. After 5 days and a completed primary fermentation, we pressed and racked to barrel. The one big variable that will make the Paraduxx wine stand out is that we are aging the wine in barrel under sea water. On a recent sales trip to Southern California, I stumbled across a Gruner Veltliner from Austria. Only 2 barrels of this wine is made every year. These barrels are aged for 6 months under water in the Black Sea! This was one of the most amazing wines I have ever tasted. It was amazingly fresh and had just a hint of salinity that you would never notice if you weren't looking for it. Rarely do I taste a wine that stops me in my tracks. It was truly inspiring. So this year, we are trying this technique in the winery rather than in the ocean. It's a do or die move for sure! Go big or go home, right? Let's hope it pays off.

When fermentation is complete, and we have extracted all the goodness out of the skins, it is time to press. The first important step to pressing is removing the 'free run' wine from the skins, so that we can then dig them out and put them in a press for squeezing. Draining a tank is one of my favorite parts of the process, as the air becomes filled with beautiful fruit aromatics, and you can finally see the incredibly vibrant color of the young wine. See the Pinot Noir waterfall below, along with Michael Accurso overseeing the process up at Goldeneye.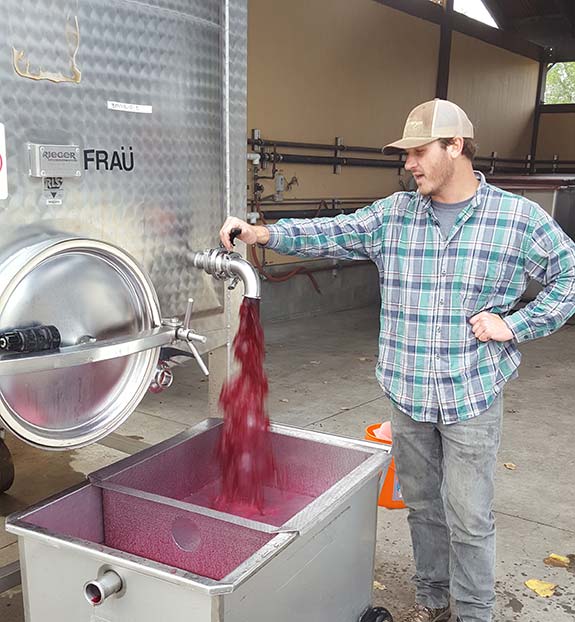 Another incredible harvest year at Goldeneye has come to a close, with the last tons from Gowan Creek Estate vineyard coming in.

Congratulations to Michael Accurso on his first harvest as head winemaker, and to his team Pancho, Stephen, Jose Luis, Remy, Denise, Shelby, and Julia on a job well done. A special congratulations to PJ Alviso and the vineyard team on the successful completion of another growing season in the unique and special Anderson Valley. Each one of the highlighted and completed vineyard blocks below represents many hours of toil and effort. And as the vineyard journey ends, the cellar journey begins – these wines will age and mature for the next few years in barrel until they are ready for enjoyment!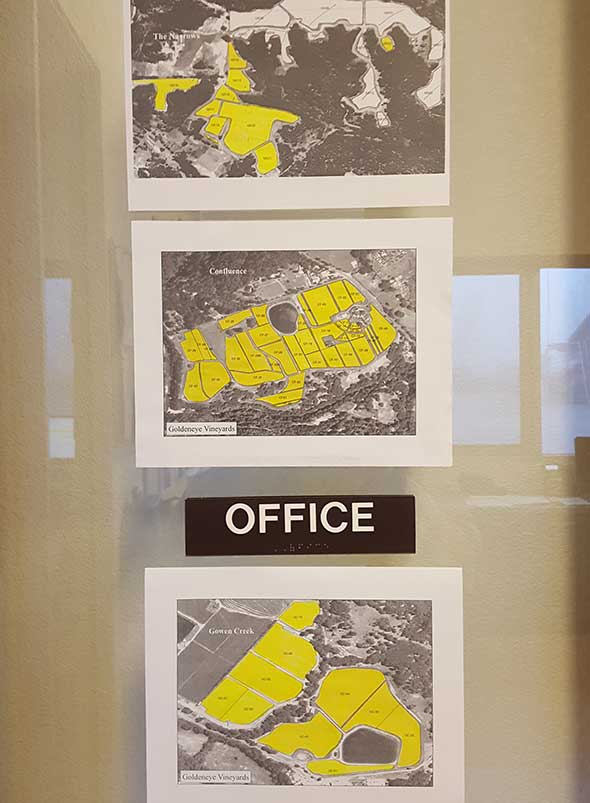 One of the brightest highlights of our year is harvest but once the fruit has been picked there is still a lot to do before we can take a vacation! Right now we are focusing on seeding cover crop in the ground between the vine rows. Cover cropping is important for many reasons. Primarily it is a way that we can reinvigorate the soil with nutrients and organic matter so that we make sure to always have rich, healthy soil. Other reasons for cover cropping are to attract beneficial insects to keep our unwanted pests at bay and to leave less room for weeds to grow. Common cover crop mixes include Brassicas such as mustards and a variety or legumes, oats and barley. While we are always sad to see the bright green grapevine canopies go, we are always excited to see the flowers and greenery that accompanies a successful cover crop!

Crystal is our Viticulture Admin Ninja. While only being at the winery 2 days per week, Crystal is an invaluable resource! During harvest, the amount of information that needs to be processed is unbelievable. Farm worker scheduling, payroll, weigh tags and everything else that no one has time to do will fall on Crystals desk. Being incredibly effective and just flat out happy all the time, Crystal is the best office mate a guy could ask for! It doesn't hurt that she brings in homemade baked goods every Tuesday and Thursday. I wonder if that's why I've gained some weight lately....
In her free time, Crystal is an aspiring photographer while chasing around her two children and youthful spirited husband, Steve. Thank you Crystal for making Tuesday and Thursday the best days at the winery!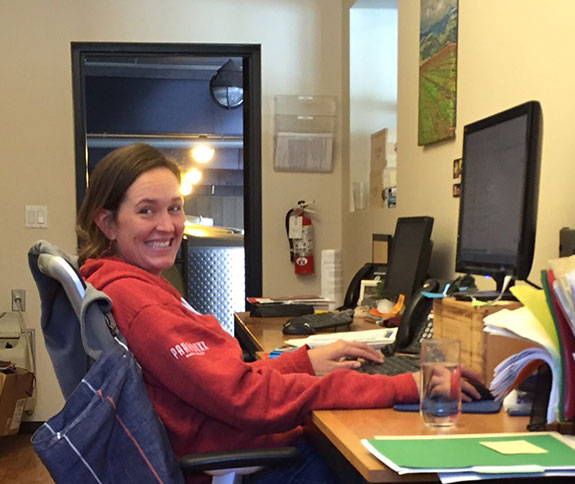 As has been noted previously on this blog, our Three Palms Estate Vineyard is a remarkable place with some remarkable history. We have been working with this site since our first vintage of 1978. Renee Ary, our talented Duckhorn Winemaker has the lucky task of working with this fruit to express this special terroir.
The grape cluster pictured is Merlot (of course), and these grapes, perhaps the best example of the varietal in North America, have served to define Duckhorn Wine Company from it's very inception. As this vineyard has defined our past, so too will it define our future, as we strive in our mission to be the benchmark for American fine wine, and continue our focus on making delicious Merlot!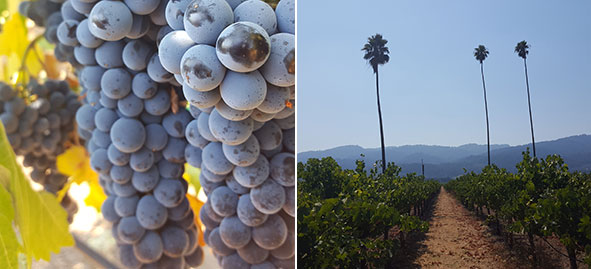 Digging out a red tank after fermentation is an incredible workout! As you can see, it's a team effort. Our red wines are fermented as whole grapes. Over the course of the fermentation, the grapes break down giving the fermenting wine it's color, flavor, texture and aroma. When all the sugar has been converted to alcohol and CO2, it's time to separate the wine from the skins. We do this by pumping any liquid out to a new tank and "pressing" the rest of the wine from the skins that are left behind. Getting the skins out of the tank is one of the most laborious and dangerous jobs in the winery. It's very important to make sure the tank is well ventilated, it doesn't take much residual CO2 to do serious damage to a worker. It takes a couple of people digging from the outside(Alfonso and Mila pictured), one person shoveling from the inside (Hudson pictured) and a couple more people moving bins of skins into the press. About an hour later, you have a brand new tank of wine. All of our grape "waste" is composted and reused in the vineyard. Not much goes to waste around here. After this tank is finished, we only have about 90 more to do! (We haven't told Hudson that yet....)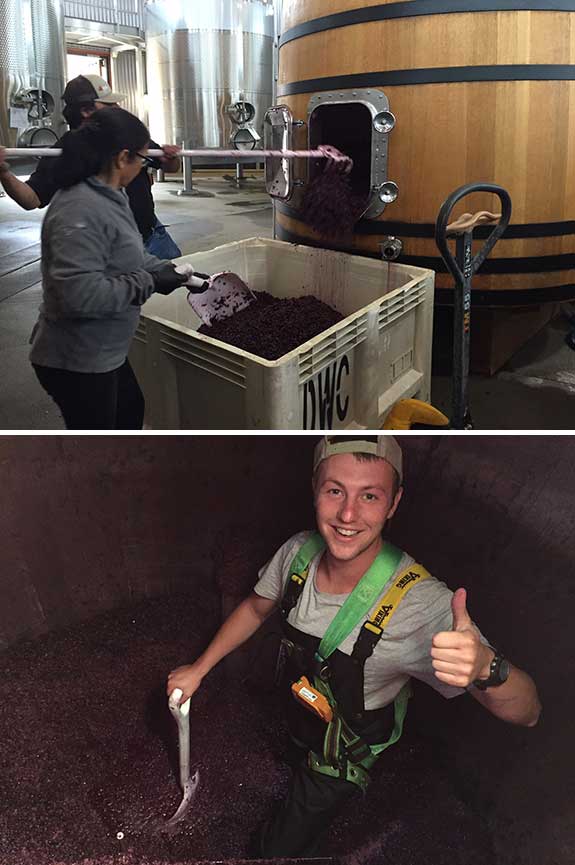 Meet our two cellar interns, Holly and Kendall. Holly comes from UC Davis and Kendall comes from Texas Tech. Their passion for winemaking has brought them into our cellar to learn and become the best winemakers they could be. Today they learned how to perform their first inoculation.
Doing inoculations during harvest is one of the most important jobs in the cellar. The process of inoculating a tank involves re-hydrating yeast in hot water (104°) and then acclimating the yeast slowly by introducing the juice into the rehydrated yeast solution slowly. With every 10 minutes, we bring the yeast environment down 10° lower and slowly they adjust to their new environment.
After over an hour of acclimation, Holly and Kendall are about to introduce their rehydrated yeast into one of our Chardonnay tank from Carneros. The yeast will convert sugar to alcohol and turn our juice into delicious wine! I'm sure it will turn out to be a wonderful wine, made by these two, go girls!!!!