Duckhorn Portfolio Wine Blog
Posts written by Neil Bernardi, Vice President of Winemaking and many special guest bloggers. This collection of insights on winemaking, farming, entertaining and more is a great way to learn about the excitement of winery life and tips for enjoying the wines we produce.

Crystal is our Viticulture Admin Ninja. While only being at the winery 2 days per week, Crystal is an invaluable resource! During harvest, the amount of information that needs to be processed is unbelievable. Farm worker scheduling, payroll, weigh tags and everything else that no one has time to do will fall on Crystals desk. Being incredibly effective and just flat out happy all the time, Crystal is the best office mate a guy could ask for! It doesn't hurt that she brings in homemade baked goods every Tuesday and Thursday. I wonder if that's why I've gained some weight lately....
In her free time, Crystal is an aspiring photographer while chasing around her two children and youthful spirited husband, Steve. Thank you Crystal for making Tuesday and Thursday the best days at the winery!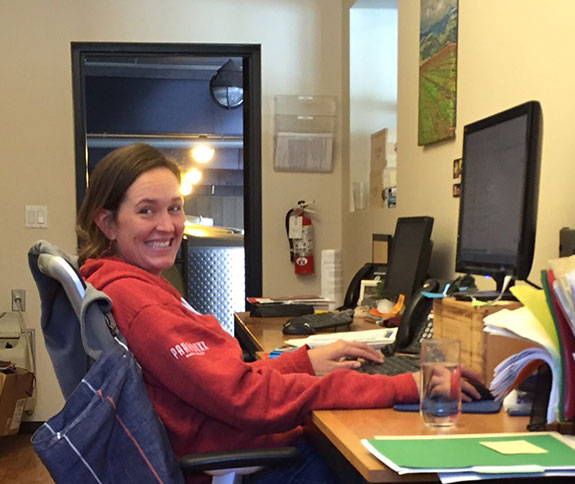 As has been noted previously on this blog, our Three Palms Estate Vineyard is a remarkable place with some remarkable history. We have been working with this site since our first vintage of 1978. Renee Ary, our talented Duckhorn Winemaker has the lucky task of working with this fruit to express this special terroir.
The grape cluster pictured is Merlot (of course), and these grapes, perhaps the best example of the varietal in North America, have served to define Duckhorn Wine Company from it's very inception. As this vineyard has defined our past, so too will it define our future, as we strive in our mission to be the benchmark for American fine wine, and continue our focus on making delicious Merlot!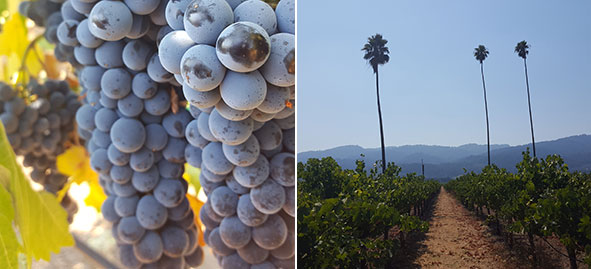 Digging out a red tank after fermentation is an incredible workout! As you can see, it's a team effort. Our red wines are fermented as whole grapes. Over the course of the fermentation, the grapes break down giving the fermenting wine it's color, flavor, texture and aroma. When all the sugar has been converted to alcohol and CO2, it's time to separate the wine from the skins. We do this by pumping any liquid out to a new tank and "pressing" the rest of the wine from the skins that are left behind. Getting the skins out of the tank is one of the most laborious and dangerous jobs in the winery. It's very important to make sure the tank is well ventilated, it doesn't take much residual CO2 to do serious damage to a worker. It takes a couple of people digging from the outside(Alfonso and Mila pictured), one person shoveling from the inside (Hudson pictured) and a couple more people moving bins of skins into the press. About an hour later, you have a brand new tank of wine. All of our grape "waste" is composted and reused in the vineyard. Not much goes to waste around here. After this tank is finished, we only have about 90 more to do! (We haven't told Hudson that yet....)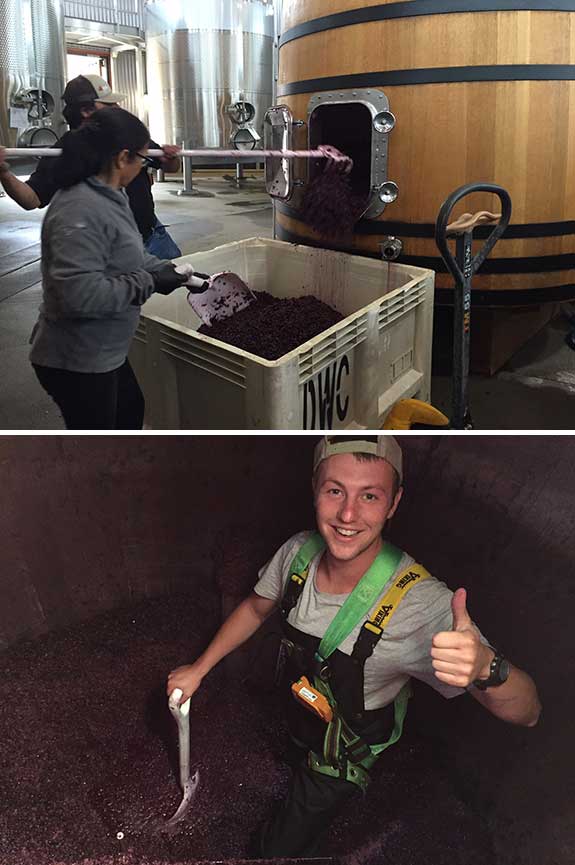 Meet our two cellar interns, Holly and Kendall. Holly comes from UC Davis and Kendall comes from Texas Tech. Their passion for winemaking has brought them into our cellar to learn and become the best winemakers they could be. Today they learned how to perform their first inoculation.
Doing inoculations during harvest is one of the most important jobs in the cellar. The process of inoculating a tank involves re-hydrating yeast in hot water (104°) and then acclimating the yeast slowly by introducing the juice into the rehydrated yeast solution slowly. With every 10 minutes, we bring the yeast environment down 10° lower and slowly they adjust to their new environment.
After over an hour of acclimation, Holly and Kendall are about to introduce their rehydrated yeast into one of our Chardonnay tank from Carneros. The yeast will convert sugar to alcohol and turn our juice into delicious wine! I'm sure it will turn out to be a wonderful wine, made by these two, go girls!!!!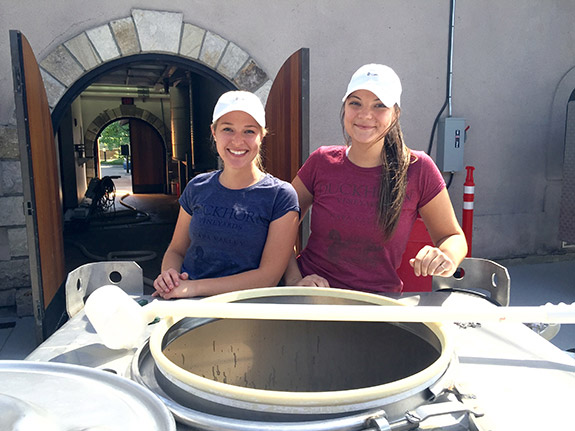 Once our beautiful Estate Pinot Noir is destemmed it goes straight into a tank where it will remain until pressing. This particular bin comes from Confluence Block 28, located on the beautiful hillside which faces the tasting room, and just happens to make excellent wine. If you haven't visited, consider this your invitation! Here is another action video of Pancho Ibarra, Goldeneye's secret weapon, showing us how it's done.

During harvest, there are a multitude of people outside the company that are key to the success of Paraduxx. Our gas supplier is just one partner that is crucial to our prosperity over these few months. Argon, Nitrogen and Dry ice (Carbon Dioxide) are just a few things that we heavily rely on during this stage of the winemaking process. All three of these gasses are used to protect the fragile juice and fermenting wine from oxygen. Running out of any of these gases would be detrimental to wine quality. Complete Welders is the epitome of reliable. They are always available, always have what we need and are always here when we need them. And, as you can see from the video, there is always a little flair to their efficiency! Thanks Carlos!

Goldeneye harvest has started and the tanks are getting full. In classic Burgundian style, we punch down our fermentations rather than pump them over. Check out friend and cellar champion Remy Martin doing the morning rounds.

Clean, well-farmed fruit, free of leaves and MOG (material other than grape), is key to making great wine. No matter how meticulously a vineyard is farmed and harvested, there are going to be a few leaves and bunches which don't make the cut in each bin. A sorting table and attentive sorters are key to ensuring that only the best goes into the tank. Here the Migration team is sorting our Drum Canyon Pinot Noir, from the Central Coast appellation of Santa Rita Hills. This fruit looks pretty darn clean, the picking crew did an incredible job. Nonetheless, we take a look at each cluster and make sure to get every last leaf!

Placed on a steep hillside on the western facing slope of Oak Mountain in the far north of Alexander Valley, Ridgeline Vineyard is a stunning place. This magical place was first developed by Emily and Hartwell Preston in 1869 as a vineyard and orchard. It soon became home to Emily's spiritual commune in 1875, a place where she could use her self-proclaimed gift of spiritual healing. Mrs. Preston soon collected a large community of followers which helped add to the diversity of the ranch. A hospital, church, and "Knob Hill" cemetery were added making the area known as the town of Preston. The Northern Pacific Railroad even added a train stop at Preston in 1889. After the death of the Prestons, the land was divided up and controlled by a few different families. The Green's ran a Bohemian artist colony, The Fischbach's had a colony of performing artists and the Oster's owned a boys school and camp...just to name a few. It's said that the music of The Golden Toad musical ensemble filled the air for decades.
Duckhorn Wine Co. bought the Ridgeline Vineyard in 2012, our first Estate Vineyard in Sonoma County. At the time, I was personally working with 100% of the grapes from the ranch for our Decoy brand. It was soon discovered that the quality of the ranch was in the top 1% of Alexander Valley wine grapes. While being incredibly important to the core of Decoy, the quality of Ridgeline deserved a wine to truly show its value and interesting character. In 2013, Paraduxx began producing a Ridgeline vineyard designated blend of Tempranillo and Cabernet Sauvignon. This small production of 250 cases is modeled off of the famed blends of Vega Sicilia from the Ribera del Duero region of Spain. Our Blend has a rich and Juicy Palate with loads of Blackberries and Christmas spices. The impressive length and tannin structure really show off what is possible in Alexander Valley.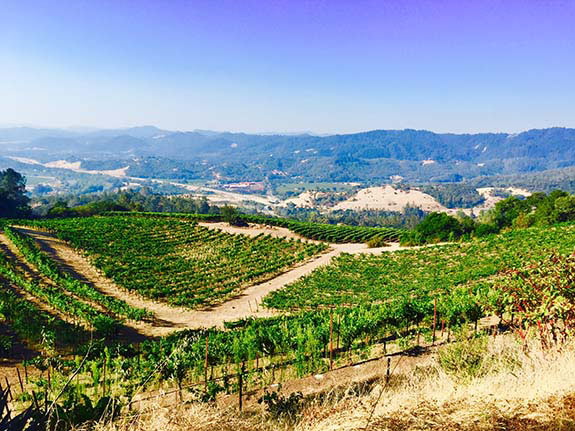 Every harvest, we make our "Harvest 101" educational program available to any non-production employee that would like to live a day in the life of Paraduxx harvest. Our first victim this year was Lindsay Romm. Lindsay just started in our customer service department this year. Originally from New York, Lindsay moved out to California to pursue her dream of working in the wine industry. An avid CrossFit'r and former high-school basketball and soccer player, Lindsay was a natural in the cellar. After a little time getting her bearings on the sorting table, we quickly realized that she needed more physical stimulus! Luckily a truck with 40+ new barrels showed up. Nothing says "workout" like unloading a barrel truck. I think Lindsay now has a lot of respect for the people that have to move a lot of barrels around, it's not as easy as it looks. She definitely got the hang of it and has a cellar job waiting for her when she gets bored answering the phone! Thanks Lindsay!