November 15, 2018 | Madison Ellis - Trade and Marketing Events Coordinator
Five Tips for a Bountiful Thanksgiving Experience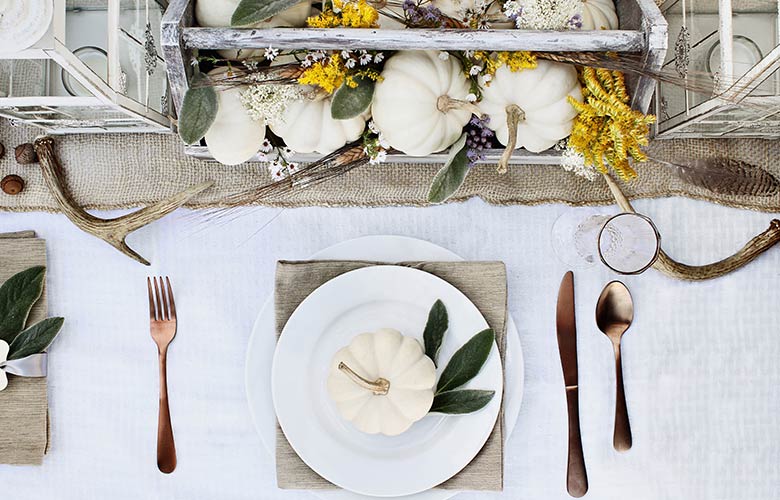 Hosting a lovely Thanksgiving celebration always seems more daunting than it truly is. By following these FIVE steps, you will be sure to cook up a bountiful Thanksgiving for your loved ones.
Embrace the Invite List: Thanksgiving is a time for family to reunite – but it is not just family that you can include in your celebrations. The customs of this holiday have grown beyond bloodlines, and into new traditions, such as 'Friendsgiving.' Invite your closest pals and mutual friends to embrace the inclusivity of this beloved holiday.
Tip: Always allot for one extra person than your guest count for that last-minute addition!
Choose the Perfect Flock of Wines: When choosing your wines for service, select those that pair well with your autumn-ingedient provisions. Pinot Noir is often known as the quintessential Thanksgiving wine due to its amazing versatility. Lucky for you, the Duckhorn Portfolio offers a beautiful array of Pinot Noir from many climates spanning from the Anderson Valley to Santa Maria Valley. Some of our favorite Pinots for pairing right now are the Goldeneye Anderson Valley Pinot Noir and the Migration Santa Maria Pinot Noir Bien Nacido Vineyard.
Pre-Plan for Showtime: Advanced preparation will save time on the big day when you are an hour from guest arrival. Prior to Thanksgiving, outline your shopping list and dinner timeline. Get the groceries purchased early to avoid the last-minute market mayhem and allow for multiple days of cooking to ensure you aren't running laps around your kitchen on Thursday.
Tip: Poll your attendees for any dietary restrictions in advance so you can ensure all guests are well-fed.
Create New Traditions: There are many special traditions associated with Thanksgiving, especially surrounding family-favorite dishes. Customize your meal by incorporating the culture and interests of your family and friends in attendance. Dinner can go beyond the turkey. Try one of these fall recipes to spice up your Thanksgiving menu, or welcome your guests to bring their favorite childhood dish!
Add a Personal Touch: Build your custom tablescape according to the occasion. Using the elements around you is a great start. Heirloom pumpkins can be found at your local pumpkin patch or market. Pine cones, leaves and branches can also often be sourced from your own backyard. When in doubt, keep it natural and simple!
Tip: Creating specialized name cards with assigned seating can mix things up and encourage new conversation amongst guests!
Comments
Commenting has been turned off.