October 22, 2018 | Morgan Beard - Associate Marketing Manager, Consumer
Paraduxx Spotlight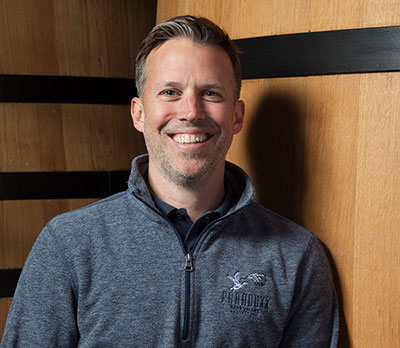 2018 is a special vintage for Paraduxx as it commemorates our 25th harvest! So, we sat down with winemaker Don LaBorde to chat about our 25-year history, evolution and inspiration from the great blends of the world.
Can you walk us through Paraduxx's origin and evolution?
Dan Duckhorn was truly intrigued with the Super-Tuscans (Sangiovese) and Vega-Sicilia's (Tempranillo) coming out of Italy and Spain. He appreciated how these regions began blending their native varietals with a Bordeaux grape and effectively pioneered a new winemaking style. "Dan's thinking was let's create our own new category," using what could be called California's closest thing to a native grape, Zinfandel blended with Cabernet Sauvignon. In, 1994 we released our inaugural vintage, which blended Cabernet Sauvignon, Zinfandel, Merlot and Petite Sirah.
How would you describe our series of wines today?
Today, our line-up of Paraduxx wines are inspired by the iconic blends of the world – as originally imagined by Dan Duckhorn. "So, we actually make a Super-Tuscan style Sangiovese-Cabernet blend (Atlas Peak) and we have a Tempranillo-Cabernet blend crafted in the classic Vega-Sicilia style (Ridgeline). We found that Howell Mountain has beautiful Syrah, so we have crafted a Penfolds Grange style Cabernet-Syrah blend paying homage to new world style wine."
What makes the Paraduxx Style unique?
Paraduxx is the only Napa Valley winery dedicated to crafting blends inspired by the iconic blends of the world, with a Napa twist. "We make a ripe, bold style of red wine and a very bright and acidic style of white wine. So, we pick the whites fairly early with high acid levels, no oak or malolactic fermentation, we like to keep them crisp, bright and light-bodied with intense aromas and a sharp palate. In the reds we like to have ripe, darker fruit characters. Oak is there, but mostly in the background, we use only 40-60% oak. Our set of wines is unique, we don't have to follow all the varietal rules, we can be playful with our creative winemaking and blending the best wine possible."
How is the 25th Harvest turning out?
"At Paraduxx, we are a month late! The quality is there, the crop is above average, which is probably why it is a little late too, it's taking awhile to ripen up. The weather has been cool, and we've had one rain event; overall we have really nice flavor development in the grape." In comparison to last year, we had numerous heat spikes early in the harvest season, but this vintage and 25th Harvest we are seeing slow and even ripening, so far everything tastes amazing.
We celebrated with our storied 25th Harvest with our annual Harvest Party uncorking the release of the pinnacle of our portfolio, the 2015 Paraduxx Napa Valley X2.
Comments
Commenting has been turned off.