November 13, 2018 | Sasha B. - Membership & Customer Service Manager
Thanksgiving Wine Pairing: Pinot Noir & Sparkling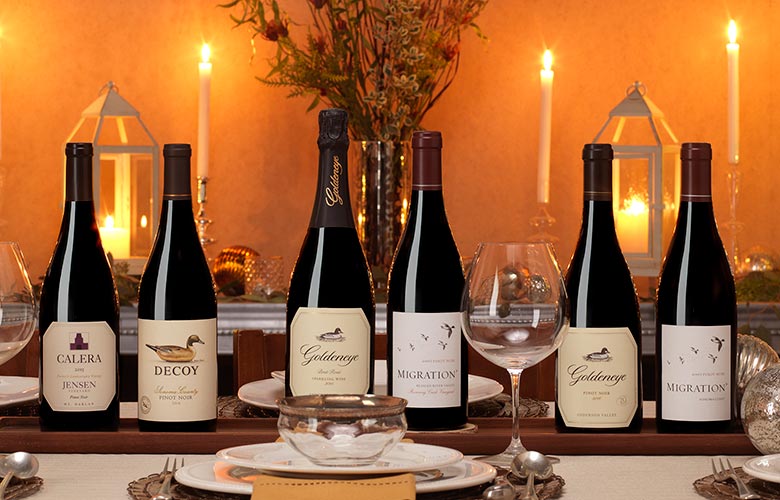 We get a lot of questions this time of year asking which wine(s) go best with Thanksgiving. Dinner parties can be tricky enough when it comes to wine pairings, but especially with this holiday. Not only do you have an abundance of family and friends with many palates to please, you are also working with many different ingredients, spices and textures. Everything comes together on one plate and each dish starts to merge into one – there is a lot going on. So which wine pairs well with all of the different dishes? The answer is Pinot Noir!
Why is Pinot Noir perfect for your holiday feast?
Pinot Noir is a beautifully balanced medium-bodied wine with bright acidity. It will be soft and subtle enough for the lighter dishes on your table, but it also has just the right amount of structure, fruit and supple tannins to hold up to bigger dishes.
When it comes to my family, the side dishes are the star of the meal. We tend to stick to the classic Thanksgiving dishes (no turducken on our table)! But every year I like to try at least one new side dish. Sometimes it works and sometimes it's a one-hit wonder. I tried this recipe out a few years ago and it has now become a family staple: Brussel sprouts with pancetta and lemon with fig vinaigrette. Brussel sprouts in general can by a finicky dish to pair, but the integrated components of this dish complement Pinot Noir well. The bright acidity from the lemon matches the acidity in the wine, so it highlights both the dish and the wine without overwhelming either. The savory notes from the caramelization of the brussel sprouts and saltiness from the pancetta highlight the red fruit and soft tannin structure of the wine.
To take your festivities to the next level, consider a festive Sparkling Rosé, like our Goldeneye Sparkling Brut Rosé (a blend of predominately Pinot Noir with Chardonnay). I firmly believe that any wine pairing problem can always be solved with bubbles! The Sparkling Brut Rosé has such great acidity with just a touch of residual sugar that it brightens and lightens your heavier dishes, (which let's face it, most holiday dishes tend to be)! You can serve this wine at every course. From popping a cork upon your guest's arrival through dessert, it is a great way to to complement your holiday gathering.
Whether you are hosting your own Thanksgiving or wondering what wine to bring to your host, the wine to remember is Pinot Noir!
We have a diverse Pinot Noir portfolio, but here are some of my personal favorites. Try one or try them all and of course, Happy Thanksgiving!
Sasha B.
Membership & Customer Service Manager
Comments
Commenting has been turned off.