June 27, 2018 | The Events Team
How To: Picnic Like a Pro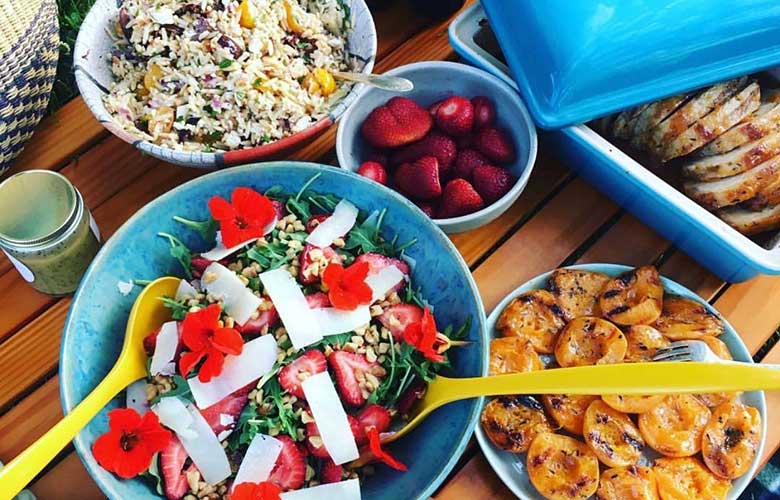 It is officially summer and time to head outside for your dose of Vitamin D! When the Events Team is not busy dreaming up the next Duckhorn Portfolio event, we are crafting our own al fresco adventures. Follow these three easy steps below to picnic like a pro.
1. Prepare
With the busy work week weighing on many of us, it can seem daunting to put together a well-organized weekend picnic. Lessen your stress, and put together a picnic-edition "bug-out" bag before the summer season starts. Keep a check-list of items included in your basket, use and replenish when you're ready to hit the road again.
Summer Picnic Bug-Out Bag Essentials:
For service: reusable dinnerware, including plates, utensils and stemless wine glasses; corkscrew, cheese board and an all-purpose knife
Protect against the elements: blankets, clothing to keep warm, sunscreen and bug spray
Clean-up duty: wine stain remover, trash bags, napkins and wet wipes
2. Pair
The time is now to enjoy your summer sippers! Pack the right wines and serve at the right temperatures to pair perfectly with your al fresco provisions. Our favorite picnic pairings include Duckhorn Vineyards Napa Valley Sauvignon Blanc, Paraduxx Napa Valley Rosé and Goldeneye Anderson Valley Pinot Noir.
Traveling Beverage Hack:
Partially or completely freeze non-alcoholic beverages to use as ice-packs to keep wine and food at the perfect temperature during transit
3. Provisions
Avoid the charcoal smudges and sandy-sandwiches, prep all foods in advance to be enjoyed at ambient temperature. With less on-site prep work, hosts can make the most of their weekend adventures too.
Culinary Counsel:
Accommodate for all: Prepare for any pop-up dietary needs, packing at least one gluten-free dish, one vegetarian dish and one non-dairy dish
Noshing: cheese wedges and crudité with dips keep a crowd coming back for more
Keep it light: opt for fresh, seasonal ingredients, keeping friends energetic for that summer frisbee match
Dressing on the side: store dressing in a shakeable jar and toss just before service to keep green and pasta salads fresh

Ready to let someone else do the heavy lifting? The Duckhorn Events Team extraordinaire is ready to host your next wine country experience. Learn more about planning your next weekend adventure with our team.
Comments
Commenting has been turned off.