Duckhorn Portfolio Wine Blog
Posts written by Neil Bernardi, Vice President of Winemaking and many special guest bloggers. This collection of insights on winemaking, farming, entertaining and more is a great way to learn about the excitement of winery life and tips for enjoying the wines we produce.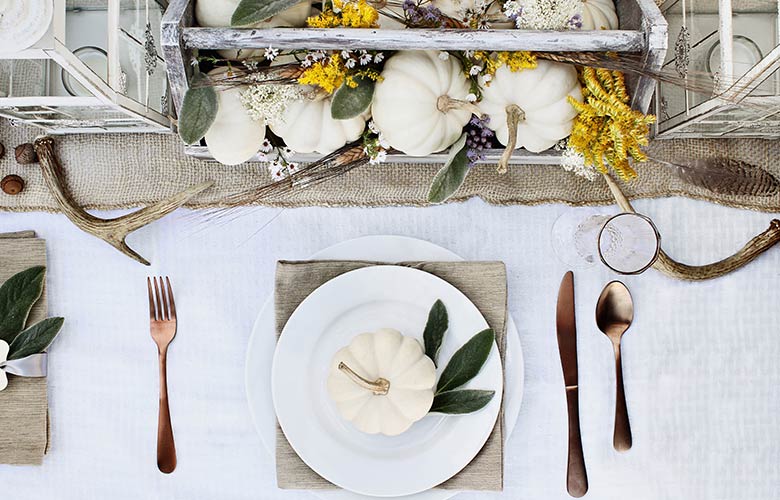 Hosting a lovely Thanksgiving celebration always seems more daunting than it truly is. By following these FIVE steps, you will be sure to cook up a bountiful Thanksgiving for your loved ones.
Embrace the Invite List: Thanksgiving is a time for family to reunite – but it is not just family that you can include in your celebrations. The customs of this holiday have grown beyond bloodlines, and into new traditions, such as 'Friendsgiving.' Invite your closest pals and mutual friends to embrace the inclusivity of this beloved holiday.
Tip: Always allot for one extra person than your guest count for that last-minute addition!
Choose the Perfect Flock of Wines: When choosing your wines for service, select those that pair well with your autumn-ingedient provisions. Pinot Noir is often known as the quintessential Thanksgiving wine due to its amazing versatility. Lucky for you, the Duckhorn Portfolio offers a beautiful array of Pinot Noir from many climates spanning from the Anderson Valley to Santa Maria Valley. Some of our favorite Pinots for pairing right now are the Goldeneye Anderson Valley Pinot Noir and the Migration Santa Maria Pinot Noir Bien Nacido Vineyard.
Pre-Plan for Showtime: Advanced preparation will save time on the big day when you are an hour from guest arrival. Prior to Thanksgiving, outline your shopping list and dinner timeline. Get the groceries purchased early to avoid the last-minute market mayhem and allow for multiple days of cooking to ensure you aren't running laps around your kitchen on Thursday.
Tip: Poll your attendees for any dietary restrictions in advance so you can ensure all guests are well-fed.
Create New Traditions: There are many special traditions associated with Thanksgiving, especially surrounding family-favorite dishes. Customize your meal by incorporating the culture and interests of your family and friends in attendance. Dinner can go beyond the turkey. Try one of these fall recipes to spice up your Thanksgiving menu, or welcome your guests to bring their favorite childhood dish!
Add a Personal Touch: Build your custom tablescape according to the occasion. Using the elements around you is a great start. Heirloom pumpkins can be found at your local pumpkin patch or market. Pine cones, leaves and branches can also often be sourced from your own backyard. When in doubt, keep it natural and simple!
Tip: Creating specialized name cards with assigned seating can mix things up and encourage new conversation amongst guests!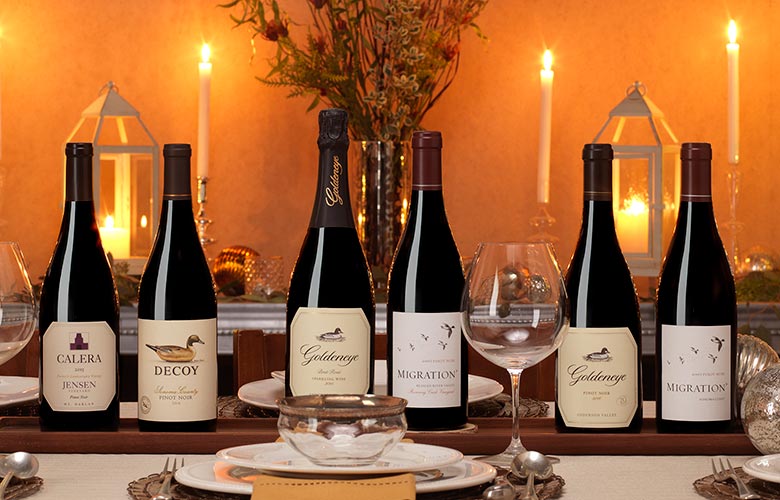 We get a lot of questions this time of year asking which wine(s) go best with Thanksgiving. Dinner parties can be tricky enough when it comes to wine pairings, but especially with this holiday. Not only do you have an abundance of family and friends with many palates to please, you are also working with many different ingredients, spices and textures. Everything comes together on one plate and each dish starts to merge into one – there is a lot going on. So which wine pairs well with all of the different dishes? The answer is Pinot Noir!
Why is Pinot Noir perfect for your holiday feast?
Pinot Noir is a beautifully balanced medium-bodied wine with bright acidity. It will be soft and subtle enough for the lighter dishes on your table, but it also has just the right amount of structure, fruit and supple tannins to hold up to bigger dishes.
When it comes to my family, the side dishes are the star of the meal. We tend to stick to the classic Thanksgiving dishes (no turducken on our table)! But every year I like to try at least one new side dish. Sometimes it works and sometimes it's a one-hit wonder. I tried this recipe out a few years ago and it has now become a family staple: Brussel sprouts with pancetta and lemon with fig vinaigrette. Brussel sprouts in general can by a finicky dish to pair, but the integrated components of this dish complement Pinot Noir well. The bright acidity from the lemon matches the acidity in the wine, so it highlights both the dish and the wine without overwhelming either. The savory notes from the caramelization of the brussel sprouts and saltiness from the pancetta highlight the red fruit and soft tannin structure of the wine.
To take your festivities to the next level, consider a festive Sparkling Rosé, like our Goldeneye Sparkling Brut Rosé (a blend of predominately Pinot Noir with Chardonnay). I firmly believe that any wine pairing problem can always be solved with bubbles! The Sparkling Brut Rosé has such great acidity with just a touch of residual sugar that it brightens and lightens your heavier dishes, (which let's face it, most holiday dishes tend to be)! You can serve this wine at every course. From popping a cork upon your guest's arrival through dessert, it is a great way to to complement your holiday gathering.
Whether you are hosting your own Thanksgiving or wondering what wine to bring to your host, the wine to remember is Pinot Noir!
We have a diverse Pinot Noir portfolio, but here are some of my personal favorites. Try one or try them all and of course, Happy Thanksgiving!
Sasha B.
Membership & Customer Service Manager
Here at Duckhorn Vineyards, our 41st harvest has come to a successful completion. As we exhale, wipe our brows and take an introspective pause, reflecting upon our 4-decade love affair with Merlot is appropriate. Today, Merlot is the second most widely planted varietal in the world. Merlot is the third most plated grape here in the Golden State and it leads the acres planted in Washington State as well as on Long Island. Merlot is a regular and trusted choice for wine drinkers around the world. However, when our visionary founders Dan and Margaret Duckhorn made the critical decision to focus their winemaking efforts on this grape, the wine was very minimally known.
Dan and Margaret became enamored of Merlot due to some enlightening travels they enjoyed in Bordeaux. They were particularly smitten by the wines they experienced that were made on storied Right Bank, specifically from the communes of Pomerol and St. Emillion. In those two regions Merlot is the dominant varietal and they both fell hard for the inherent smoothness, approachability, plushness and concertation displayed in the local wines. The seed was set: Duckhorn Vineyards would position itself as the preeminent producer of premium Merlot in Napa Valley. Though many Napa Valley wineries were using Merlot as a blending grape in the late seventies, few were exploring the potential of this varietal as a stand-alone wine.
Ric Forman, a helpful local friend introduced Dan to the remarkable brother-brother team of John and Sloan Uptown, owners of the vineyard we consider our spiritual home: Three Palms Vineyard. Dan assessed this unique up-valley site to have the appropriate climate, soil, and drainage needed to grow the caliber of Merlot he wanted to put his name on. A deal was struck: the Uptons sold us the first bins of Merlot from which our founding Winemaker Tom Rinaldi created our debut wine: 1978 Duckhorn Vineyards Napa Valley Merlot Three Palms Vineyard. Eight hundred cases of this wine were released sporting what is now one of the most recognizable labels in American wine. The use of the yellow paper and the ink drawing of a Mallard duck are recognizable elements of our brand identity today.
Making the wine was one thing, explaining it and selling it was another challenge all together. As Dan recalls in an interview with journalist and author James McClure typical responses from early customers were "What is this stuff" and regarding the mysterious varietal on the label "How do you pronounce it?"
Ambivalence in the marketplace did not discourage Dan and Margaret and their dedicated employees. Building on our role as the first American winery to pioneer luxury Merlot, we made our debut vintage of Napa Valley Merlot in 1979. Today this iconic wine is a juggernaut, a popular and respected choice for American wine drinkers as well as fans in over a dozen countries we reach through our export efforts.
Our passion for creating world class Merlot benefited from the boom in Merlot sales that surged in the 80s and 90s. We stayed steady, invested in new vineyard sites, got better and better at our craft and emerged from a slump in Merlot sales in the 2000s as a true standard-bearer. That steadiness, dedication and single-minded adherence to quality was recognized by the Wine Spectator in December of 2017 when they chose our 2014 Three Palms Merlot as the Wine of the Year. We were all humbled a well as ecstatic about this powerful recognition.
Today, we continue to make our flagship Three Palms Merlot as well as the globe-trotting Napa Valley Merlot. In addition to those two "greatest hits" we've added four more offerings of terroir-driven Merlots that embody the unique characteristics of their growing site. Any one of these terrific wines demonstrate quite deliciously why Duckhorn Vineyards is often referred to as "A Master of New World Merlot."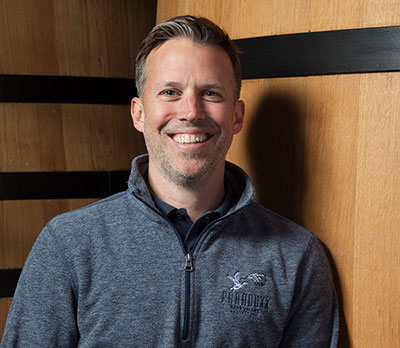 2018 is a special vintage for Paraduxx as it commemorates our 25th harvest! So, we sat down with winemaker Don LaBorde to chat about our 25-year history, evolution and inspiration from the great blends of the world.
Can you walk us through Paraduxx's origin and evolution?
Dan Duckhorn was truly intrigued with the Super-Tuscans (Sangiovese) and Vega-Sicilia's (Tempranillo) coming out of Italy and Spain. He appreciated how these regions began blending their native varietals with a Bordeaux grape and effectively pioneered a new winemaking style. "Dan's thinking was let's create our own new category," using what could be called California's closest thing to a native grape, Zinfandel blended with Cabernet Sauvignon. In, 1994 we released our inaugural vintage, which blended Cabernet Sauvignon, Zinfandel, Merlot and Petite Sirah.
How would you describe our series of wines today?
Today, our line-up of Paraduxx wines are inspired by the iconic blends of the world – as originally imagined by Dan Duckhorn. "So, we actually make a Super-Tuscan style Sangiovese-Cabernet blend (Atlas Peak) and we have a Tempranillo-Cabernet blend crafted in the classic Vega-Sicilia style (Ridgeline). We found that Howell Mountain has beautiful Syrah, so we have crafted a Penfolds Grange style Cabernet-Syrah blend paying homage to new world style wine."
What makes the Paraduxx Style unique?
Paraduxx is the only Napa Valley winery dedicated to crafting blends inspired by the iconic blends of the world, with a Napa twist. "We make a ripe, bold style of red wine and a very bright and acidic style of white wine. So, we pick the whites fairly early with high acid levels, no oak or malolactic fermentation, we like to keep them crisp, bright and light-bodied with intense aromas and a sharp palate. In the reds we like to have ripe, darker fruit characters. Oak is there, but mostly in the background, we use only 40-60% oak. Our set of wines is unique, we don't have to follow all the varietal rules, we can be playful with our creative winemaking and blending the best wine possible."
How is the 25th Harvest turning out?
"At Paraduxx, we are a month late! The quality is there, the crop is above average, which is probably why it is a little late too, it's taking awhile to ripen up. The weather has been cool, and we've had one rain event; overall we have really nice flavor development in the grape." In comparison to last year, we had numerous heat spikes early in the harvest season, but this vintage and 25th Harvest we are seeing slow and even ripening, so far everything tastes amazing.
We celebrated with our storied 25th Harvest with our annual Harvest Party uncorking the release of the pinnacle of our portfolio, the 2015 Paraduxx Napa Valley X2.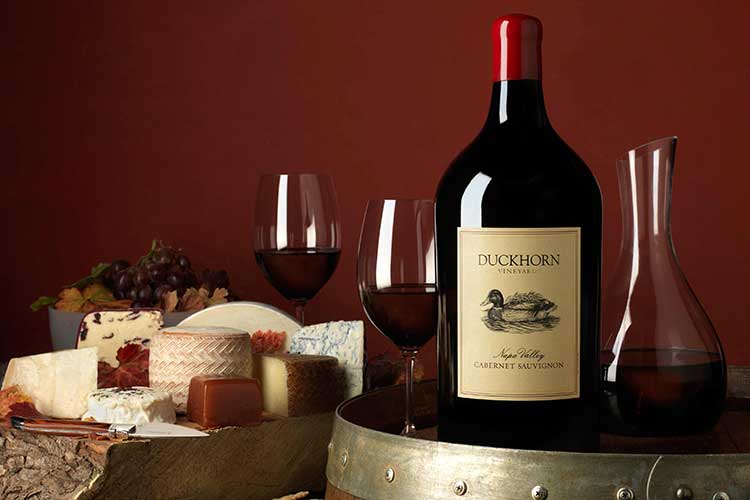 To decant or not to decant, that is the question! At its most basic to decant simply means to transfer the contents of a bottle of wine into a new vessel. For this process to be most beneficial the decanter will be larger and have more surface area than the original bottle.
Okay, but why do this? Fundamentally, decanting serves two purposes: to separate a wine from any sediment that may have formed and to aerate a wine enhancing its aromas and flavors creating more vibrancy before serving. Decanting is most associated with the service of older wines but, conversely, younger wines can also benefit from this step. At the core of the matter decanting allows the wine to come in more contact with oxygen. Oxygen, during its initial contact with a wine can be very helpful, enhancing a wine's flavors and softening it. Think about the wine being "caught" in the bottle, tightly stoppered under cork and capsule, a sleeping genie. Decanting wakes the wine up, helps it snap to attention and introduce itself with vigor.
Older red wines naturally produce sediment as they age (white wines rarely do). The color pigments and tannins bond together and fall out of solution. Stirring up the sediment when pouring will cloud a wine's appearance and can impart bitter flavors and a gritty texture. The sediment is harmless but it's not pleasant to get this material in your glass or worse in your mouth. It's safe to assume that a red wine will have accumulated sediment after five to ten years in the bottle and should be decanted.
Here's how to do it well:
Set the bottle upright for 24 hours or more before drinking, so the sediment can slide to the bottom of the bottle, making it easier to separate. This advice assumes that the bottle was stored properly, cork down or on its side.
Locate a decanter or other clean, clear vessel from which the wine can easily be poured into glasses. Decanters can be extremely elaborate or quite simple. The best models are dishwasher safe, easy to handle and to store. A simple glass pitcher will work just fine.
Remove the wine's capsule and cork; wipe the bottle neck clean.
Pour the wine into the decanter slowly and steadily, without stopping; when you get to the bottom half of the bottle, pour even more slowly.
Stop as soon as you see the sediment reach the neck of the bottle. Sediment isn't always chunky and obvious; stop if the wine's color becomes cloudy or if you see what looks like specks of dust in the neck.
The wine is now ready to serve from the decanter. Discard the remaining ounce or two of sediment-filled liquid in the bottle.
Duckhorn Vineyards makes several age-worthy wines. Most famously, our Three Palms Vineyard Merlot and Howell Mountain Cabernet Sauvignon have the character and substance to gracefully age over a decade. The fortunate wine lover about to open and enjoy one of these wines with a significant bottle age should approach the task with a decanter in hand. Decanting will ensure elegant service as well as invigorate the wine's flavors and aromas.
At the other end of the spectrum, new release wines can be "tightly wound" in their infancy. It is remarkable what happens to an introverted, shut down wine after as little as an hour spent out of the bottle and in a decanter. A wine that seemed somewhat dull and tight will suddenly awaken and have lots more to say!
Now you know much more about this useful component of my favorite participatory sport. Decanting isn't fussy or mysterious, simply practical and beneficial.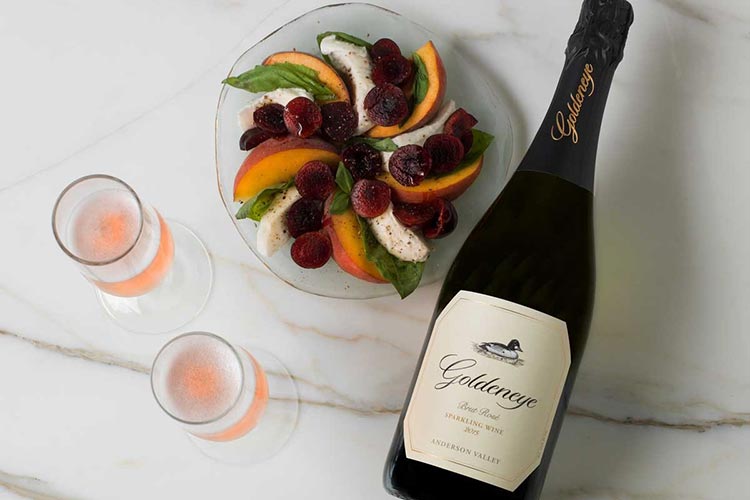 While winemaking is a blend of art and science, it is the production of sparkling wine, or bubbles, that is perhaps most challenging to master. There are so many elements to sparkling wine that make it unique within the winemaking world it comes complete with its own vocabulary: dosage, tirage, remuage, disgorgement. In this post we'll explore many fun facts you never knew about sparkling wine.
It was the 17th century when Pierre Perignon first explored actively trapping the gas of fermentation in wine to create effervescence.
"Come quickly, I'm tasting the stars", he cried.

His dedication led to the development of both stronger glass to contain the pressure, and the use of tighter corks to keep the bubbles intact. Thanks, Dom! Over 100 years later, in the 1800's, Madame Clicquot (yes, the Widow, or Veuve) developed the practice of remuage (riddling) to remove the yeasty sediment left over from the second fermentation. By meticulously turning the bottles at an inverted angle, the yeasty sludge works its way into the slim neck of the bottle, for removal aka degorgemont (disgorgement). Once you remove the cap and aforementioned sludge, the bottle is sealed with a tightly secured cork and muselet (muzzle, the charming wire cage) to keep the contents intact. It is after these innovations that sparkling wine took its place as the most elegant of beverages.
Perhaps one of the most fascinating elements of sparkling winemaking is the ability to anticipate what the future will bring. For assemblage (blending wines) of the base wines, the winemaker must predict what the wines will taste like with the addition of the dosage (the sugared liqueur addition that causes the 2nd fermentation in the bottle) and bottle aging before the wines are released. This decision happens typically 3-4 years before the wine is available for purchase, while the bottle is en tirage (state of aging).
Any grape can be used to make sparkling wine, but traditional grapes include Chardonnay, Pinot Noir, and the lesser known Pinot Meunier. The beautiful pink hue will come, as with still rose production, from limited skin contact with red grapes. The more complex, and daring, way to achieve the color of choice is by blending in a small portion of still red wine into a white wine base. Truly a task for a highly skilled winemaker.
Our own gorgeous and newly released 2015 Goldeneye Brut Rosé displays a pink hue and consists of 72% Pinot Noir and 28% Chardonnay, a modern classic indeed!

Every bottle of wine has a story to tell, and that story begins in the vineyard. With each vintage, the unique interaction between terroir, climate, and weather dictate the narrative of each bottle. So, in this blog we will examine the lifecycle of the grape vine, the ultimate wine author.
Bud Break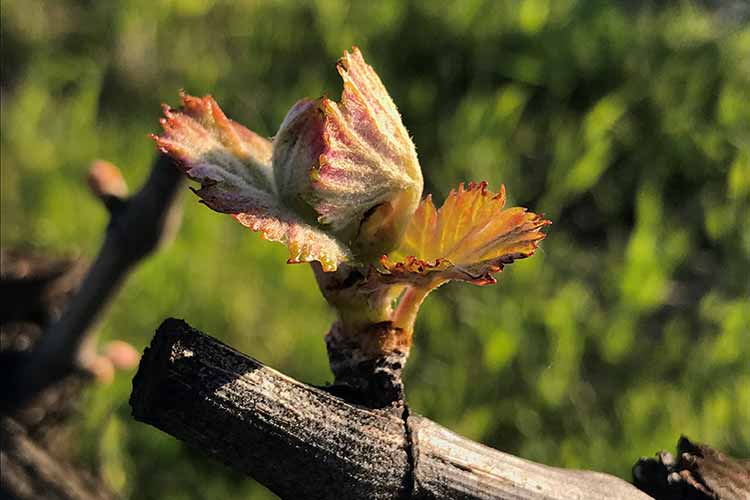 Come spring the vines reawaken from dormancy. From March to April the vines experience bud burst. From these buds, green leaves burst awake in preparation for photosynthesis with the warmer months. Bud break is a delicate time, as the new growth is in danger of spring frost and hail storms.
Flowering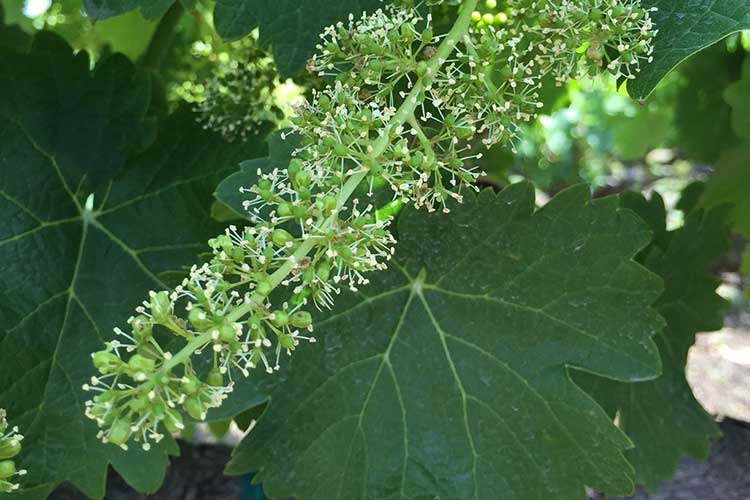 As bud break turns into vegetative growth, the next process of the grape vine begins from April to May. Flowering is when bunches of tiny flowers bloom from the new vine shoots. Grape vines are self-pollinating, so each of these flowers has the potential to turn into a single berry.
Fruit Set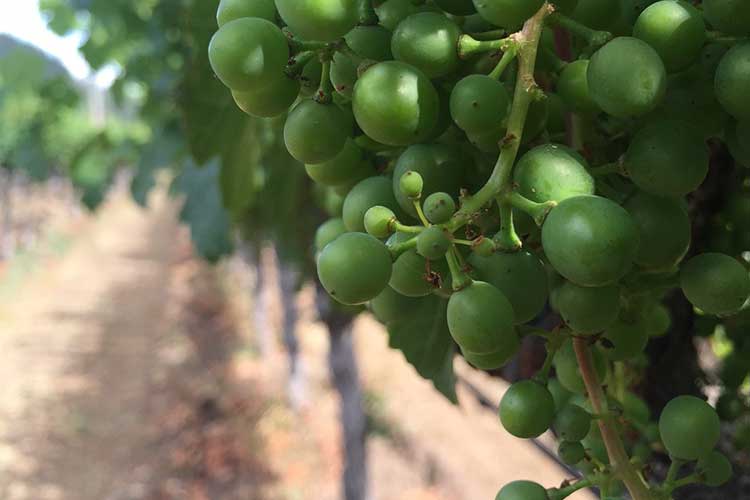 As the summer months set in, the pollinated flower drops its petals and tiny green grape berry clusters with seeds develop at the end of the stem. Although, not every flower is fertilized into a berry, so it simply falls off the vine. The fruit set stage of the grape vine is critical, as it becomes the initial indicator of the potential crop yield in harvest.
Veraison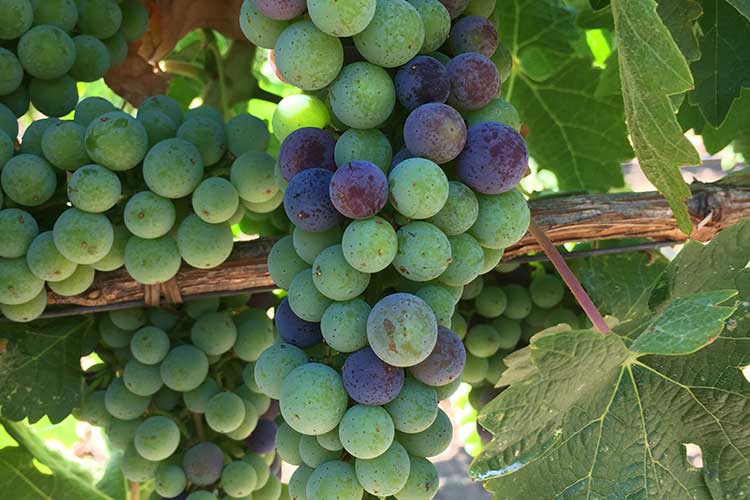 Come mid-summer, the green berry clusters begin to expose their color pigmentation. Verasion is the process in which the berry clusters begin ripening and turning purple or blueish in color. The heat of summer induces sugar development and ripening in each grape, while the cool evenings (depending on growing region) preserve natural acidity and freshness.
Harvest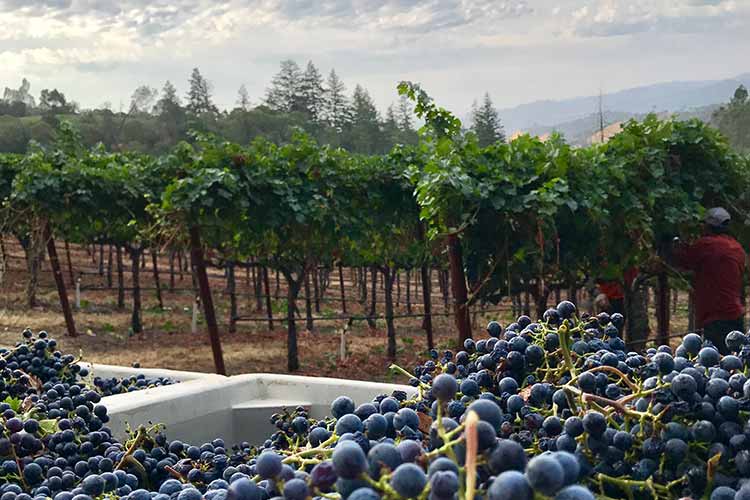 From September to November, for winemakers, viticulturists and wine country visitors, this is the most exciting time of the wine growing season! There is a palpable buzz and energy as winemakers' taste, test, and measure brix, or sugar content, and determine when the grapes are ready to be picked. Harvest is when the grapes have reached optimal ripeness and are ready to tell the story of the vintage.
Dormancy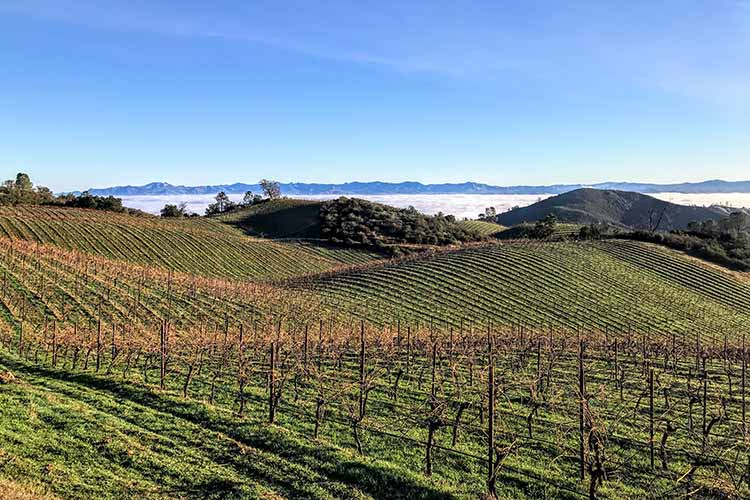 After the seasons fruit has been collected during harvest, all fall leaf foliage falls to the soils and the vines go dormant. During this time, viticulturists are diligently pruning each vine in an effort to guide vine growth for next season. After four months of rest, the grape vine repeats this process effectively growing and telling the story of another season.
Harvest is the best season to visit wine country! The vines are lush with green foliage and plush purple grape clusters create the most picturesque visit. Our annual Paraduxx X2 Release Harvest Party took place on Saturday, September 29th! If you missed the festivities you can still book your fall reservation at Paraduxx, Duckhorn Vineyards, Goldeneye and Calera today!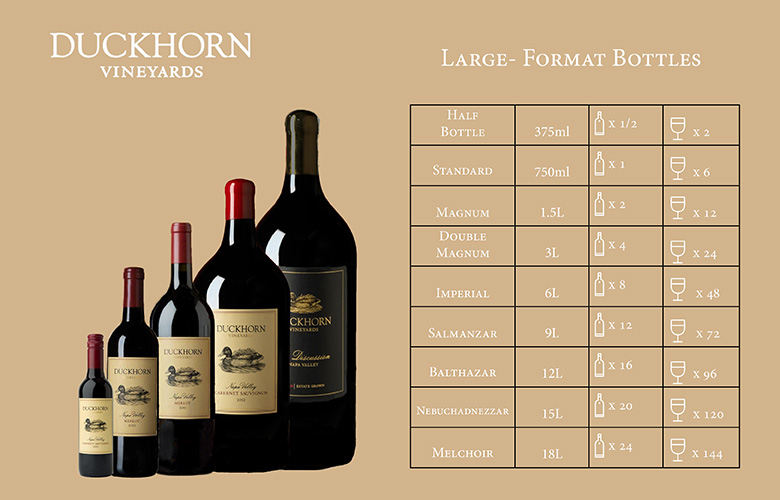 Uncorking a large-format wine bottle is exciting and ceremonious! These bottles are rare in comparison to the standardized 750ml bottles, and they make for a practical investment. Large-format bottles are perfect for your cellar as they age more gracefully and make for impressive centerpieces during special gatherings. In this blog we are going to explore the evolution and benefits of large format wine bottles.
The Evolution of Wine bottles
It is believed that the ancient Romans, used glass blowing to create wine bottles. Yet, this glass was too delicate to store the wine, so they used amphoras, large clay pots, for wine transport and storage. The glass bottles they created were typically used as a decanter for dinners. In the 1700's, coal-burning furnaces allowed for higher heat and allowed glass blowers to create thicker and darker glass. The production of the cork closure came shortly after and with that changes in wine bottle shape and size began to take form. It was discovered that the larger the bottle, the slower and more gracefully it ages. In, 1979, the United States deemed the 750ml the standardized wine bottle size, and the European Union followed suit, in order to ease trade.
Collecting Large-Formats for your Cellar
Large-format wine bottles make the perfect addition to your cellar due to their age-ability. The aging and oxidation process in a large-format bottle occurs more slowly, than the standardized 750ml, creating a wine with an enhanced flavor profile. With age the tannins soften, and the wine begins to express secondary and tertiary aromas creating a more complex wine.
So, the larger the bottle, the more age-ability. This is because the ullage, or oxygen sealed in each bottle of wine is the same despite differing bottle sizes. With larger formats, there is a larger volume of liquid interacting with that oxygen. In addition, large-formats are more resistant to drastic temperature variations and light damage due to the higher volume of liquid. For those interested in making practical wine investments, large-format bottles are your best option for cellaring and aging.
Celebrating with a Large-Format
Social gatherings are the perfect occasion for uncorking a large-format! Whether it's for a holiday dinner, a family get-together, wedding or graduation, a large-format is sure to impress. Opening large-formats can take a little practice. So, we assembled a few suggestions:
Carefully, cut the wax off a large-format same as you would on a standard bottle with foil. Your cork screw knife should work great or even a serrated knife. Peel away the wax and be careful not to get any in the bottle.
If you are opening an older vintage wine, the ah-so wine opener is perfect solution. Vintage corks are delicate and the last thing you want is to destroy your large-formats cork. We suggest adding a neutral oil to the prongs to easily glide into the bottle neck and be cautious not to push the cork in. Simply twist and pull to cleanly extract the cork.
Once, you have uncorked your large-format, wipe away any sediment in the neck and decant your wine. Pouring from a large-format can be cumbersome, so the decanter is great way to ceremoniously present the wine while allowing the sediment to sit in the bottle and not your glass while at-the-same-time aerating the wine.
Within the Duckhorn Portfolio, we offer a selection of magnums and double-magnums for your next celebration or cellar. Shop online here and enjoy!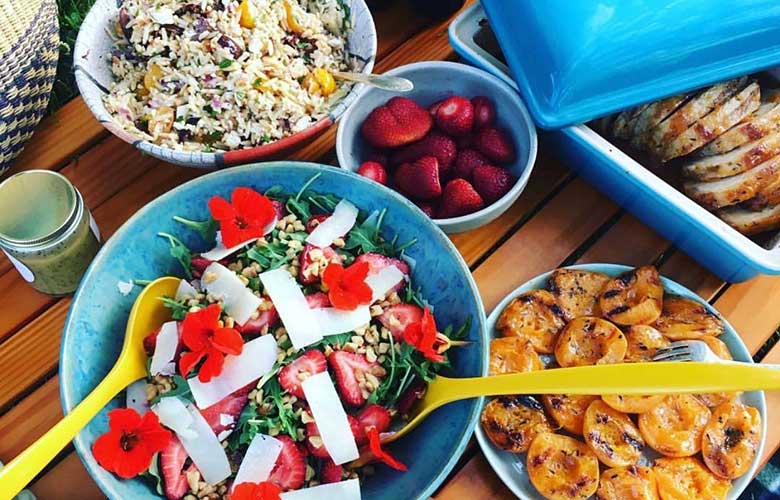 It is officially summer and time to head outside for your dose of Vitamin D! When the Events Team is not busy dreaming up the next Duckhorn Portfolio event, we are crafting our own al fresco adventures. Follow these three easy steps below to picnic like a pro.
1. Prepare
With the busy work week weighing on many of us, it can seem daunting to put together a well-organized weekend picnic. Lessen your stress, and put together a picnic-edition "bug-out" bag before the summer season starts. Keep a check-list of items included in your basket, use and replenish when you're ready to hit the road again.
Summer Picnic Bug-Out Bag Essentials:
For service: reusable dinnerware, including plates, utensils and stemless wine glasses; corkscrew, cheese board and an all-purpose knife
Protect against the elements: blankets, clothing to keep warm, sunscreen and bug spray
Clean-up duty: wine stain remover, trash bags, napkins and wet wipes
2. Pair
The time is now to enjoy your summer sippers! Pack the right wines and serve at the right temperatures to pair perfectly with your al fresco provisions. Our favorite picnic pairings include Duckhorn Vineyards Napa Valley Sauvignon Blanc, Paraduxx Napa Valley Rosé and Goldeneye Anderson Valley Pinot Noir.
Traveling Beverage Hack:
Partially or completely freeze non-alcoholic beverages to use as ice-packs to keep wine and food at the perfect temperature during transit
3. Provisions
Avoid the charcoal smudges and sandy-sandwiches, prep all foods in advance to be enjoyed at ambient temperature. With less on-site prep work, hosts can make the most of their weekend adventures too.
Culinary Counsel:
Accommodate for all: Prepare for any pop-up dietary needs, packing at least one gluten-free dish, one vegetarian dish and one non-dairy dish
Noshing: cheese wedges and crudité with dips keep a crowd coming back for more
Keep it light: opt for fresh, seasonal ingredients, keeping friends energetic for that summer frisbee match
Dressing on the side: store dressing in a shakeable jar and toss just before service to keep green and pasta salads fresh

Ready to let someone else do the heavy lifting? The Duckhorn Events Team extraordinaire is ready to host your next wine country experience. Learn more about planning your next weekend adventure with our team.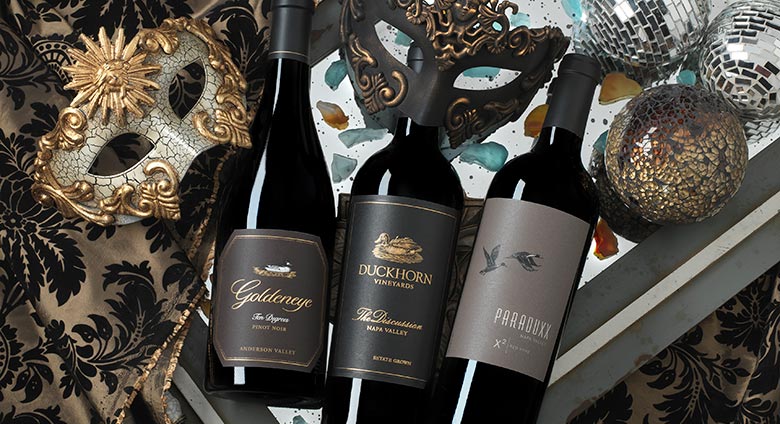 Forty years ago, Dan and Margaret Duckhorn along with their winemaker had a passionate discussion at the dinner table about making a cuvée, or the finest red blend. Instead, they chose to focus on varietal wines, yet Duckhorn Vineyards had remained intrigued by the artful blend of a cuvée. In 2006, that dinner discussion from 30 years ago came to fruition; Duckhorn Vineyards released their first cuvée or pinnacle wine aptly named, The Discussion.
Today, within the Duckhorn Portfolio, there are four Pinnacle wine offerings from four of our seven wineries, Duckhorn Vineyards, Paraduxx, Goldeneye and Canvasback. These wines are 100% estate grown and celebrate our best blocks from our top estate vineyards.
Our four pinnacle wines are distinctly different and capture the essence of each winery and region. The Discussion from Duckhorn Vineyards is classic and elegant embodying the best of Napa Valley Bordeaux varietals. Paraduxx X2 stylishly blends mountain fruit and valley floor fruit, beautifully demonstrating the subtle art of the blend. Our pinnacle Pinot Noir, Ten Degrees, from Goldeneye is complex, earthy and rustic, perfectly capturing the natural intensity of Anderson Valley. The Grand Passage is concentrated and complex, beautifully embodying the desert-like climate of Red Mountain in Washington State. All four of these wines are ready to drink now and ideal for aging in your cellar for 10 to 15 years.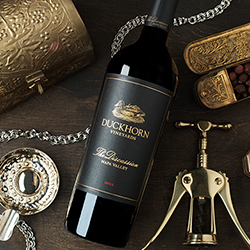 Duckhorn Vineyards The Discussion
The Discussion commemorates a longstanding dream of Dan and Margaret Duckhorn's. The primary blend is always Merlot and Cabernet Sauvignon, representing our belief in the timeless union of these two noble Bordeaux varietals. The Discussion embodies the depth and complexity of Duckhorn Vineyards renowned estate program, resulting in an elegant wine with pure fruit flavors combined with silky tannins and savory notes.
92 Points - Wine & Spirits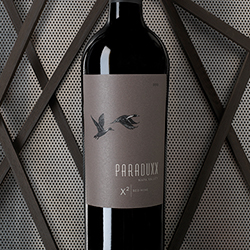 Paraduxx X2
X2 is crafted as an exponential expression and harmonization of our Paraduxx style and the pinnacle of our portfolio. Paraduxx X2 is a blend of our best blocks and barrels selected from our finest estate grown Cabernet Sauvignon and Zinfandel producing a wine that balances depth and structure of mountain grapes with the lush vibrancy of valley floor fruit.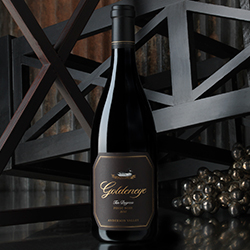 Goldeneye Ten Degrees
Made from our ten finest barrels of Pinot Noir, we name this special wine Ten Degrees – a name that pays homage to the fact that our three estate vineyards in Anderson Valley display as much as a 10 degree temperature variance, while spanning only an eight-mile distance. As the pinnacle wine of our portfolio, Ten Degrees combines our best estate vineyard grapes and showcases the elegance, beauty and rustic characteristics of the Anderson Valley.
94 Points - Wine Enthusiast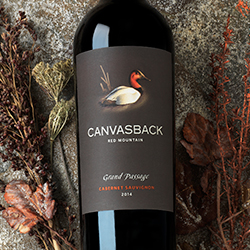 Canvasback Grand Passage
With access to some of the best vineyards in Red Mountain, Canvasback was able to craft Grand Passage, the pinnacle of our winemaking program. The Grand Passage is 80% Cabernet Sauvignon and 20% Merlot, it embodies the finest blocks and barrels of each vintage to create a beautifully layered wine with ripe voluminous dark fruits rounded with notes of mocha and salted caramel and polished tannins. This is a Cabernet lovers' prefect wine!
93 Points - Wine & Spirits