Duckhorn Portfolio Wine Blog
Posts written by Neil Bernardi, Vice President of Winemaking and many special guest bloggers. This collection of insights on winemaking, farming, entertaining and more is a great way to learn about the excitement of winery life and tips for enjoying the wines we produce.
How is wine made? This post takes a closer look at the twelve steps involved to take each harvest from vine to bottle. Every bottle of wine on a shelf at the store went through a serious process to get there. As consumers, we might not always know about these processes, but it is important that we recognize the passion and hard-work that went into crafting our wines. Winemaking is often described as the clash between science and art – winemakers must know the chemistry behind the wine as well as have the creativity and artistic nature to create a wine that reflects the palate of the company. Here are 12 steps that summarize the yearlong process of winemaking that happens before you get to enjoy the wine! From the growth season and crucial maintance of the grapevines to post-harvest processes like fermentation, fining, yeast, barrel regime and testing - the process is quite a journey. Once made, the final steps of bottling, packaging and shipping become the equally important finishing touches to make sure wines end up in wine glasses nationwide. So next time you are taking a sip of any of Duckhorn Porfolio's delicious wines, keep in mind the many hands it took to get into your hands.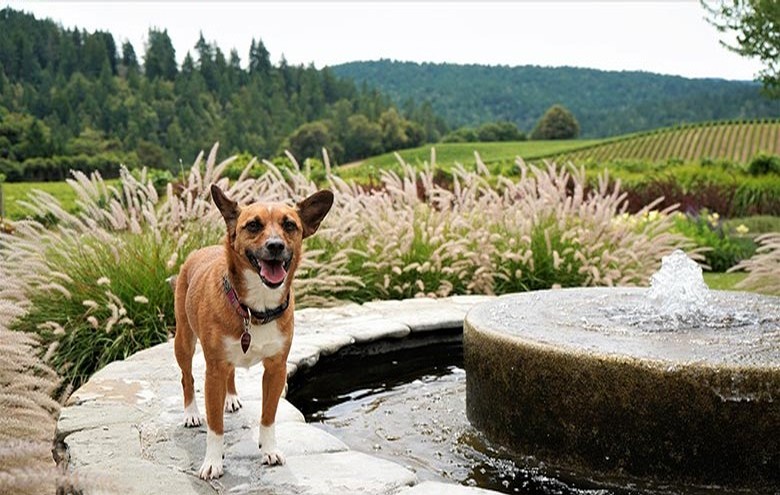 It's easy to love both dogs and wine, though many times to enjoy both you'll be sipping at home. Today more and more wineries are allowing some outdoor seating to accommodate well-behaved pups. This post is dedicated to each of our dog-friendly winery locations that welcome our four-legged friends!
Goldeneye, Anderson Valley
At Goldeneye, we have an incredible outdoor patio area that allows us to cater to dogs and their owners in the beauty of the Anderson Valley. While guests enjoy the view of our Confluence vineyard backdrop and a flight of Pinot Noir, their furry companions are welcome to endless bowls of water and all of the same sights and smells of the Mendocino coast. Goldeneye welcomes all well-behaved dogs on leash on our outdoor patio – there are leashes available for purchase in the tasting room for anyone who wants a keepsake too! Here are a few pics of our own winery dogs, Sam and Sheamus: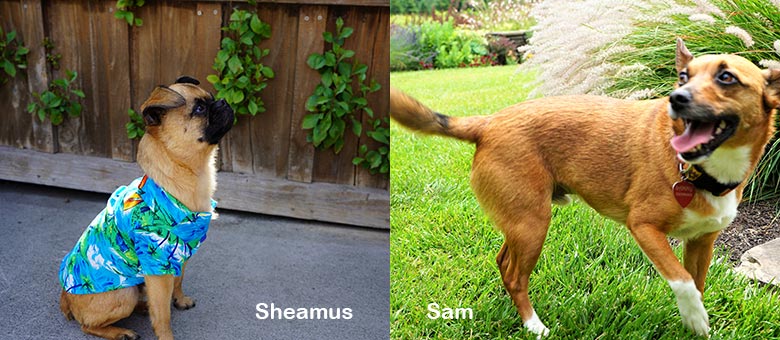 Paraduxx, Napa Valley
At Paraduxx, our outdoor courtyard is nestled next to Rector Creek vineyard that allows guests a relaxing outdoor experience with a quintessential wine country view. This space is where we're able to host wine lovers and their dogs in our lovely Napa Valley location. While guests enjoy the serenity of the vineyards and a lineup of Napa Valley Blends, their dogs are welcome to lots of water and lounging in the comfort of the peaceful shade of the courtyard. Paraduxx welcomes all well-behaved dogs on leash in our outdoor space – there are also logo'd leashes available for purchase in the tasting room! Check out our ambassador winery dog, Lando at Paraduxx: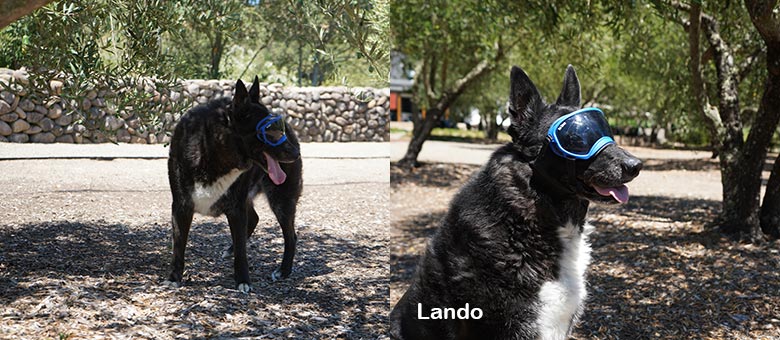 Calera, Hollister
At Calera, we are nestled on Mt. Harlan with sweeping views of the Cienega Valley. The wonderful outdoor space with amazing views, allow us to cater to dogs and their owners at our winery estate. While guests enjoy the view and a flight of Pinot Noir, dogs are welcome to enjoy water and the relaxing outdoors of the Hollister Hills. Calera welcomes all well-behaved dogs on leash in our outdoor space. Say hi to our ambassador winery dog, Nina at Calera: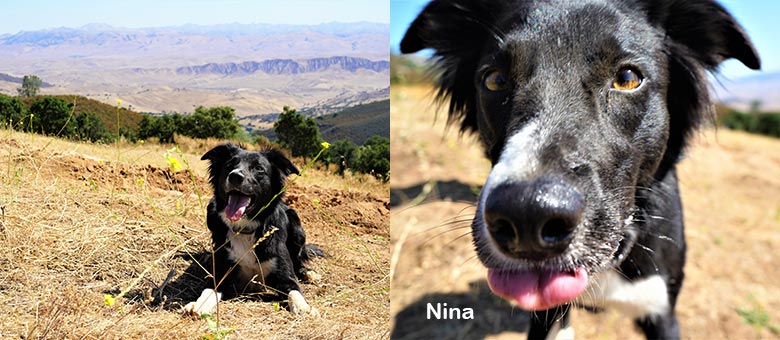 All of these locations are perfect to consider when choosing a dog-friendly winery for your next wine tasting!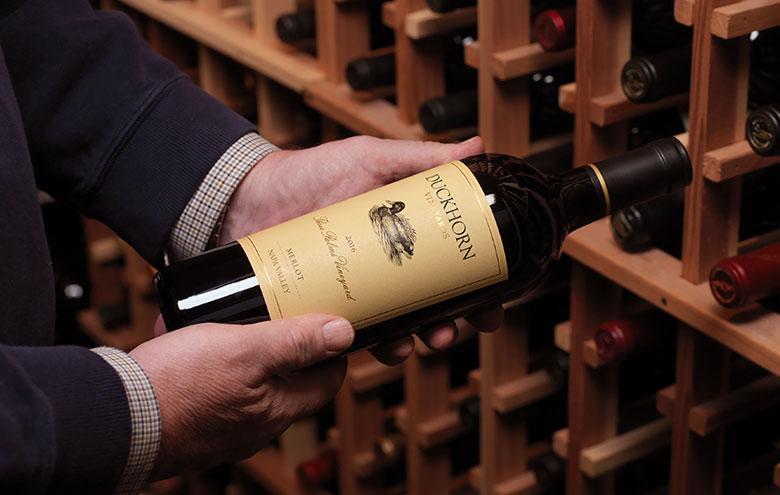 There are many beautiful wines made in the Napa Valley with so many wine club programs to choose from. What makes the Duckhorn Portfolio membership so special? Here are my top five reasons to become a member with us.
5. The People
Get to know our winemakers, members of our production teams, and tasting room Wine Educators at over a dozen events we host throughout the year (members receive special pricing). They range from large scale release parties, like our very popular Discussion Release & Derby Party every May or one of our intimate Winemaker Dinner's we host throughout the year. Learn more about our winemaking philosophies, from grape to glass and the stories behind each wine. Travel with us to other countries to explore historic wine regions and meet new friends along the way with one of our Cruise's. We set sail this May to Spain & Portugal on our 4th Cruise to date!
4. The Places
Relax, taste and enjoy our new release wines at five of our Tasting Rooms. First is our Duckhorn Vineyards tasting room in the heart of St. Helena, where you can enjoy classic new world Merlot & Cabernet Sauvignon. Just 20 minutes south of Duckhorn off the Silverado Trail is Paraduxx, our house of blends. Head up north to Mendocino and experience powerful Pinot Noir at Goldeneye.
Live near the Central Coast of California? Stop by Calera in Hollister (east of Monterey) and enjoy the beautiful and serene views of Mt. Harlan while enjoying premium Pinot Noir. Happen to be in Walla Walla? Come by our newest tasting room addition – Canvasback and savor luxury Cabernet from Red Mountain. As a member you receive tasting benefits at all five unique locations.
3. The Experiences
Once you get to your favorite Duckhorn Portfolio location, experience some of our intimate Elevated Tastings to enhance your senses and awaken your pallet. At Paraduxx we offer our Blend Seminar, which dives deeper in the art of our blends. At Duckhorn, join us for our Wine of The Year Tasting, and taste 2017's Wine Spectator #1 Wine of The Year – 2014 Duckhorn Vineyards Merlot Three Palms Vineyard, along with other wines from this iconic location.
2. The Service
As a member, you receive exclusive access to our Membership Concierge to curate your ultimate day of tastings and assist with your trip planning. Our Wine Advisors are here for you to create your ideal wine cellar. Gain access to rare library and large format wines and find that perfect gift for any special occasion.
1. 7 Wine Clubs in One!
Members receive access and benefits across our entire portfolio of wines. No matter your club preference, you have a one-stop shopping experience at Duckhorn, Paraduxx, Goldeneye, Migration, Decoy, Canvasback & Calera…all at Duckhorn.com. You just need one account to access all wines. You can also customize your club shipments to include any wines from our portfolio. We have a plethora of wines for every occasions, season and palate.
If you enjoy our wines, we invite you to become a member with us and take advantage of the many great benefits of our portfolio. We hope to host you this summer at one of our five tasting rooms and share our love for great wines with you.
Cheers to you and yours!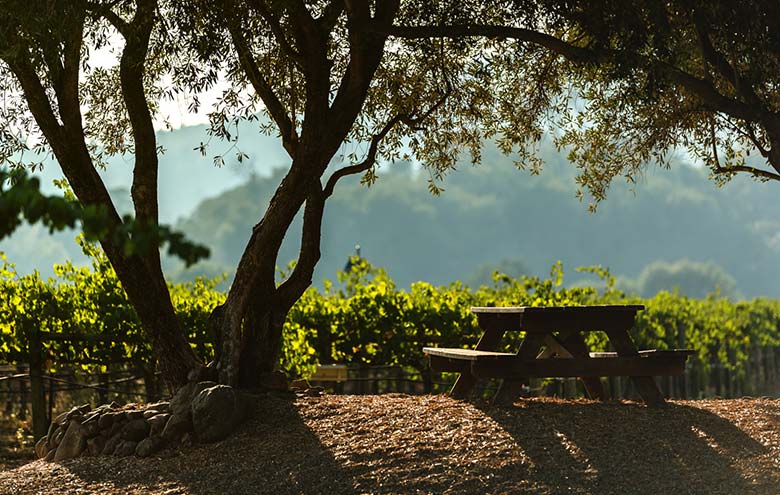 Napa Valley offers a luxury vacation with the sweet charm you want for a weekend getaway or week-long adventure! With many world class restaurants, spas and wineries why not treat yourself to the best luxuries in life?
Accomodations
Start your time at a resort! Enjoy the pool, spa amenities, or restaurant to relax after traveling. Most hotels in the Napa area are equipped with a place to grab a glass of quality wine to unwind. Check out your accommodation's Spa Menu to make sure you take some time for relaxation during your trip. For the adventurous, try booking a mud bath spa treatment - they are very popular in Calistoga!
Restaurants
For lunch or dinner, Napa Valley is a foodie heaven. There are world class restaurants in each town: Napa, Yountville, Rutherford, St. Helena and Calistoga. These well-known restaurants have educated Sommeliers who can recommend the perfect wine pairing or help you pop open a bottle you purchased while out wine tasting. Make sure to research in advance and book reservations to ensure you can dine at your preferred locations!
Winery Tours & Tastings
During the day, you have the opportunity to experience the culture and history of winemaking in Napa Valley by visiting one of the many wineries or tasting rooms peppered throughout the area. Our Napa properties, Duckhorn Vineyards and Paraduxx (located about 15 minutes apart) have different wine tasting experiences to either get you acquainted with our wines or take an in-depth look at what makes wines in this region so special.
Need help planning your time in Napa? Our wine club members have access to the planning and personalized service of the membership concierge team to create their ideal trip! Give us a call at 866-367-9945 to learn more about membership. We also recommend NapaValley.com for anyone searching for ideas to get started. We hope to see you in Napa Valley soon!
Jessica Mullins, Membership Concierge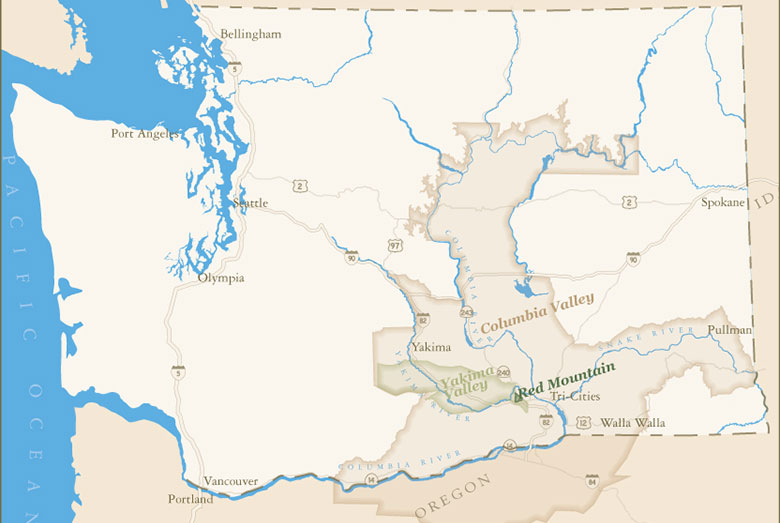 Washington State is the new frontier for luxury Cabernet Sauvignon. As a young and emerging wine region, there have already been eight wines to earn the coveted 100-point score from top wine publications. Let's dive into what makes Washington perfect for wine growing.
Agriculture has long been a cornerstone for Washington State, with the farming of apples, wheat, potatoes and many other crops. The earliest signs of grape farming originated with traders at Fort Vancouver in 1825, and by the 1860's, Italian and German immigrants were making wine. Fast forward to the mid 1970's, when a few pioneers began planting vineyards and commercially crafting wine in Eastern Washington. These folks paved the way for Washington winemaking as we know it. Today, Washington ranks second in wine production in the United States, behind California. There are a number of factors that make Eastern Washington perfect for winegrowing: namely the geography, the geology and the climate.
The Geography:
Many people think of Washington State as the rainy state, which is quite true in Seattle and Western Washington, as storms roll in from the Pacific Ocean. Eastern Washington is a different story. This region sits in the rain shadow of the Cascade Mountains. So, moisture laden storms are blocked by the mountain range, resulting in an arid, desert climate East of the Cascades. At the same time, there are two major rivers that travel through Eastern Washington; the Columbia River and the Snake River which allows for wine growers to easily irrigate their vineyards.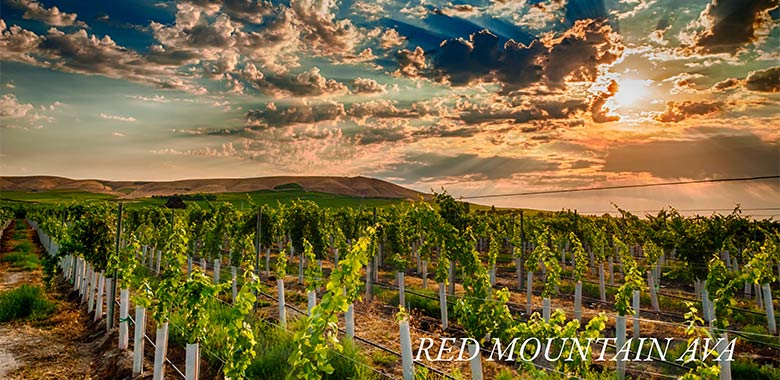 The Climate:
Geography and location are influential factors in climate. Eastern Washington grape growing sits at a latitude of 46˚ N which is the same latitude of Bordeaux, France. At this latitude, the growing season sees an average of 17 hours of sunlight, which is 2 hours more than Napa. In addition, Eastern Washington's desert climate also experiences extreme diurnal temperatures shifts, with daytime to nighttime temperature swings of 40 degrees. These long and hot daylight hours slowly and evenly ripen the grapes while cool evenings preserve the grapes natural acidity.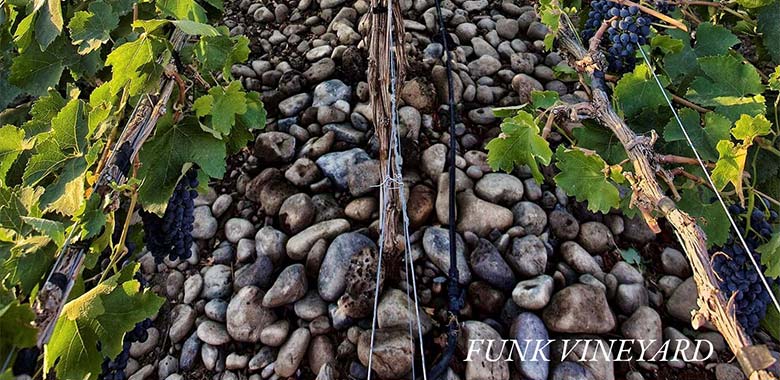 The Geology:
Soil and geology have a significant impact on wine quality. Eastern Washington features some of the most unique soil compositions. During the last ice age, around 15,000 years ago, a large glacial lake in present day Montana, flooded the Pacific Northwest with an 800-foot wave that travelled at speeds upwards of 60 mph. This event, known as the Missoula Floods, and is one of the most significant documented flood events on earth. In its wake, the flood completely changed the native landscape of volcanic rocks and basalt by depositing non-native granitic silt, sands and gravels. This unique soil diversity and excellent soil drainage make the vines work harder thus creating a lower yield and higher quality crop.
The world of Washington wine is young and up-and-coming, earning its place on the main stage of the international wine scene. Since wine is so intimately connected to place, we are taking a side-by-side look at two of our major Eastern Washington appellations.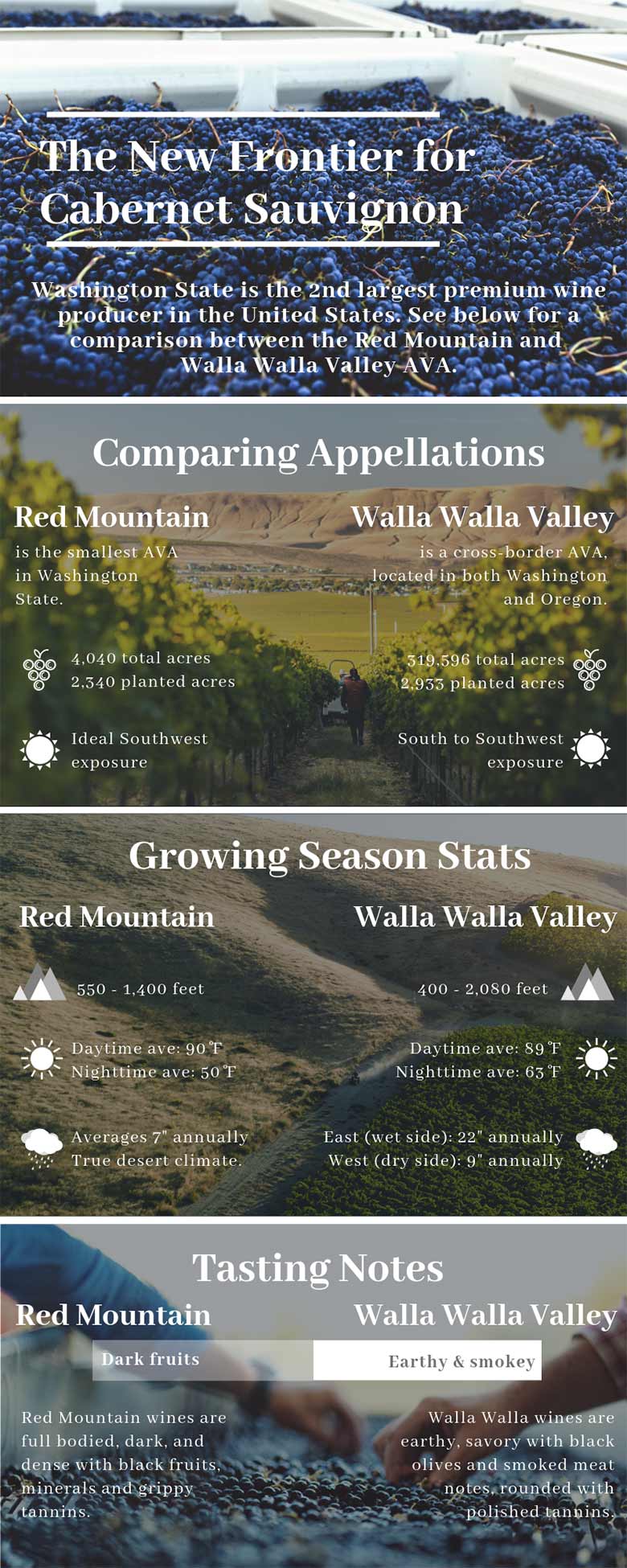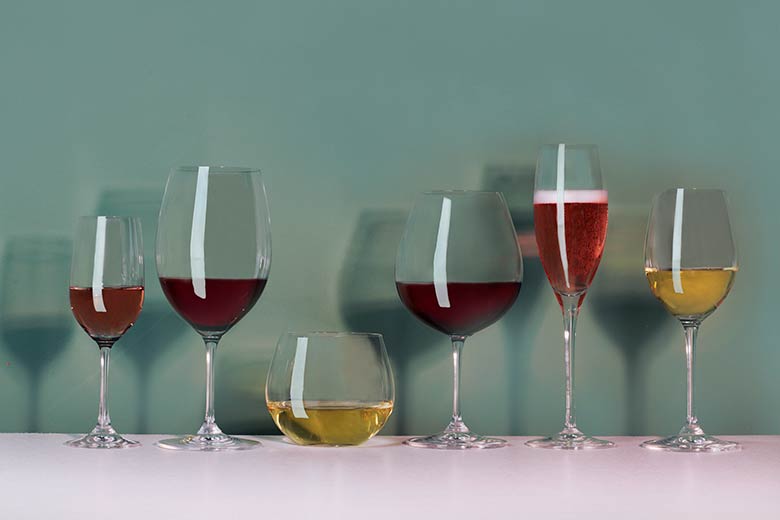 Carefully selected wines deserve to be served in glassware designed for wine! Appropriate glassware increases your enjoyment of the wine significantly. It's easy to get in the weeds on this subject, in search of the proverbial best wine glasses. Let me offer some simple tips and ideas on the various types of wine glasses available.
First, realize drinking wine is, fundamentally, a sensory experience. As you taste and contemplate a glass of wine your senses become engaged. Your ability to perceive a wine's color, aroma, flavor and texture will be impacted by the glass you are tasting the wine from. The options in wine glasses are immense and can be overwhelming. Let's zero in on the core features you want in good wine glasses.
Regardless of wine glass shape, size or design, they ideally, are clear. If the glass is opaque, we literally can't see the myriad of colors wine presents. A clear glass allows you to see the true color as well as the clarity of the wine. Color indicates several factors such as the type of grape used and the age of the wine.
A thin, delicate rim allows wine to pass from the bowl to your mouth more gracefully. A well-made wine glass feels balanced and light in your hand.
Still wines (Red, White and Rosé) all benefit from being served in wine glasses that feature a bowl large enough to swirl the wine. This swirling brings air into the wine, releasing the wine's aromas. The larger the bowl, the more the wine is exposed to the air, allowing the aromas to accumulate in the bowl. The bowl should also taper in slightly at the top. This wine glass shape helps to intensify and direct the aromas as they are released from the swirling up to the nose.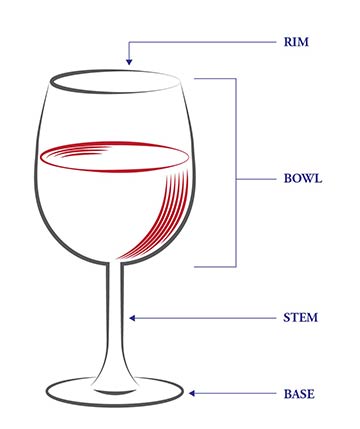 For simplicity, I recommend the classic Riedel egg-shaped wine glass. Claus Riedel lit up the wine world when he debuted a wine glass with a simple, egg-shaped bowl, in 1958. The lightweight, slender design was the essence of form following function: It enclosed the wine's bouquet, focusing the aromas toward the nose and allowing oenophiles to savor the full flavor, depth and balance of the wine in a way that hadn't been possible before. We have relied on the Riedel egg at Duckhorn Vineyards Estate House since we began receiving tasting guests in 2001. With a dozen "eggs" in your wine glass storage cabinet, you are set for enjoying still wines.
I also recommend every home have a least a half dozen "flutes" for the service of Sparkling Wine and Champagne. A flute is intentionally narrow and is designed to concentrate and extend bubbly's natural effervescence.
For outdoor settings like our Courtyard Tastings at Paraduxx, stemless wine glasses can be quite handy. A stemless glass offers the wide bowl and thin lip desired but, without a stem, it is less likely to blow or tip over. Stemless glassware requires less storage space and they are generally easy to wash in your dishwasher too.
Cheers to great wines served in good wine glasses!
Kay Malaske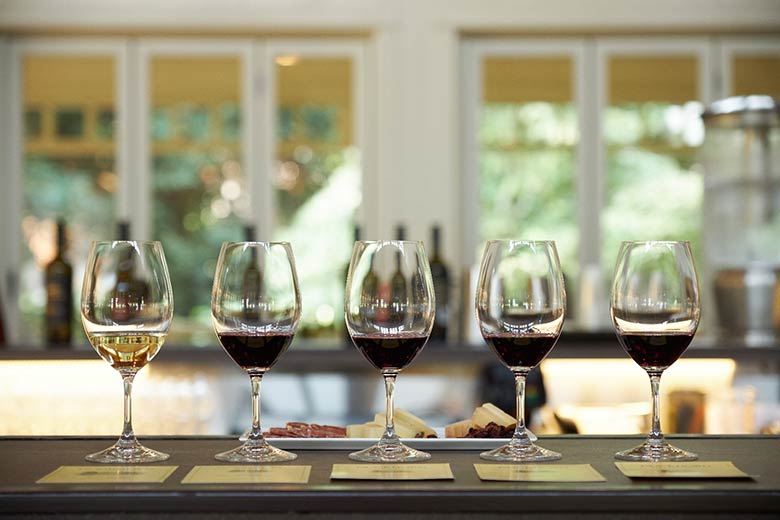 Wine tasting is an exploration of geography, variety and the winemaking style. There is no better way to expand your wine palate than to taste more wine! So, try hosting an at-home wine tasting with a group of friends or visit wine country and begin exploring your taste preferences!
HOW TO TASTE -
The experience of tasting wine is a journey of your senses. There is no right or wrong way to taste, it is an experience that incorporates sight, smell, and taste.
Sight
Wine is visual! Tasting starts with sight and an examination of the wines color, opacity and viscosity. The color and opacity gives you insights to the varietal and its age. Red wine with age has an orange tint around the edges, while white wine evolves with tints of gold and brown. The wine viscosity is an excellent indicator of the body and sugar content.
Smell
Swirling wine pulls oxygen into the glass which helps to awaken the hundreds of aromas in the wine. These aromas give you insights into the grape varietal, the growing region and even the winemaking process. Aromas can be categorized by fruit, flowers, herbs, spices, nuttiness and more.
Taste
At last, we are ready to taste the wine! Start off with a sip and swish of the wine around your mouth. Our tongues taste through five flavor categorizations: they are salt, sour, sweet, bitter and umami. Grapes have natural sugar and acid, which we can taste in the finished wine. In addition, the barrel cooperage gives off a bitter or astringent component.
Mouthfeel is a critical factor of taste and there are numerous wine components that influence mouthfeel: tannin, acidity, sweetness, alcohol and body. These compounds create a reaction. For instance, tannin is bitter and astringent with a mouth-drying component. On the opposite spectrum is acidity, which contributes a tartness or tingling sensation that makes your mouth water. Sweetness can be a measure of the residual sugar, but high tannin and high acidity can mask sweetness. Alcohol can be sensed as heat toward the back of our throats. The body of a wine is measured by its weight and range of watery to thick.
Wine also has a time component. There is a taste journey or timeline, in which the tasting experience has a beginning, middle (mid-palate) and end (finish). In this time frame, the wine aromas and flavors change as they travel from your first sip, to the mid-palate and finish.
Evaluation
Lastly, ask yourself how the wine tasted? Was it balanced, youthful, fruit forward, complex?
The most important question of all, is if you liked it? What do you taste? Are there new fruit flavors that present themselves separate from what's on the nose? Is the fruit bright and refreshing or subtle? Is the texture and mouthfeel intense, sharp, silky, smooth, lush or creamy? Is the presence of oak apparent in the form of tobacco, vanilla, black tea, coffee?
At the end of the day, wine tasting is a meant to be fun! It's a personal experience and exploration of what aromas and flavors speak to you. So, we suggest grabbing some friends and diving into the tasting experience!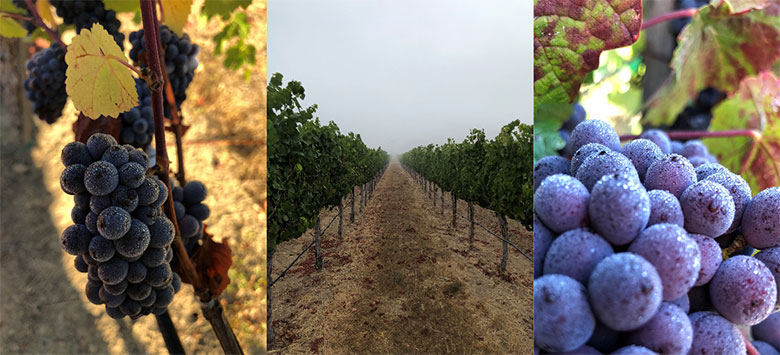 Anderson Valley is the perfect place for Pinot Noir! Yet, this wine region is off the beaten path and relatively unknown. But, for those who understand the nuances of this valley, would certainly call Anderson Valley the ideal home for world-class Pinot Noir.
Pinot Noir is a finicky varietal to grow. Much like Goldilocks not wanting her porridge too hot or too cold, the Anderson Valley is just right for Pinot Noir. Cool coastal fog funnels in from Mendocino through the Redwood Forest along the Navarro River, only to dissipate for a few hours during the afternoon, giving way to bright and warm sunlight. That cool fog retains acidity in the grapes and the warm afternoon sun increases the sugar content in the grape. Meaning that the Pinot Noir here experiences a consistent ripening.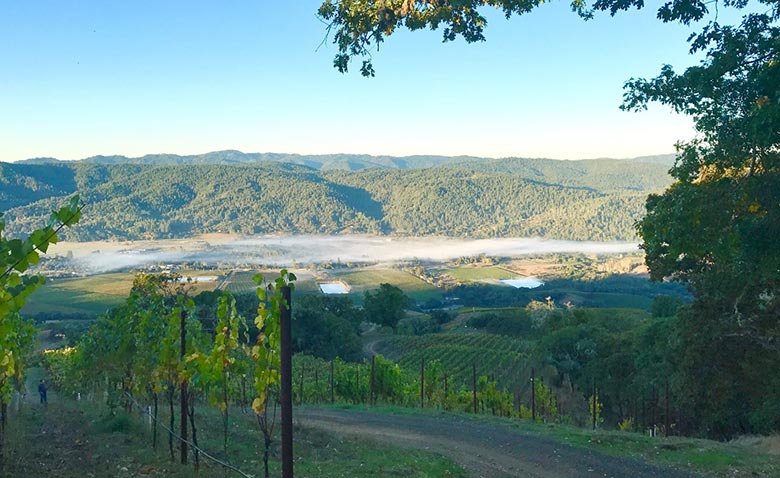 Anderson Valley offers two distinct terroirs in the form of steep ridgelines and low valley floor, both of which accentuate the best of Pinot Noir. The ridgeline vineyards experience a very different growing season than the valley floor blocks. A more intense sunlight radiates off the ridgelines throughout the day meanwhile the fog sits in the valley floor. The ridgeline slopes create a natural runoff and irrigation system which contributes to development of smaller berries and tighter bunches, with more concentration. Yields on these ridgelines are often smaller due to the vines focus on root growth, as they search deep into the gravely loam soils for nutrients. The intense ridgeline sunlight helps develop a thicker-skinned berry, establishing a stronger tannin presence in the wine. The fruit from the valley floor exhibits fruit forwardness and rich lush textures as well as earthy notes. Winemakers in Anderson Valley are able to craft beautifully rounded and balances wines from these different terroirs.
Due to the Anderson Valley's weaving terrain, it has a range of microclimates that allow for different profiles of juice to develop, some with bright acidity and others with dark fruit aromas. In most wine growing regions, only one of these flavor identifiers are present. The wines coming out of Anderson Valley are unique in that bright red fruit aromas are on the nose, but at the same time strong acidity, tannin and dark fruit flavors hit the palate. Much like the morning maritime fog gives way to the afternoon sun, the bright red fruit aromas on the nose give way to darker and bolder flavors on the palate.
Here at Goldeneye, we produce a range of Pinot Noirs grown on both the valley floor and steep ridgelines, shop here to see our offerings!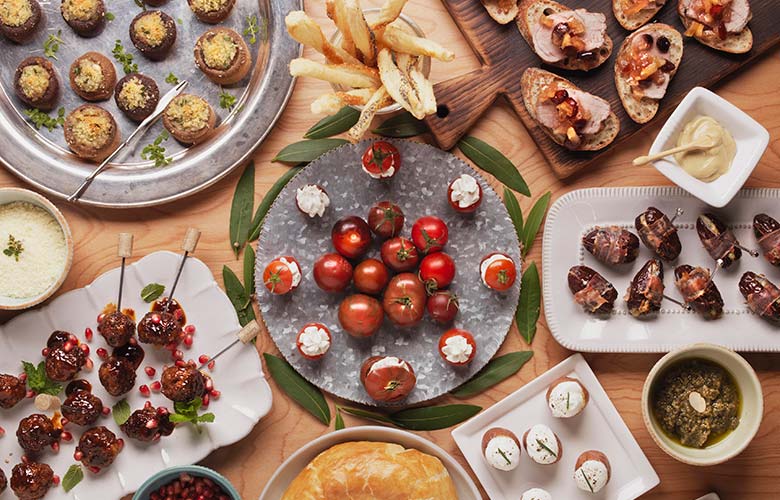 10 Tips for Holiday Entertaining:
The holidays are here! Can you hear the sleigh bells ringing? There is no better way to celebrate than with delicious culinary delights, world-class wines and your closest comrades.
Plan the most beloved bash of the holiday season by following the tips below from your favorite Events Team!
Tip 1: Have a Partner in Planning Crime – whether it is your significant other or your best friend, it is always beneficial to have an ally in planning. Two imaginations are always better than one!
Tip 2: Start Small – For your inaugural party, keep the guest count modest and manageable, recognizing that you can grow each year. We suggest starting with 12 guests (6 couples). This will ensure the setting is intimate and will allow all guests to interact with one another.
Tip 3: Plan an Activity – Give everyone something to look forward to and encourage some friendly holiday competition! Request that each couple brings two bottles of a selected wine and one dish to pair it with. Guests will vote on their favorite pairing, and the winners go home with an award, building special holiday traditions to look forward to each year.
Tip 4: Keep Things Organized – In order to prevent repeat dishes or wines, create a simple shared document or group text for everyone to submit their culinary creation and pairing varietal. This will encourage diversity of cuisines!
Tip 5: Create the Base – With your guests bearing the bounty for the main course, take it upon yourself to design the best crudité, cheese and charcuterie board to keep everyone satiated until the pairings begin. Add a handcrafted touch by trying out this delicious rosemary parmesan cheese straw recipe.
Tip 6: Provide the Necessities – While your loved ones focus on the food, you can administer the accoutrements. The essentials include: ample glassware, ice, plates, cocktail napkins, service-ware and non-alcoholic beverages.
Tip 7: Begin with Bubbles! – Nothing says celebration quite like sparkling wine. Welcome your friends by starting the evening with a Duckhorn Portfolio sparkling.
Tip 8: Play Photographer – Everyone wants photo memories, and no one remembers to take them! Once all guests have arrived, set aside 5-10 minutes to snap candid shots of the party. Don't forget to get everyone together for a group shot!
Tip 9: Keep a Few Surprises Up Your Sleeve – Our favorite element of 'surprise and delight' is sharing an exceptional wine. Bring out the special bottle of Duckhorn Vineyards The Discussion Napa Valley Red Wine you have been saving for the right occasion.
Tip 10: Present Your Guests with a Parting Gift – Although it is certain that no one will forget this night, provide your friends with a little memento upon parting. Whether it be an edible peanut brittle or a customized ornament, a thoughtful treat at departure is always a nice touch.

What are the perfect gifts for wine enthusiasts? We are bringing you a few of our favorite wine accessories, wine themed gifts and technology and wine experiences to help guide your holiday shopping.
Menagerie Aerator Pourers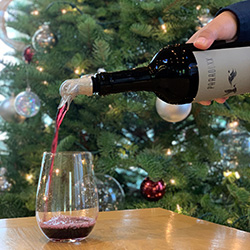 A wine aerator is a must have accessory for any wine lover! Aerator's are devices that enable oxygen to interact with the wine in an effort to 'awaken the aromas'. These devices are especially handy when you do not have one-to-two hours to decant your wine ,but want to soften the tannins and/or awaken the fruit aromas. Menagerie aerators are forged from high grade stainless steel, are dishwasher safe and offer over 100 different animal-themed styles! We are partial to the duck aerator!
West Wine Tours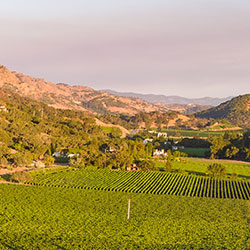 Wine tasting is all about the experience. The crew at West Wine Tours is taking that experience to a new level. These guys will take you on the quintessential Napa Valley tasting tour in a classic VW bus. Their day-long tour includes stops at three Napa Valley wineries for tastings as well as a delicious lunch. Tours start at $125 per person with their VW bus capacity ranging from 6 people to 8.
Riedel Decanter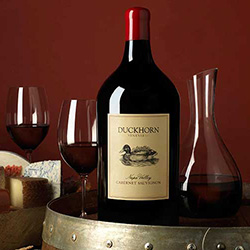 A decanter is a must-have item for any wine lover and an exquisite gift item. We decant older wines to remove the sediment and we decant younger wines to awaken their aromas. In addition, there is a charm and grace associated with the use of a decanter, thus enhancing the wine experience. Riedel crafts a range of decanters in with both elegant and playful designs making it a perfect gift for the wine lover in your life. Read more about decanting here: To Decant or Not to Decant
Coravin Wine System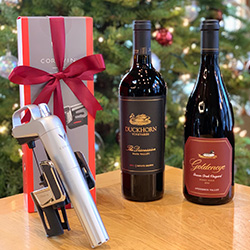 This innovative gadget siphons wine from the bottle without removing the cork and spoiling an entire bottle from oxidation. Coravin technology enables consumers to drink a glass today, lay down the bottle and pour another glass months or even years later, while keeping the wine fresh!
This is the perfect gift for those who want to test wines in their cellar or for those who just don't want to finish a bottle.
Duckhorn Portfolio Holiday Wine Gifts
With a total of 8 brands under our Duckhorn Portfolio umbrella, we have the perfect wine for every palate. Our small lot and single vineyards wines help curate a full selection of wine gift packs ready for giving. Our wine gift sets can only be purchased directly from our winery. So, whether you are shopping for a Merlot lover, a Cabernet Connoisseur or Pinot Noir aficionado, we have hand-selected luxury red and white wine offerings to please every palate!
Cheers and happy holiday shopping! Check out our online gift shop.