December 13, 2018 | Madison Ellis - Trade and Marketing Events Coordinator
Plan The Biggest Celebration of the Holidays!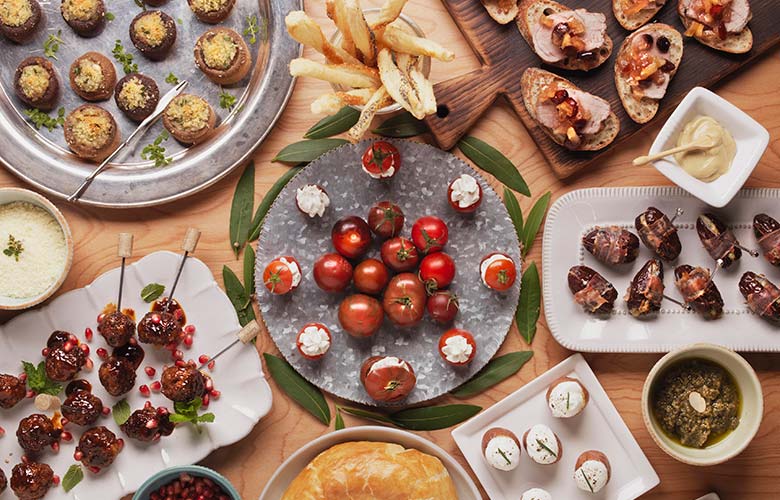 10 Tips for Holiday Entertaining:
The holidays are here! Can you hear the sleigh bells ringing? There is no better way to celebrate than with delicious culinary delights, world-class wines and your closest comrades.
Plan the most beloved bash of the holiday season by following the tips below from your favorite Events Team!
Tip 1: Have a Partner in Planning Crime – whether it is your significant other or your best friend, it is always beneficial to have an ally in planning. Two imaginations are always better than one!
Tip 2: Start Small – For your inaugural party, keep the guest count modest and manageable, recognizing that you can grow each year. We suggest starting with 12 guests (6 couples). This will ensure the setting is intimate and will allow all guests to interact with one another.
Tip 3: Plan an Activity – Give everyone something to look forward to and encourage some friendly holiday competition! Request that each couple brings two bottles of a selected wine and one dish to pair it with. Guests will vote on their favorite pairing, and the winners go home with an award, building special holiday traditions to look forward to each year.
Tip 4: Keep Things Organized – In order to prevent repeat dishes or wines, create a simple shared document or group text for everyone to submit their culinary creation and pairing varietal. This will encourage diversity of cuisines!
Tip 5: Create the Base – With your guests bearing the bounty for the main course, take it upon yourself to design the best crudité, cheese and charcuterie board to keep everyone satiated until the pairings begin. Add a handcrafted touch by trying out this delicious rosemary parmesan cheese straw recipe.
Tip 6: Provide the Necessities – While your loved ones focus on the food, you can administer the accoutrements. The essentials include: ample glassware, ice, plates, cocktail napkins, service-ware and non-alcoholic beverages.
Tip 7: Begin with Bubbles! – Nothing says celebration quite like sparkling wine. Welcome your friends by starting the evening with a Duckhorn Portfolio sparkling.
Tip 8: Play Photographer – Everyone wants photo memories, and no one remembers to take them! Once all guests have arrived, set aside 5-10 minutes to snap candid shots of the party. Don't forget to get everyone together for a group shot!
Tip 9: Keep a Few Surprises Up Your Sleeve – Our favorite element of 'surprise and delight' is sharing an exceptional wine. Bring out the special bottle of Duckhorn Vineyards The Discussion Napa Valley Red Wine you have been saving for the right occasion.
Tip 10: Present Your Guests with a Parting Gift – Although it is certain that no one will forget this night, provide your friends with a little memento upon parting. Whether it be an edible peanut brittle or a customized ornament, a thoughtful treat at departure is always a nice touch.
Comments
Commenting has been turned off.