Duckhorn Portfolio Wine Blog
Posts written by Neil Bernardi, Vice President of Winemaking and many special guest bloggers. This collection of insights on winemaking, farming, entertaining and more is a great way to learn about the excitement of winery life and tips for enjoying the wines we produce.

I was walking through the winery the other day and was stopped dead in my tracks by the vision pictured above. Is this beautiful or what? It is obvious that this electrician took a significant amount of pride in these pipe bends and joints, the strut, and planning out the flow of her or his work. I spent some time as an electrician's apprentice a long time ago and can attest to the fact that it is not easy to make this look as perfect as it does. It takes a lot of pride and attention to detail to be excellent at small things that, in all honesty, very few people are going to notice. The same is true of the many small operations that harvest is made of, each contributing in some small way to the final quality in every bottle. Whether it is entering lab data, processing a weigh tag, pulling a slightly pink cluster off of the sorting table, cleaning a tank, pulling a grape sample, or cleaning out a clogged drain, everything we do impacts and defines the quality of our wines at the end of the day. Walking around our wineries one can see a thousand examples of our team being excellent in the smallest of details, from the way a truck is unloaded to the proper coiling of a hose. Thanks to our incredible team for their passion and focus on being great, even in the small things.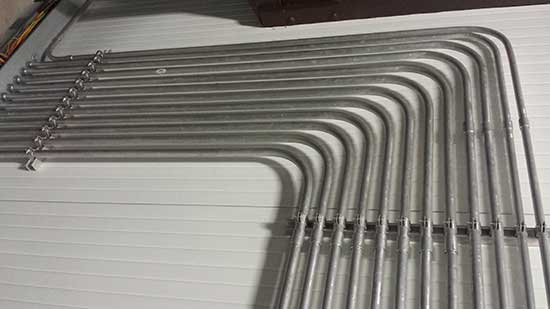 As we move towards completion of harvest, we are seeing more and more of the inside our presses. This photo (taken while complying with OSHA approved Confined Space Entry techniques!) is of the inside of a membrane press at Goldeneye. On the right hand side is the bladder, which inflates and deflates based on the press program and cycle, and which presses the grapes or pomace against the channels on the left hand side. In this case the drain channels have been removed for cleaning. The wine or juice runs out and into the waiting pan below, from which it is pumped to tank. The cylinder also rotates, which acts to break up the cake of skins and seeds, allowing more juice or wine to flow. Having an appropriate press cycle is critical, as the number of rotations, pressure, and timing can all have significant effects on the quality and yield of your pressing.

No review of important winemaking tools would be complete without a discussion of cellar boots. In the best case, they are your best friend – waterproof, hardworking, and up to the challenge of being kicked around all harvest long. In the worst case, they can be your worst enemy – cold, damp, and painful. Most days one spends 10-14 hours in their boots tromping around in various wet environments so it is a smart investment to get boots that can stand up to the pressure.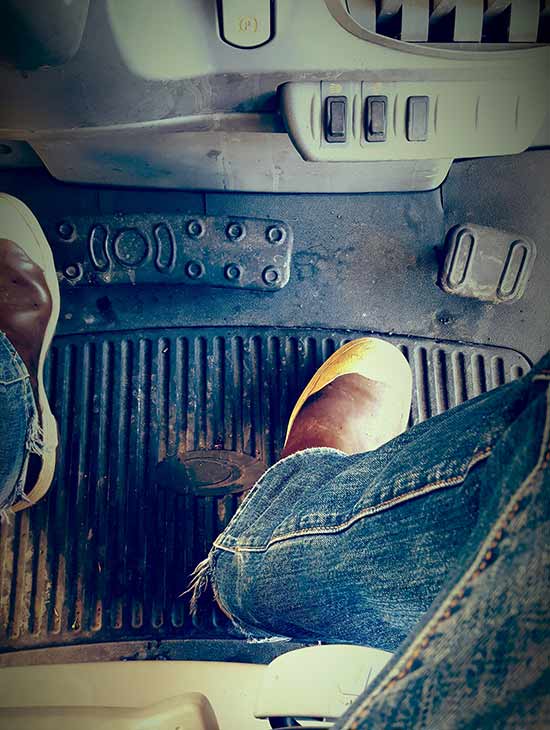 Congratulations to Bo Felton for finishing the Migration harvest! He brought his last tons in yesterday, some Dutton Ranch Chardonnay from the Triple JS Ranch. As with Goldeneye, this represents a record early year. Bo has many open top and barrel ferments to watch over yet, which is no small amount of work given how finicky chardonnay barrel fermentation can be. We tasted through his barrels the other day and there are many compelling and complex wines in the cellar. Nice job Bo!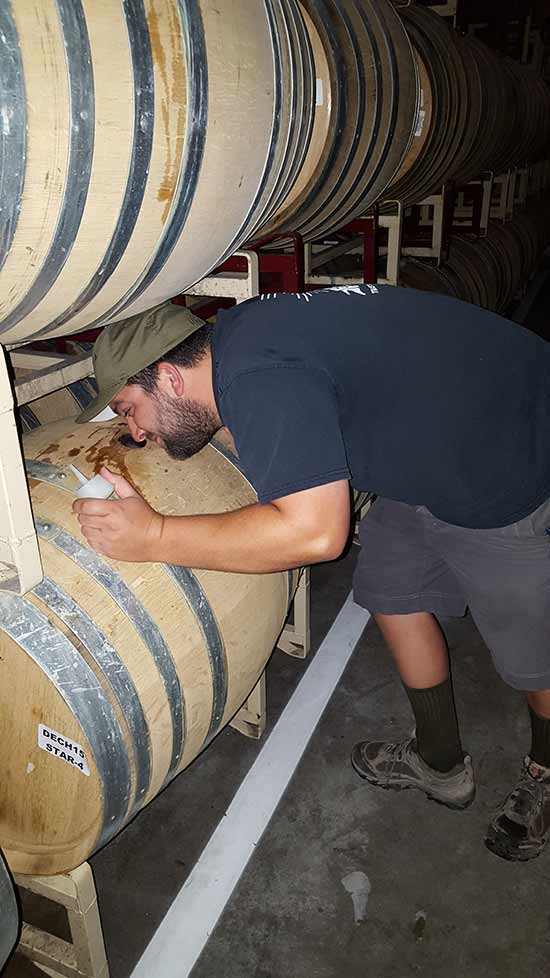 The winemaking team has received an extra challenge this year – they will be going toe to toe in a winemaking battle royale for the ages. They will be testing their winemaking skill and mettle in an Iron Chef-style ferment off. The common ingredient? Malbec from our Ridgeline Vineyard. The winning team will be showered in glory, plus receive a matchless prize selected by yours truly. Here are the details:
Each team has received 2 tons from the same block of Malbec.
The harvest date was determined by our very own PJ Alviso so the playing field is even.
Final judgment will happen on or around August 1, 2016.
The winner shall be determined as follows:
A carefully selected panel of DWC insiders will taste the wines double blind and rank based on pure preference. This score will represent 75% of the total judgment.
After the tasting, the winemaking teams will present the techniques or thought process they used, or didn't use, to make the wine. The judges will be looking at creativity, innovativeness, new (or very old) techniques, and general thoughtfulness when issuing their score, which will represent 25% of the total judgment.
I have tasted a few of them already and am excited to see the final results!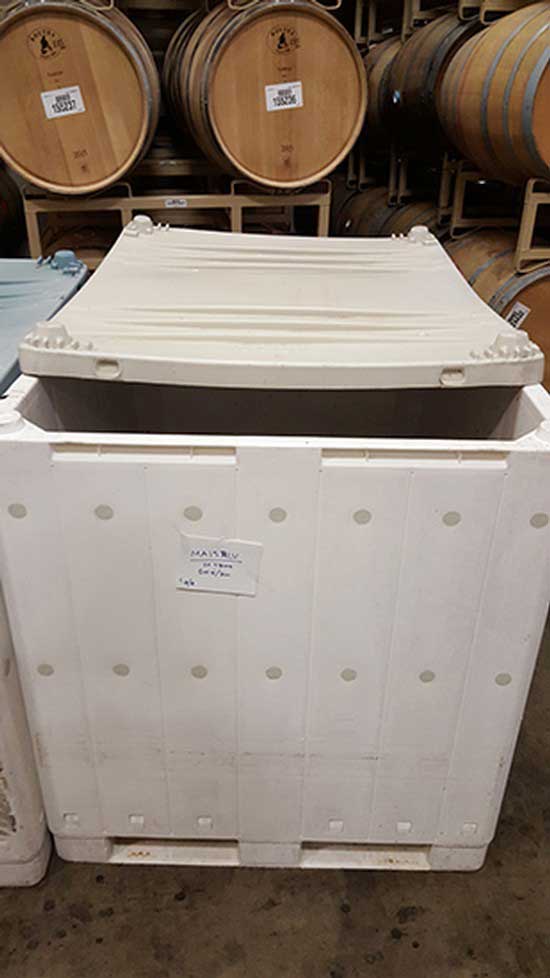 Congratulations to the Goldeneye team for completing our Anderson Valley harvest on Friday! This is the earliest Goldeneye harvest on record, and ranks up there with other early harvests like 2004. While they brought in their last fruit, there is still much work to be done finishing ferments, pressing, and barreling down. Michael Fay says everything is tasting great, another banner year for Goldeneye wines!
Check out this picture of most of the team last week on Tie Dye Friday, how cool are these guys?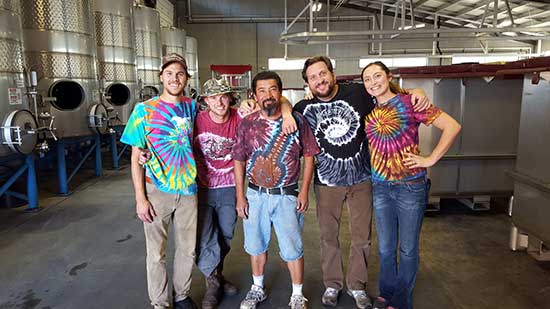 I had the great pleasure of working in the cellar yesterday with the awesome Paraduxx team. As you can imagine, they had a very busy day planned and had a lot to accomplish before the day was over. I was so lucky to be working with Alfonso Hurtado, pictured below, who has been with DWC for over 15 years, filling barrels with Duckhorn Chardonnay juice for barrel fermentation. There are few cellar operations as fun as this – crisply lined up barrel pyramids, delicious Chard juice, and the smell of toasty oak barrels and nascent fermentation around you. The process takes a lot of concentration as one is juggling two filling wands at a time, and the barrels have to be precisely filled so they don't overflow during fermentation. Many thanks to the Paraduxx team, and especially Alfonso, for letting me hang out with them for the day!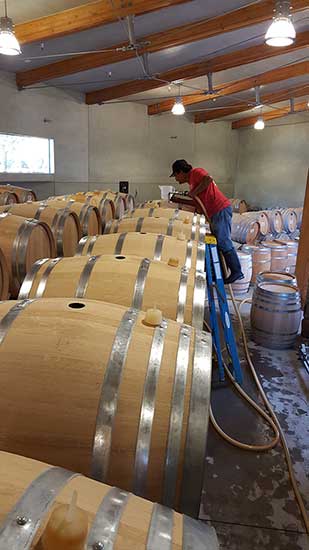 Check out this photo of the delicious Goldeneye Gewürztraminer in grape form. This was picked last Friday off of our Confluence vineyard, and tasted amazing. Gewurtz is one of the tastiest grapes (for me) because of its high terpene content. Terpenes are a diverse grouping of highly aromatic organic compounds produced by the vine, and are responsible for the spicy, lychee, lavender flavors and aromatics that make Gewurtz so enticing. Other varietals with high levels of terpenes are Muscat, Torrontes, and Viognier. If you haven't tried the finished wine from Goldeneye, make sure to grab a bottle quick this year, Michael and team only make 75 cases a year!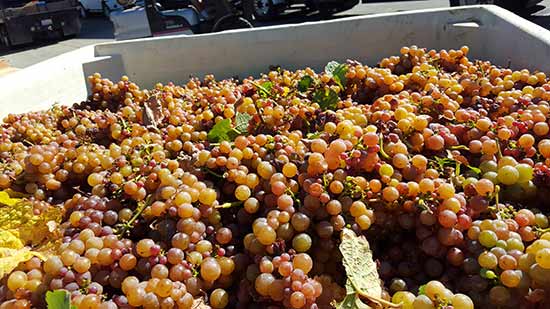 I arrived at our Decoy Winery in Hopland early this morning, around 6 am, and was greeted by this eerie sound from just on the other side of the pond. A decent sized pack of coyotes was on the prowl. What a cool way to start the day!

The Labor Day heat spike is right on time, and is making this harvest exciting. The weather report is telling us that we are in for 4-5 days of consistent heat, upwards of 104 degrees in some places. At this point in the growing season, this will put a lot of pressure on already tired vines, and we will see sugars increase dramatically through shrivel and desiccation. Pretty much everyone is picking as fast as they can to get grapes into the barn before things get overripe, and the team is doing an incredible job managing the many details of the peak of harvest, as always!