February 5, 2016 | PJ Alviso - VP, Central Coast Winegrowing
Pruning and Farmworkers
We're currently experiencing the first really pleasant weather of the year – all the more pleasant knowing that we have received above-average rainfall, and are likely to receive more in the near future. These breaks in the weather let us get important work in the field done, which as I mentioned in a previous post, is primarily pruning this time of the year. This morning I had the distinct pleasure of being a judge in the 15th annual Napa Valley Grapegrowers Pruning Contest, held at a vineyard in Yountville just down the street from our Paraduxx Winery. It is only fitting that we have a contest which rewards the best pruners in the valley as this is such an important cultural activity, and one that many of our Farmworkers take pride in.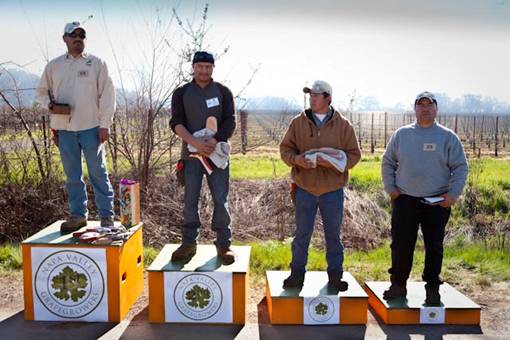 To prune quickly is one thing, and to prune well another – to prune well and at a fast pace is the ultimate, and takes many years of practice. Especially here in the North Coast, where quality is king, the experience and skills of our Farmworkers is an integral part of the winemaking process. We have the luxury of a very experienced Estate Vineyard Team that works on the Duckhorn Vineyards in Napa, many of whom have been with us for at least eight to ten years. In this time, they've gained a valuable understanding of our vineyards and individual blocks and know exactly how to sculpt the plant. Pruning is an art, and the Farmworkers in the North Coast are very talented artists.
Here's a video clip demonstrating the pruning process:
Comments
Commenting has been turned off.