Duckhorn Portfolio Wine Blog
Posts written by Neil Bernardi, Vice President of Winemaking and many special guest bloggers. This collection of insights on winemaking, farming, entertaining and more is a great way to learn about the excitement of winery life and tips for enjoying the wines we produce.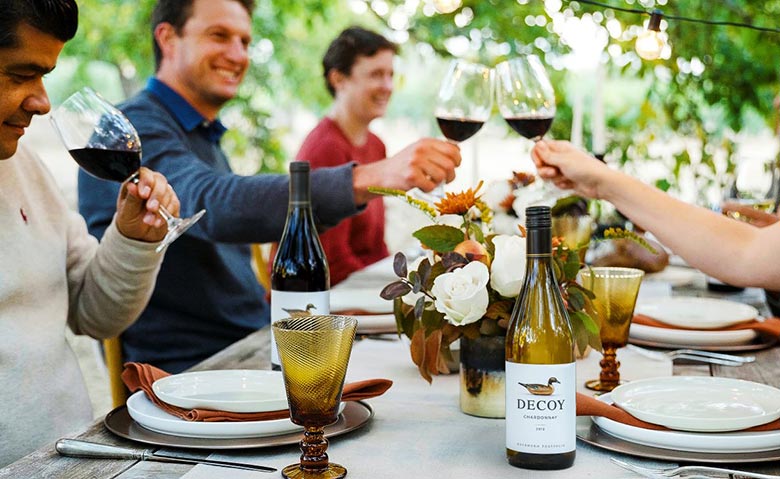 This year, our gratitude goes out to exceptional wine and even better company. Before it's time to carve the turkey (or spiral ham… or tofurky… or salmon wellington) you'll want to set the stage for a soirée that is upscale, elegant and deliciously delightful.
Think Ahead
Consider this: How many friends are attending? Is there adequate seating? Are all dishes accounted for? And most importantly – do you have enough wine? A standard bottle of wine should pour about five glasses, so make sure to do a proper headcount in advance.
Pro Tip: Be prepared with a backup plan. You can replenish your Decoy wine stock in the moment (even if the party has already begun) with Drizly or Instacart.
Plan Your Playlist
Planning a playlist can be a daunting task but go ahead and check this one off the list. We've got it covered with our official Decoy Wines Friendsgiving Playlist on Spotify – perfectly curated to complement your gathering.
Begin with Bubbles
Make guests feel truly welcomed with an opulent moment. This introduction is also the perfect time to make a statement – and a magnum of Decoy Brut Cuvée is sure to fit the bill.
But What About Pairings?
Whether you're hosting a traditional Thanksgiving meal or something more casual, there's a Decoy wine for every dish.
Decoy Sauvignon Blanc: Try this bright and lively crowd favorite with light appetizers, such as Dungeness crab puffs or baked brie.
Decoy Chardonnay and Decoy Pinot Noir: Both varietals are a perfect match for the traditional Thanksgiving oven-roasted turkey, as well as stuffed mushrooms.
Decoy Cabernet Sauvignon: Don't forget dessert – serve this bold yet balanced wine with a classic pecan pie or a rich blackberry cobbler to end the night.
For those who want to leave a lasting impression, showcase something a step above with our Decoy Limited wine selection, and check out our favorite Holiday Recipes for more pairing inspiration.
Give Thanks
As your Friendsgiving draws to a close, invite everyone to gather around for a game of gratitude! Prepare prompts and questions ahead of time for your guests to draw at random from a festive hat or decorative bowl. Here are some questions to get you started:
Which person in the room has inspired you most this year?
Offer a heartfelt compliment to the person sitting directly across from you.
What do you admire about the friendship you have with the host?
Express your gratitude to the person sitting directly on your left.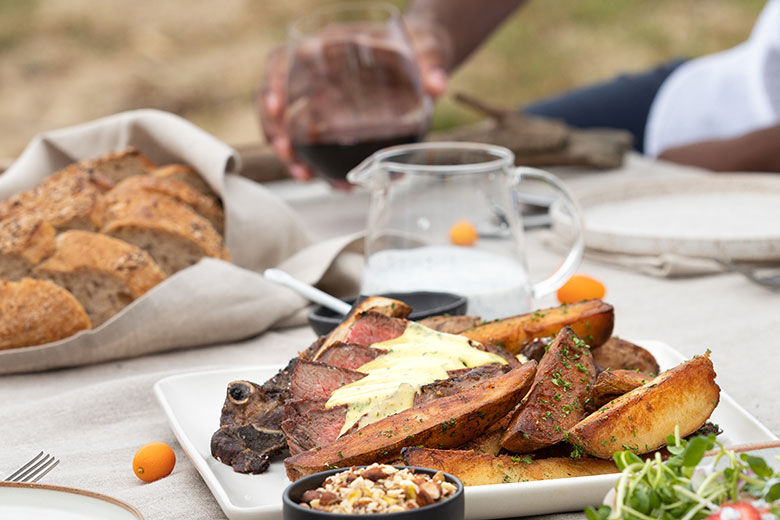 Pour a nice glass of Decoy Merlot and begin creating some amazing barbecue. And just to be sure, use a few of these tried-and-true learnings for getting the most out of every meat-making endeavor.

When using a dry rub or seasoning, first pat the meat dry, then add a light coat of vegetable oil to give that rub something to stick to. This keeps the flavor locked-on and helps create sear marks.
Create a hot side (directly over fire) and a cooler side (indirect heat) to your grill. Use the hot side to quickly sear and lock in the moisture of whatever you're cooking, then move to the side that has indirect heat to finish.
Using a thick, rich, high-quality BBQ sauce (like Rufus Teague) will keep that smoky, sweet flavor stuck to the food and not running off into the fire. It's a proven fact that sauce tastes better on meat than on charcoal.
For extra-sticky deliciousness, add the BBQ sauce to meat about 3/4 way through the cook. This will give the sauce time to add great flavor and become deliciously caramelized.
Always let meat rest before cutting into it. As soon as your goodies come off the grill, cover loosely with foil for 5-8 minutes. Longer if full cuts like brisket, roasts, whole chickens, etc. This will create a much juicier finished product.
Where there is winemaking, there is love. So, it should come as no surprise that Napa Valley is one of the most romantic places in the world and the perfect destination for wine lovers.
With world-class vineyards and wine tastings, scenic views, standout restaurants, and more, there are many ways to experience Napa Valley this Valentine's Day and beyond.

Is February a good time to go to Napa Valley?

A mild, temperate climate makes Northern California and Napa Valley wineries a coveted destination year-round. Expect temperatures in the mid-50s, clear sunny days intermixed with occasional rain and clouds. Every season is an opportunity to embrace the region's unique micro-climates and idyllic landscape. We recommend packing light layers and warm attire during this time of year.
The California wintertime is considered low-season, which could make a romantic getaway for Valentine's Day extra special. We aim to provide the highest level of hospitality and memorable guest experiences any time of year, but in general, fewer crowds can make way for more personal visits.

Discover the Most Romantic Things to Do in Napa Valley

Wine tasting always takes center stage. For those who love great Merlot, Cabernet Sauvignon, Sauvignon Blanc, Chardonnay, and more, a visit to Duckhorn Vineyards is ideal. Our nearby portfolio locations, Migration and Paraduxx, highlight Pinot Noir and Red Blends, this trio makes for the ultimate Napa Valley experience.
Our Classic Portfolio Tasting
Duckhorn Vineyards | St. Helena, California
$60/person — Reservations Required
A highlight of our five current-release Napa Valley wines from across our portfolio in an airy indoor or an idyllic outdoor setting (if weather permits) hosted by one of our stellar wine specialists— this experience is widely recognized as a must-do, "don't miss" visit.
Learn More
---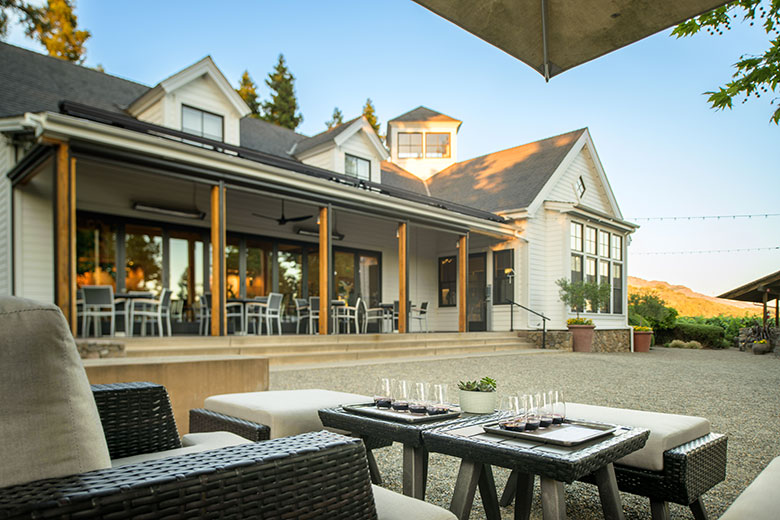 Rector Creek Estate Tasting
Paraduxx | Napa, California
$120/person — Reservations Required
A curation of sought-after small-production wines from our acclaimed estate vineyard paired alongside a cheese and charcuterie board in a relaxed, contemporary environment.
Learn More
---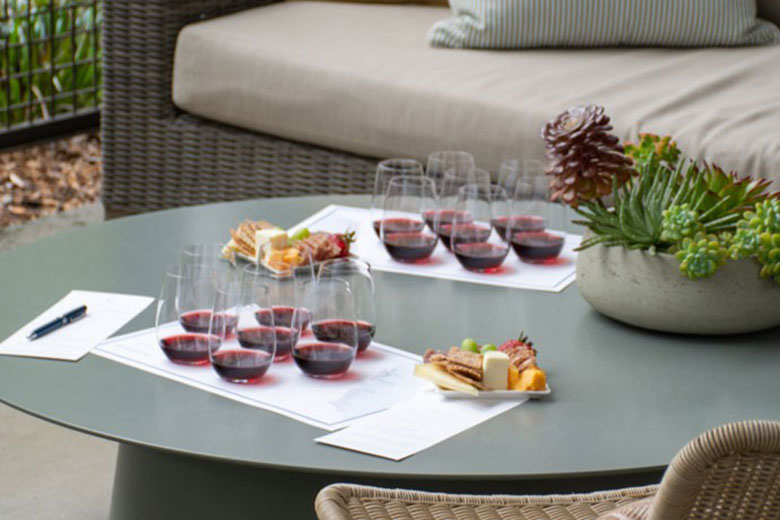 Pathway to Pinot
Migration | Napa, California
$100/person — Reservations Required
This is the best Valentine's Day wine tour for Pinot lovers! In this immersive experience, you'll enjoy a seated tasting, and a behind-the-scenes peek to see where the nuances of winemaking come to life.
Learn More
---
Known almost as much for its dynamic food scene, Napa Valley is a rich culinary destination. From traditional French fine dining to definitively California, farm-to-table casual, there are meals and menus everyone will appreciate.

We recommend outlining your itinerary ahead of time to ensure the most optimal experience. For more options and information on tasting experiences and to help plan your visit, contact us— we're happy to help. There is no better place to celebrate romance this Valentine's Day— join us in Napa Valley.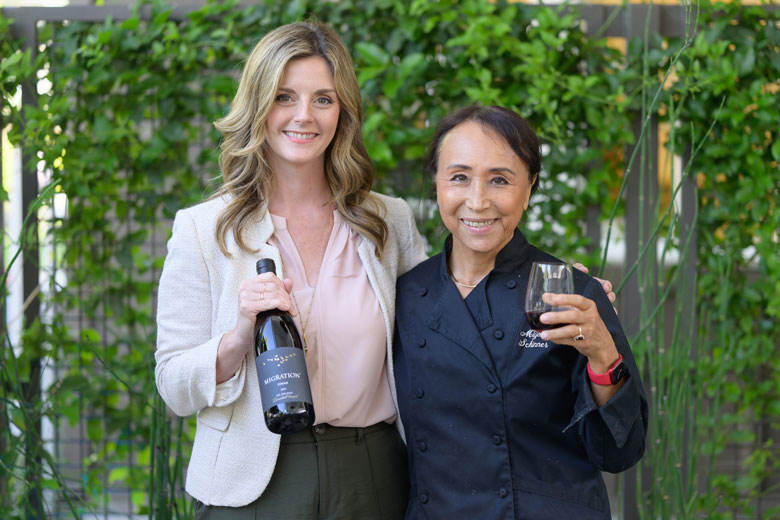 Chef Miyoko Schinner would like you to forget everything you think you know about food and wine pairings—those classic combinations such as steak and Cabernet, or fish and Chardonnay.
If anyone can do that, it's Schinner. The vegan multi hyphenate—cookbook author, restaurateur, TV show host, and founder of award-winning vegan cheese emporium, Miyoko's Creamery—built her remarkable career, earning accolades as a Food & Wine Gamechanger and on the elite Forbes 50 Over 50 List, in the cradle of California wine country, where she naturally developed an instinct for matching food with wine.
Yet when Schinner plans a tasting menu, the cuisine she pairs with wine is 100% plant based and free of animal products—hors d'oeuvres such as a pea and mint crostini with creme fraiche and caramelized pear, and dishes like honeynut squash and spinach ricotta souffle with herb cheese, potato chips, and malibar spinach, a persimmon, fennel, radicchio, frisee, apple and onion salad, and even a rustic, hearty "Boeuf Bourguignon."
Dishes such as these, and others, took center stage at two, four-course "Farm to Fork" wine dinners Schinner personally catered at Migration's new Carneros tasting room in 2022. Paired alongside winemaker Dana Epperson's elegant and cool climate Chardonnay and Pinot Noir, the events were the picture of what Schinner calls "accessible elegance"—aspirational and exciting dining experiences for those looking for elevated vegan cuisine beyond readily available plant-based fast food (like burgers and pizza).
"One of the reasons I'm such a big believer in wine country is because, like with most new innovation, you have to reach the early adopters, the people who are interested in, have the resources, and are curious about a diet that can be better for themselves, the planet, and everything else," said Schinner, who still lives in wine country, near Sonoma, in a phone call last November.
But wrestling a charcuterie board from the hands of a hangry tasting room visitor is no easy task. Just as wine has long been associated with affluence and refinement, "meat has always symbolized wealth and power," Schinner said. When it comes to pairing food and wine, "we're caught in that historical cultural trap."
"But it doesn't mean that we can't break out of it," she said. "One of the ways to break out of it is for us to start realizing how wonderful plants can be."
With sustainability increasingly a focus not just for wine consumers but the wine industry at large, and a growing awareness of the environmental impact of a meat-based diet, improving the availability of plant-based food options at wineries offers an experience that is more holistic and aligned with a winery's sustainability goals.
"That's why I was so thrilled to do this kind of partnership," said Schinner of joining forces with Migration. She went on to speak of plant based fine dining gaining traction with Michelin-starred restaurants and celebrity chefs.
Schinner's inspired and mouth-watering approach to gourmet vegan cuisine (full disclosure: I was a lucky and well-sated attendee at the November Farm to Fork dinner) is proof positive that all it takes is initiative and buy-in from willing, early-adopters such as Migration—where the proprietary Miyoko's Creamery cheese plate is already on offer—to make delicious and satisfying vegan cuisine, and a truly sustainable culture of food and wine, more accessible to everyone.
"I believe that food is a form of activism, but the form of activism doesn't have to be in your face," Schinner said. "It can just be, 'oh my God, look at this amazing food that's possible,' and that right there is all you really have to do."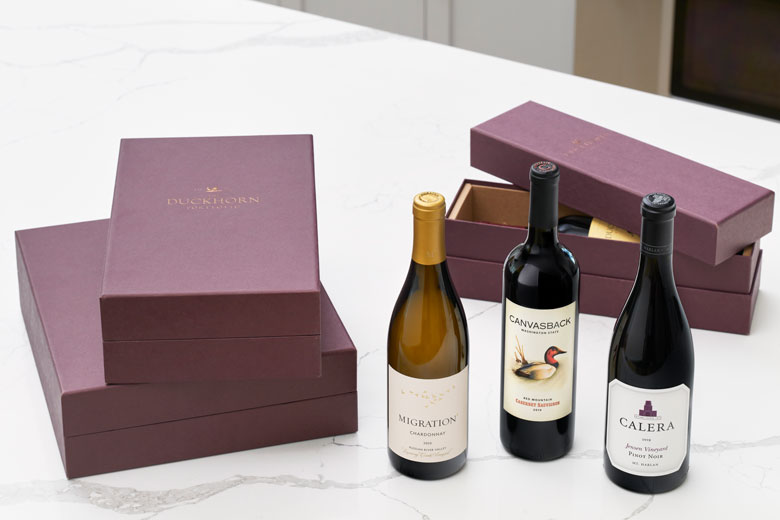 Wine Gifting Guide:
How to Choose the Right Wine
Wine makes the best gift. Wine is an experience; its complete sensory characteristics can remind us of beautiful memories and help to create new ones. Great wine is made to be shared, making it practically synonymous with celebration.
Why Give Wine as a Gift?
Giving wine is personal yet universally prized among wine lovers.
A bottle of wine can speak volumes to both the gift giver and the recipient. The wine's defining factors tell a story that goes beyond the glass. Its varietal, region, vintage and presentation are all a part of the gift — each of these characteristics should be considered when choosing a wine for your gift recipient.
Plus, wine is always in style— timeless and classic yet relevant to the present time, moment and place.
How to Choose the Right Wine
Here are a few helpful tips to consider when gifting wine:
What is a Good Wine to Gift?
There's a wine for every occasion. From wedding anniversaries and work milestones to hostess gifts and holidays, give gifts with meaning and gift luxury from The Duckhorn Portfolio.
Our Top Gift Picks
For a Birthday
Go with a classic Pinot, plus a pop of pink with bubbles for extra festivity.
The Goldeneye Celebration Set
For a Wedding, Anniversary or Engagement
For new unions and lasting traditions, a significant milestone calls for a major celebration with one of our best red wine gift sets.
Pinnacle of the Portfolio
For a Work Celebration
Set the stage for a well-deserved toast! The etched message on the bottle says it all: "Cheers!" This custom message makes this one of the best sparkling wine gifts!
Decoy Brut Cuvee Sparkling Wine
Holiday Wines
Make a lasting impression with a custom message. Just add an elegant gift box for instant presentation points!
2020 Duckhorn Vineyards Napa Valley Merlot Etched Happy Holidays
Gift a holiday classic - Cabernet Sauvignon - with the versatility of this curated trio.
A Cabernet Christmas Gift Set
For Everyday Special Moments Worth Celebrating
A refined gift with two exceptional wines— one of the best red and white wine gift sets!
Migration Sonoma Coast Gift Set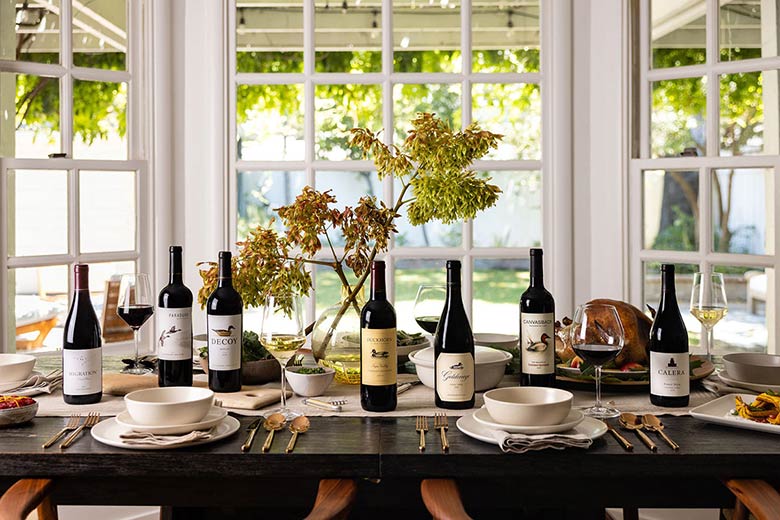 Our Thanksgiving Wine Guide:
Your Essential Companion to Thanksgiving Wine Pairings
Let's talk turkey— but more importantly, the wines that go well with turkey and your Thanksgiving menu.
We take an effortless yet elevated approach to wine pairings, especially during the holiday season. Each wine should complement your Thanksgiving meal to enhance the flavors of your feast without imposing limitations. There are no "right" or "wrong" decisions, only guidelines to help save time and encourage more shared moments of holiday joy.
Selected to pair with bold, traditional-with-a-twist flavors and curated from our portfolio of wines, these are our top picks for Thanksgiving Day Wines. From start to finish, we have compelling options for all your host and entertaining needs.
Red or White Wines with Turkey
To address the most frequently asked question: what wine goes with turkey? We have an answer. Both red and white are perfectly suitable; Pinot Noir and Chardonnay make excellent pairings.
From start to finish, light-bodied red wines make a lovely choice; Pinot Noir is a food-friendly wine that pairs well with a variety of dishes. Sweet potatoes, cranberry sauce, and roasted vegetables are menu highlights that enhance vibrant fruit flavors, enticing aromatics, and earthy notes.
We recommend: Goldeneye 2020 Anderson Valley Pinot Noir brings juicy raspberry, strawberry, and red plum alongside hints of bramble, black tea, anise, and sweet saddle leather with a touch of salinity that will elegantly complement the breadth of flavors in your Turkey Day feast.
Another excellent option: the 2020 Migration Russian River Valley Pinot Noir Running Creek Vineyard, a classically-styled, terroir-driven wine crafted at an exceptional growing site in the finest cool-weather region. Silky tannins and lush red fruit flavors give the wine a long, fresh finish.
For the white wine drinker, our Chardonnays extend well-balanced options with elegant details: lush texture, alluring aromas, and energetic acidity, and still a beautiful accompaniment to the main dish and traditional favorites like mashed potatoes, side salads, and irresistible buttered rolls.
We recommend: our mineral-driven 2020 Duckhorn Vineyards Napa Valley Carneros Chardonnay from the Huichica Hills Vineyard is an attractive option for those who prefer a lush, full-bodied experience to match the richness of the menu. A touch of fine French Oak with Anjou pear, white nectarines, and citrus blossoms will stand up nicely next to the spices of Thanksgiving.
For More Festivity
Count on Sparkling Whites and Rosé to bring fun and freshness. From pre to post-dinner, our breadth of options impress with every sip.
We recommend: crafted in the méthode champenoise tradition, our Decoy Brut Cuvée has an enticing palate with delicate sweetness, poise, and energy that sparkles for any occasion. The 2021 Paraduxx Napa Valley Rosé also makes a stunning starter to open with but also transitions well into the meal; this crisp and compelling bottle has a creamy mouth that carries a long, zesty finish.
A Bolder, Untraditional Approach
Depth, structure, and sophistication define our Cabernet Sauvignons. While typically seen as an intense pairing to Thanksgiving, we understand — sometimes you can't help what you love. These will pair well with those seeking hearty side dishes like our Rye Bread and Italian Sausage Stuffing, cheese-based courses, or alternatives to turkey like steak or other red meats.
We recommend: the 2019 Canvasback Red Mountain Cabernet Sauvignon, which expresses tantalizing aromas, and red fruit layers with supple hints of black plum, and baking spices. Perfection!
For Exciting Versatility
The light, refreshing crispness of our Sauvignon Blanc bottlings make this varietal an easy white wine recommendation. It's high-acidity and approachable palate pairs well with both poultry and herbaceous green vegetables like our Shaved Brussel Sprouts with Crispy Onions and Lemony Dill Vinaigrette.
We recommend: the 2021 Duckhorn Vineyards North Coast Sauvignon Blanc, harvested from our estate and elite vineyard sites; this bottle is rich with depth and complexity. Lush aromas, citrus, and tropical flavors with a Sémillon-driven silkiness that adds to its desirability.
A Tried and True Option
When in doubt, go with a red wine that covers your bases. Our Red Wine Blends will go well with rich, savory dishes across the board, like our Garlic and Parmesan Crimini Mushrooms with Pine Nuts and Oregano, a standout side dish that shows its latitude.
We recommend: the 2019 Paraduxx Proprietary Napa Valley Red Wine, a bold and expressive blend crafted to satisfy the modern palate. Voluptuous berry notes with hints of spices, supple tannins, and sophisticated layers provide a beautiful pairing during and after dinner.
Wine with Pie
Last but never least, what to do for dessert? Our Bourbon-Maple Walnut and Pecan Pie takes a familiar classic up a notch for an unforgettable tasting experience. Yes, you can have your pie and drink with it too.
We recommend: pair your pie with our 2019 Decoy Zinfandel, an engaging bottle with a generous fruit palate, smooth tannins, and bright acidity with subtle hints of oak-inspired vanilla, nutmeg, and spice that linger on the finish.
If you're skipping pie, our 2017 Calera Central Coast Viognier Doux is a sumptuous sweet wine that makes a beautiful alternative to dessert. With a bouquet of orange, apricot, and ginger. Lush, exotic layers balance sugar and acidity through a bright, lively finish.
Remember, the best wine pairings are those you enjoy drinking—cheers to a beautiful Thanksgiving and holiday season.
For more recommendations, contact our team directly (866) 367-9945, Monday- Friday from 8am-5pm (PST), or email at customerservice@duckhorn.com. We look forward to providing you with first-class, luxury service.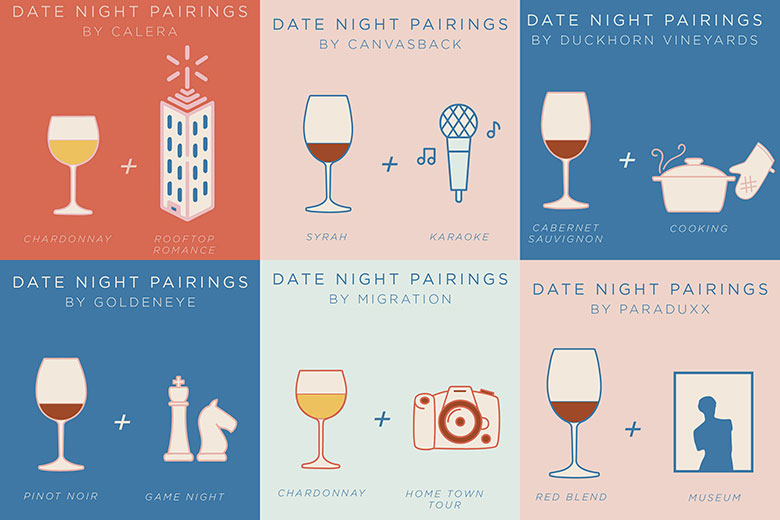 Are you still looking for a thoughtful Valentine's Day gift? Get inspired with date night ideas and wine to perfectly complement the experience. Here are our top picks.
Rooftop Romance
Capture the feeling that you're on top of the world with a rooftop rendezvous. Whether you're eyeing cascading views or the city skyline, this date is all about elevation. Effortlessly, transition sunset drinks to a romantic starlit dinner with this bottle. We recommend:
Karaoke Night
Love it or leave it, there's no room for shyness or inhibition on Karaoke Night. Bring the boldness to match your inner Mariah (Carey). There are two choices– we recommend:
Play Tourist in Your Own Town
Take this moment to explore tried and true landmarks in a new way – from the perspective of a tourist. What is the one thing your hometown is known for? Do that. Pair it with this, we recommend:
Game Night
Throw a healthy dose of competitive spirit into your date night itinerary with game night. Board games, word games, cards, charades or trivia – all call for a playful, fun yet deeply romantic bottle. We recommend:
Take a moment – close your eyes and envision the rolling hills, picturesque vineyards, exceptional landscapes and unfiltered light of Napa Valley. Transport yourself to the wine capital of California for a fun, engaging virtual wine tasting date.
Make Dinner Together + Dessert
Unless you have it down to a science, cooking together could be unpredictable. Stick to a classic, reliable bottle because if all else fails, you will still have an exquisite bottle to drink. We recommend:
Movie Night
Consider it the bread and butter of dates: often repeatable but never boring. Choose a classic flick or one you've held off for the right occasion. Only conundrum is that the references are limitless, so let's narrow your pairing selection down by genre. We recommend:
Rom-Com:
Horror:
Outdoor Adventure
You both love the outdoors and venturing new places so hiking is your go-to day date. Be sure to pack light and leave room for this wine pairing that will be the most complex thing you encounter along the way. We recommend:
Plan Your Next Vacation
Dreaming of your next getaway together– sounds like the perfect date! Put pencil to paper and build your ideal itinerary. Luxurious views, food, wine and relaxation – hint, hint: Napa Valley has it all. Drink well and plan accordingly. We recommend
Go to an Art Museum
Ready your senses with a feast for your eyes. Abstract, contemporary, realism – stroll the halls of a modern museum and admire the visionary works of art. Like our winemakers, each piece tells a story to activate emotions and a sensory experience. For this, we recommend: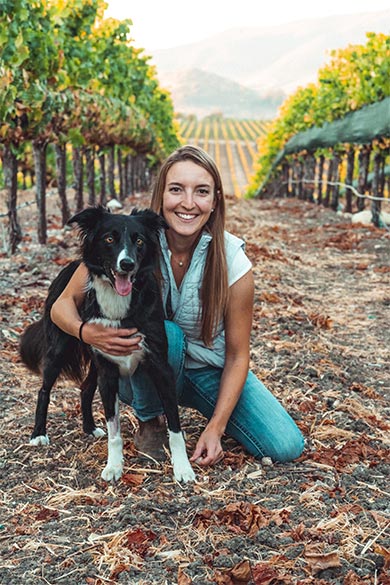 1. Tell us a little bit about where you are from and how you got started in wine.
I grew up on a grain farm in Chablis, France. Wine and vineyards have always been very present at home but I didn't grasp how much wine was a part of my culture, until I started working in the industry. People would asked me where I was from: "Burgundy! Yes, like the wine!" But also with how much ease I knew how to talk about it. I am an avid reader and I like to think that opening a bottle of wine is like opening a book, it tells a story.

I went to college to study foreign languages and international business and eventually did an internship with a wine importer in Montreal, Canada. They had an incredible team of passionate wine people who made me realize all of the things that make every wine unique. Having grown up in Ag, I was really missing that connection to the land and what surrounds us, but I could find it again in wine. As I was finishing my undergraduate, my brother was starting his to be a farmer and I was envious that he was that he was going to spend the rest of his life outside walking his fields and growing food. How cool is that? He convinced me that I could do it too. So I pursued a Master's in Agronomy, with a focus on viticulture and winemaking and found my happy place in vineyards!
2. How long have you been with The Duckhorn Portfolio?
After I graduated, I worked at home in Burgundy for a bit, then decided to come to California and did a harvest internship with Calera in 2016. I came back full time to work at Mt. Harlan with legendary Vineyard Manager Jim Ryan in June 2017. I have been with Duckhorn since they acquired Calera in August 2017. It has been amazing to work along and learn from Jim, who planted this incredible vineyard and cared for it for 40 years. He passed away last September, but I am very grateful for our time together at Mt Harlan.
3. What is a day in the life like for you at work?
My Border Collie Nina and I jump in the truck around 5ish in the morning and every day we drive to a different region in the Central Coast: Mt. Harlan, Monterey, Paso Robles, Santa Ynez and Santa Rita Hills. When we are not at Mt. Harlan, we visit all our Central Coast grower vineyards. We also like to find the most scenic back roads in the region! We spend time in the vineyards until early afternoon and finish the day in the office.
4. What do you wish people knew about wine/vineyards?
I wish people knew all the blood, sweat and tears that goes into a bottle! All the passion and dedication it takes to grow these grapes. Every year is different and we are constantly adapting, fine-tuning. I think farmers in general are like vineyards: they are resilient and resourceful!
5. What is your favorite food to pair with Pinot Noir? Chenin Blanc?
I love lamb with Pinot Noir. I enjoy Chenin Blanc with Pork Chops cooked with apple, onions and wine!
Whether your Holidays calls for a casual family dinner or a more formal feast, we're sharing a few instructions and, of course, wine pairings, to ensure your joy-filled holiday gathering goes off without a hitch.
Getting Started
You'll need a few essentials. Your table setting will include plates, cutlery: knife, forks and spoons, glassware, and napkins. Some extra items to consider are linens, place cards, and centerpieces.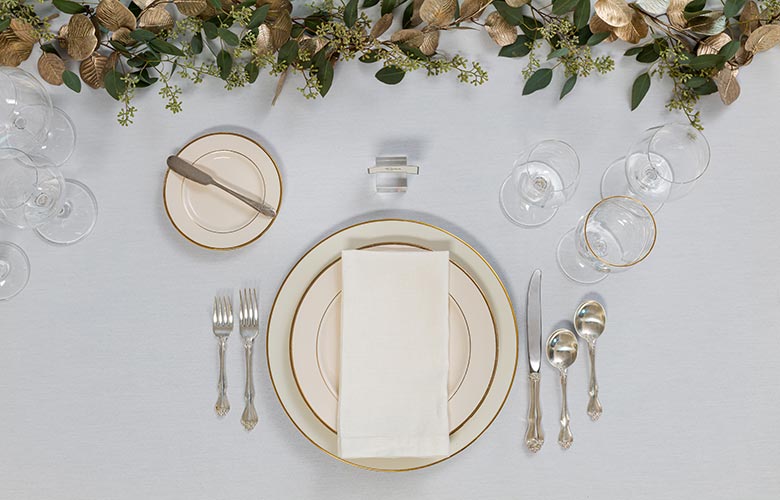 How to Set the Basic Table
We're going to start with a basic table setting and will use a popular acronym to easily remember where everything goes: FORKS.
Follow along from left to right:
F: Fork (main and salad fork, too)
O: Plate ("O" looks like your plate, right? If needed, stacking a salad plate directly on a dinner plate is appropriate)
R: We've made it to the right side of the plate
K: Knife goes here (edges in!)
S: Spoon, lastly (include a soup spoon, if needed)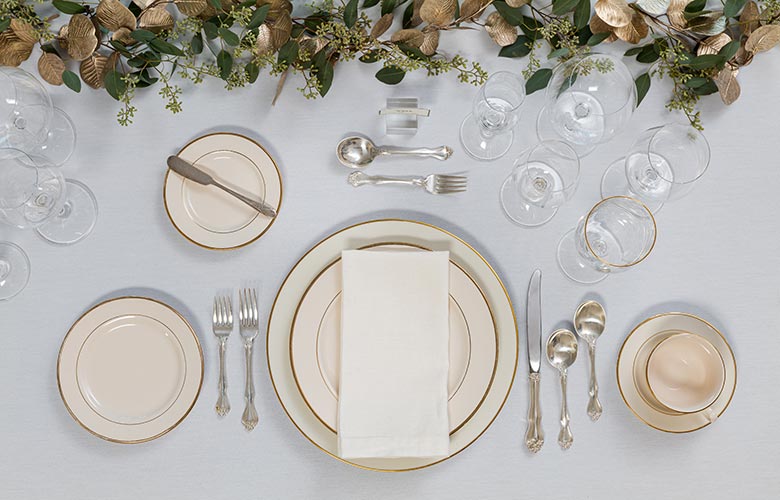 Extras: More to Know
Here's another perspective: place your plate in the center of the placemat. Your fork(s) will go on the left side; then your knife to the right of the plate and your spoon(s) to the right of your knife.
You can place your napkin directly on top of the plate and drinkware above the plate on the right side of your place setting. We recommend wine glasses are tiered above the main water glass.
Additional plating for salad and bread plate will go to the left of the main plate with the bread plate above and salad plate aligned, as it would be comfortably used.
For dessert, place an additional spoon and fork above the plate. The spoon handle should be facing right, while the fork handle should present to the left. Name card will go above or in front of the complete setting.
Have some fun with it! Dress up your table setting with festive but thoughtful placemats, thematic napkin rings, and centerpieces like floral arrangements and candles.
Which Wine Will Go Best with the Meal?
Rather than trying to match wines to specific dishes include wines that complement a range of food. The name of the game is versatility. Lighter, fruity reds pair well with turkey, while compelling, acidic whites can hold up next to rich side dishes. Across the board, the wine-country-cultivated, new American classics from The Duckhorn Portfolio make sense this Thanksgiving season.
Wine Recommendations:
2018 Goldeneye Anderson Value Pinot Noir Confluence Vineyard
With its ripe strawberry and red plum aromas and its fetching hints of mint and wildflowers, this is a fresh and radiant expression of Pinot Noir that pairs well with any dish.
Buy on DuckhornWineShop.com
2019 Migration Russian River Valley Chardonnay Running Creek Vineyard
Displaying the graceful energy that has become a trademark of Running Creek Vineyard, this lovely Chardonnay unfurls in supple layers of Fuji apple, Meyer lemon and delicate white flower notes.
Buy on DuckhornWineShop.com
2019 Canvasback Columbia Valley Riesling
The flavors of this white wine are bright and complex, with juicy citrus flavors and notes of candied ginger, fennel and mango all underscored by a beam of racy acidity that draws the wine to a crisp, dry finish.
Buy on DuckhornWineShop.com
Decoy Brut Cuvee Sparkling Wine
This enticing sparkling wine has a delicate sweetness that is perfectly balanced by bright acidity, which adds poise and energy to the lush, pure fruit flavors.
Buy on DuckhornWineShop.com
2018 Calera Mt. Harlan Viognier
The first sip of this wine is supple and viscous, and as it unfurls a current of bright acid emerges, framing the flavors and driving the wine to a tantalizing peaches and cream finish.
Buy on DuckhornWineShop.com
We hope you enjoy entertaining as much as your guests will enjoy their experience this holiday season. Cheers!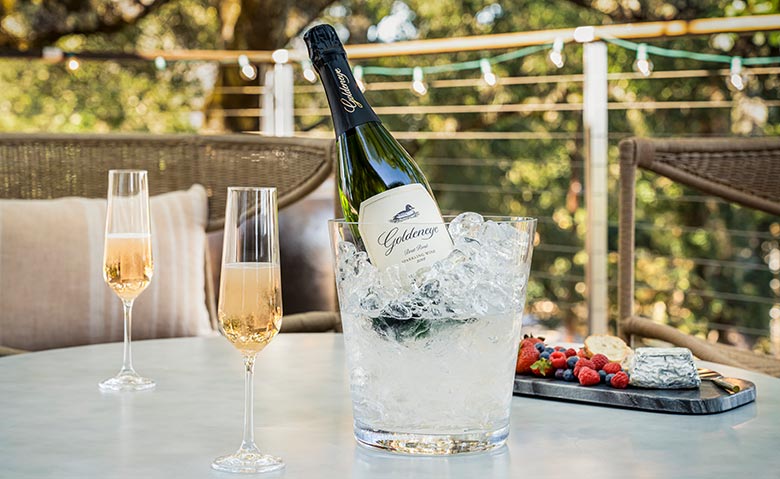 All that glitters is not gold and all wines that sparkle did not attain their bubbles in the same way! Three of our Duckhorn Portfolio wineries (Goldeneye, Migration and Decoy) all make excellent sparkling wines. With that achievement in mind let's take a moment to learn about the venerable method used to create these lovely bottlings.
All three of these wines sparkle because they were made following a labor-intensive process called the Méthode Champenoise. Méthode Champenoise translates roughly to "the Champagne Method." Wines have been made following this method since the late 17th century. Very appropriate terminology when you consider this pathway was devised in Champagne, France. Once the process was established the methodology traveled from France to Spain and on to Italy. Eventually this process was adapted by wineries in the New World including here in California. In the most precise terms Champagne wines hail only from the Champagne Region of France. When bubbly wines come from outside Champagne, France we call them sparkling wines. There are three main grapes that have been the stars in these kind of wines for centuries: Pinot Noir, Chardonnay and Pinot Meunier. All the sparkling wines made by The Duckhorn Portfolio feature unique combinations of these three traditional grapes.
Whether it is called Champagne or sparkling wine, what is important is how the wine is made. It is universally agreed upon that the best Champagnes and sparkling wines in the world are made following the Méthode Champenoise. The key element to this process is a secondary fermentation in the bottle.
This secondary fermentation is accomplished by adding the liqueur de tirage to the still base wine. The liqueur de tirage is a liquid solution of yeast, wine and sugar that is added to the still base wine resulting in a secondary fermentation in the bottle. The extra heft you feel on sparkling wine bottles is due to the thickness of the glass. This extra heft is necessary to contain the trapped carbonation safely inside and to prevent the bottle from exploding.
Once this base wine is seeded with the liqueur de tirage it is then bottled and closed with a crown cap like a cap on a bottle of beer – not a cork. The yeast consumes the sugar causing a second fermentation in the bottle. The resulting carbon dioxide from this fermentation remains trapped in the bottle. Fun fact, the PSI (pound force per sq inch) in a bottle of sparkling wine is typically between 70 and 90 pounds per square inch. That is two to three times the pressure in your car's tires and why you should always open these bottles carefully.
Quality sparkling wines are aged in contact with their yeast cells for several months, even up to six years. At the end of this process the cap is removed along with the expired yeast cells in a step called disgorgement. A finishing wine called the dosage is added that enhances complexity and establishes the sweetness level for the finished wine. Finally, the crown cap is replaced with the traditional cork held securely in place with a wire cage.
There are cheaper less artistic ways to get fizz into a bottle of wine. The important thing to remember is that the secondary fermentation happens in the bottle in high quality sparkling wines. Only wineries that follow the practice described here are legally able to use the phrase Méthode Champenoise or champagne method on their bottles. If you see the word "charmat" it means the secondary fermentation happened in a large tank, usually an indicator of a lesser quality wine.
Here's to celebrating life on a daily basis with flutes lifted high! Cheers!