November 4, 2022 | The Marketing Team
The Duckhorn Portfolio — Thanksgiving Wine Guide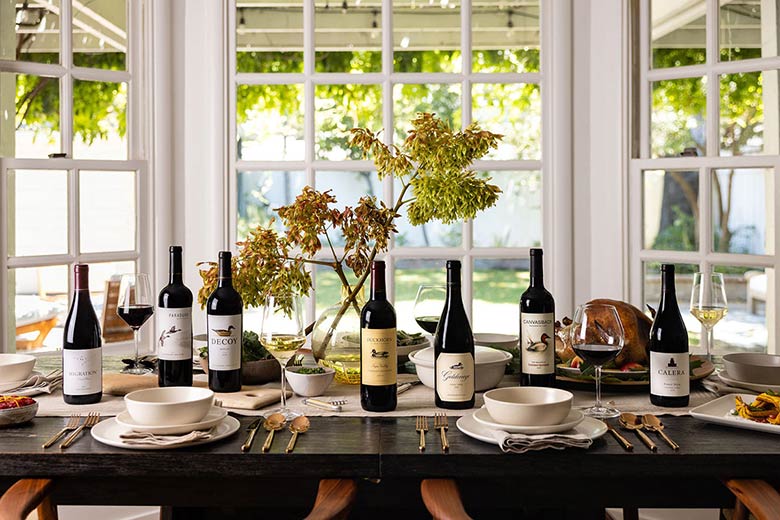 Our Thanksgiving Wine Guide:
Your Essential Companion to Thanksgiving Wine Pairings
Let's talk turkey— but more importantly, the wines that go well with turkey and your Thanksgiving menu.
We take an effortless yet elevated approach to wine pairings, especially during the holiday season. Each wine should complement your Thanksgiving meal to enhance the flavors of your feast without imposing limitations. There are no "right" or "wrong" decisions, only guidelines to help save time and encourage more shared moments of holiday joy.
Selected to pair with bold, traditional-with-a-twist flavors and curated from our portfolio of wines, these are our top picks for Thanksgiving Day Wines. From start to finish, we have compelling options for all your host and entertaining needs.
Red or White Wines with Turkey
To address the most frequently asked question: what wine goes with turkey? We have an answer. Both red and white are perfectly suitable; Pinot Noir and Chardonnay make excellent pairings.
From start to finish, light-bodied red wines make a lovely choice; Pinot Noir is a food-friendly wine that pairs well with a variety of dishes. Sweet potatoes, cranberry sauce, and roasted vegetables are menu highlights that enhance vibrant fruit flavors, enticing aromatics, and earthy notes.
We recommend: Goldeneye 2020 Anderson Valley Pinot Noir brings juicy raspberry, strawberry, and red plum alongside hints of bramble, black tea, anise, and sweet saddle leather with a touch of salinity that will elegantly complement the breadth of flavors in your Turkey Day feast.
Another excellent option: the 2020 Migration Russian River Valley Pinot Noir Running Creek Vineyard, a classically-styled, terroir-driven wine crafted at an exceptional growing site in the finest cool-weather region. Silky tannins and lush red fruit flavors give the wine a long, fresh finish.
For the white wine drinker, our Chardonnays extend well-balanced options with elegant details: lush texture, alluring aromas, and energetic acidity, and still a beautiful accompaniment to the main dish and traditional favorites like mashed potatoes, side salads, and irresistible buttered rolls.
We recommend: our mineral-driven 2020 Duckhorn Vineyards Napa Valley Carneros Chardonnay from the Huichica Hills Vineyard is an attractive option for those who prefer a lush, full-bodied experience to match the richness of the menu. A touch of fine French Oak with Anjou pear, white nectarines, and citrus blossoms will stand up nicely next to the spices of Thanksgiving.
For More Festivity
Count on Sparkling Whites and Rosé to bring fun and freshness. From pre to post-dinner, our breadth of options impress with every sip.
We recommend: crafted in the méthode champenoise tradition, our Decoy Brut Cuvée has an enticing palate with delicate sweetness, poise, and energy that sparkles for any occasion. The 2021 Paraduxx Napa Valley Rosé also makes a stunning starter to open with but also transitions well into the meal; this crisp and compelling bottle has a creamy mouth that carries a long, zesty finish.
A Bolder, Untraditional Approach
Depth, structure, and sophistication define our Cabernet Sauvignons. While typically seen as an intense pairing to Thanksgiving, we understand — sometimes you can't help what you love. These will pair well with those seeking hearty side dishes like our Rye Bread and Italian Sausage Stuffing, cheese-based courses, or alternatives to turkey like steak or other red meats.
We recommend: the 2019 Canvasback Red Mountain Cabernet Sauvignon, which expresses tantalizing aromas, and red fruit layers with supple hints of black plum, and baking spices. Perfection!
For Exciting Versatility
The light, refreshing crispness of our Sauvignon Blanc bottlings make this varietal an easy white wine recommendation. It's high-acidity and approachable palate pairs well with both poultry and herbaceous green vegetables like our Shaved Brussel Sprouts with Crispy Onions and Lemony Dill Vinaigrette.
We recommend: the 2021 Duckhorn Vineyards North Coast Sauvignon Blanc, harvested from our estate and elite vineyard sites; this bottle is rich with depth and complexity. Lush aromas, citrus, and tropical flavors with a Sémillon-driven silkiness that adds to its desirability.
A Tried and True Option
When in doubt, go with a red wine that covers your bases. Our Red Wine Blends will go well with rich, savory dishes across the board, like our Garlic and Parmesan Crimini Mushrooms with Pine Nuts and Oregano, a standout side dish that shows its latitude.
We recommend: the 2019 Paraduxx Proprietary Napa Valley Red Wine, a bold and expressive blend crafted to satisfy the modern palate. Voluptuous berry notes with hints of spices, supple tannins, and sophisticated layers provide a beautiful pairing during and after dinner.
Wine with Pie
Last but never least, what to do for dessert? Our Bourbon-Maple Walnut and Pecan Pie takes a familiar classic up a notch for an unforgettable tasting experience. Yes, you can have your pie and drink with it too.
We recommend: pair your pie with our 2019 Decoy Zinfandel, an engaging bottle with a generous fruit palate, smooth tannins, and bright acidity with subtle hints of oak-inspired vanilla, nutmeg, and spice that linger on the finish.
If you're skipping pie, our 2017 Calera Central Coast Viognier Doux is a sumptuous sweet wine that makes a beautiful alternative to dessert. With a bouquet of orange, apricot, and ginger. Lush, exotic layers balance sugar and acidity through a bright, lively finish.
Remember, the best wine pairings are those you enjoy drinking—cheers to a beautiful Thanksgiving and holiday season.
For more recommendations, contact our team directly (866) 367-9945, Monday- Friday from 8am-5pm (PST), or email at customerservice@duckhorn.com. We look forward to providing you with first-class, luxury service.
Comments
Commenting has been turned off.