January 13, 2022 | Customer Service
Meet Mylene at Calera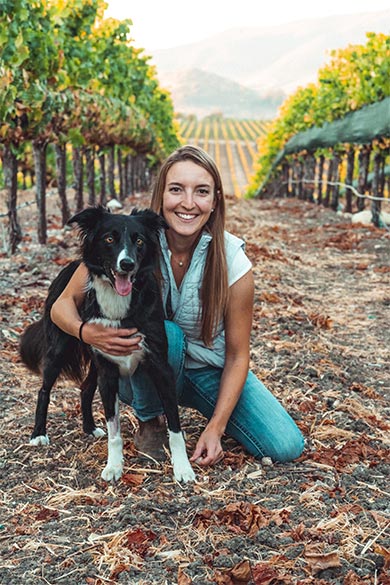 1. Tell us a little bit about where you are from and how you got started in wine.
I grew up on a grain farm in Chablis, France. Wine and vineyards have always been very present at home but I didn't grasp how much wine was a part of my culture, until I started working in the industry. People would asked me where I was from: "Burgundy! Yes, like the wine!" But also with how much ease I knew how to talk about it. I am an avid reader and I like to think that opening a bottle of wine is like opening a book, it tells a story.

I went to college to study foreign languages and international business and eventually did an internship with a wine importer in Montreal, Canada. They had an incredible team of passionate wine people who made me realize all of the things that make every wine unique. Having grown up in Ag, I was really missing that connection to the land and what surrounds us, but I could find it again in wine. As I was finishing my undergraduate, my brother was starting his to be a farmer and I was envious that he was that he was going to spend the rest of his life outside walking his fields and growing food. How cool is that? He convinced me that I could do it too. So I pursued a Master's in Agronomy, with a focus on viticulture and winemaking and found my happy place in vineyards!
2. How long have you been with The Duckhorn Portfolio?
After I graduated, I worked at home in Burgundy for a bit, then decided to come to California and did a harvest internship with Calera in 2016. I came back full time to work at Mt. Harlan with legendary Vineyard Manager Jim Ryan in June 2017. I have been with Duckhorn since they acquired Calera in August 2017. It has been amazing to work along and learn from Jim, who planted this incredible vineyard and cared for it for 40 years. He passed away last September, but I am very grateful for our time together at Mt Harlan.
3. What is a day in the life like for you at work?
My Border Collie Nina and I jump in the truck around 5ish in the morning and every day we drive to a different region in the Central Coast: Mt. Harlan, Monterey, Paso Robles, Santa Ynez and Santa Rita Hills. When we are not at Mt. Harlan, we visit all our Central Coast grower vineyards. We also like to find the most scenic back roads in the region! We spend time in the vineyards until early afternoon and finish the day in the office.
4. What do you wish people knew about wine/vineyards?
I wish people knew all the blood, sweat and tears that goes into a bottle! All the passion and dedication it takes to grow these grapes. Every year is different and we are constantly adapting, fine-tuning. I think farmers in general are like vineyards: they are resilient and resourceful!
5. What is your favorite food to pair with Pinot Noir? Chenin Blanc?
I love lamb with Pinot Noir. I enjoy Chenin Blanc with Pork Chops cooked with apple, onions and wine!
Comments
Commenting has been turned off.