Duckhorn Portfolio Wine Blog
Posts written by Neil Bernardi, Vice President of Winemaking and many special guest bloggers. This collection of insights on winemaking, farming, entertaining and more is a great way to learn about the excitement of winery life and tips for enjoying the wines we produce.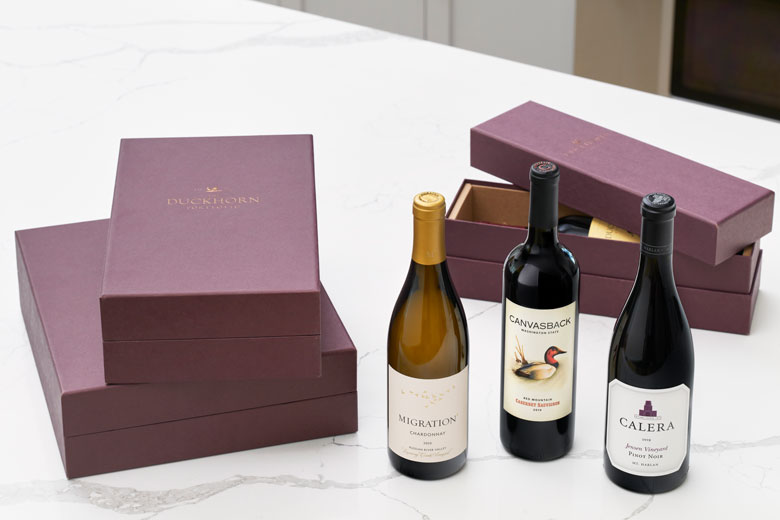 Wine Gifting Guide:
How to Choose the Right Wine
Wine makes the best gift. Wine is an experience; its complete sensory characteristics can remind us of beautiful memories and help to create new ones. Great wine is made to be shared, making it practically synonymous with celebration.
Why Give Wine as a Gift?
Giving wine is personal yet universally prized among wine lovers.
A bottle of wine can speak volumes to both the gift giver and the recipient. The wine's defining factors tell a story that goes beyond the glass. Its varietal, region, vintage and presentation are all a part of the gift — each of these characteristics should be considered when choosing a wine for your gift recipient.
Plus, wine is always in style— timeless and classic yet relevant to the present time, moment and place.
How to Choose the Right Wine
Here are a few helpful tips to consider when gifting wine:
What is a Good Wine to Gift?
There's a wine for every occasion. From wedding anniversaries and work milestones to hostess gifts and holidays, give gifts with meaning and gift luxury from The Duckhorn Portfolio.
Our Top Gift Picks
For a Birthday
Go with a classic Pinot, plus a pop of pink with bubbles for extra festivity.
The Goldeneye Celebration Set
For a Wedding, Anniversary or Engagement
For new unions and lasting traditions, a significant milestone calls for a major celebration with one of our best red wine gift sets.
Pinnacle of the Portfolio
For a Work Celebration
Set the stage for a well-deserved toast! The etched message on the bottle says it all: "Cheers!" This custom message makes this one of the best sparkling wine gifts!
Decoy Brut Cuvee Sparkling Wine
Holiday Wines
Make a lasting impression with a custom message. Just add an elegant gift box for instant presentation points!
2020 Duckhorn Vineyards Napa Valley Merlot Etched Happy Holidays
Gift a holiday classic - Cabernet Sauvignon - with the versatility of this curated trio.
A Cabernet Christmas Gift Set
For Everyday Special Moments Worth Celebrating
A refined gift with two exceptional wines— one of the best red and white wine gift sets!
Migration Sonoma Coast Gift Set