February 14, 2022 | The Marketing Team
Date Night with The Duckhorn Portfolio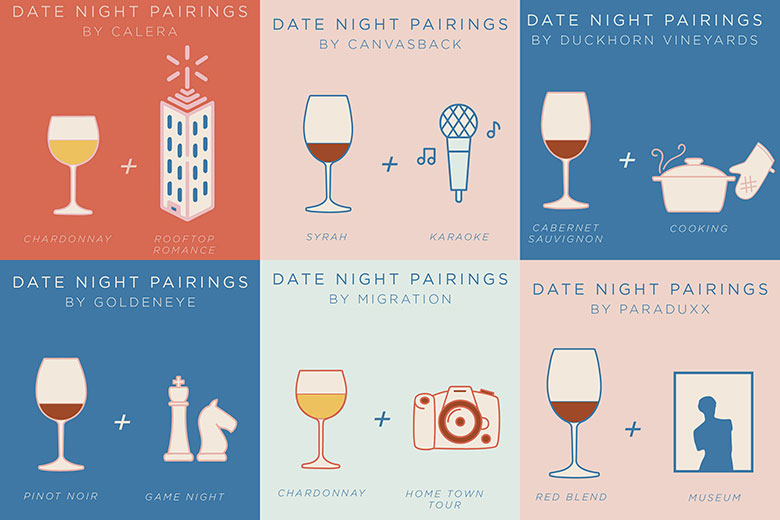 Are you still looking for a thoughtful Valentine's Day gift? Get inspired with date night ideas and wine to perfectly complement the experience. Here are our top picks.
Rooftop Romance
Capture the feeling that you're on top of the world with a rooftop rendezvous. Whether you're eyeing cascading views or the city skyline, this date is all about elevation. Effortlessly, transition sunset drinks to a romantic starlit dinner with this bottle. We recommend:
Karaoke Night
Love it or leave it, there's no room for shyness or inhibition on Karaoke Night. Bring the boldness to match your inner Mariah (Carey). There are two choices– we recommend:
Play Tourist in Your Own Town
Take this moment to explore tried and true landmarks in a new way – from the perspective of a tourist. What is the one thing your hometown is known for? Do that. Pair it with this, we recommend:
Game Night
Throw a healthy dose of competitive spirit into your date night itinerary with game night. Board games, word games, cards, charades or trivia – all call for a playful, fun yet deeply romantic bottle. We recommend:
Take a moment – close your eyes and envision the rolling hills, picturesque vineyards, exceptional landscapes and unfiltered light of Napa Valley. Transport yourself to the wine capital of California for a fun, engaging virtual wine tasting date.
Make Dinner Together + Dessert
Unless you have it down to a science, cooking together could be unpredictable. Stick to a classic, reliable bottle because if all else fails, you will still have an exquisite bottle to drink. We recommend:
Movie Night
Consider it the bread and butter of dates: often repeatable but never boring. Choose a classic flick or one you've held off for the right occasion. Only conundrum is that the references are limitless, so let's narrow your pairing selection down by genre. We recommend:
Rom-Com:
Horror:
Outdoor Adventure
You both love the outdoors and venturing new places so hiking is your go-to day date. Be sure to pack light and leave room for this wine pairing that will be the most complex thing you encounter along the way. We recommend:
Plan Your Next Vacation
Dreaming of your next getaway together– sounds like the perfect date! Put pencil to paper and build your ideal itinerary. Luxurious views, food, wine and relaxation – hint, hint: Napa Valley has it all. Drink well and plan accordingly. We recommend
Go to an Art Museum
Ready your senses with a feast for your eyes. Abstract, contemporary, realism – stroll the halls of a modern museum and admire the visionary works of art. Like our winemakers, each piece tells a story to activate emotions and a sensory experience. For this, we recommend:
Comments
Commenting has been turned off.