Duckhorn Portfolio Wine Blog
Posts written by Neil Bernardi, Vice President of Winemaking and many special guest bloggers. This collection of insights on winemaking, farming, entertaining and more is a great way to learn about the excitement of winery life and tips for enjoying the wines we produce.

Just a quick update on harvest, we had a brief but concerning rain event on Saturday. While we didn't get much accumulation, it was quite warm and humid, and if not for the warm, breezy afternoon, would certainly have posed some problems in the vineyards. The weather this week looks good, though there is the chance of another small precipitation event this weekend, which could be problematic if it materialized.
We are currently finishing the Duckhorn SB and moving into the Chardonnay. Also, we have brought in some of the early Napa Valley reds like Three Palms for both Duckhorn Vineyards and Paraduxx. Incredibly, we are already more than 50% complete with the harvest in the Anderson Valley, a record early year. On the Sonoma Side, Migration has done a good chunk of its Pinot Noir, but is just starting to bring in Chardonnay. Decoy is in the middle of Sauvignon blanc, Pinot, Chardonnay, and some of the later ripening reds are beginning to trickle in. It has been a great start to harvest, but there is still a long ways to go.

It has long been a tradition in the wine business to give out harvest T-shirts or other logo'd schwag to the crew to commemorate successful completion of harvest. Each year typically has to have a distinct logo and message, and speaks to the nature of that particular harvest. I did a vintage with Kim Crawford in Marlborough, and being a very fashion forward guy, he gave everyone bright pink beanies with the K. Crawford logo on them. Another year, when I was working as an intern at another winery, we ate the same sandwiches for lunch every day for three months straight. It also happened to be a rather long and drawn out harvest. That year the T shirt read "One Day and One Sandwich at a Time!". Check out this year's DWC version, nice job Val Crane!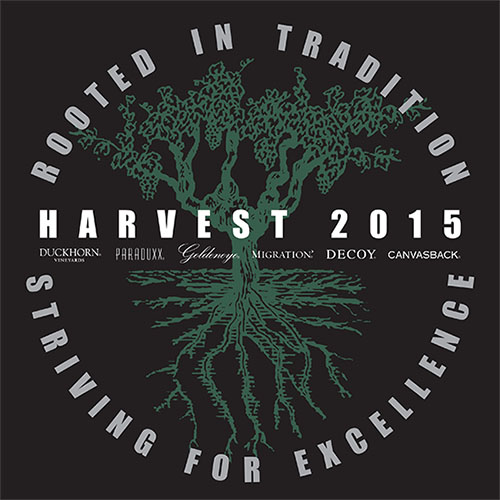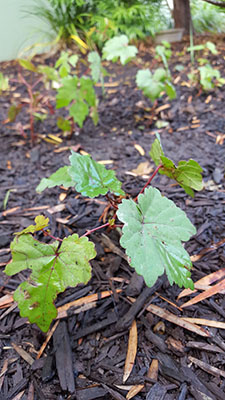 I was rinsing out some sample buckets today and noticed these grape seedlings, growing on the side of the cement where we usually process grape samples. They were seeds from field samples of years gone by, germinated and growing wild. One of the remarkable things about modern viticulture is that all of the grape vines that are growing in the field today were propagated using vegetative material, meaning that each one is genetically identical (or genetically very close) to their parent plant. This has been happening for many, many years, and the varietals we use have been selected for their various positive wine properties. The reason why we propagate vine material vegetatively is that seed represents a genetic recombination, and at this point we can't predict the traits of that offspring and there is a high rate of failure. One would have to take thousands, if not tens of thousands, of seedlings, grow them up and track their traits to find new and favorable varietal crosses – certainly a daunting task. This means that change in the world of grape varietals is extremely slow, and mostly comes from selections with slightly different but interesting traits (i.e. clones). That being said, Randall Grahm, ever the innovator, has started a project focusing on planting new crossbreeds in his vineyard in San Juan Bautista.

I just had the chance to taste through the final (and recently) bottled versions of the 2014 Migration Single Vineyard Chardonnays – all were awesome! They each speak to their place of origin so well, are wonderfully balanced, and have great lasting acidity. Nice job Bo!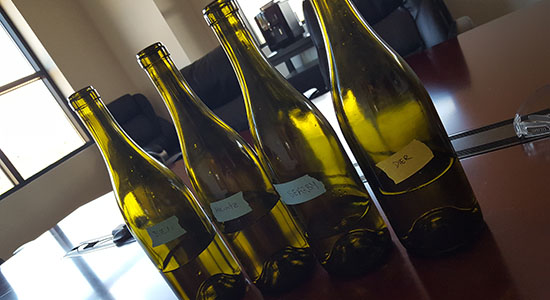 This Sunday I harvested a ton of Cherry and Sungold tomatoes from the garden. I roasted them with some eggplant from my mom's garden and put it over some grilled chicken – a perfect pairing with Goldeneye Pinot!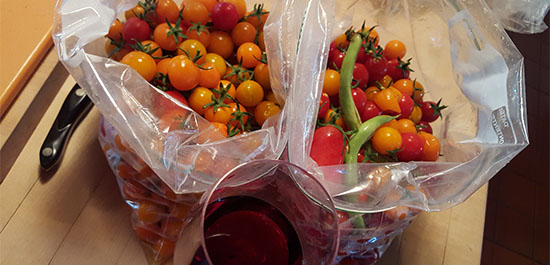 One of the best parts of working for Duckhorn Wine Company is the incredible team. There are so many great folks working with such diligence and care, making sure that every bottle of wine we make is the best it can be. One such stellar individual is Efrain Cardona, our Cellarmaster at Waterfowl Winery, where we make most of our Decoy wines. Efrain exudes positivity, and is a pleasure to spend time with. In addition, he cares deeply about wine quality, and is constantly looking for ways we can improve our wines. He has worked in the wine industry for 23 years, spending most of his career at Kunde. He started in the field, working for 3 years in the vineyard, and then moved up the ladder in the cellar, taking positions in every aspect of the winemaking process, from the bottling line, QC team, lab, and as a winetracker and cellarmaster. Efrain manages our cellar team at Waterfowl, which takes a whole lot of patience, organization, and attention to detail. Efrain is also quite the renaissance man, and is an avid gardener, home winemaker, and bee keeper. Efrain is also a carnitas master, much to the team's collective delight.


Goldeneye Cellar Hyperlapse from PJ Alviso on Vimeo.
As I mentioned a few days back, punch downs are a very specific and important element of making fine Pinot Noir. As the cool hyperlapse of the Goldeneye cellar(courtesy of the industrious PJ Alviso) above shows, this is a time consuming process that puts us up close and personal with our wines. The team is using pneumatic punch down devices which use air pressure to get the job done. This cellar is also remarkable for a few reasons, the first being the presence of many mobile 3 ton fermenters. This gives Michael Fay, our GE winemaker, and his team the ability to ferment and press small lots of estate fruit separately. In addition, they can be moved easily around the winery and directly dumped into the press, which is very convenient. Another element of the excellent design of this cellar (courtesy of our COO and former GE winemaker Zach Rasmuson) is it's remarkable flexibility. Everything you see in this picture can be moved in the off season, turning this fermentation hall into a barrel hall, bottled goods hall, or party hall.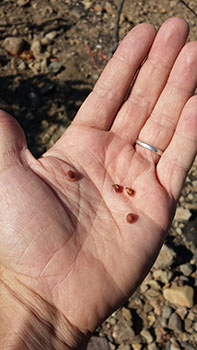 What indicators does one use to determine when to harvest fruit? Should one pick based on brix, TA, pH, flavor, seed lignification, phenolics, canopy status, water status, crew availability, tank availability, truck availability, inclement weather, or just feel? How long can we wait to pick before really pissing PJ, our Director of Estate Viticulture off?
These are all big questions which all deserve far more attention than this meager paragraph. In truth, all the items above are factors in each and every pick call. Making thoughtful harvest decisions requires balancing all of the above, and hoping that you make the right decision most of the time. Because the kinetics of each harvest are different due to weather, vineyard yields, and differential ripening of the various varietals, we need to do our best to anticipate the peaks and valleys of picking so we bring in fruit with the highest wine quality potential, and our crews and tanks are not overwhelmed at any given moment, and can endure to the finish line.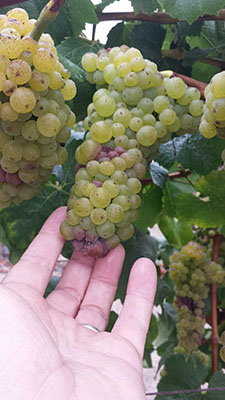 One of the scourges of the vineyard is a fungal infection known as Botrytis. The organism responsible is taxonomically known as Botrytis Cinerea, and the etymology of the name really says it all:
Botrys (ancient Greek for grapes) + itis (neolatin suffix for disease) + cinerea (neolatin for ashes, grey)
As pictured, Botrytis (henceforth known as BC) starts as a small strike on the cluster, and then spreads out over time and under the right conditions. BC infections can take various forms in different conditions, and depending on the severity, can really hurt quality of dry wines by affecting color, oxidation via the laccase enzyme, and excessive phenolic components coming from partially broken down skins. In certain instances and with certain varietals, BC infection can increase complexity and add interesting dried fruit aromatics that are highly desirable. In the Sauternes region of France, and in other locales known for the production of sweet wines, BC (favorably dubbed noble rot in these spots) is a critical element in the grape growing process, naturally concentrating the sugar and flavors in the grapes, yielding incredibly unctuous sweet wines of distinct character and quality.

Our Ridgeline Vineyard, located at the very northern tip of the Alexander Valley, is the jewel in the crown of our Sonoma County vineyard holdings. In addition to being one of our most scenic estate vineyards, it also boasts a menagerie of other delights, such as: a 50 plus year old fig tree which produces some of the most insanely delicious figs I have ever tasted, olive trees, some incredible wildlife such as deer, pigs, and hawks, and quite a few old agave plants which we have been threatening to try and convert into tequila one of these days. On top of all this, it produces some of the most intense and finely wrought Cabernet Sauvignon and Merlot from Alexander Valley we have tasted. These wines make up the core of the Decoy Cab, Merlot, and Red wine programs.
The entire ranch is irrigated by the 3 acre pond, pictured above, which is fed by two natural springs coming off the mountain. As you can see, towards the end of the year it gets fairly low, and managing our irrigation down to the minimum required is absolutely key to having our water last the entire season.