Duckhorn Portfolio Wine Blog
Posts written by Neil Bernardi, Vice President of Winemaking and many special guest bloggers. This collection of insights on winemaking, farming, entertaining and more is a great way to learn about the excitement of winery life and tips for enjoying the wines we produce.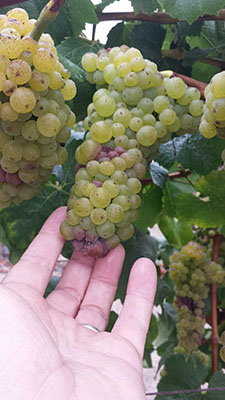 One of the scourges of the vineyard is a fungal infection known as Botrytis. The organism responsible is taxonomically known as Botrytis Cinerea, and the etymology of the name really says it all:
Botrys (ancient Greek for grapes) + itis (neolatin suffix for disease) + cinerea (neolatin for ashes, grey)
As pictured, Botrytis (henceforth known as BC) starts as a small strike on the cluster, and then spreads out over time and under the right conditions. BC infections can take various forms in different conditions, and depending on the severity, can really hurt quality of dry wines by affecting color, oxidation via the laccase enzyme, and excessive phenolic components coming from partially broken down skins. In certain instances and with certain varietals, BC infection can increase complexity and add interesting dried fruit aromatics that are highly desirable. In the Sauternes region of France, and in other locales known for the production of sweet wines, BC (favorably dubbed noble rot in these spots) is a critical element in the grape growing process, naturally concentrating the sugar and flavors in the grapes, yielding incredibly unctuous sweet wines of distinct character and quality.

Our Ridgeline Vineyard, located at the very northern tip of the Alexander Valley, is the jewel in the crown of our Sonoma County vineyard holdings. In addition to being one of our most scenic estate vineyards, it also boasts a menagerie of other delights, such as: a 50 plus year old fig tree which produces some of the most insanely delicious figs I have ever tasted, olive trees, some incredible wildlife such as deer, pigs, and hawks, and quite a few old agave plants which we have been threatening to try and convert into tequila one of these days. On top of all this, it produces some of the most intense and finely wrought Cabernet Sauvignon and Merlot from Alexander Valley we have tasted. These wines make up the core of the Decoy Cab, Merlot, and Red wine programs.
The entire ranch is irrigated by the 3 acre pond, pictured above, which is fed by two natural springs coming off the mountain. As you can see, towards the end of the year it gets fairly low, and managing our irrigation down to the minimum required is absolutely key to having our water last the entire season.


Check out this quick video of Joe Uhr, Assistant Winemaker at Duckhorn Vineyards, directing this press as it fills with Juliana Sauvignon Blanc. Getting the presses full and emptied quickly is typically a priority during harvest because we want to minimize the amount of phenolic extraction into the juice.
This is a function of time, varietal, condition of the fruit, and temperature. To avoid excessive extraction, we typically night harvest and press early. Another reason to get them turned is that a typical press cycle lasts about 3 hours, so getting these babies filled up quickly is critical to avoiding going home at midnight.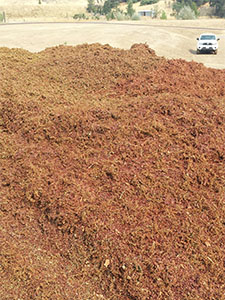 Have you ever wondered what happens to the solid parts of grapes after the winemaking process? This lovely mixture is called pomace and can take various forms. The version pictured above is the whole cluster pressed version, consisting of skins, seeds, and rachis. When white varietals like Sauvignon Blanc or Chardonnay come into the winery we typically press them whole cluster, meaning the whole kit and caboodle goes into the press. Once the press cycle is done and the juice has been separated from the skins, it moves (via bin, shovel, or auger) into a pile somewhere on winery property. This stuff smells great and attracts quite a few bees and yellowjackets, so you want it to be away from the action. We can then do a few things with it, like spread it out in the vineyard as a soil amendment or have it hauled away to be composted.

Many factors define terroir; soil, human intervention, aspect, clone, rootstock, amongst others. Few have as much impact in defining the character of a wine as climate and weather in a given year. The fine wine growing regions in California are defined by their proximity and relationship to the ocean, and the daily interplay between sun and fog.

As noted, the last few days have seen a significant high pressure system bring us warm days and stop the typical onshore flow pattern. This picture shows the fog and cool air from the ocean creeping over the coastal hills, following the slow decline of the high pressure system. This pattern brings cool nights and afternoons which help the vines retain acidity and color, arguably defining the differences in quality between the coastal regions and the central valley of California.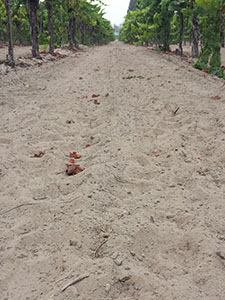 Many believe that the soil is the most basic contributor to terroir, or the sense of place of a wine. Personally, I agree that it impacts the specific flavor and aroma characteristics significantly, in sometimes mysterious ways. Check out this picture of the much-lauded Sebastopol Sandy Loam soil series in one of the Dutton family's ranches in Sebastopol. At the surface, it is very close to what you would find at a beach, plus a decent amount of organic material. Going down, it becomes more compact and eventually becomes a loose sandstone. In my mind, what makes this stuff special is how it holds water. That is to say, it doesn't hold excessive amounts of water, which would spur excessive vegetative growth in vines, and put them out of balance. This stuff, plus the ocean-influenced foggy climate, equals a great terroir.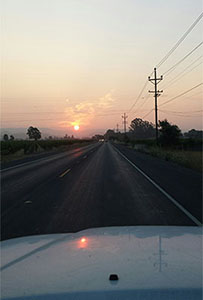 We have had a significant two day heat spell which is really going to kick harvest into gear. In addition, the presence of the two large and still unchecked fires in Lake County and more up in Trinity County have made it hazy, which lends a slightly post-Apocalyptic flavor to the beginning of harvest.
The effect of heat spikes on grape chemistry is one of concentration – the brix goes up dramatically, titratable acidity goes up slightly, and pH can stay the same or increase slightly.
Depending on what stage the vines are in the sugar can drop back down more in balance with the acid numbers with some cooler weather and irrigation.

People always say that Pinot Noir is a challenging varietal to make into great wine. Small clusters, low yields, thin skins, propensity to rot, and an amazing capacity to reflect the site where it is grown (good or bad), support that reputation. Over the thousand plus years that Pinot Noir has been grown in Burgundy, very specific winemaking practices have arisen focused specifically on getting the best out of the chimerical Pinot grape. One such practice is the use of open top fermenting tanks. Open top tanks require that one uses hand punchdowns to push the cap back into the fermenting wine. This is a fun process, if a little dangerous. Some notable producers in the US and abroad actually get into the tank to do a full body punch down. Another notable impact of using open top tanks is that they can blow off significant amounts of alcohol during the fermentation, up to 1.5% by some estimations. This can be a good or bad thing depending on your perspective and the specific lot.
I think it is interesting to note that many of the winemaking practices, techniques, and minimalist philosophy in Burgundy are products of the resources early vignerons had at their disposal. Is there anything cheaper or easier than native yeast fermentations?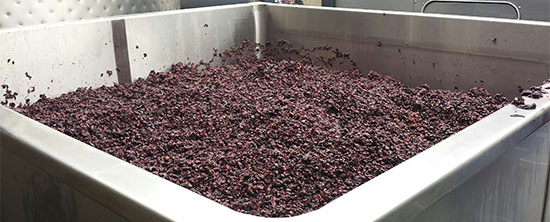 (Picture: Bien Nacido about a third of the way through fermentation. Random trivia – the word fermentation is a derivation of the Latin word 'to boil'.)

Just a quick update on the status of the apple harvest, it looks like the Golden Delicious are ready to go in West Sonoma county. Funny thing about these apples, they are significantly more juicy than the Gravs, and they taste amazing. Apples varietals, just like grapes, are significantly different from each other, despite the fact that they are all genetically (at least to the extent that we can test for) identical. These variations were bred, selected, and cultivated over time to express specific desirable traits -the original genetic engineering!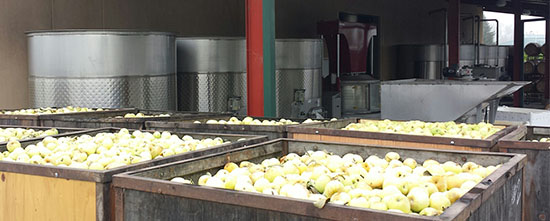 While the grape harvest has just gotten underway, the apple harvest in West Sonoma County has been going strong for weeks. First come the Gravensteins, then the Rome apples, then the Jonagolds and others later in the season. The recent wave of interest in cider, both locally and abroad, has given renewed life to the local apple industry. West County produces some of the tastiest and most sought after juice in the United States.
Check out this sorting and crushing setup specifically for juicing of apples for cider. They then take this apple mash and press it just like grapes, and apparently get somewhere between 160 and 170 gallons per ton of juice. The juice tastes fairly acidic, and the apples are picked somewhere between 10 and 14 brix, which yields an alcohol between 5 and 7%. I love seeing other forms of agriculture thrive in wine country!