Duckhorn Portfolio Wine Blog
Posts written by Neil Bernardi, Vice President of Winemaking and many special guest bloggers. This collection of insights on winemaking, farming, entertaining and more is a great way to learn about the excitement of winery life and tips for enjoying the wines we produce.

This Sunday I harvested a ton of Cherry and Sungold tomatoes from the garden. I roasted them with some eggplant from my mom's garden and put it over some grilled chicken – a perfect pairing with Goldeneye Pinot!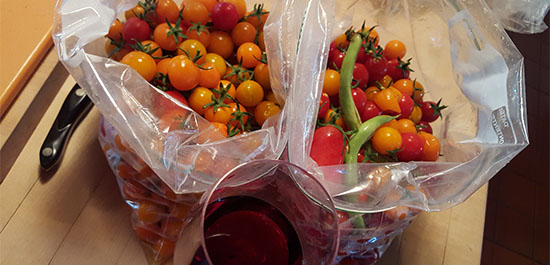 One of the best parts of working for Duckhorn Wine Company is the incredible team. There are so many great folks working with such diligence and care, making sure that every bottle of wine we make is the best it can be. One such stellar individual is Efrain Cardona, our Cellarmaster at Waterfowl Winery, where we make most of our Decoy wines. Efrain exudes positivity, and is a pleasure to spend time with. In addition, he cares deeply about wine quality, and is constantly looking for ways we can improve our wines. He has worked in the wine industry for 23 years, spending most of his career at Kunde. He started in the field, working for 3 years in the vineyard, and then moved up the ladder in the cellar, taking positions in every aspect of the winemaking process, from the bottling line, QC team, lab, and as a winetracker and cellarmaster. Efrain manages our cellar team at Waterfowl, which takes a whole lot of patience, organization, and attention to detail. Efrain is also quite the renaissance man, and is an avid gardener, home winemaker, and bee keeper. Efrain is also a carnitas master, much to the team's collective delight.


Goldeneye Cellar Hyperlapse from PJ Alviso on Vimeo.
As I mentioned a few days back, punch downs are a very specific and important element of making fine Pinot Noir. As the cool hyperlapse of the Goldeneye cellar(courtesy of the industrious PJ Alviso) above shows, this is a time consuming process that puts us up close and personal with our wines. The team is using pneumatic punch down devices which use air pressure to get the job done. This cellar is also remarkable for a few reasons, the first being the presence of many mobile 3 ton fermenters. This gives Michael Fay, our GE winemaker, and his team the ability to ferment and press small lots of estate fruit separately. In addition, they can be moved easily around the winery and directly dumped into the press, which is very convenient. Another element of the excellent design of this cellar (courtesy of our COO and former GE winemaker Zach Rasmuson) is it's remarkable flexibility. Everything you see in this picture can be moved in the off season, turning this fermentation hall into a barrel hall, bottled goods hall, or party hall.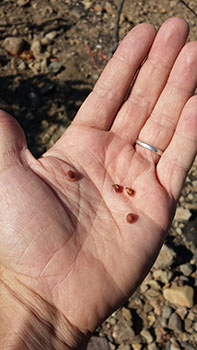 What indicators does one use to determine when to harvest fruit? Should one pick based on brix, TA, pH, flavor, seed lignification, phenolics, canopy status, water status, crew availability, tank availability, truck availability, inclement weather, or just feel? How long can we wait to pick before really pissing PJ, our Director of Estate Viticulture off?
These are all big questions which all deserve far more attention than this meager paragraph. In truth, all the items above are factors in each and every pick call. Making thoughtful harvest decisions requires balancing all of the above, and hoping that you make the right decision most of the time. Because the kinetics of each harvest are different due to weather, vineyard yields, and differential ripening of the various varietals, we need to do our best to anticipate the peaks and valleys of picking so we bring in fruit with the highest wine quality potential, and our crews and tanks are not overwhelmed at any given moment, and can endure to the finish line.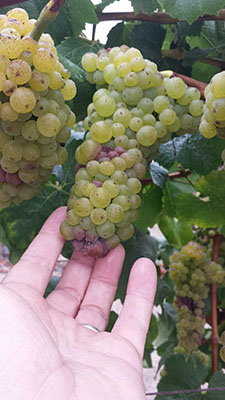 One of the scourges of the vineyard is a fungal infection known as Botrytis. The organism responsible is taxonomically known as Botrytis Cinerea, and the etymology of the name really says it all:
Botrys (ancient Greek for grapes) + itis (neolatin suffix for disease) + cinerea (neolatin for ashes, grey)
As pictured, Botrytis (henceforth known as BC) starts as a small strike on the cluster, and then spreads out over time and under the right conditions. BC infections can take various forms in different conditions, and depending on the severity, can really hurt quality of dry wines by affecting color, oxidation via the laccase enzyme, and excessive phenolic components coming from partially broken down skins. In certain instances and with certain varietals, BC infection can increase complexity and add interesting dried fruit aromatics that are highly desirable. In the Sauternes region of France, and in other locales known for the production of sweet wines, BC (favorably dubbed noble rot in these spots) is a critical element in the grape growing process, naturally concentrating the sugar and flavors in the grapes, yielding incredibly unctuous sweet wines of distinct character and quality.

Our Ridgeline Vineyard, located at the very northern tip of the Alexander Valley, is the jewel in the crown of our Sonoma County vineyard holdings. In addition to being one of our most scenic estate vineyards, it also boasts a menagerie of other delights, such as: a 50 plus year old fig tree which produces some of the most insanely delicious figs I have ever tasted, olive trees, some incredible wildlife such as deer, pigs, and hawks, and quite a few old agave plants which we have been threatening to try and convert into tequila one of these days. On top of all this, it produces some of the most intense and finely wrought Cabernet Sauvignon and Merlot from Alexander Valley we have tasted. These wines make up the core of the Decoy Cab, Merlot, and Red wine programs.
The entire ranch is irrigated by the 3 acre pond, pictured above, which is fed by two natural springs coming off the mountain. As you can see, towards the end of the year it gets fairly low, and managing our irrigation down to the minimum required is absolutely key to having our water last the entire season.


Check out this quick video of Joe Uhr, Assistant Winemaker at Duckhorn Vineyards, directing this press as it fills with Juliana Sauvignon Blanc. Getting the presses full and emptied quickly is typically a priority during harvest because we want to minimize the amount of phenolic extraction into the juice.
This is a function of time, varietal, condition of the fruit, and temperature. To avoid excessive extraction, we typically night harvest and press early. Another reason to get them turned is that a typical press cycle lasts about 3 hours, so getting these babies filled up quickly is critical to avoiding going home at midnight.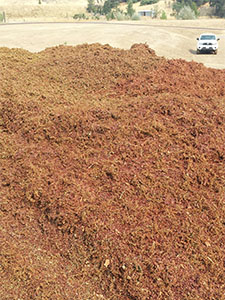 Have you ever wondered what happens to the solid parts of grapes after the winemaking process? This lovely mixture is called pomace and can take various forms. The version pictured above is the whole cluster pressed version, consisting of skins, seeds, and rachis. When white varietals like Sauvignon Blanc or Chardonnay come into the winery we typically press them whole cluster, meaning the whole kit and caboodle goes into the press. Once the press cycle is done and the juice has been separated from the skins, it moves (via bin, shovel, or auger) into a pile somewhere on winery property. This stuff smells great and attracts quite a few bees and yellowjackets, so you want it to be away from the action. We can then do a few things with it, like spread it out in the vineyard as a soil amendment or have it hauled away to be composted.

Many factors define terroir; soil, human intervention, aspect, clone, rootstock, amongst others. Few have as much impact in defining the character of a wine as climate and weather in a given year. The fine wine growing regions in California are defined by their proximity and relationship to the ocean, and the daily interplay between sun and fog.

As noted, the last few days have seen a significant high pressure system bring us warm days and stop the typical onshore flow pattern. This picture shows the fog and cool air from the ocean creeping over the coastal hills, following the slow decline of the high pressure system. This pattern brings cool nights and afternoons which help the vines retain acidity and color, arguably defining the differences in quality between the coastal regions and the central valley of California.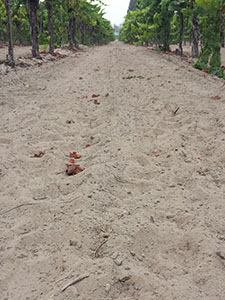 Many believe that the soil is the most basic contributor to terroir, or the sense of place of a wine. Personally, I agree that it impacts the specific flavor and aroma characteristics significantly, in sometimes mysterious ways. Check out this picture of the much-lauded Sebastopol Sandy Loam soil series in one of the Dutton family's ranches in Sebastopol. At the surface, it is very close to what you would find at a beach, plus a decent amount of organic material. Going down, it becomes more compact and eventually becomes a loose sandstone. In my mind, what makes this stuff special is how it holds water. That is to say, it doesn't hold excessive amounts of water, which would spur excessive vegetative growth in vines, and put them out of balance. This stuff, plus the ocean-influenced foggy climate, equals a great terroir.