Duckhorn Portfolio Wine Blog
Posts written by Neil Bernardi, Vice President of Winemaking and many special guest bloggers. This collection of insights on winemaking, farming, entertaining and more is a great way to learn about the excitement of winery life and tips for enjoying the wines we produce.

I had the great fortune to spend early Friday morning with our talented and knowledgeable Napa grower rep Cindy Johnson. In addition to seeing some incredibly beautiful vineyard sites in Carneros, Atlas Peak, and Howell Mountain, I got a chance to see Cindy in action, checking on vineyards and meeting with growers to ensure that only the best fruit comes into the winery. She is pictured here atop Atlas Peak amidst a 100 year old Zinfandel vineyard. The grower relations team plays a hugely important role in the quality of all of our wines in that they are the main contact between the winery and the grower throughout the growing season. They are the ones translating the needs of the winemaker to the grower, asking for that extra thinning pass or canopy management shift. This time of year, they are the extremely busy air traffic controllers, organizing and monitoring the flow of fruit into the winery. Being in grower relations is extremely challenging and requires great skill, patience, and tact in balancing the needs of the grower and our winemakers. We are very lucky to have such a great team, composed of Jerry Chong, our Director of Grower Relations, and Mary Basore, our Contract Coordinator, and Cindy J. In addition to the full timers, we have a crack team of supportive seasonal assistants and grape samplers, namely Alex B, Mike E., Mike S., Brad, Barry, Emily, and Peggy (who is currently recovering from a fall in the vineyard, get well soon Peggy!). Thanks to you for all your hard work, you are doing a great job!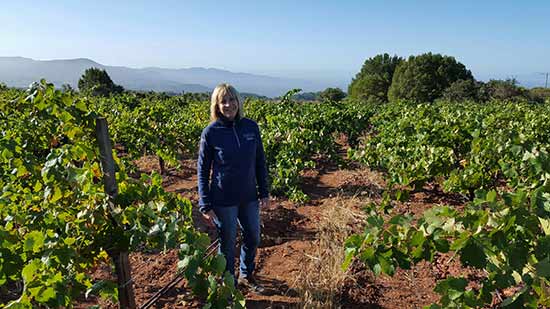 Beard growing has long been an important harvest custom. Each beard is a silent statement to the challenges of harvest faced, and met. The longer and gnarlier the beard, the longer and gnarlier the hours worked. The other day I received what may be the greatest honor in the universe. I was asked to be a judge in the first annual Harvest Beard Invitational by founder Joe Uhr, our DV assistant winemaker and resident genius. After I wiped away the tears, the weight of responsibility descended upon me, and having been a beard aficionado for many years, I realized the importance of this first competition. As in other deeply serious competitions, the criteria for success are rigorous, with points being awarded for:

Overall beardedness (0-10)
Length (0-5)
Bonus points are awarded for integration into your head of hair. (0-5)

Good luck noble competitors, good luck.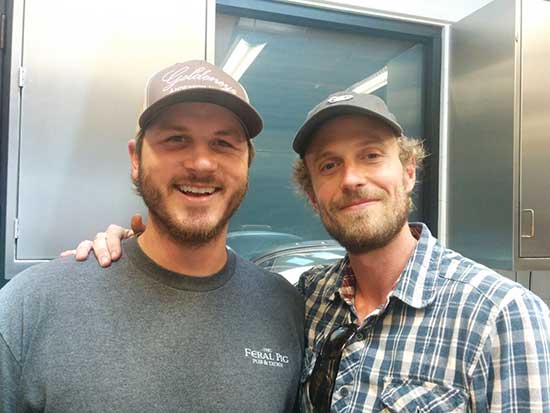 Goldeneye Assistant Winemaker Michael Accurso and Duckhorn Vineyards Assistant Winemaker Joe Uhr

I was out sampling the other morning with Bo Felton and had to capture this incredible morning scene of the Russian River Valley with Mt St Helena in the distance. What a beautiful time of year to be in a vineyard!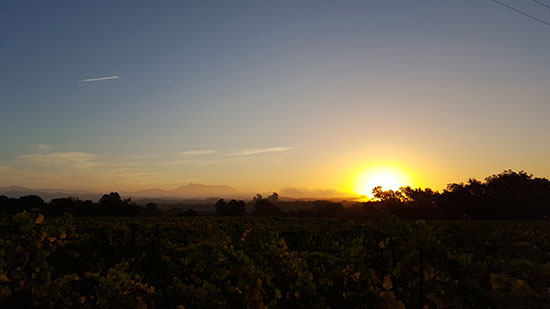 Just a quick update on harvest, we had a brief but concerning rain event on Saturday. While we didn't get much accumulation, it was quite warm and humid, and if not for the warm, breezy afternoon, would certainly have posed some problems in the vineyards. The weather this week looks good, though there is the chance of another small precipitation event this weekend, which could be problematic if it materialized.
We are currently finishing the Duckhorn SB and moving into the Chardonnay. Also, we have brought in some of the early Napa Valley reds like Three Palms for both Duckhorn Vineyards and Paraduxx. Incredibly, we are already more than 50% complete with the harvest in the Anderson Valley, a record early year. On the Sonoma Side, Migration has done a good chunk of its Pinot Noir, but is just starting to bring in Chardonnay. Decoy is in the middle of Sauvignon blanc, Pinot, Chardonnay, and some of the later ripening reds are beginning to trickle in. It has been a great start to harvest, but there is still a long ways to go.

It has long been a tradition in the wine business to give out harvest T-shirts or other logo'd schwag to the crew to commemorate successful completion of harvest. Each year typically has to have a distinct logo and message, and speaks to the nature of that particular harvest. I did a vintage with Kim Crawford in Marlborough, and being a very fashion forward guy, he gave everyone bright pink beanies with the K. Crawford logo on them. Another year, when I was working as an intern at another winery, we ate the same sandwiches for lunch every day for three months straight. It also happened to be a rather long and drawn out harvest. That year the T shirt read "One Day and One Sandwich at a Time!". Check out this year's DWC version, nice job Val Crane!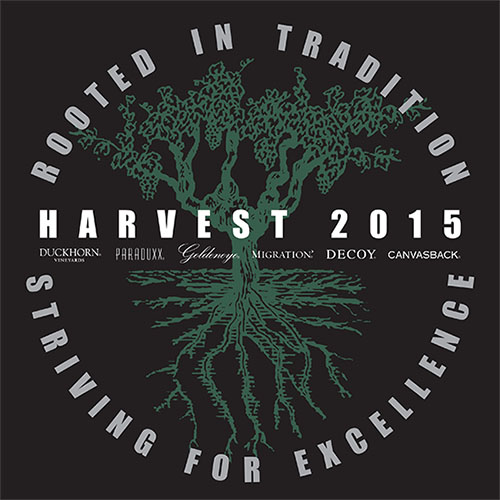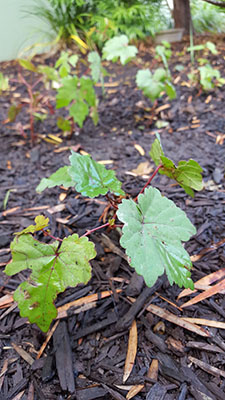 I was rinsing out some sample buckets today and noticed these grape seedlings, growing on the side of the cement where we usually process grape samples. They were seeds from field samples of years gone by, germinated and growing wild. One of the remarkable things about modern viticulture is that all of the grape vines that are growing in the field today were propagated using vegetative material, meaning that each one is genetically identical (or genetically very close) to their parent plant. This has been happening for many, many years, and the varietals we use have been selected for their various positive wine properties. The reason why we propagate vine material vegetatively is that seed represents a genetic recombination, and at this point we can't predict the traits of that offspring and there is a high rate of failure. One would have to take thousands, if not tens of thousands, of seedlings, grow them up and track their traits to find new and favorable varietal crosses – certainly a daunting task. This means that change in the world of grape varietals is extremely slow, and mostly comes from selections with slightly different but interesting traits (i.e. clones). That being said, Randall Grahm, ever the innovator, has started a project focusing on planting new crossbreeds in his vineyard in San Juan Bautista.

I just had the chance to taste through the final (and recently) bottled versions of the 2014 Migration Single Vineyard Chardonnays – all were awesome! They each speak to their place of origin so well, are wonderfully balanced, and have great lasting acidity. Nice job Bo!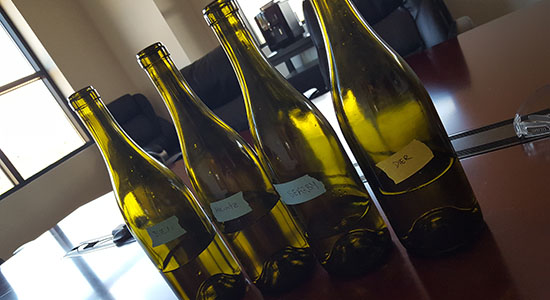 This Sunday I harvested a ton of Cherry and Sungold tomatoes from the garden. I roasted them with some eggplant from my mom's garden and put it over some grilled chicken – a perfect pairing with Goldeneye Pinot!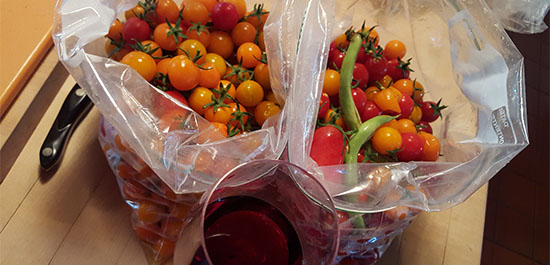 One of the best parts of working for Duckhorn Wine Company is the incredible team. There are so many great folks working with such diligence and care, making sure that every bottle of wine we make is the best it can be. One such stellar individual is Efrain Cardona, our Cellarmaster at Waterfowl Winery, where we make most of our Decoy wines. Efrain exudes positivity, and is a pleasure to spend time with. In addition, he cares deeply about wine quality, and is constantly looking for ways we can improve our wines. He has worked in the wine industry for 23 years, spending most of his career at Kunde. He started in the field, working for 3 years in the vineyard, and then moved up the ladder in the cellar, taking positions in every aspect of the winemaking process, from the bottling line, QC team, lab, and as a winetracker and cellarmaster. Efrain manages our cellar team at Waterfowl, which takes a whole lot of patience, organization, and attention to detail. Efrain is also quite the renaissance man, and is an avid gardener, home winemaker, and bee keeper. Efrain is also a carnitas master, much to the team's collective delight.


Goldeneye Cellar Hyperlapse from PJ Alviso on Vimeo.
As I mentioned a few days back, punch downs are a very specific and important element of making fine Pinot Noir. As the cool hyperlapse of the Goldeneye cellar(courtesy of the industrious PJ Alviso) above shows, this is a time consuming process that puts us up close and personal with our wines. The team is using pneumatic punch down devices which use air pressure to get the job done. This cellar is also remarkable for a few reasons, the first being the presence of many mobile 3 ton fermenters. This gives Michael Fay, our GE winemaker, and his team the ability to ferment and press small lots of estate fruit separately. In addition, they can be moved easily around the winery and directly dumped into the press, which is very convenient. Another element of the excellent design of this cellar (courtesy of our COO and former GE winemaker Zach Rasmuson) is it's remarkable flexibility. Everything you see in this picture can be moved in the off season, turning this fermentation hall into a barrel hall, bottled goods hall, or party hall.