Duckhorn Portfolio Wine Blog
Posts written by Neil Bernardi, Vice President of Winemaking and many special guest bloggers. This collection of insights on winemaking, farming, entertaining and more is a great way to learn about the excitement of winery life and tips for enjoying the wines we produce.

It is one of the great pleasures of being in the wine business that we get to spend time in some of the most beautiful places in the world. I wanted to augment PJ's great post about pruning with a couple of pictures, taken over the last few weeks, of some of the more remarkable vineyards visited. The first is of our Longwinds vineyard in Washington, which is on its second leaf, pictured here under the watchful eye of our Canvasback winemaker Brian Rudin.

It is strange for a California winemaker to walk through a vineyard with snow on the ground, but it is another one of the many fascinating facets of growing grapes on Red Mountain.
The second is a panoramic shot taken of a portion Napa Valley from the Silverado Trail. I think it is notable because it captures a rare break in the near constant storm action we have seen since Thanksgiving. After 4 years of drought, I think we are all thankful for the rain, despite the many consecutive dreary days.


Once the hustle and bustle of harvest has past, and the wines are put to bed to begin aging in barrel, our winemaking team begins to turn its attention to the previous vintage and next part of the cycle: blending and bottling. This is one of my favorite parts of the cycle, though to some extent we are always blending and tasting something in the cellar. This is a fascinating, gratifying, and sometimes nerve racking process of assessing the wines in your cellar, and using trial and error to find the right blend. It takes a lot of time and energy to get a sense of each wine, oftentimes requiring many tastings. Additionally, the blending process is surprisingly non-linear, and it is hard to predict what combination of lots will make the best, most harmonious wine. For example, one would assume that putting the two best lots in the cellar would make an incredible blend. In reality, it is not always so, and the complexity of the wine matrix, with all the subtle combinations of tannin, anthocyanin, and acidity, makes trial and error a necessity. Taking consistent notes, tasting in a consistent manner, and having a trained group of tasters are all key elements of the tasting and blending process. Each of the winemakers hone each blend until it is ready to present to the larger team. Since the first vintage of Duckhorn in 1978, it has been our custom to present the final blend options to the larger group of winemakers, garnering valuable perspective and feedback on each wine, as well as giving the team a vision of what is to come. Pictured below is the team tasting through potential 2014 Canvasback blends, which is especially fascinating for California winemakers learning about a new region.
At Duckhorn Wine Company, I am convinced we have a truly unique team dynamic. Each of our brands has a dedicated winemaker, each a specialist in her or his field, with extensive experience in the world of wine. In addition, these are all folks who love their craft. As a result, we have some pretty incisive, yet wide ranging discussions on the finer points of winemaking, style concepts, blending, etc. I feel lucky to be a part of such a dynamic team, and feel like I learn something every time we get together.

After a very successful 2015 vintage, we are ready to focus on the next challenge: the 2016 growing season. While the winery still has lots of barrel work and blending to do, in the vineyard, it's time to start growing the grapes that will be make up the next vintage. There is roughly three months before the vines themselves start growing new tissue, but there is lots of work to get done before that happens. The primary activity at this time, and arguably the most important cultural activity of the year, is pruning. This is the process through which we select which parts of the vine to remove, and which to keep so that they may grow and ripen the crop. This selection is critical – done well, it can improve quality and make everything easier through the year. If done poorly, it may require us to return to fix mistakes and can potentially reduce the ultimate quality of the wine. Luckily, we have an excellent, seasoned vineyard team that has been pruning our vineyards for years. They know exactly which cuts to make, and they know pruning for what it is – an art form. Sculpting the vine, removing the old wood, and making cuts that will influence how the vine grows for the next three years is a heady exercise, one which the team completes gracefully and with ease. Personally, the most enjoyable time out of the whole year to walk through a block is just after it has been pruned. It is possible to see the promise of the upcoming vintage in the fresh cuts, and that is a very exciting feeling.
| | |
| --- | --- |
| | |

A quick update for those of you out there anxiously awaiting the final results of the beard growing competition, noted on this blog during harvest. The contestants were judged at our annual harvest party by the entire company, the person receiving the largest applause to be crowned champion. Though there was great applause for all three, Joe Uhr, wearing white in the photo below, took the prize. Congrats Joe!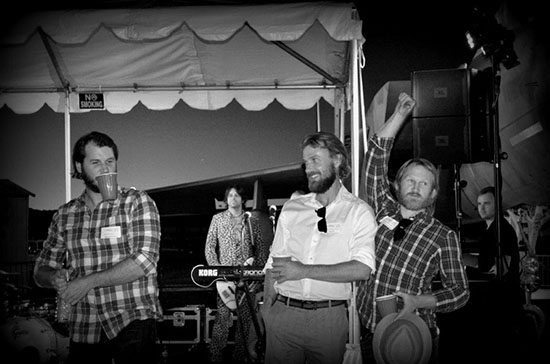 Happy New Year! The long-awaited El Niño has made an appearance, to the relief of most people that live West of the Rockies. One of the many glorious things about El Niño years is how Mother Nature deliveries the moisture to California. Rather than large, and potentially damaging superstorms, California generally receives a fairly steady stream of small storms. These storms deliver relatively tiny amounts of rain, but they become significant when taken in aggregate. One inch of rain here, two inches there, another inch there, and before you know it, the soil profile and the ponds are full! This week is a really good example of this phenomenon. We will see steady rainfall throughout this week, and that's great news for all involved. To date, we have received almost 15" of rain up in Anderson Valley and more than 8" in Napa Valley. We have a long way to go to dig us out of the drought of the last four years, but what a great start to 2016!

I am not usually a pairing guy. This is in part because as winemakers we are always looking for the unadorned truth of wine, to get a sense of its flaws and beauty, as we steward it towards completion. Food combinations, while lovely and delicious, can obscure the wines nature. I recognize that I am probably missing out on a lot of deliciousness and should probably just enjoy wine and food for what they are. That is harder said than done, and is perhaps the downside of making your passion your profession. However, every once in a while I taste a food and wine combination that is so startlingly good, so mind numbingly delicious that the light goes on and I get what pairing is all about. Just such a thing happened the other night, as my family and I gathered for our Christmas dinner. The main courses had been served (which were delicious Mom!), the kids had scurried away to play with toys, and the adults were left at the table to chat and feel stuffed. I opened a bottle of the 2011 Migration Split Rail Late Harvest Chardonnay, which is now becoming a thing of beauty as it ages, and my mom served roasted chestnuts. We cracked them directly on the table, making a mess in the process, and the smell of the toasted, delicious nuts filled the room. The combination of the sweet, dried apricot botrysized Split Rail and the warm nuttiness of the chestnuts was remarkable.

Thanks to everyone on the Duckhorn team for a remarkable 2015, and a Happy New Year to all!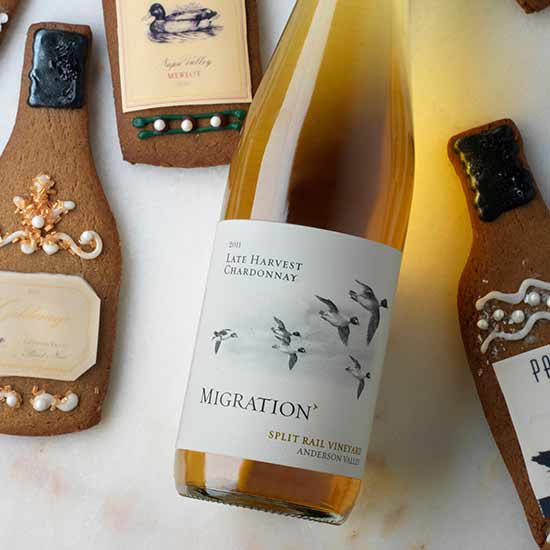 November is a special month in the winery, especially after the intensity of harvest. Typically we are finishing off fermentation, pressing off skins, putting wines down to barrel, and carefully monitoring ML conversion. This year was so early many of our wines are already finished with ML conversion! Activity around the winery slows, and there is plenty of time to taste through the last vintage red wines and start the blending process for Sauvignon Blanc (which tastes amazing)! There is also plenty of time to consider how fortunate we all are to live and work in such an beautiful place, and to be thankful for everyone who makes Duckhorn such an incredible place to work. Many thanks to our amazing team, and Happy Thanksgiving to all!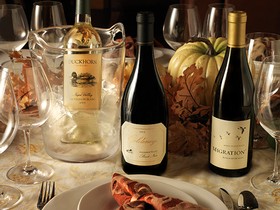 One of the challenges of making wine from Red Mountain is perfecting the art of tannin management. The climate and soils conspire to produce Cabs of remarkable power and density, but oftentimes wrangling the tannin takes some thoughtfulness and extra care. One of Brian's techniques is to spend additional time at the press pan, tasting wines throughout the press cycle. Knowing when to cut the press is key to addressing some of the more challenging tannins.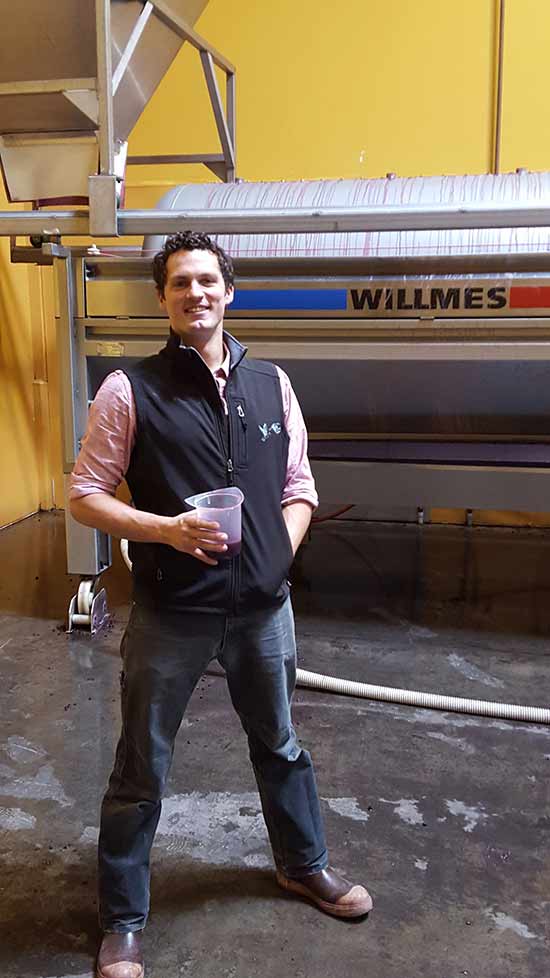 That's it folks, harvest is over! The last fruit is in for all wineries. Much work remains to press everything off and put the vintage to bed, but we have gotten all of our fruit off the vine. Congrats to each of our teams for another impressive year of hard work and great wines. Some interesting harvest facts:
We started harvest on July 31st and finished on October 16th.
Earliest vintage in most locations in recent memory.
September and October were unusually warm, which increased the pace of an already early year.
There was little difference in ripening between many varietals, with Cab, Merlot, Chardonnay, and Zinfandel ripening around the same time.
Yields were quite a bit lighter than in past years. Early signs are that our wine quality level is very high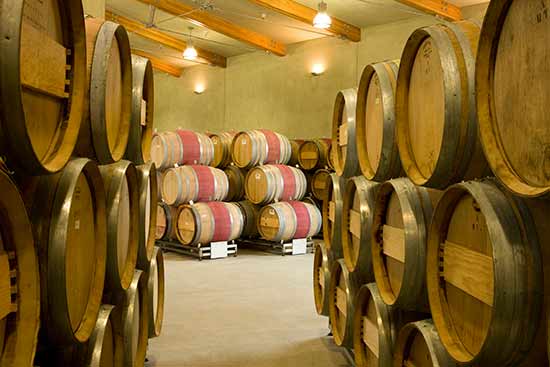 I had the great pleasure of heading up to Washington to see our Canvasback winemaker Brian Rudin last week. We tasted through most of the fantastic wines he has been crafting, in both the 2014 and 2015 vintages. It is remarkable to taste the level of wine quality coming off of Red Mountain, as they have the ability to be both powerful and extremely elegant at the same time, despite a big tannin profile. We are all very excited for the future in Washington, especially with our Longwinds estate vineyard coming into production over the next few years.