Duckhorn Portfolio Wine Blog
Posts written by Neil Bernardi, Vice President of Winemaking and many special guest bloggers. This collection of insights on winemaking, farming, entertaining and more is a great way to learn about the excitement of winery life and tips for enjoying the wines we produce.

Our daily Vineyard Maturity Analysis is one of the most important parts of harvest. You only have one shot at picking grapes, it's important to get it perfect every time. Every morning, our sleep eyed vineyard team will head out very early to pull grape samples from the vineyards. We'll sample each vineyard block about once a week. They deliver the samples of around 20 clusters to the designated winery for that block. Once in the winery, the cellar team takes over. The grapes will be crushed and drained into juice samples. The juice is then brought into the lab for analysis. For each sample, we will run Brix, pH ,TA as well as tasting for sensory analysis. Brix is the measure of sugar in the juice, pH and TA are measures of acidity. pH measures the acid level that shows you how stable the juice will be against any kind of microbial infection or oxidation. The lower the pH, the more stable/safe the juice or wine will be. pH range for white varieties ranges from around 3.1 to 3.6, reds range from around 3.5 to 3.9. TA measures the acid you can taste. TA will range from the tooth enamel stripping 0.8 to the flabby/soapy 0.4 for reds and whites. The tasting of the juice is the most important part. You may have perfect numbers for Cabernet at 25 Brix, 3.6 pH and 0.58 TA but if the flavor is missing or tastes under ripe you will have a wait. Patience is a virtue in winemaking!
2016 is proving to be a fantastic year for flavor so far. We are getting ripe flavors before the sugar and acids are ready, that's a great sign! If you could read the clipboard in the picture, it would tell you that the Rector Creek Cabernet is at 20.6 Brix, 0.68 pH and 3.1 TA. The flavors are already amazing but the sugar and acids aren't quite there yet. A few weeks to go and looking forward to it!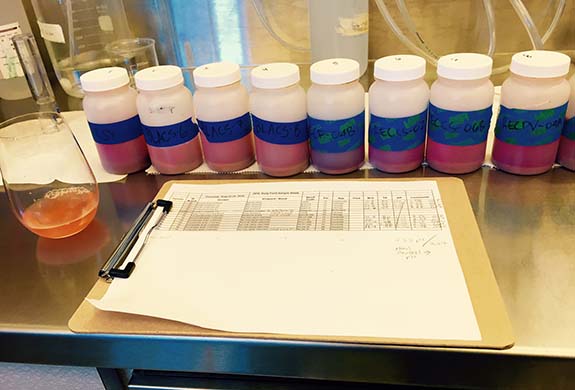 There are a few folks at Duckhorn Wine Company who's commitment, intelligence, and energy make a truly outsized impact. One such star is Jacob Mauney, Operations Manager at our Deocy facility. Jacob has worked with DWC in various capacities since the harvest of 2010, when he was our Sonoma County intern. Since then he has risen through ranks, always professional, always full of good ideas, and always bleeding the Duckhorn blood. His excellence in all things has made him an indispensable part of the team, and I am so grateful for all his hard work and care. Here he is with Malcom (The Chairman) Boblet, the fluffy mascot of the winery.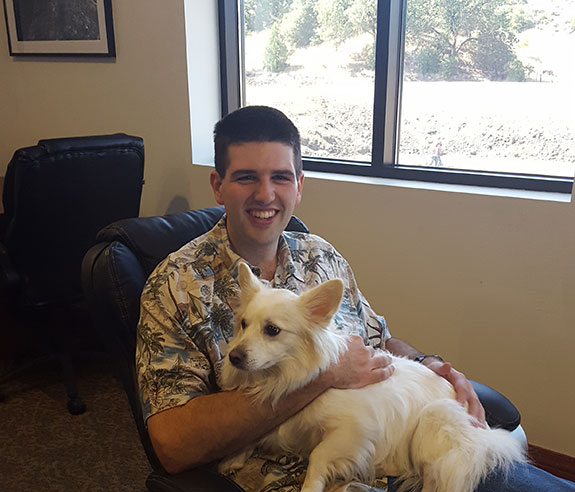 Taking full advantage of Northern California's perfect growing conditions, most of our properties are home to more than just grape vines. There is a behind the scenes horticulture movement happening at Duckhorn Wine Co. From the beautifully maintained veggie gardens at Paraduxx, Duckhorn and Goldeneye to the 150 yr old Olive trees at our Stout vineyard, Duckhorn is committed to the idea of diversity. We have amazing partnerships with local producers to help process some of these items from time to time. Orchard designate olive oils and Ridgeline Vineyard honey are just two of the products we produce for our employees when the growing season allows. Our landscape/facilities team of Alfredo, Vicente and Rafael are simply amazing! Gifts of cut lavender, rosemary and other flowers will simply show up in our cellar for the team to bring home. If you need tomatoes, peppers, squash or figs….look no further. We very lucky to have such bountiful luxuries available to us. If you are ever at one of our tasting rooms, don't hesitate to wander through the veggie patch to check out the riches, maybe a ripe strawberry will be there for the taking.

Harvest days are long, as you have gathered often from this blog and others. Up at the Decoy facility the team blows off steam via the age old pastime of foosball. While walking the cellar one often hears screams of joy and despair as titanic struggles unfold on the table. There are few foosball jedi's in the group who make the rest of us look pretty sad. If you ever have some extra self-esteem you are looking to get rid of, I recommend playing Efrain Cardona, our normally kindhearted cellar master.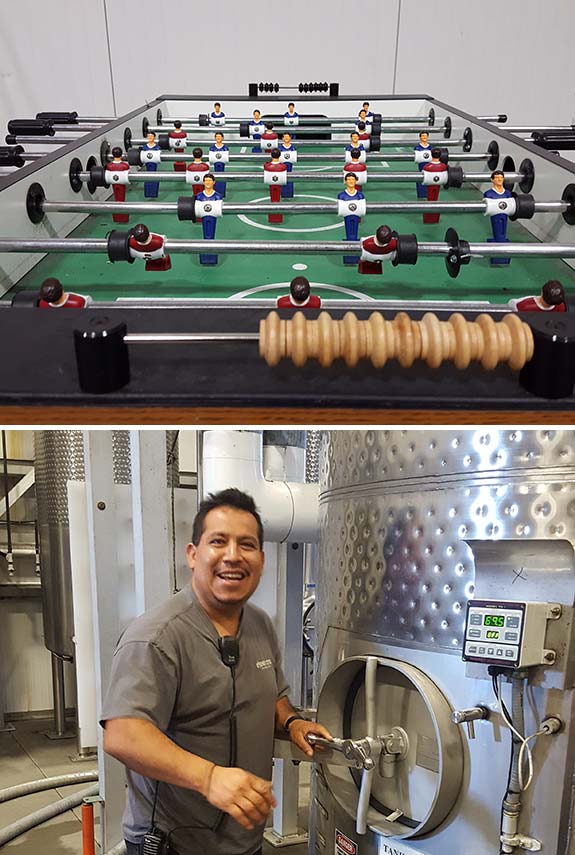 Our 2016 Atlas Peak red wine blend that we are making this year is a Sangiovese/Cabernet Sauvignon Blend. This wine is inspired by the great Super Tuscans of Italy. It is quite fortuitous that one of the great Italian producers, Antinori, has a California operation. Who else would you want to grow Sangiovese for you than the Antinori team? The Cabernet on the other hand is grown on one of Napa's most notable Vineyards, Stagecoach. These two amazing vineyards both laying on the western facing slopes of Atlas Peak produce grapes that truly show a sense of place. The wine made from these vineyards shows concentrated black currant fruit with an captivating dried flower spice. Our Atlas Peak blend is one of our most interesting and unique wines.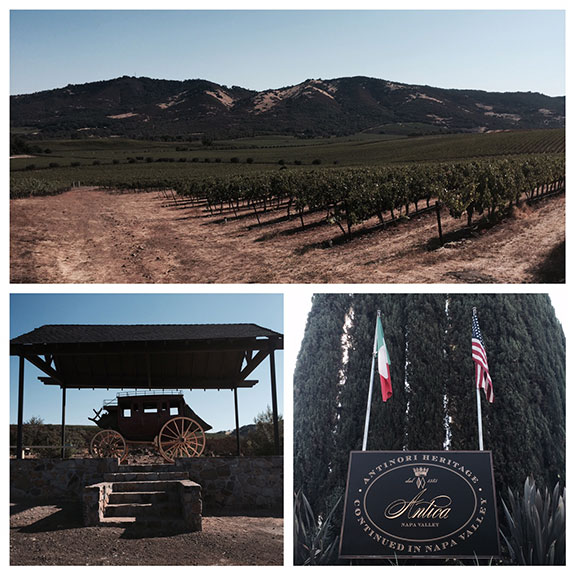 In many stories there is an unsung hero without which the story would never be resolved and the main hero would never save the day. Now I'm not saying that a cluster of grapes is anyone's version of Batman but in the vineyard we do have our own unsung hero, the grape leaf.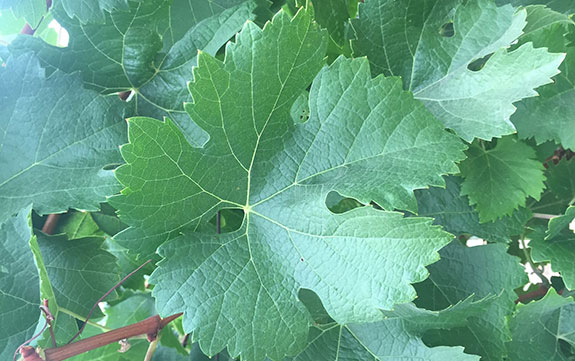 The truth is, the majority of what the vineyard team does revolves around the grape leaf. Sometime we are sampling them to see what nutrients are in the plants, we are constantly monitoring them to see if mites or leafhoppers are affecting their ability to photosynthesize and our crew is frequently going in to take off certain leaves in order to let in more air and sunlight to the fruit. We even monitor water stress by the look of the foliage and we control the canopy's power by hedging the shoot tips.
We focus so much time and energy on the leaves because the leaves are the true powerhouses behind tasty wine. It is the leaves that have the ability to capture sunlight using the green pigment called chlorophyll in order to generate the energy needed to transform carbon dioxide and water into sugar during the process of photosynthesis. This is why mature leaves are called the Sources, because they are the source of the energy for the plant. Grapes and immature leaves are considered Sinks because energy (sugars) produced by the sources are sunk into them so that they can grow and mature. All leaves begin their lives as Sinks because they need energy in order to build the internal machinery they will use to be a contributing member of the canopy. The leaf's job is to make sure that the clusters ripen and our job in the vineyard is to protect and help them to make our grapes perfect for the Winemakers.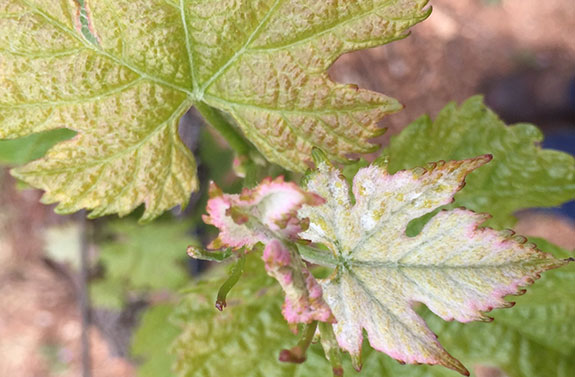 Fall is a special time not just for grape growers, but for the other farmers of the North Coast. Sonoma County is still the home of many different crops, despite the significance and success of wine grapes over the past 40 years. Apples, dairy, and a small but potent organic fresh vegetable segment are keeping the term 'diversified ag' alive. In West County, the Farm Trails organization has been extremely active promoting our ag heritage, culminating in the Gravenstein Apple Fair, a down home and fun event for all ages. If you haven't been, I highly recommend it!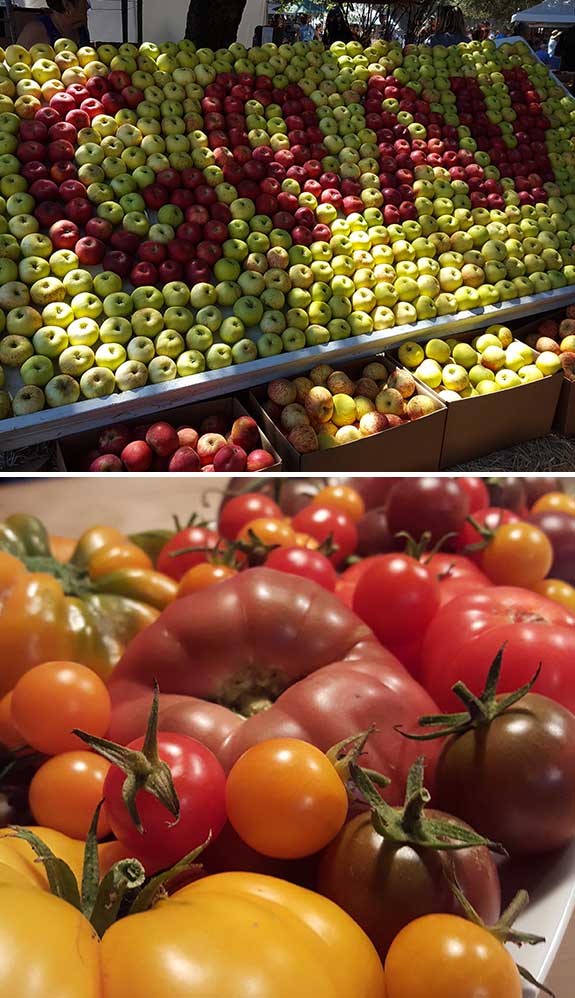 Johnny is a local boy fresh out of High school. He spends his mornings sampling grapes in the vineyard and comes in to help us out in the cellar every afternoon. Johnny is all smiles and is very willing to act like he cares when we give him advice on adulthood. We have high expectations for Johnny this year...hopefully his youth can help to do the dirty work that we don't want to do!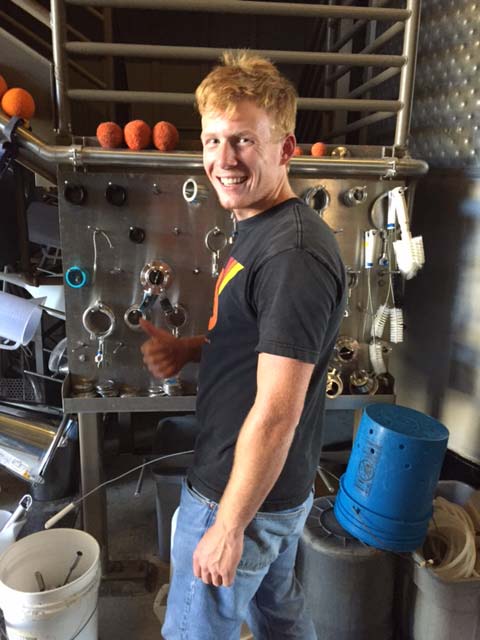 New barrels are an incredibly important part of winemaking. They have to be well made, seasoned appropriately, and used to age appropriate wines. Oftentimes less is more when it comes to barrels, as an over-oaked wine covers the underlying beauty of the grapes, masking the unique properties of a given wine. Barrels are also crazy expensive, though the recent devaluation of the Euro relative to the dollar has helped. All of our barrels are French oak and carefully selected for how they complement our wines. Barrels are the incredible result of the hard work of a concatenation of growers, loggers, artisans, and teamsters. They are functional pieces of art, fitting together seamlessly to hold and age our precious wine for years.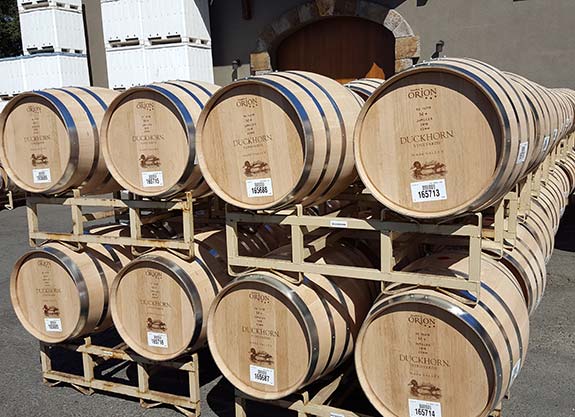 It's not always glamourous,
it's not always gourmet,
Sometimes, it's not even very good.
No matter what, a catered harvest lunch is one of the most important parts of harvest. Like yesterday, we often work 12-14hr days. Usually 6 days and sometimes 7 days a week. We cater lunch 3 days a week for our crew. Not having to think about lunch is a blessing and is well deserved! Most of our meals provided by local establishments are amazing, especially when all you have to do is sit down and eat. We call it "Family Lunch". It's a great time to catch up and connect on a personal level with our coworkers. We are all in this together! It's hard and exhausting while being incredibly rewarding. If you are ever near Paraduxx around noon, stop by, we are always looking for extensions of our family.