September 6, 2016 | Don LaBorde - Paraduxx Winemaker
Vineyard Maturity Analysis
Our daily Vineyard Maturity Analysis is one of the most important parts of harvest. You only have one shot at picking grapes, it's important to get it perfect every time. Every morning, our sleep eyed vineyard team will head out very early to pull grape samples from the vineyards. We'll sample each vineyard block about once a week. They deliver the samples of around 20 clusters to the designated winery for that block. Once in the winery, the cellar team takes over. The grapes will be crushed and drained into juice samples. The juice is then brought into the lab for analysis. For each sample, we will run Brix, pH ,TA as well as tasting for sensory analysis. Brix is the measure of sugar in the juice, pH and TA are measures of acidity. pH measures the acid level that shows you how stable the juice will be against any kind of microbial infection or oxidation. The lower the pH, the more stable/safe the juice or wine will be. pH range for white varieties ranges from around 3.1 to 3.6, reds range from around 3.5 to 3.9. TA measures the acid you can taste. TA will range from the tooth enamel stripping 0.8 to the flabby/soapy 0.4 for reds and whites. The tasting of the juice is the most important part. You may have perfect numbers for Cabernet at 25 Brix, 3.6 pH and 0.58 TA but if the flavor is missing or tastes under ripe you will have a wait. Patience is a virtue in winemaking!
2016 is proving to be a fantastic year for flavor so far. We are getting ripe flavors before the sugar and acids are ready, that's a great sign! If you could read the clipboard in the picture, it would tell you that the Rector Creek Cabernet is at 20.6 Brix, 0.68 pH and 3.1 TA. The flavors are already amazing but the sugar and acids aren't quite there yet. A few weeks to go and looking forward to it!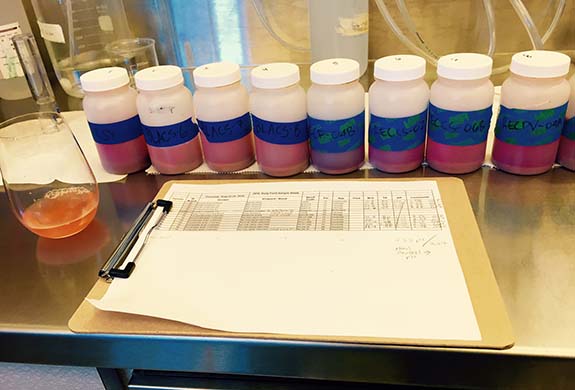 Comments
Commenting has been turned off.