Duckhorn Portfolio Wine Blog
Posts written by Neil Bernardi, Vice President of Winemaking and many special guest bloggers. This collection of insights on winemaking, farming, entertaining and more is a great way to learn about the excitement of winery life and tips for enjoying the wines we produce.

Just a quick update on the status of the apple harvest, it looks like the Golden Delicious are ready to go in West Sonoma county. Funny thing about these apples, they are significantly more juicy than the Gravs, and they taste amazing. Apples varietals, just like grapes, are significantly different from each other, despite the fact that they are all genetically (at least to the extent that we can test for) identical. These variations were bred, selected, and cultivated over time to express specific desirable traits -the original genetic engineering!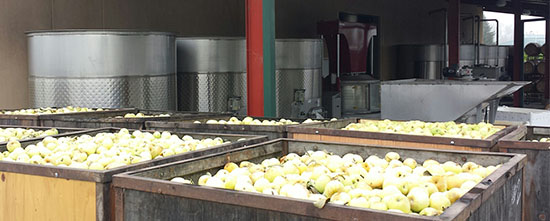 While the grape harvest has just gotten underway, the apple harvest in West Sonoma County has been going strong for weeks. First come the Gravensteins, then the Rome apples, then the Jonagolds and others later in the season. The recent wave of interest in cider, both locally and abroad, has given renewed life to the local apple industry. West County produces some of the tastiest and most sought after juice in the United States.
Check out this sorting and crushing setup specifically for juicing of apples for cider. They then take this apple mash and press it just like grapes, and apparently get somewhere between 160 and 170 gallons per ton of juice. The juice tastes fairly acidic, and the apples are picked somewhere between 10 and 14 brix, which yields an alcohol between 5 and 7%. I love seeing other forms of agriculture thrive in wine country!

It was with great pleasure that we started the 2015 harvest on Friday July 31st. Renee and her team at Duckhorn harvested just under 10 tons of Semillon, the varietal that typically comes in first for us.

Since then we have brought in small amounts of other fruit, including Viognier for Paraduxx, Pinot Noir from the Bien Nacido vineyard for Migration, and Pinot Noir for the Goldeneye sparkling wine! These first few blocks are outliers, but things will ramp up quickly over the next few weeks.
The beginning of harvest is always an exciting and stressful time for everyone, as we ready our wineries and brace ourselves for the long march ahead. Many facets of the winemaking process connect us to the growing season, but none so concretely as harvest. It is such an anticipated time, where we as winemakers make some of the most important decisions in the life of our wines. I am extremely proud to work with such a talented team that cares so deeply about the quality and character of the wines we are making.