June 22, 2016 | Courtney Preston - Viticulturist
Duckhorn Vineyards: The Founding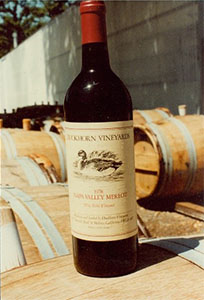 Duckhorn Vineyards was founded in 1976 by Dan and Margaret Duckhorn. After taking a trip to Pomerol in the mid-70's, and tasting some of the Merlot-influenced "Right-Bank" Bordeaux wines, Dan met up with Ric Forman. Ric was the winemaker at Sterling Vineyards at the time and when he heard that Dan was looking for some Merlot, he gave him a call – "I've got a vineyard you have to see".
The two met up, and Ric took Dan up to the Three Palms Vineyard in Calistoga. Besides the gift of introducing Dan to Three Palms Vineyard fruit, Ric also recommended a winemaker by the name of Tom Rinaldi. When Tom rolled up to the winery on a motorcycle looking like "a flower child" as Margaret Duckhorn called him, they had no idea what they were in for. It worked out perfectly because Tom ended up as the Duckhorn winemaker for the next 20 years.

The early days of winemaking were simple with only three stainless steel tanks under a big oak tree and hand cranked basket presses.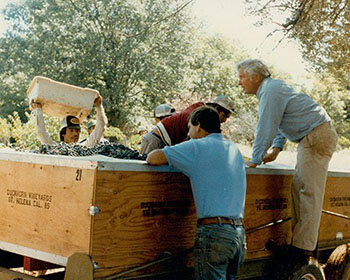 For the first vintage in 1978, they only harvested 28 tons of grapes into apple lug boxes, half Cabernet Sauvignon and half Merlot. Everything was handpicked and sorted extensively. Dan's trip to France had also introduced him to the Nadalie family who were barrel builders and he decided that brand new French oak was the way to go. Those first few vintages were cellared exclusively in Nadalie coopered barrels.
By 1982 Tom and Dan decided that it was time to make Duckhorn's first white varietal wine, Sauvignon Blanc. The Sauvignon Blanc was an exciting addition for them because it was a brand new wine for them to create. With the expansion of the winemaking program came a need for more fruit, this is when Duckhorn began acquiring some of the properties that are still so important today. Two of the early vineyards purchased were Patzimaro Vineyard in 1989 and Monitor Ledge Vineyard in 1992. Now, 40 years after being founded Dan's dream of having his wine served in every city with an NFL team has been realized!
Comments
Commenting has been turned off.