Three Palms Vineyard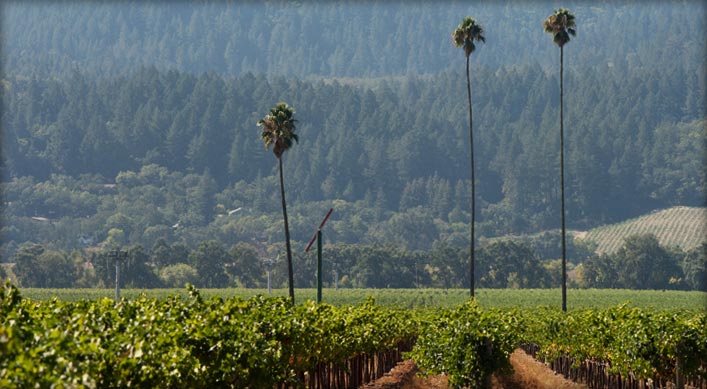 In the late 1800s, the land that is now home to the Three Palms Vineyard was a residence for famed San Francisco socialite Lillie Hitchcock Coit. She called her home Larkmead, and it was here that she hosted legendary parties and numerous celebrities of the time. Mrs. Coit is best remembered in San Francisco for her devotion to the Knickerbocker Fire Engine Company #5. At the age of seven, Mrs. Coit was rescued by a firefighter from a burning hotel. To repay her debt, she became the fire engine company's patron and an honorary member. She left her mark on San Francisco in the form of Coit Tower. She left her mark in the Napa Valley in the form of three lone palm trees, which were all that remained from her estate after the house fell into disuse and ruin. Lillie died in 1929 at the age of 86.
The 83-acre vineyard is located on the northeast side of the Napa Valley in an alluvial fan created by the outwash of Selby Creek where it spills out of Dutch Henry Canyon. The site is covered with volcanic stones washed down over the centuries from the canyon. The soil (what there is of it) is rocky and well drained causing the vines to send their roots far, wide and deep to find the necessary nutrients and water. The stones aid the vineyard, absorbing the sun's heat during the day and radiating the heat during the night to protect the vines during frost season and help ripen the fruit.
The vineyard was first planted in 1968 to Pinot Noir, Merlot, Cabernet Sauvignon, and Chenin Blanc. Over the years the Pinot Noir and Chenin Blanc were T-budded to Cabernet Franc, Malbec, and Petit Verdot. In 1990 the vineyard began to show the serious effects of a Phylloxera infestation and the long and arduous task of replanting began. The final phase of replanting was completed in 1999.
Brothers, John and Sloan Upton acquired the property in 1967 and created one of the Napa Valley's most famous vineyards. "They thought we were nuts," recalls Sloan. "City slickers planting a vineyard amongst the rocks!" Time and a great deal of very hard work have proved them wrong. In 1992 the vineyard suffered the loss of one of its 105-year-old palm trees. The Upton brothers hosted a brief ceremony in which a 40-foot Washington palm was planted in its place. We have affectionately nicknamed the vineyard 2-1/2 Palms.
In 2011, Duckhorn Vineyards acquired exclusive rights for all of the grapes at this legendary site and in 2014 we took over responsibility for farming the property. Duckhorn Vineyards has produced a Three Palms Merlot since its inaugural 1978 vintage.