September 22, 2016 | Don LaBorde - Paraduxx Winemaker
Vineyard Series: Ridgeline Vineyard
Placed on a steep hillside on the western facing slope of Oak Mountain in the far north of Alexander Valley, Ridgeline Vineyard is a stunning place. This magical place was first developed by Emily and Hartwell Preston in 1869 as a vineyard and orchard. It soon became home to Emily's spiritual commune in 1875, a place where she could use her self-proclaimed gift of spiritual healing. Mrs. Preston soon collected a large community of followers which helped add to the diversity of the ranch. A hospital, church, and "Knob Hill" cemetery were added making the area known as the town of Preston. The Northern Pacific Railroad even added a train stop at Preston in 1889. After the death of the Prestons, the land was divided up and controlled by a few different families. The Green's ran a Bohemian artist colony, The Fischbach's had a colony of performing artists and the Oster's owned a boys school and camp...just to name a few. It's said that the music of The Golden Toad musical ensemble filled the air for decades.
Duckhorn Wine Co. bought the Ridgeline Vineyard in 2012, our first Estate Vineyard in Sonoma County. At the time, I was personally working with 100% of the grapes from the ranch for our Decoy brand. It was soon discovered that the quality of the ranch was in the top 1% of Alexander Valley wine grapes. While being incredibly important to the core of Decoy, the quality of Ridgeline deserved a wine to truly show its value and interesting character. In 2013, Paraduxx began producing a Ridgeline vineyard designated blend of Tempranillo and Cabernet Sauvignon. This small production of 250 cases is modeled off of the famed blends of Vega Sicilia from the Ribera del Duero region of Spain. Our Blend has a rich and Juicy Palate with loads of Blackberries and Christmas spices. The impressive length and tannin structure really show off what is possible in Alexander Valley.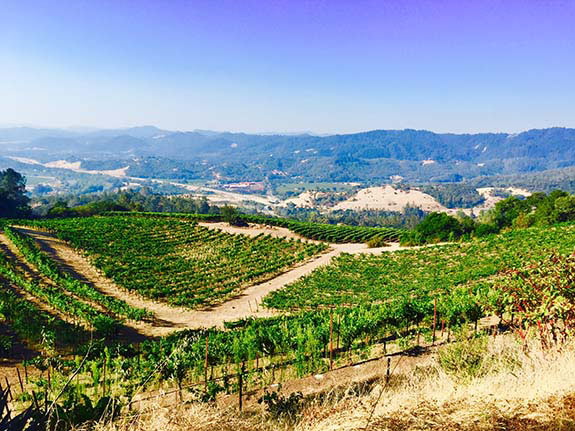 Comments
Commenting has been turned off.