Stuffed Chicken Wrapped with Bacon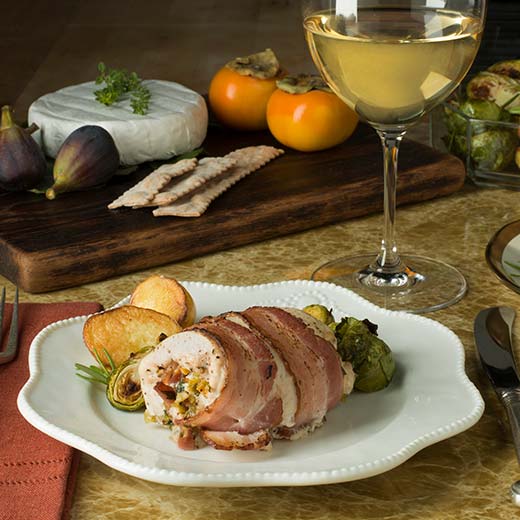 This dish is one of Margaret Duckhorn's favorite holiday recipes.
Serves 4
Ingredients
4 chicken breasts
1/3 cup shallot - minced
3 garlic cloves - minced
1/3 cup pistachios - chopped
1/2 cup ham - small dice
1 tablespoon tarragon - chopped
1/8 teaspoon freshly grated nutmeg
1 tablespoon Cognac (optional)
12 slices bacon
Olive oil
Salt and freshly ground pepper
Preparation
Preheat oven to 400 degrees.
Put chicken breast between 2 pieces of parchment and lightly pound with a rolling pin, you want it to be roughly a 1/2 inch thick. Continue with each breast. Salt and pepper both sides of chicken, set aside while making filling.
Prepare all ingredients. Place 2 tablespoons olive oil in a medium skillet over medium heat, add shallots and garlic saute' for 3 minutes then add pistachios and ham and a pinch of salt and pepper. Add Cognac if using. Remove from heat and add freshly ground nutmeg and tarragon. Taste and adjust seasoning if necessary, let cool.
Assembly:
Now place 3 pieces of bacon side by side on a piece of parchment, place chicken on bacon, spoon 2-3 tablespoons of stuffing mixture on chicken, roll up and place a toothpick in the end to hold the bacon and chicken together. Do the same with the other 3 remaining chicken breasts. Place on a parchment lined baking sheet and bake for about 15-20 minutes depending on how big your chicken roll is. Check the internal temperature with a thermometer - should be 160. Let rest for 5 minutes then serve.
Tip: Should be served with Fig and Cranberry Chutney
Get the suggested pairing wines here.