Fig and Cranberry Chutney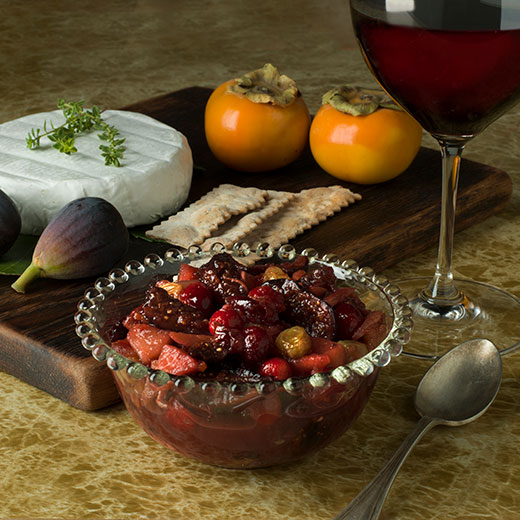 Yield: 2 cups
Prep: 10 minutes | Cook: 40 minutes
Total Time: 50 minutes
Ingredients
1 cup Duckhorn Red Wine
1 cup dried figs - halved and quartered
1 cup golden raisins
½ cup sugar
2 tbsp champagne vinegar
1 cup freshly squeezed orange juice
2 tbsp orange zest
2 tbsp peeled ginger - chopped
1 bag fresh cranberries
1 large pear - peeled, cored and chopped
1 cup slivered almonds - toasted
pinch of salt
maple syrup
Preparation
In a saucepan bring 1 cup Duckhorn red wine to boil add dried figs and raisins, turn off heat and let sit while preparing the remaining ingredients - about 15 minutes. Drain figs and raisins and set aside.
Pour wine back into saucepan and add ½ cup sugar and 2 tablespoons vinegar, stir over medium low heat until sugar dissolves. Increase heat and simmer until wine thickens - about 5 minutes.
Remove from heat and add orange juice, orange zest and ginger - simmer for 5 minutes.
Add cranberries and cook until they pop - 5 minutes more.
Stir in figs, raisins, pear and almonds - cook 3-5 more minutes.
Add a pinch of salt and taste, adjust seasoning if necessary. If you prefer it a bit sweeter add 2 tablespoons maple syrup.
Pour into a glass bowl and set aside to cool then chill.
Serve
Serve with cheese and crackers or on your holiday table.
Tip: Should be served with Stuffed Chicken Wrapped with Bacon
Take a look at our recommended pairing below.
Pairing Recommendations - Mer
94 Points - Wine Spectator