Whole Roasted Cauliflower with Garlic Herb Butter and Toasted Almonds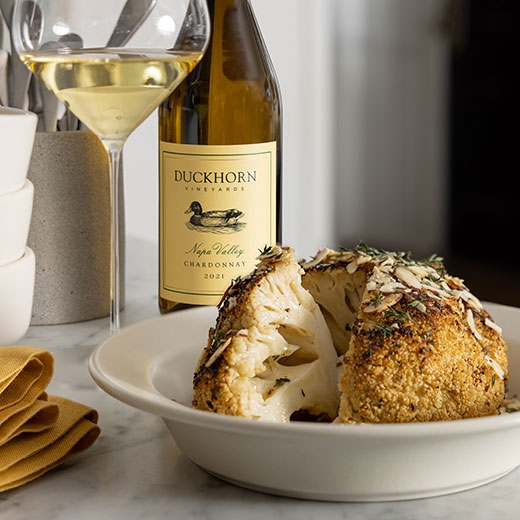 Yield: 4 servings as a side
Prep: 10 minutes | Cook: 30 minutes
Total Time: 40 minutes
A dramatic presentation of cauliflower that cuts like a cake and eats like a steak. Buttery, rich, herbaceous and crunchy, this cauliflower only gets better with a glass of Chardonnay.
Ingredients
1 head of cauliflower
½ stick unsalted butter
2 tbsp Extra Virgin Olive Oil (EVOO)
2 tsp fresh thyme, chopped
½ tsp garlic powder
2 tbsp grated parmesan cheese
Salt and Pepper
¼ cup toasted almonds
Additional thyme sprigs for garnish
Preparation
Preheat the oven to 400°F.
Start by trimming the cauliflower: remove the stems and a small portion of the core with a small sharp knife. The goal is to keep the head and all its florets intact while exposing the inside a bit. Place the cauliflower in a glass baking dish.
Melt the butter in a small saucepan with the EVOO, chopped thyme, garlic powder and parmesan cheese. Turn the cauliflower upside down to expose the core and slowly pour in half of the butter mixture, evenly dispersing. Allow the cauliflower to rest for thirty seconds with the butter, then flip it right side up. Pour the remaining butter mixture over the cauliflower, using a brush to distribute if needed. Season liberally with salt and pepper then place in the oven to roast.
Roast for thirty minutes, basting and brushing the cauliflower with residual butter every ten minutes. Remove from the oven when the cauliflower is tender to the core.
Chop the toasted almonds and set aside. Slice wedges from the cauliflower and finish with a sprinkling of chopped almonds and extra thyme sprigs before serving.
Take a look at our recommended pairing below.
Pairing Recommendations - CH