Braised Short Ribs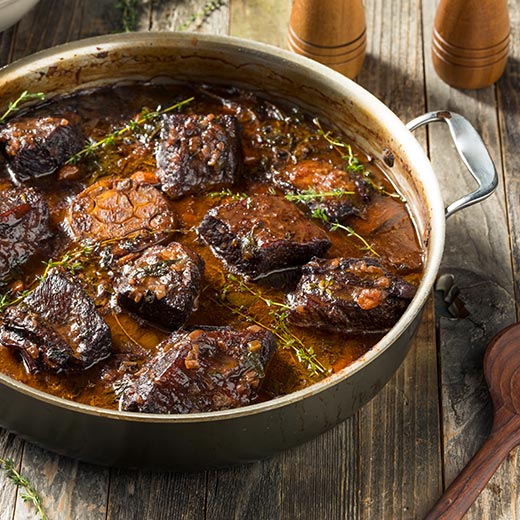 Yield: 4-6 servings
Prep: 45 minutes | Cook: 2 hours
Total Time: 2 hours and 45 minutes
Ingredients
3 lbs meaty short ribs
1 red onion - chopped
1 fennel bulb - chopped
1 carrot - chopped
2 garlic cloves - chopped
1 ½ cups Duckhorn red wine
2 cups chicken stock
2 tbsp tomato paste
1 rosemary sprig - chopped
2 bay leaf
1 star anise
1 cup dried cherries
Orange zest - one 3 inch piece
Olive oil
Salt and pepper
Preparation
Take ribs out of refrigerator and let rest on counter for 30-45 minutes. Salt and pepper them. Also if the white membrane (sinew) is easy to pull off ribs do so, you can also trim excess fat but leave some for flavor.
Prepare all ingredients.
Heat dutch oven over medium high heat, add 2 tablespoons olive oil - when oil is hot sear ribs well on all sides. Set aside on platter.
Add chopped vegetables, salt and freshly ground pepper. Cook 3-5 minutes.
Add wine and deglaze pan.
Add tomato paste, stock, herbs and star anise.
Nestle ribs into pan - they should all be nearly covered, it's ok if they aren't completely covered though. Place lid on pan and simmer for 1 ½ hours.
Check to see if meat easily pulls apart, if so add the dried cherries and orange zest and cook for about 15 more minutes.
Remove from heat and take lid off to cool for 5 minutes. You can remove short ribs and reduce sauce to desired thickness. You can also remove the vegetables, anise and zest if you want a smooth sauce. Either way will be delicious.
Return ribs to sauce. Taste and adjust seasoning if necessary.
Serve over polenta, mashed potatoes or grits.
Take a look at our recommended pairing below.
Pairing Recommendations - Reds