Rosemary Grilled Lamb, Grilled Zucchini, Herbed White Beans, Grilled Lemon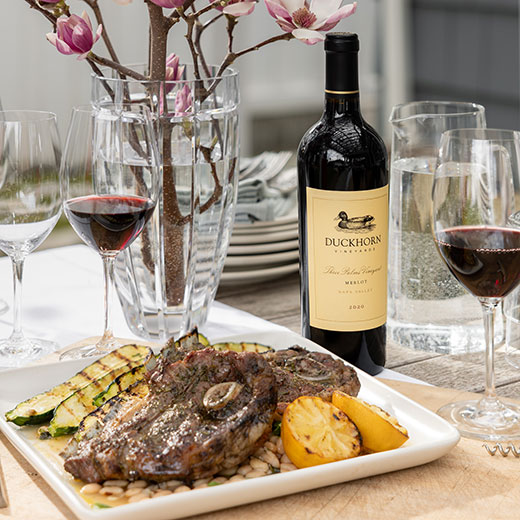 Yield: 4 servings for dinner
Prep: 1 hour and 15 minutes (30 minutes marinating) | Cook: 20 minutes
Total Time: 1 hour and 35 minutes
Lamb chops and a bottle of merlot; there's not much else needed for the perfect impromptu al fresco dinner. Herbaceous and rich lamb with a pop of smoky acidity from the grilled lemons is meant for a glass of Duckhorn Vineyards Three Palms Merlot. A dish designed to be shared family style.
Ingredients
4 bone-in lamb shoulder chops
4 garlic cloves, minced
1 tbsp roughly chopped rosemary (4-6 sprigs)
2 tsp fresh thyme, chopped
Salt
Cracked pepper
4 tbsp Extra Virgin Olive Oil (EVOO), divided
4 small to medium zucchini
2 lemons, cut in half
15 oz cooked cannellini beans in their broth
2 tbsp fresh marjoram or oregano leaves
Extra Virgin Olive Oil for finishing
Preparation
Preheat the grill to medium high and make sure the grates are seasoned and cleaned.
In a gallon ziploc or large mixing bowl, mix the minced garlic, chopped rosemary, two tablespoons of EVOO, a pinch of salt and a few cracks of fresh pepper. Add in the lamb shoulder chops and toss well to evenly coat. Set the dressed lamb aside at room temperature for thirty minutes.
Slice the zucchini down the middle, lengthwise, and add to a mixing bowl with the halved lemons. Toss with the remaining olive oil and season with salt. Set aside.
Warm the beans gently in their broth with half of the marjoram leaves. Bring the marinated lamb to the grill and grill for 4-5 minutes on each side, or until medium rare. Remove the cooked lamb and transfer to a tray to rest.
While the lamb is resting, grill the zucchini and the lemon. Cook the zucchini on both sides until tender while the lemon heavily caramelizes on the cut side.
Spoon the beans onto a large serving platter and follow with the grilled meats and zucchini. Finish the entire platter with a drizzle of EVOO and a squeeze of one of the lemon halves. Sprinkle with the remaining marjoram and enjoy immediately.
Take a look at our recommended pairing below.
Pairing Recommendations - Mer
94 Points - Wine Spectator