Quinoa and Cucumber Tabbouleh with Toasted Sunflower Seeds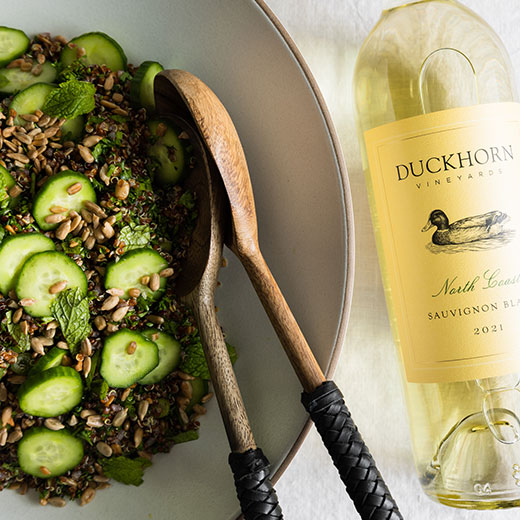 Yield: 4-6 servings
Prep: 10 minutes | Cook: 20 minutes
Total Time: 30 minutes
Tabbouleh is an herbaceous grain salad, traditionally made with bulgur and always with plenty of fresh parsley. A bit of crunch and a lot of green balances perfectly with the vibrant Duckhorn Vineyards Sauvignon Blanc.
Ingredients
1 cup red quinoa
1 ¾ cup water
3 slicing cucumbers (~1 ½ cups sliced)
3 tbsp extra virgin olive oil (EVOO)
3 tbsp red wine vinegar
1 bunch curly parsley
6 scallions
1 cup toasted sunflower seeds
1 cup fresh mint leaves
Salt
Preparation
In a fine mesh strainer, rinse the quinoa under cold water until the runoff water is clear.
Put the quinoa in a thick bottomed pot with the water and a pinch of salt. Bring to a boil and immediately reduce to very low heat (lid on). Cook for 16-20 minutes, or until quinoa is tender and the water is absorbed. Fluff with a fork, replace the lid, and allow to steam off the stove for an additional five minutes.
Transfer the quinoa to a large mixing bowl to a cool, stirring occasionally to release steam.
Thinly slice the cucumbers and place in a small bowl with the 3 tablespoons red wine vinegar and a pinch of salt. Allow the cucumbers to pickle lightly while you prepare the rest of the tabbouleh.
Mix in 3 tablespoons EVOO and the toasted sunflower seeds to the quinoa.
Roughly chop the parsley, slice the scallions and tear the mint leaves and toss all the herbs into the quinoa.
Lastly, dump the cucumbers and vinegar into the quinoa and stir to combine. Season with salt to taste.
Pairing Recommendations - SB