Potato, Leek and Bacon Stacks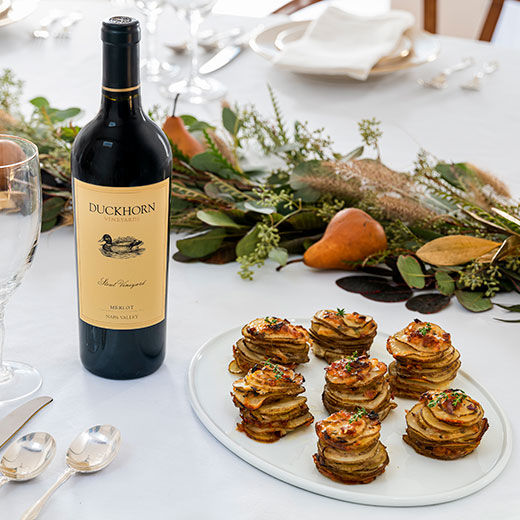 Yield: 10-12 servings
Prep: 10 minutes | Cook: 50 minutes
Total Time: 1 hour
Ingredients
5 medium Russet potatoes - slice into 1/8" rounds using a sharp knife or mandolin
1 leek - thinly sliced and cleaned
4 bacon strips
⅓ cup fresh herbs - rosemary, oregano, thyme, sage)
½ cup parmesan cheese - grated (¼ cup for topping)
½ cup gruyere cheese or white cheddar cheese
2 garlic cloves - minced
1 stick butter - melted
salt and freshly ground pepper
Preparation
Preheat oven to 400 degrees.
With a pastry brush, butter a 12 cup muffin tin.
Slice bacon into small pieces and cook over medium heat until cooked. Place on a paper towel and set aside.
Remove all but 1 tablespoon of bacon fat, then add leeks to the pan and cook over medium heat for 3-5 minutes. Add garlic and cook for a few more minutes.
In a large bowl - toss together the butter, herbs, ¼ cup parmesan + cheddar cheese, bacon and leeks. Add the potatoes and coat well. Add 1 tsp salt and ½ teaspoon freshly ground pepper. Toss again.
Layer the potatoes evenly into each muffin cup until filled to the top. Gently press down a bit. Continue until all cups are full. Scatter the extra bits of leek/herb/bacon mixture on top of each and sprinkle with the remaining ¼ cup of parmesan cheese.
Cover with foil and bake for 20 minutes. Remove the foil and bake another 20 minutes or so until golden on top.
Transfer to a serving platter and garnish with fresh herbs and Maldon salt.
Pairing Recommendations - Mer
94 Points - Wine Spectator