Meatloaf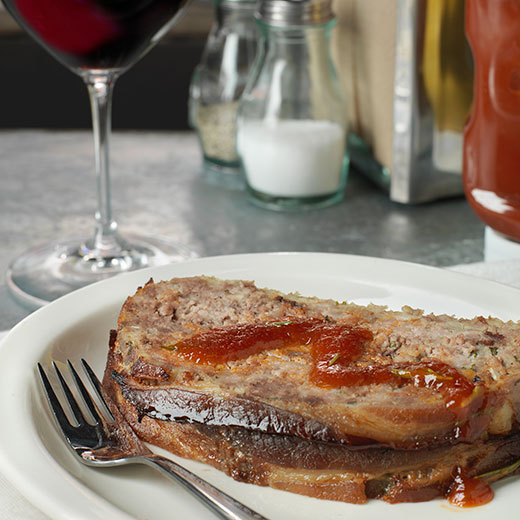 Yield: 6 servings
Prep: 30 minutes | Cook: 1 hour
Total Time: 1 hour and 30 minutes
Ingredients
¼ lb bacon, diced
1 yellow onion, finely chopped
2 garlic cloves, finely chopped
¼ cup Milk
¼ cup Sour Cream
3 Eggs
1 tsp Worcestershire
2 tbsp Dijon
¼ cup Maple syrup
1 tbsp salt
½ tsp black pepper
½ lb bacon, sliced
1 lb ground beef
1 lb ground veal
1 lb ground pork
¼ cup parsley, chopped
½ cup Saltine crackers, crumbled
Preparation
Preheat oven to 375 degrees
In a medium saucepan, render the diced bacon. Add 1 tablespoon oil to prevent sticking. Add onions, garlic cover and cook for about 10 minutes until softened.
In a medium bowl combine the milk, sour cream, eggs, Worcestershire, Dijon, salt and pepper.
In a large bowl combine the ground meats, the onion mixture and milk mixture. Add the crackers and parsley and fully combine.
Shape the meat into a rectangle about 5"x10" and place on a foil or parchment lined sheet pan or baking dish.
Cover the meat loaf with the bacon strips so that they touch and completely cover the meat. Brush the maple syrup over the top and bake for about an hour. The internal temperature should read 165 degrees.
Serve
Serve hot or cool down for a sandwich!
Take a look at our recommended pairing below.
Pairing Recommendations - Mer
94 Points - Wine Spectator